Letters from Lodi
An insightful and objective look at viticulture and winemaking from the Lodi
Appellation and the growers and vintners behind these crafts. Told from the
perspective of multi-award winning wine journalist, Randy Caparoso.

September 1, 2023 | Randy Caparoso
The first full week of the 2023 harvest in Lodi wine country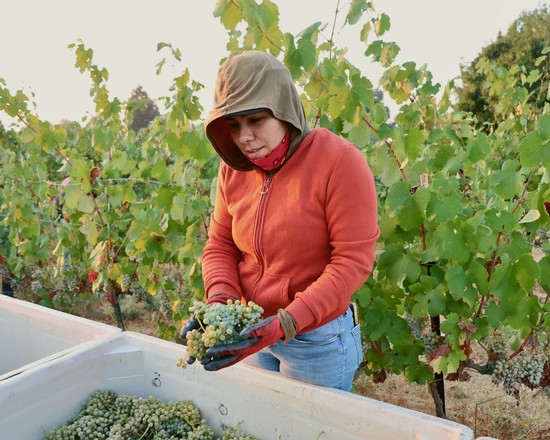 Mother Nature can be cruel. Sometimes deadly; yet often, kind and benevolent.
If you take the word of vintners and growers who have picking grapes over the past week—pretty much the start of the 2023 harvest—lately Mother Nature has been very kind. The proof, we are seeing, is already in the pudding.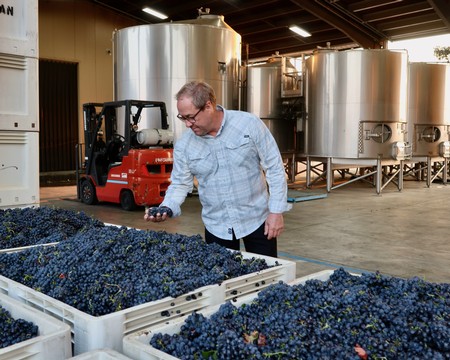 Rosy outlook at Harney Lane Winery
Yesterday morning (Thursday, August 31), Harney Lane Winery owner/grower Kyle Lerner stated, almost unequivocally: "Consumers can expect spectacular wines from the 2023 vintage."
Lerner based his rosy outlook on the quality of two of his pickings over the past week: Albariño, and (yesterday morning) Zinfandel picked for Harney Lane's dry rosé program.
Lerner backed up his prognistication with the following observation: "This year, even with the late starting harvest [for Harney Lane's estate, by about two weeks compared to recent years], there has been great flavor development, way ahead of chemistry development."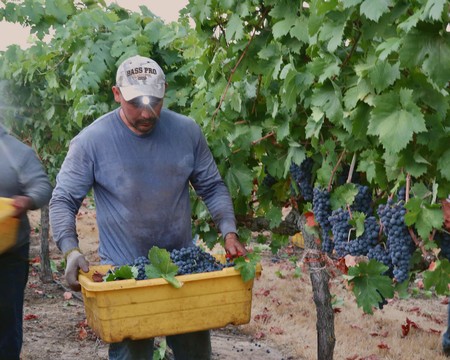 When asked how "flavor development" is ascertained, Lerner explained, "We assess flavor by tasting the grapes. It's not measurable like chemistry, but that's the art of winemaking. We rely on chemistry to tell us things like sugar and pH, but we rely on taste to actually make wine. We're expecting amazing wines because the flavors in the grapes are so far ahead of where they usually are when they've reached the sugar and acid levels they're at right now."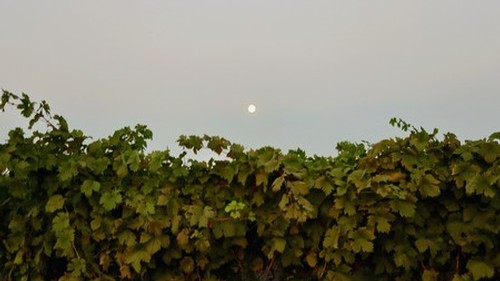 Lerner estimates that the sugar readings of his estate grown Zinfandel—a Primitivo clone of this variety—to be just under 22.0° Brix (i.e., sugar reading), which is optimal for a light and refreshing style of dry rosé.
"When we make a rosé," adds Lerner, "we're trying to bring out the essence of the grape, the same as when we produce red Zinfandels. Rosé is basically a white wine made from red grapes. For whites, reds as well as rosé, we expect 2023's wines to be more satisfying, not just linear in character and structure."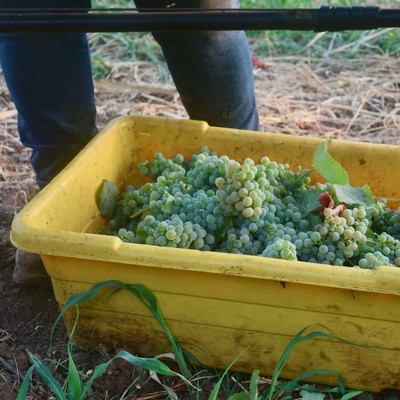 High hopes at Bokisch Vineyards
Bokisch Vineyards—California's leading Spanish grape specialist—started their Albariño harvest just over a week ago, as did Klinker Brick Winery in their Alpine Rd. vineyard behind their tasting room.
Last week Friday (August 25, 2023), owner/grower Markus Bokisch reported: "Yield and cluster sizes are smaller than what we expected, yet never have I seen as much physiological ripeness at such low sugars." the telltale sign of this, according to Bokisch, are the grape seeds. "The seeds are brown, indicative of full grape maturation. While the sugars are at 20.5° Brix and the pH [i.e., acidity] is low, the flavors are intense, with lots of stone fruit."
Translation: Crisper, lighter yet more intense and floral Albariños than ever—products of both a favorable vintage and, according to Mr. Bokisch, vineyard maturity (Bokisch's Terra Alta Vineyard is now over 20 years old).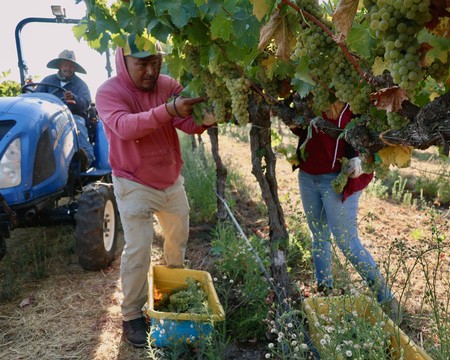 Acquiesce cites grape intensity combined with elevated acidity and finesse
This past Tuesday (August 19, 2023), Acquiesce Winery & Vineyards launched their season with Viognier—as usual, their first grape variety to be picked.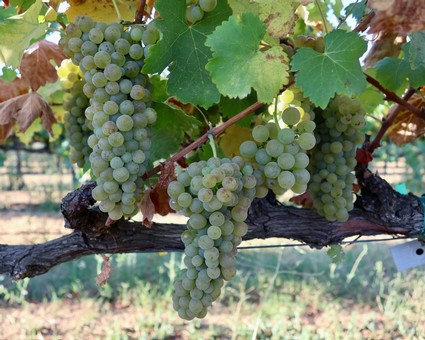 Acquiesce winemaker Christina Lopez shared the following observations, also mentioning the status of their other estate grown grapes, all producing either white wines or rosés: "A cooler growing season has allowed for steady ripening and flavor development. We like what we're seeing so far! In Viognier we had higher acid at phenological ripeness providing the finesse we're looking for.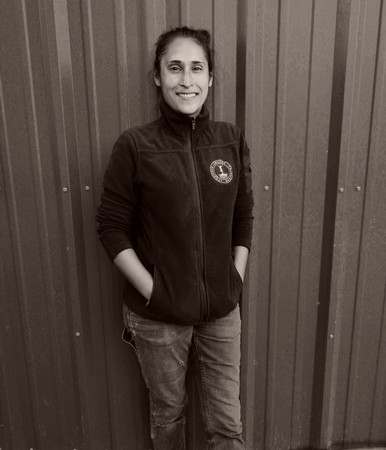 "We will probably pick two varieties a week over the next month. After we get in all our Viognier, we'll start on Grenache blanc for sparkling wine [note: grapes for sparkling wines are usually picked at lower sugar and higher acid levels than for table wines], and our Alban clone (noir variety) Grenache for rosé. Next week we will probably start picking Piquepoul [also produced as a sparkling as well as table wine by Acquiesce] and potentially Roussanne. Grapes like Bourboulenc and Clairette blanche are still a few weeks away."
Fernow Ranch's eclectic mix of grapes is looking good
Fernow Ranch, an independent, east side Mokelumne River-Lodi vineyard owned and farmed by Chef Jake Des Voignes—who has a day job as Food & Beverage Director of Lodi's Wine & Roses Hotel—started its 2023 harvest last week with their Muscat blanc.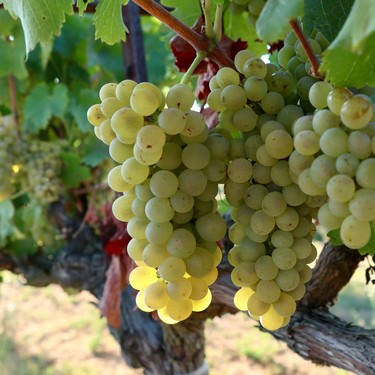 This past Wednesday (August 30, 2023), Chef Des Voignes picked his Fernow Ranch Fiano—a rare Southern Italian white grape—for Donkey & Goat Winery, a Berkeley-based "natural winery."
"The harvest is off to a good start," reports Des Voignes. "The crop is lighter but fruit quality is really high. The cool weather has helped maintain good acid levels." Other exciting grapes coming later down the pike at Fernow Ranch will include Greco di Tufo, Clairette blanche, Vermentino, Counoise, Mourvèdre and Nero d'Avola—a truly eclectic range of grapes, somewhat emblematic of much of the Lodi appellation.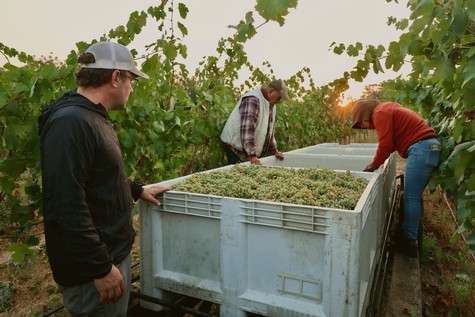 Fernow Ranch owner/grower Jake Des Voignes harvesting his 2023 Fiano grapes.
The first Lodi Zinfandel picks of 2023
A few days before Harney Lane's pick for their Zinfandel-based rosé—this past Monday, August 28, 2023—the Zinfandel at Noma Ranch, located on the east side of Lodi's Mokelumne River AVA, was harvested for Bedrock Wine Co.. The grapes from this ancient vine block, planted over 100 years ago, go into a full throttled style of red Zinfandel, long a local favorite (in the recent past, produced by Macchia Wines).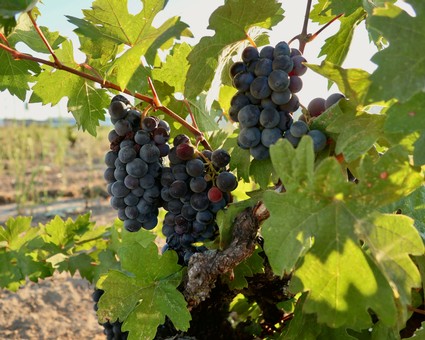 While most Lodi vineyards close to or over 100 years old are still two to three weeks away from being ready, Noma Ranch is different from the rest because it consists of miniscule (barely 2-feet high), dry farmed plants, growing in ultra-porous, beach sand-like soil. Yields are barely a third of a ton per acre. Consequently, the size of typical Noma Ranch Zinfandel clusters is no larger than an average fist; meaning, accelerated physiological ripeness and sugars balanced by typically higher than average acidity.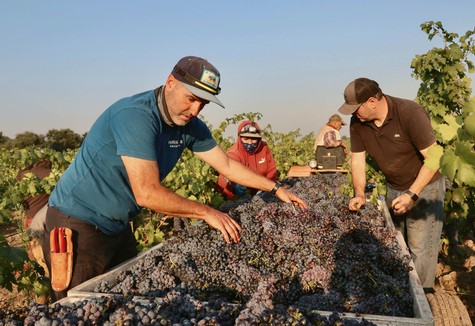 The Brix for Noma Ranch's Zinfandel this past week were reported at 24.1°.
Elsewhere on Lodi's east side, the old vine Zinfandel from Miller Vineyard (planted just north of the old Roma Winery water tower in 1929) were picked for Sonoma County's Las Jaras Wines last week Thursday (August 24).
Since Las Jaras Wines prefers Zinfandel at low sugars (20.0° to 22.0° Brix) for their rosé and carbonic maceration red wine programs, this past Thursday (August 31) Jeff and John Perlegos started picking their Cherryhouse Vineyard Zinfandel on Lodi's west side (alongside Davis Rd.) for this alternative, "natural" style winery.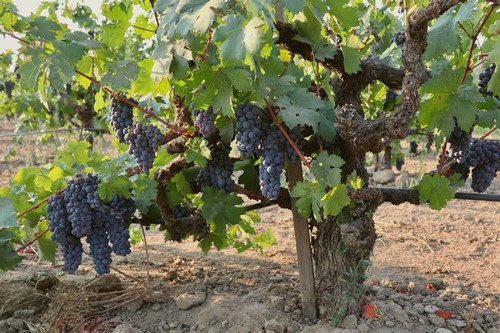 Comments