Letters from Lodi
An insightful and objective look at viticulture and winemaking from the Lodi
Appellation and the growers and vintners behind these crafts. Told from the
perspective of multi-award winning wine journalist, Randy Caparoso.

June 11, 2019 | Randy Caparoso
The Wine Compass' opus on the long history and new iconic whites of Lodi (Part 1)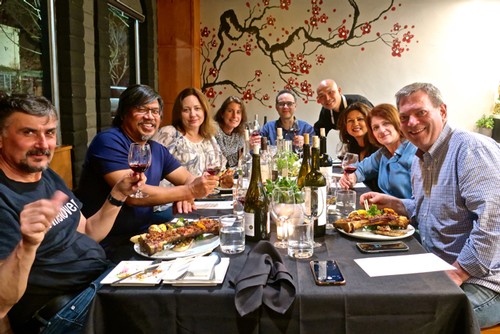 There are wine blogs and there are wine blogs. But how about one, called Wine Compass (est. 2005) that has endeavored to map out all the wineries, breweries, distilleries and cider tasting rooms in all 50 states of the U.S., plus Canada?
The Virginia based Wine Compass founder and author Todd Godbout is not only undaunted, he has also devised an iPhone or Android-compatible application in which you can locate most any producer of said alcoholic beverages by either name, map, radius search or zip code – at this writing, a total 18,387 of these establishments (and counting). Mr. Godbout has also posted notes on 35,865 different wines, spirits, beers or ciders over the years. He is definitely the Iron Man of the blogging industry, or at least his liver is made out of indestructible material.
When he visited Lodi wine country this past March 31-April 4 as part of Snooth's 6-man contingent of the country's most established bloggers, Mr. Godbout was like a kid in a candy store. He not only soaked up every wine and utterance during the course of four days and five nights, he ended up writing no less than seven posts on Lodi wines for his Wine Compass blog.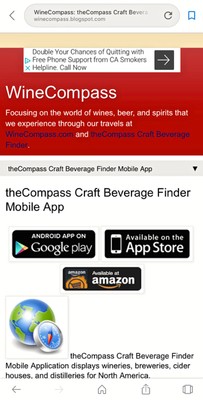 Godbout's observations are of particular interest to us because it is always good to know how "outsiders" – in this case, a wine and beverage geek from the East Coast – thinks about what is going on in the Lodi Viticultural Area. Is there, for instance, actual substance – or true, competitive quality – behind this region's burgeoning reputation as a place of interest? Or is Mr. Godbout devoting time and attention to Lodi for the same reason he would when writing about the wines of, say, Missouri or Texas, Arizona, Michigan, Oregon, British Columbia, et al.? That is, mostly because it's there, if only to fill out another few chapters in his ambitious, evidently lifetime wine mapping obsession.
It's not for us to say, but we can share all seven posts penned by Mr. Godbout and let you judge for yourself. The titles of each of Godbout's posts:
• Lodi Wine – the Basics
• Old Vine Zinfandel and Ancient Vineyards
• Albariño Ascending
• Mediterranean Mineral Vermentino
• Turley Wine Cellars Old Vine Cinsaut and Zinfandel
• Prost from Mokelumne Glen Vineyards (German and Austrian varietals)
• Lodi Wine – the Unique, Unusual and Unconventional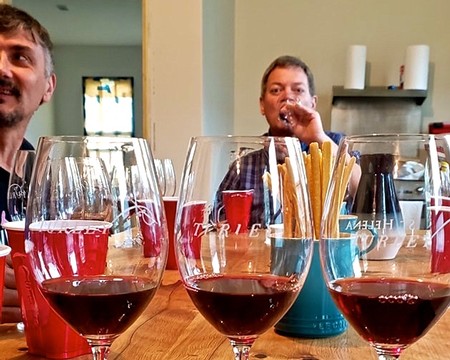 We think you will find that – like a good reporter, who brings an experienced eye and a globetrotter's wary perspective – Mr. Godbout writes largely with objectivity and dispassion, often quoting freely from both vintners and esteemed colleagues. At the same time he writes like the consummate wine lover that he is, with a great deal of passion – particularly when it comes to strikingly original wines and conceptions. You can feel his excitement during those moments. He fully admits, towards the end of his series of Lodi posts, that subjects of interest added up to "dozens of wonderful wines... that could keep us writing for months."
Passages extracted directly from Mr. Godbout's first four winecompass.blogspot.com posts from the past month and a half:
Lodi Wine: The Basics
Last week (March 31-April 4, 2019) I spent four days exploring Lodi, California with Snooth and witnessed the unique wine culture that reflects this region. Today I want to highlight the region's significance, so here are a few basic facts available from the Lodi Winegrape Commission.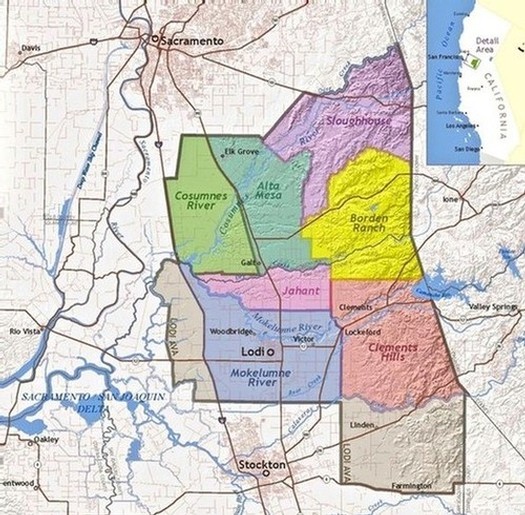 Relevance
The Lodi appellation (American Viticulture Area) is the most prolific in California and accounts for 20% of all wine grapes crushed in the Golden State. According to the Lodi Winegrape Commission, "there are more acres of wine grapes planted in Lodi than all of Napa Valley and Sonoma County combined; in fact, more than the entire states of Washington and Oregon together, plus another 30%" (Caparoso, lodiwine.com). Thus, Lodi is arguably the most widely planted wine region in the entire U.S., explaining why the region is relevant to wine consumers.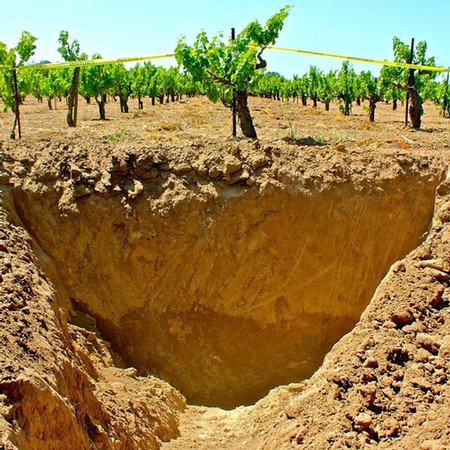 Geography
The Lodi AVA is located between the San Francisco Bay and the Sierra Nevada mountains, largely on relatively flat terrain. It enjoys a classic Mediterranean climate with warm days and cool evenings - particularly when the "Delta breezes" move in from the Sacramento-San Joaquin River Delta. Lodi's soils were formed millenniums ago as erosion from the Sierra Nevada mountain range were carried to the valley via the Mokelumne and Cosumnes rivers. In addition, the land adjacent to the Mokelumne River contain layers of sandy soils where Zinfandel vines were first planted own-rooted over a century ago. In the east, the closer vineyards are planted to the mountains, the soil becomes heavier in clay and stone.
History
Lodi was heavily influenced by the California Gold Rush of 1849 as miners looked for farmland as an alternative to failed mining operations. Wine grapes were first planted in 1850, and in 1858 George West founded El Pinal Winery to become the region's first commercial operation. Soon after several German families immigrated to the region from the Dakotas and their descendants are still growing grapes today – sometimes as 5th and 6th generation farmers. Along the way, Prohibition did not destroy the industry like in so many other regions as Lodi growers shipped grapes eastward for home winemakers (which was still perfectly legal). Post-Prohibition, wineries rebounded with old vine Zinfandel becoming Lodi's unofficial signature grape.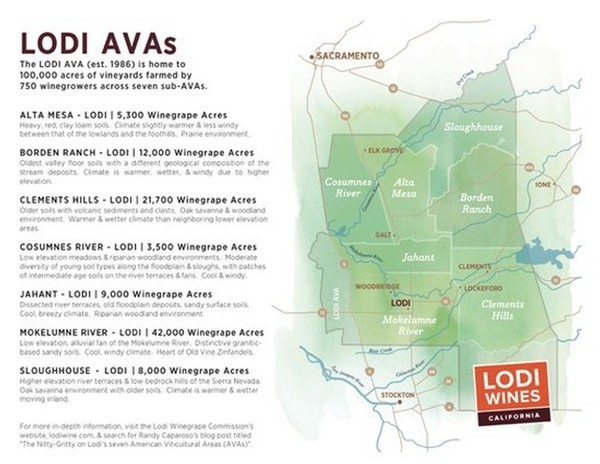 Appellation
The Lodi AVA was created in 1986 and is located in the counties of Sacramento and San Joaquin (TTB). In August 2006, seven new AVAs were created within the broader Lodi AVA to allow wineries to differentiate among the geographic and climate variances: Alta Mesa, Borden Ranch, Clements Hills, Cosumnes River, Jahant, Mokelumne River, and Sloughhouse. However, in general, Lodi winemakers continue to utilize the broader Lodi AVA designation on their labels in order to leverage and market the Lodi name.
Grape Varieties
Lodi is predominately a red winegrowing region, with approximately two-thirds of the acreage dedicated to red grape varieties. In fact, Lodi is the "self-proclaimed Zinfandel Capital of the World" producing over 40 percent of California's premium Zinfandel. And these are old vine Zinfandel with the oldest plantings dating back to 1889. More recently, however, Cabernet Sauvignon has been catching up with Zinfandel as Lodi's most widely harvested grape (over 13,400 acres of Cabernet Sauvignon, compared to just over 17,000 acres of Zinfandel) – with many going into the bulk wine industry. Yet, the real story is Lodi's grape diversity with over 100 varieties crushed into wine; half of these, German-Austrian varieties planted by Mokelumne Glen Vineyards. Other notable grapes we will cover are the Spanish grapes Albariño, Verdejo, Graciano, Tempranillo, and Garnacha; the Italian grapes Barbera, Aglianico, Sangiovese, Teroldego, Fiano, and Vermentino; and the Southern Rhône grapes Cinsaut, Viognier, Syrah, Piquepoul, and Clairette blanche.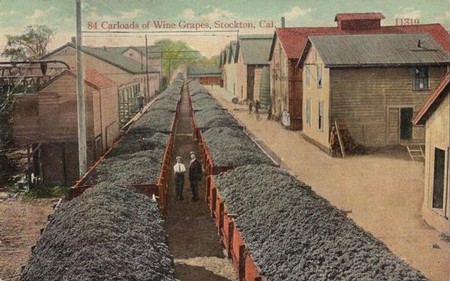 Lodi Wine: Old Vine Zinfandel & Ancient Vineyards
Lodi is the "self-proclaimed Zinfandel Capital of the World," producing over 40 percent of California's premium Zinfandel, with the vast majority of it grown in the Mokelumne River AVA. But to paraphrase a favorite song, " well...how did it get there?" According to Zinfandel: A History of a Grape and Its Wines (authored by Charles L. Sullivan), brothers George and William West had added Zinfandel to their Stockton based El Pinal Winery by at least the 1860s. In 1889, German-born Joseph Spenker planted a vineyard, most likely from cuttings from El Pinal, that consisted of Zinfandel, Carignan, Mission, and Tokay – the later a Vitis vinifera table grape that closely resembles the gnarled look of the Zinfandel vine. This plot is still farmed today by Spenker's ancestors (Wanda Woock Bechthold and her son Greg Burns) in the Royal Tee Vineyard of Jessie's Grove Winery and is Lodi's oldest Zinfandel-dominated planting. By the way, the oldest continually planted vineyard in Lodi was also planted by Spenker a few years earlier, in 1886, and is the famed Cinsaut dominated Bechthold Vineyard.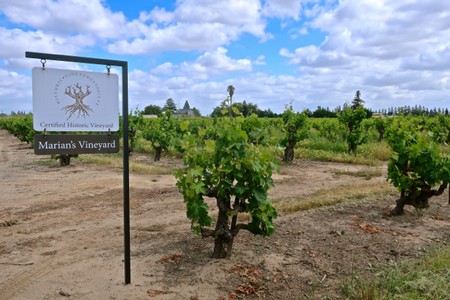 Other historic vineyards, planted in the early 20th century, are Marian's Vineyard at Mohr-Fry Ranches, Lizzy James Vineyard owned by Harney Lane Winery, and Soucie Vineyard. The 225-acre Mohr-Fry Ranches contains nine distinct blocks of own-rooted Old Vine Zinfandel. The ranch is currently farmed by the father-son team of Jerry and Bruce Fry, whose family has been farming in California for over 150 years. Jerry named the oldest Zinfandel block, 8.3 acres of own-rooted vineyard planted in 1901, Marian's Vineyard after his mother Marian Mohr Fry Zimmerman. The Lizzy James Vineyard is a 20-acre plot of gnarly Zinfandel vines first planted in 1904. It is named after Lizzy and James, the children of proprietors Jorja (Mettler) and Kyle Lerner, after the Mettler family purchased the vineyard in 2005. And in 1916 Edward Soucie, Sr planted own-rooted Zinfandel on Lodi's far west side, which is today owned and managed by fifth-generation Lodi native Kevin Soucie.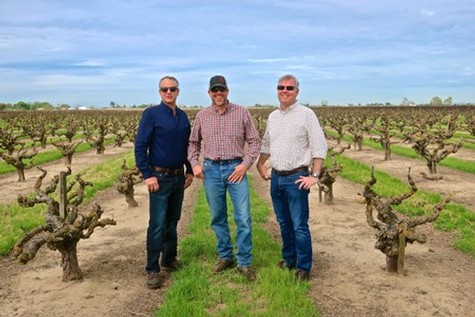 Among 1940s planting of Mohr-Fry Ranches Zinfandel during Snooth visit: winemaker Chad Joseph (Oak Farm Vineyards and Harney Lane Winery), grower Bruce Fry (Mohr-Fry Ranches), and winemaker/owner Stuart Spencer (St. Amant Winery)
A logical question regarding these ancient vines is "do their yields deteriorate drastically over time?" Michael Klouda, vineyard manager at Michael David Winery and winemaker at Michael Klouda Wines agrees that this does occur occasionally, and individual vines must be replaced periodically. But in general, modern sustainable vineyard practices have increased the health and vigor of grape clusters. Kyle Lerner mentioned a similar opinion when discussing the restoration project at Lizzy James Vineyard and the necessity of resuscitating a number of unhealthy vines.

Geographically these ancient vineyards share a common planting within the Mokelumne River AVA and are often own-rooted – even when the St. George rootstock was available. This was possible since the (Tokay series) sandy loam soils along the river are a deterrent to the phylloxera louse, although the soils do not eliminate the threat completely – it's just more manageable. The Mokelumne River location has remained conducive to Zinfandel, as currently 99% of Lodi's Zinfandel plantings are concentrated in this AVA.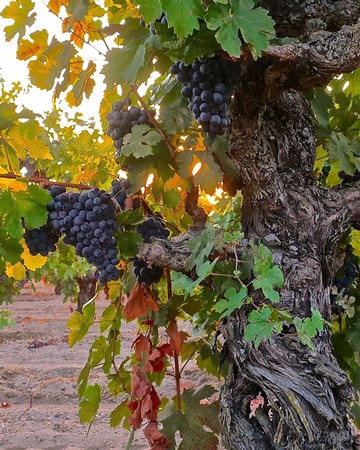 That being said, there is also an east-west dimension to the soils within the Mokelumne River AVA that leads to a dichotomy in the wine styles. On the east side of Lodi (or east of California Hwy. 99) the soil is sandier and deeper and can be described as more of a loamy sand than sandy loam; whereas west of Hwy. 99 the vineyards are sandy loam with generous amounts of finely crushed granite washed down from the Sierra Nevadas. In addition, the east side contains lower water tables which along with the sandier soils equate to smaller berries and clusters. According to Randy Caparoso:
...this means higher skin to juice ratios as well as earlier ripening; and both factors can result in lower pH, higher total acidity as well as increased phenolic content (the color, tannin as well as aromatic compounds of wines are derived from grape phenols and polyphenols). In plainer English, this means brighter, crisply balanced white wines, and darker, firmer, zestier, flavorful red wines. The opposite – larger clusters and berries – means lighter colored, softer, rounder, less aggressively flavored wines.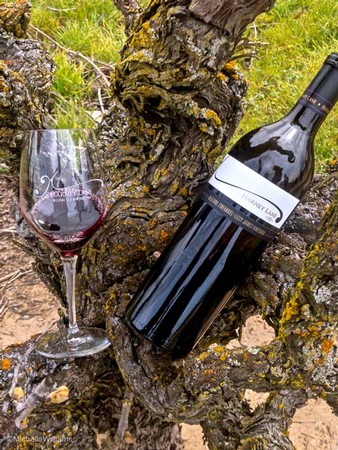 During our visit, we experienced this dichotomy in practice during a blind tasting of East vs West Zinfandel. For instance, the west side's m2 Wines Soucie Vineyard Lodi Native Zinfandel, the Maley Bros. Vineyards Lodi Native Wegat Vineyard Zinfandel, and the Harney Lane Scottsville Vineyard Zinfandel share characteristics of earthiness, mushrooms, and a softer structure. Wines made from Mohr-Fry Ranches' grapes also possess these classic west side traits. In contrast, east side Zins such as the McCay Cellars Lot 13 Lodi Native Zinfandel, Fields Family Stampede Vineyard Zinfandel, and Ironstone Vineyards Rous Vineyard Reserve Ancient Vine Zinfandel share characters of a brighter cherry flavor, black tea, zestiness, and structured tannins. The Harney Lane Lizzy James Vineyard Zinfandels also fit these descriptors. These and other excellent Mokelumne River Zinfandels we sampled were clear indicators of how the grape variety excels in Lodi.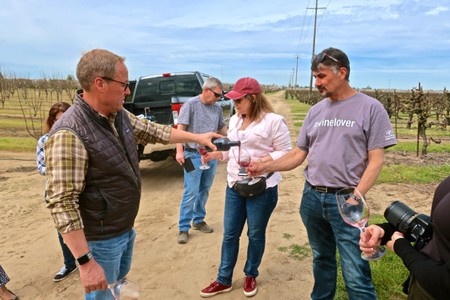 Lodi Wine: Albariño Ascending
When I first tasting Albariño, I became very excited about this grape and knew we had to grow it -Steve Felten, Owner/President of Klinker Brick Winery
As a result, in 2013 Felten regrafted 10 acres of under-performing Chardonnay in Ted's Vineyard (alongside Alpine Road) with the Rías Baixas clone. In this regard, he leveraged the earlier work of Markus Bokisch who first planted Albariño in Lodi Wine country back in 1999 and provided the vines to Felten. Today there are about a dozen Lodi wineries producing Albariño, and the grape's potential is clear. Our Snooth group recognized this potential the very first evening during a dinner at Oak Farm Vineyards after sampling the Klinker Brick Winery 2018 Mokelumne River-Lodi Albariño ($15) and the Mettler Family Vineyards 2017 Estate Albariño ($20). Both of these wines were very reminiscent of their Spanish contemporaries.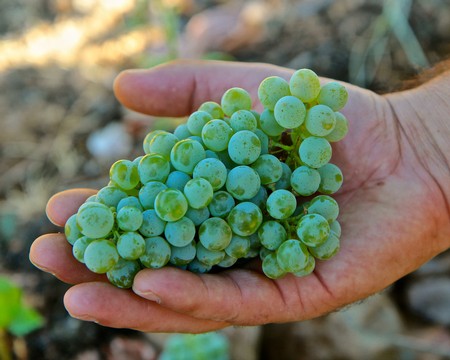 Albariño is the signature grape of the Rías Baixas Denominación de Origen (DO) wine zone in the Galicia region of northwest Spain. It is the Irish region of Spain based on its past Celtic heritage, proximity to the ocean, and abundant rainfall which provides lush landscapes. Mists and fogs cool the region further and vines are planted on pérgola trellising systems that are up to seven feet high allowing breezes to flow through to prevent mildew. This coolness helps the grapes retain acidity; and despite the rainfall, Rías Baixas is blessed with abundant sunshine. The soils are primarily mineral based granite with lesser amounts of alluvial and colluvial soil (clay, silt, sand, and gravel) deposited from the region's many rivers and tributaries.

Rías Baixas wines are characterized by their intense aromatics, minerality, and crisp acidity however there can be noticeable diversity within and between the region's five sub-zones. In most instances, green apples are the dominant fruit, but one can often ascertain apricots and peaches or more tropical notes from warmer sub-zones located further from the ocean.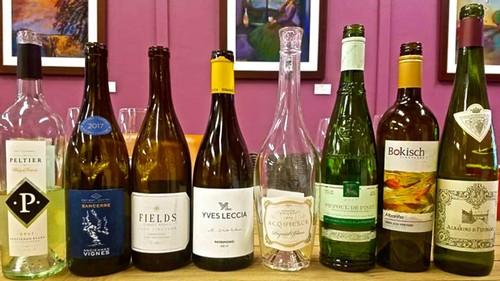 The Klinker Brick and Mettler Albariños both share the classic Rías Baixas style, as did the Bokisch Vineyards 2017 Clement Hills Terra Alta Vineyard Albariño ($20). These wines are characterized by a pronounced floral aroma, green apples and citrus, noticeable minerality, and racy acids. In fact, during a blind tasting of New vs Old World white wines, the Bokisch TAV Albariño tasted closer to Rías Baixas than the Palacio de Fefiñanes Albariño de Fefiñanes which had appreciable New World qualities such as intense stone fruits and shades of honey. This perception was most likely the result of the Lodi wines' distinct minerality, which Felton attributes to the dense sandy loam near the Mokelumne River. And in the case of the Bokisch TAV Albariño, the Clement Hills soil closely mimics those in Rías Baixas, where volcanic, gravelly, clay loam washed down from the Sierra Foothills. Jorja Lerner, co-owner of Harney Lane Winery, also attributes Lodi Albariño's resemblance to Rías Baixas to the "temperature shifts contributed to the Carquinez Strait which brings a bit of the (West) Coast all the way to Lodi – essentially warm days and cool evenings."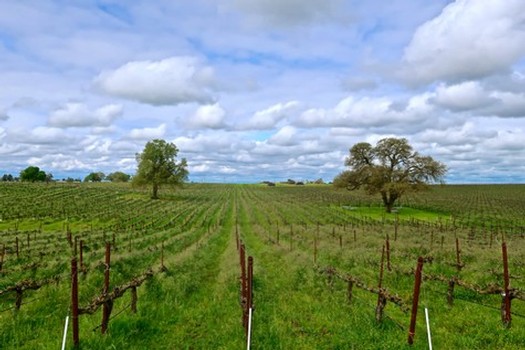 But not all Lodi Albariño meets this steely, green apple and citrus, highly acidic style. For instance, the Bokisch 2017 Las Cerezas Vineyard Mokelumne River-Lodi Albariño ($23) more closely resembles the warmer Rías Baixas sub-zones of Condado do Tea and Ribera do Ulla where fleshy tropical notes develop. And the Harney Lane Winery 2018 Lodi Albariño ($20) more closely resembles the Palacio de Fefiñanes with it's enhanced stone fruit profile. Lerner explains: "When we started making Albariño, we strove for the higher acidity, steelier version of the variety which we felt was truer to Spanish style Albariños. We have found over the years, though, that we can capture a bit more of the fruit component in the wine while still maintaining a dry finish that is slightly softer in acidity. Consumers have shown to love this approach!"

It is clear that the Lodi wine industry is ready to escape from its dependence on marketing solely old vine Zinfandel. There are several white grape varieties ready to be recognized, with Albariño squarely poised to lead the group.
Lodi Wine: Mediterranean Mineral Vermentino
Vermentino is the thinking man's Pinot Grigio -Jim Moore, winemaker/proprietor of Uvaggio Wines
Like Albariño, our Snooth group quickly noticed another under-appreciated white wine grape grown in Lodi wine county: Vermentino. This Mediterranean grape prospers in the Italian regions of Liguria, Tuscany, Piedmont, Corsica, and Sardinia as well as in the southerly French regions of Provence and Languedoc-Roussillon where it is known as Rolle. Vermentino wines typically exhibit herby and lavender-like notes in the nose, bright citrus, stone fruits, and mineral characters, particularly if the grapes were sourced from seaside vineyards. Vermentino also seems to be able to retain its natural acidity even in relatively warm areas. And on occasion winemakers use various winemaking techniques such as skin contact, lees contact, and barrel aging to create a Vermentino whose weight and aromatics can be compared to that of Viognier.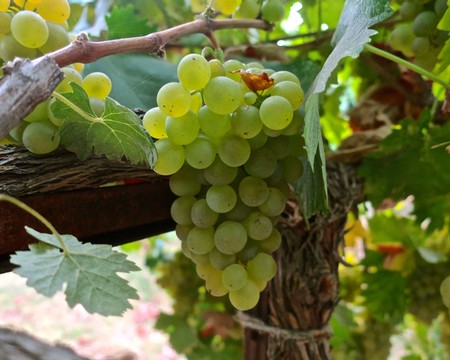 During our Lodi tour, we sampled four Lodi Vermentino wines that shared these Mediterranean characteristics – particularly the bright citrus, racy acidity, and salty minerality. At face value, this may not seem surprising since the Lodi AVA is described as a Mediterranean climate region. But similar terroir doesn't necessarily translate into equivalent wines; variations in sunlight, rainfall, and soil obviously cause distinctions. And even if one condition is similar – like soil – it is (according to Caparoso) "physically impossibility for vines to uptake the taste of minerals through their root systems." Yet what makes Lodi so conducive to Vermentino that over fifteen years ago Napa-based Uvaggio Winery began sourcing the grape from plantings in several different Lodi sub-AVAs?

It appears that the combination of abundant sunshine and similar soil composition lays the foundation and viticulture practices round out the profile. Two of the four Lodi wines derive from Delu Vineyard in the Alta Mesa AVA known for its nutrient depleted soils comprised of sandy loam, clay, and strata of decomposed granite – somewhat similar to Sardinia. And according to John Gash of PRIE Winery, "This particular vineyard is located along a small wooded creek providing a small micro-climate allowing the vineyard to stay a couple degrees cooler in the summer. In addition to the creek, the vineyard has a small valley that traps the cool Delta nights."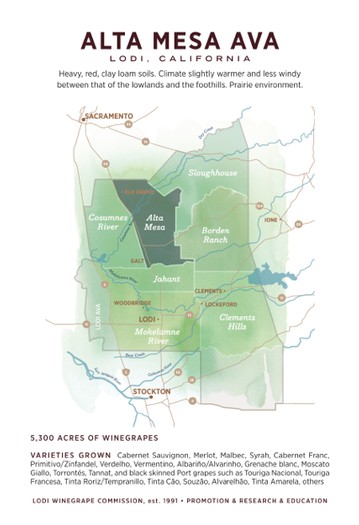 The other two derive from the Mokelumne River AVA where the sandy soils also provide plenty of their own mineral character. Wineries can also capture a minerally taste by harvesting early at higher acidity and lower fruit profiles – this allows the "sensation of minerality to push through in subsequent wines" (Caparoso). According to Peltier Winery winemaker Susana Rodriquez Vasquez: "To preserve those subtle qualities, we ferment the wine in small stainless steel tanks, and we pick early enough to get the right acidity and keep the alcohol low. The wine sees no oak, and we get it into the bottle early to keep its freshness and elegance."
Todd Godbout (WineCompass) on the Peltier Winery & Vineyards 2017 Black Diamond Lodi Vermentino ($18): Before tasting this estate wine I couldn't really recall an American Vermentino wine that matched an Italian Vermentino in terms of acidity and minerality. The citrus profile blends with the salinity and almond body for a light and delicious wine.

Debbie Gioquindo CSW, WLS (Hudson Valley Wine Goddess) on the m2 wines 2018 m2 Mokelumne River-Lodi Vermentino: Vermentino is not a grape let alone wine you see often grown stateside. You recognize it as an Italian variety and expect the wine to be a product of Italy. In Lodi, California they are growing Vermentino and m2 Wines makes a nice crisp, clean Vermentino with bright acidity. You'll find it hints of pear and citrus, predominantly lemon-lime, with mandarin orange on the finish. A great wine to celebrate Spring!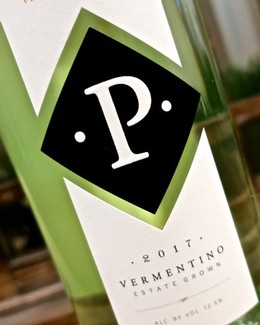 Luiz Alberto (#winelover) on the PRIE Winery 2017 Delu Vineyards Lodi Vermentino ($21): The PRIE Vermentino was one of the "great whites" discovered during my recent visit to Lodi. Lots of citrus fruit and minerality in a ballerina body. In a blind tasting, it would be hard not to think that it was from a vineyard with a view of the Mediterranean… you know, those wines that you can taste the saltiness of the sea and feel a light breeze on your face.

Michelle Williams (Rockin Red Blog) on the Fields Family Wines 2017 Delu Vineyard Lodi Vermentino ($21): Not surprising, this Mediterranean grape has found a home in Lodi, and, in my opinion, Ryan Sherman, winemaker at Fields Family Wines, is knocking it out of the park. In a blind tasting, the 2017 Fields Family Wines Vermentino Delu Vineyard ($21) was paired against one of Corsica's best – the 2017 Yves Leccia Patrimonio Blanc ($42). The tasting stumped five wine writers, leaving us unable to determine Lodi versus old world Vermentino –- one of many examples of how Lodi wines deliver high quality at value prices.
Continued in Part 2: The Wine Compass' opus on the unique, unusual and unconventional wines of Lodi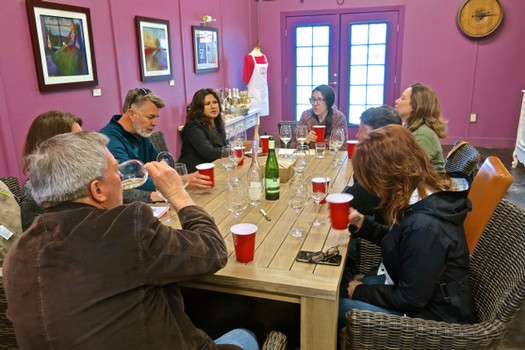 Comments