Letters from Lodi
An insightful and objective look at viticulture and winemaking from the Lodi
Appellation and the growers and vintners behind these crafts. Told from the
perspective of multi-award winning wine journalist, Randy Caparoso.

June 8, 2020 | Randy Caparoso
The Mourvèdre grape finds a home in Lodi's rocky hills (and with smoky pulled pork)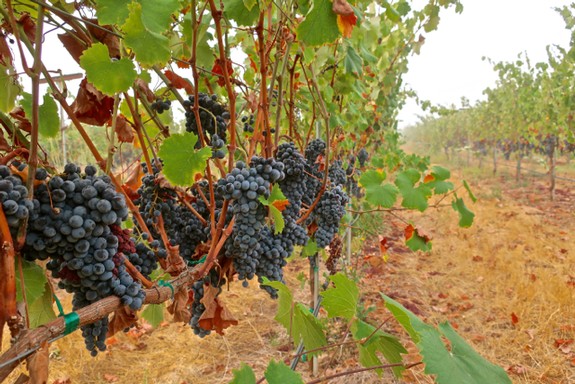 A couple of years ago we held a public tasting attended primarily by local winegrowing professionals in which we compared, "blind," a 2016 Bokisch Vineyards Sheldon Hills Vineyard Monastrell grown in Lodi's Sloughhouse AVA with a 2015 Domaine Tempier Bandol from France's Provence region.
The comparison was a valid one in that both wines were made primarily from the black skinned Mourvèdre grape: a variety called Monastrell in Spain (hence, Bokisch's chosen moniker, to underscore this Lodi winery's specialty in Spanish varieties), but known by the Portuguese synonym Mataró for most of California's winegrowing history (reflecting the influence of the state's Portuguese immigrants who settled throughout the Bay Area and the northern reaches of San Joaquin Valley, including Lodi).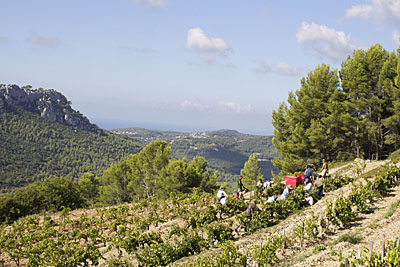 "Comparison," mind you, is also the operative term in such a blind tasting, where the end result becomes instructive as much as because of the differences (as opposed to similarities) found in two such wines. There is, after all, an entire continent and ocean separating Lodi, CA and Bandol in Provence — approximately 5,911 miles, to be more exact. Right here in Lodi, growers and vintners know well enough not to "rate" Zinfandels grown on the east side of town (where the soil is deeper and sandier) in comparison to Zinfandels on the west side (where the soil is a little richer and loamier) — vineyards just three or four miles apart, producing Zinfandels so distinct they may as well come from different countries.
Bandols from France are also, typically, blends — in the case of the 2015 Domaine Tempier, 75% Mourvèdre, 14% Grenache, 9% Cinsaut and 2% Carignan — whereas Bokisch's Monastrells consist of 100% Mourvèdre to place maximum emphasis on the grape's varietal character. Plus there is a fact that Domaine Tempier's wines are made from vines averaging at least 40 years of age, whereas Bokisch's Sheldon Hills Vineyard was planted in 2014 (boding a bright future).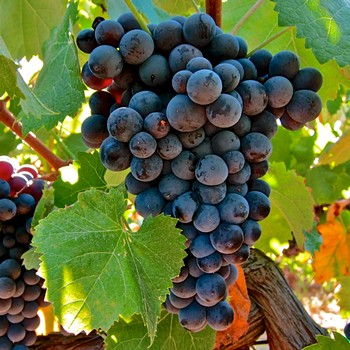 And that's where the fun begins: in the qualities of the Mourvèdre grape, which are so dominant, even in a 75% blend, that it imposes its will or distinction — often manifested in earthy, scrubby, leathery notes that can even engulf the aromas of berry liqueurs in the nose, or the slightly sparkly, lively, lilting quality in the texture of the wine itself, almost belying a meatiness of tannin and dried grape skin flavor. Bandol, as it were, is also an appellation that is so close to the Mediterranean Sea that, as the writer James Harrison once remarked, "there is a salty tinge to the violet-blushed air" — sensory qualities that also come out in the wine, especially when consumed with briny scented bouillabaise (the classic seafood dish of the region).
As in Bandol, Bokisch's Monastrell/Mourvèdre is grown on rocky hillsides — Sheldon Hills Vineyard's, replete with old river rock and clay, and strongly influenced by ocean air seeping through the Sacramento-San Joaquin River Delta just a few miles away. The Sloughhouse AVA, located entirely in Sacramento County, is Lodi's northernmost and warmest appellation, and the combination of intense sun, cool nights (dipping into the 50°s) and all the rocks in the world produces a burlier, deeper colored style of Mourvèdre, which retains the supple, earthy and berry liqueur-like character of the grape despite muscular levels of tannin.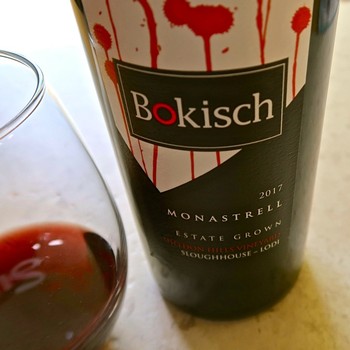 The family's current release — the 2017 Bokisch Vineyards Sheldon Hills Vineyard Sloughhouse-Lodi Monastrell ($25) —is exactly that: deep, dense, fleshy and saturated in violet-ruby color and earthy (as in the sense of humus or wild mushrooms) yet brightly fruited (dark berries with tinges of cassis), high toned sensations of the grape.
While distinct, Mourvèdre is also one of the world's most transparent grapes. That is the reason why owner/grower Markus Bokisch is also 100% convinced that the Sheldon Hills Monastrell's intense qualities are driven as much by its specific site as the grape's varietal character: because for some ten years he also produced a Monastrell from a vineyard (called Belle Colline) located further south in Lodi's Clements Hills AVA; where, despite a similar rocky/clay hillside circumstance, the wines always turned out notably lighter in weight, tannin and color, with aromas veering more towards the scrubby/herby/floral sides of the grape. The Bokischs no longer produce a Belle Colline Monastrell (the vineyard was sold, and the Mourvèdre vines grafted over to Cabernet Sauvignon five years ago), which is a shame because there are few things as fascinating — at least to wine geeks — than the clarity of site, or terroir.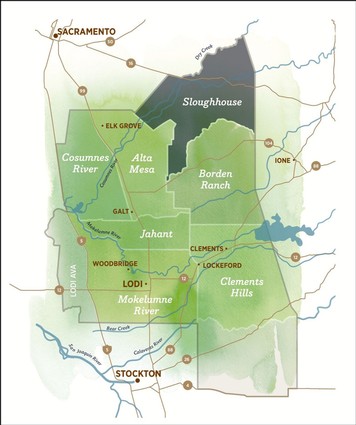 Unlike many Bandols, or even the Belle Colline Monastrells of the past, Bokisch's Sheldon Hills bottlings are not quite as food-flexible — its constitution a little too musclebound for, say, a stew of shellfish or plate of oysters. But in the context of fatty meats like pork or beef, or the earthy taste of red fleshed game birds, this wine finds a partner that brings out the grape's culinary nimbleness. The beauty is in the varietal markings: it can come across as full and teeming, yet never really heavy or plodding. And so with food, it can have the deftness of, say, a more delicate Pinot noir, the flexibility of a typically zesty Zinfandel, plus the ability to bring out earthy, meaty flavors in dishes like Tempranillo.
Hence, for Bokisch's 2017 Monastrell, our recommendation of Hawaiian style smoked pulled pork (what Islanders call kalua pig), which differs from Southern style pulled pork in that it's not mixed in or served with a vinegary, sweet-spicy barbecue sauce (Bandol doesn't have the pointedly sweet/zesty berry jam flavors like Zinfandels, which makes them better equipped to handle American barbecue sauces).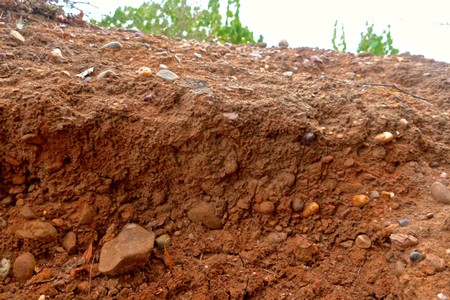 In Hawaii, fork tender, steamy piles of smoked pork are dolled up with nothing more than rock salt. The ancient Hawaiians traditionally dug a 6 x 4 x 3-foot pit to make their kalua — the whole pig cooked over blazing hot rocks, covered with banana leaves and burlap, and then buried to steam a good 24 hours. There is, however, a few different ways of achieving similar flavors without putting a big hole in your backyard. Most home preparations still call for banana leaves, but the following recipe requires only an oven and three ingredients:
5-8 lb. pork butt
¼ cup sea salt (Hawaiian sea salt if you can find it, although any brand of rock salt will do)
2 oz. liquid smoke (or ½ bottle of Wright's Liquid Hickory Smoke)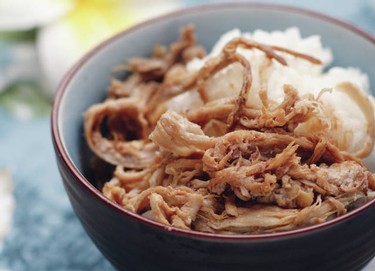 Pre-heat oven to 350° F. Score pork and place in a big enough Dutch oven. Combine salt and liquid smoke and rub all over pork. Pour water half-way up side of pork; cover with heavy duty aluminum foil and roast in oven, at least 1 hour per pound. Remove pork from water, place in large bowl and shred with tongs or strong forks. Mix in additional rock salt to taste. Serve with steamed white rice, collard greens or spinach, and fresh sliced tomatoes; and enjoy leftovers with, say, pico de gallo and tortillas, in French bread roll sandwiches, or even on homemade pizza.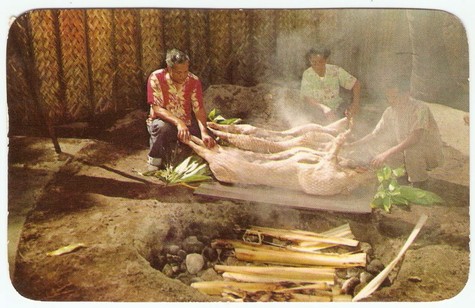 Comments