Letters from Lodi
An insightful and objective look at viticulture and winemaking from the Lodi
Appellation and the growers and vintners behind these crafts. Told from the
perspective of multi-award winning wine journalist, Randy Caparoso.

June 1, 2017 | Randy Caparoso
The Gnarly Head conundrum (can mechanically harvested head trained vines meet growing demand for Lodi Zinfandel?)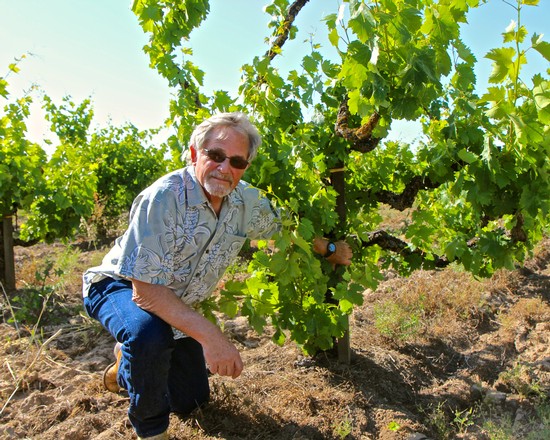 Although the Lodi Viticultural Area is becoming increasingly well known for its wide range of grapes and varietal wine types, the region's single most important ambassador remains the classic Zinfandel grape, now produced primarily as a red wine (as the popularity of fruity, pink colored "White Zinfandel" continues to wane).
Lodi grown Zinfandel, of course, is also associated with the region's thousands of acres of "old vine" plantings – largely planted between the 1890s (the oldest) and 1970s. The best selling bottling by Delicato Family Vineyards (i.e. DFV) – sold under their Gnarly Head Old Vine Zinfandel label – is based upon the meager yet intensely flavorful fruits of these phenomenally wizened, gnarled, head trained, spur pruned vines; most of them planted on their own rootstocks in the rich yet porous (Tokay) sandy loam soils defining the historic Mokelumne River AVA, surrounding the City of Lodi.
DFV's current vintage – labeled as the 2015 Gnarly Head Lodi "Old Vine Zin" – is opulent in black cherry and black tea-like aromas, harmonized with faintly smoky, pepper and cigar-like spice. The feel is round and svelte, full without being "big" (at an industry-standard 14.5% alcohol), meaty without being drying, rough or tumble. A sip almost compels you to fire up the barbecue grill and get cookin'.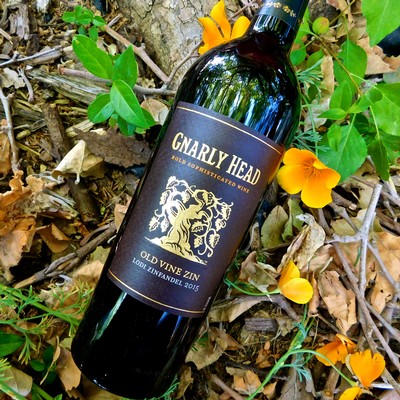 One of the nation's largest in case sales, the yearly production of Gnarly Head label Zinfandel is currently up to about 300,000 cases. The wine is sold in all 50 states; and a good 70,000 cases are sold internationally; particularly in Canada and Europe. Says Elizabeth Rice, DFV's Director of International Marketing & Operations, "Most of our European customers want old vine Zinfandel because it is 'unique' to California, and has the taste profile they prefer. Sales of all our Gnarly Head bottlings are up 11% year-to-date, which is due to our new label launches and increased distribution."
According to Bud Bradley, Gnarly Head's longtime viticulturist, "There is no question that head trained old vines produce Zinfandel superior to younger vines trained on trellises. You may ask why there is a difference, and I'll tell you straight up – older, mature head trained vines do not over-crop themselves like trellised vines.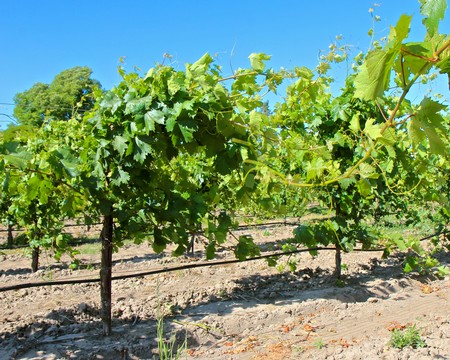 "It's only after these vines reach a certain level of maturity – usually after about 35 years in the ground – that their arms (or spurs) become 'gnarly,' and more importantly, long enough to open up their (leaf) canopies so they have the exact right amount of shade and exposure to sunlight to ripen fruit without burning the Zinfandel fruit's delicate skin, and enough air movement to resist rot during the later stages of ripening. That's when a vine has settled into a perfect balance of moderate yield and superior quality.
"With younger vines on trellis, on the other hand, you have to do much more leaf thinning, dropping of fruit, shoot removal, and careful monitoring of irrigation just to achieve a balance of yield and quality that an older, head trained vines can produce naturally. Gnarly Head may retail for under $15, but we're not willing to compromise on the standards quality that have made it so popular to begin with."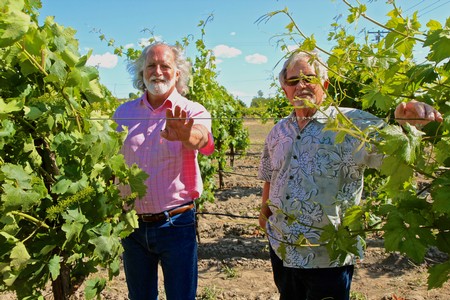 Achievement of that perfect level of ripeness, according to Gnarly Head winemaker Scott Jones, is a matter of waiting for the right moment, and being able to pick that very moment. Explains Mr. Jones: "I live in the heart of old vine Zinfandel country on Lodi's west side, and so every morning before driving to the winery (in Manteca, just south of Stockton), I'm able to spend a couple of hours just going through the vineyards, monitoring the progress, tasting the fruit. We look for the moment the grapes attain a jammy yet fresh, zesty blackberry flavor. If we wait too long, the grapes become raisiny, producing wines that taste more like Port.
"The challenge is that we source from close to 100 vineyards, and no two are exactly alike. The sites are different, and each grower's viticultural practices are different. Some are 30 or 35 years old, some closer to 90 or over 100. Some are dry farmed, some are drip irrigated, and some are furrow irrigated, and they don't mature at the exact same time – sometimes a month apart. Still, timing is everything when it comes to consistently good Zinfandel."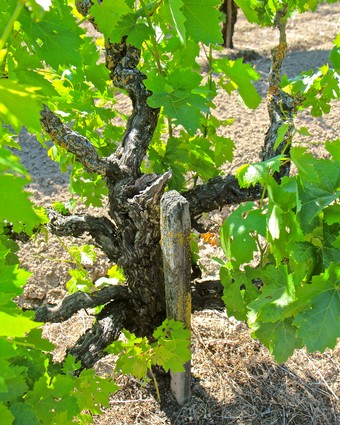 But therein lies a serious conundrum: How does a region like Lodi keep up with the growing world-wide demand for old vine Zinfandel when, in fact, the number of unique old vine plantings is finite? Although the designation is not regulated by label laws, most of the industry do not consider a vineyard to be "old vine" until it is at least 40 to 50 years old. You cannot instantly expand by planting more "old vines." Vines planted over the past five years will not become "old" until at least the 2050s.
Another major factor looming over the Lodi wine grape industry like a dangling sword is the question of labor. With the prospect of tighter reins on the movement and immigration of migrant workers, who will do the work of cultivating and picking free-standing, head trained vines which, unlike trellised vines, cannot be mechanically groomed and harvested? The Lodi wine grape industry is growing so fast, the region needs more laborers, not fewer.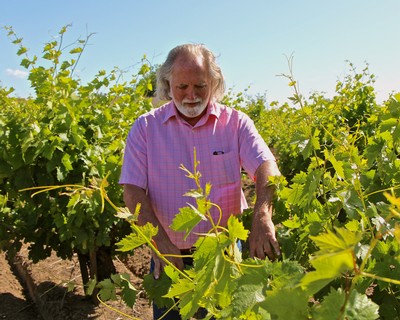 According to Bradley, "One of the ways that we have begun planning for a possible shortage of labor and vineyard sources has been through newer plantings of head trained vines that are trained up on sturdy stakes, which are connected by wires. This way they'll be able to mature like classic old, head trained vines, but the wires will make it possible to mechanically harvest. We only began working with a few of these new plantings five years ago.
"Of course, it will be years and years before these new head trained plantings staked out on wires will come anywhere near the quality we look for in our Gnarly Head program. In the meantime, the fruit from these new plantings will go into our lower tier blends, and we will need to continue relying on our older plantings on long-term contracts. Such as the Van Ruiten Family Vineyard on Turner Rd. – classic, small vines planted in the early 1900s, now over 100 years old. Or one of my favorites, the Kramer Vineyard, also planted on the west side, during the 1940s. Kenny Kramer's vineyard has those long, twisting arms bearing the perfect quality fruit that originally inspired the Gnarly Head label.
"But there will never be a substitute for true old vine Zinfandel, and you still have to come to Lodi to find them!"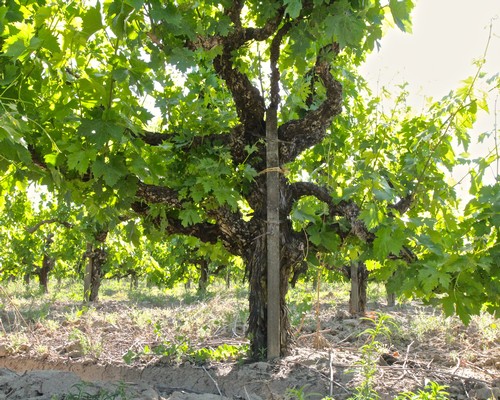 Comments