Letters from Lodi
An insightful and objective look at viticulture and winemaking from the Lodi
Appellation and the growers and vintners behind these crafts. Told from the
perspective of multi-award winning wine journalist, Randy Caparoso.

June 15, 2016 | Randy Caparoso
The 2013 Lucas ZinStar reflects a stubborn legacy of single-vineyard finesse winemaking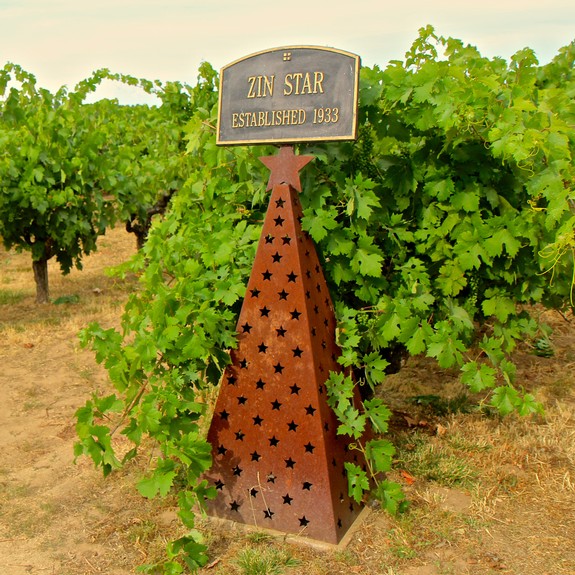 There is a new "boss" in town at The Lucas Winery on Lodi's west side: Mitra Lucas, who has just recently taken over winery management; although she prefers to refer to herself simply as "Owner & Daughter."
"She may fire me yet," said David Lucas this past weekend, with the familiar puckish glint in his eyes. Mr. Lucas founded his eponymous winery and vineyard estate in 1978, making it the second oldest boutique scale operation in the Lodi Viticultural Area.
Last Saturday (June 11, 2016), the big occasion at the Lucas ranch was the release party for their estate grown and produced 2013 Lucas ZinStar® Vineyard Lodi Zinfandel ($50). Every new vintage from the 83-year old ZinStar Vineyard is a momentous occasion, for sentimental as much as for critical reasons: for many longtime Lodi wine lovers, ZinStar was their first taste of handcrafted, artisanal style, single-vineyard bottled Lodi wine – coming into yearly production long before the most recent wave of premium wines in the region. ZinStar (along with St. Amant's Marian's Vineyard Zinfandel) is the closest thing to a Lodi icon.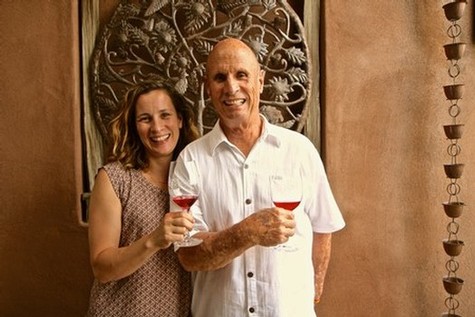 Says Ms. Lucas, "I grew up with ZinStar – it is literally in our backyard – and my parents made their first vintage the year I was born, in 1978. I share many memories with this special little vineyard (just 3.5 acres) and have literally grown up walking through its vines. The 2013 is our 37th vintage of this wine, and we produced just 238 cases of it."
ZinStar is perhaps most significant, however, because of its enduring quality in the glass. It has always been a finesse style Zinfandel; grown and crafted to mature gracefully for as long as over 20 years – not to come in with a bang and go out with a whimper within the first four, five years, like the vast majority of California Zinfandels.
The 2013 ZinStar may eventually rank among the finest of the past three decades: opening up with warm, inviting perfumes suggesting flaky, baking spice tinged blueberry/Bing cherry pie. Also, not unlike other west side Mokelumne River Zinfandels, there are faint yet distinctive organic notes in the nose, like threads of saffron and loam. On the palate, the ZinStar signature is manifested in silky yet sturdy medium bodied qualities – neither heavy nor lightweight – with nary a hint of obvious annoying oakiness (although the wine is aged 100% in French oak) that mar most Zinfandels; but rather, just bright, natural acidity and firm yet rounded tannin carrying the crusted blueberry sensations through a fine, seamless, even keeled finish.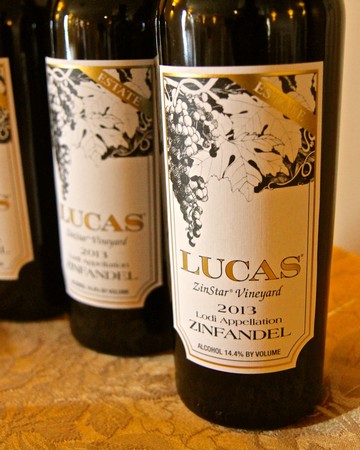 We asked Mr. Lucas to share his own thoughts on how the 2013 ZinStar reflects the style or legacy of the vineyard set by previous vintages. Says Lucas, "I don't think we've ever had a winemaking 'style.' Our vineyard and Mother Nature have always been the ones to set the style, giving us distinct variations in each vintage. We have worked with this vineyard for so many years that we have a pretty good idea of how to support her to make the best crop. This year (2016), for instance, she has produced a huge crop, so we had to go in and drop about half the fruit. We know her well enough that she would get half-way through August and not be able to continue."
Asked to describe the variation furnished by ZinStar in 2013, Mr. Lucas tells us: "The 2013 is darker in color than the 2012, and exhibits a combination of red, ripe and dark fruit flavors along with a hint of all-spice. As usual, there is a balanced natural acidity to the wine – a result of our balancing the vines with lower yields to protect the natural acids. Therefore, it is never necessary to add any acid to our wines during the winemaking process. This ensures a very balanced finish."
Mr. Lucas is married to Heather Pyle-Lucas, who is respected throughout the local grape and wine industry for her work as a consulting winemaker for a number of other wineries (including Acquiesce, Vicarmont, St. Jorge and Estate Crush). Like Mr. Lucas, Pyle-Lucas also previously worked for Robert Mondavi Winery (17 years); at one point, as the winemaker of the prestigious Opus One Winery.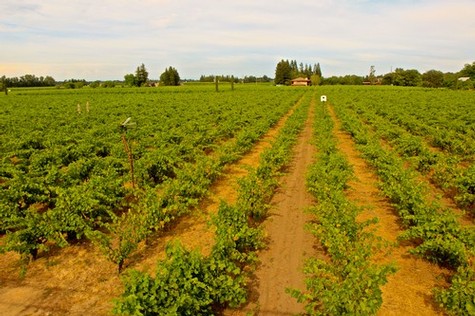 Mitra Lucas calls Pyle-Lucas the "vine whisperer," as she has been doing most of the work overseeing the ZinStar Vineyard, which is certified organic by CCOF. Says Pyle-Lucas: "Organic farming forces a greater presence in the vineyard. It is the more pro-active approach, and also the more expensive, but it leads us to a better understanding of the vines, and how to optimize the fruit. Organic demands this attention to detail because the 'inputs' used to prevent infection or infestations like predator mites are gentle, and often slow to act."
When asked about the specific terroir-related aspects of ZinStar that make it different from other Lodi Zinfandels, Mr. Lucas was quick to say: "First, we don't add mega-purple or blend with other varieties. We know by not doing these things our wines remain lighter in color, and are never really 'jammy,' like what you expect out of most Zinfandels."
The Lucas Winery deserves all the credit in the world for sticking to their guns all these years, while bigger, blacker, bolder and sweeter wines may have gotten most of the attention. But what they get credit for is making wines that express a specific place – the physical circumstances occupied by the vines. One of the reasons ZinStar tends to be a lighter, more elegant, graceful style of Zinfandel, for instance, is its porous sandy soil.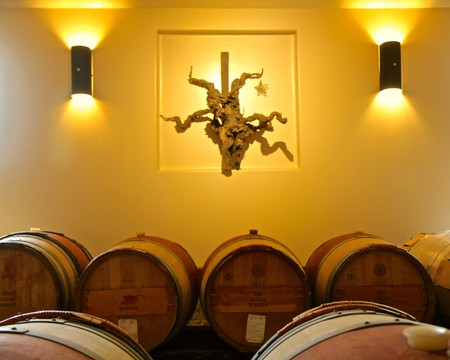 "The actual soils of the ZinStar," Mr. Lucas points out, "are even sandier than other vineyards on this side of Lodi. At harvest, when the vineyard is the most stressed, from a bird's eye view you can see a paler, crescent-shaped color line stretching from (neighboring) Peterson's property to Jessie's Grove that runs right through ZinStar. We believe this is a left-over sand back from a stream that used to run in this direction towards the Delta."
Adds Mr. Lucas, "Here is a vineyard that was planted at the end of Prohibition, in 1933, and has survived all these years growing on its own roots. We've always felt it is one of the best Zinfandel vineyards in California, but it is also unique among all other vineyards.
"We often have people visiting our winery who say they don't like Zinfandel because of what they've experienced in the past. Then they taste ZinStar, and time and time again they discover that they can intuitively appreciate, and enjoy, the balanced style we get from this vineyard. In the end, that may be the most enduring legacy of ZinStar – a vineyard with distinct qualities unlike anything else in Lodi, or anywhere else in the world."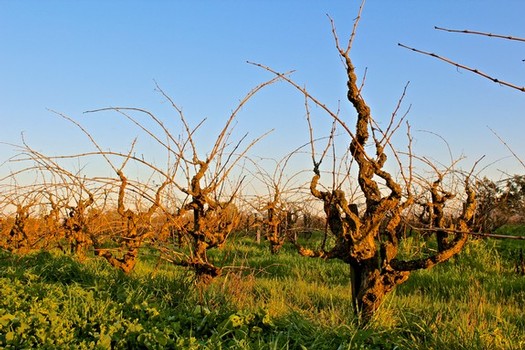 Comments