Letters from Lodi
An insightful and objective look at viticulture and winemaking from the Lodi
Appellation and the growers and vintners behind these crafts. Told from the
perspective of multi-award winning wine journalist, Randy Caparoso.

March 26, 2020 | Randy Caparoso
Surviving shelter-in-place with Tempranillo and its ideal food match (high myoglobin proteins)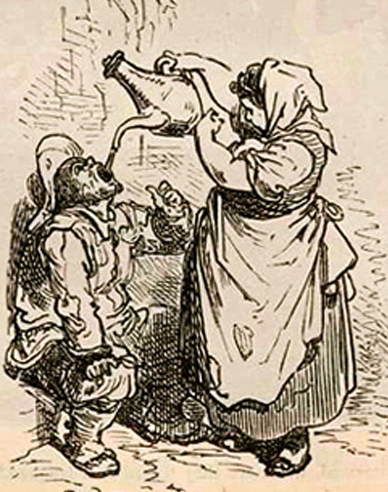 In week 2 of our mandated shelter-in-place living situation, let's talk Tempranillo and its ideal food matches, or what we would describe as high myoglobin foods — essentially, red meat (if you want to skip the wine geek talk, scroll straight to the end of this post for our recipes for Parmesan Crusted Lamb Burgers and Catalan Barbecued Rack of Lamb and Vegetables).
First, let's talk about the grape itself: A black-skinned variety native to Spain, which produces a wine that is just beginning to slip into the lexicon of the average American wine lover. It took a while — over 100 years, to be exact, as we know from historical accounts that Tempranillo was first introduced to California during the 1880s (listed among the varieties cultivated at the U.C. Davis Foothill Experiment Station in Jackson, Amador County during the late 1800s, and where U.C. Davis plant pathologist Dr. Austin Goheen "rediscovered" selections in 1963).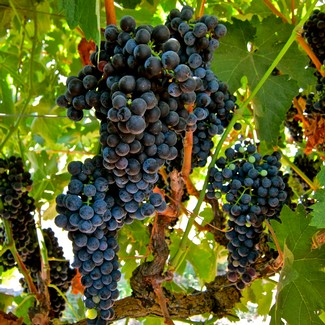 For most of the twentieth century, Tempranillo was listed in California grape crush reports by one of its synonyms, Valdepeñas, and it was considered a very minor variety — primarily because most of it was planted in warmer regions of the Central Valley, where it produced nondescript wines going into "jug" generic blends and fortified bottlings.
Why did Tempranillo go unappreciated for over a century? In all likelihood, the grape never developed a reputation in the American wine industry as a variety possessing clearly defined sensory qualities. Typifying that thinking, in Maynard Amerine and Edward Roessler's authoritative 1963 book called Wines, Their Sensory Evaluation (W.H. Freeman and Company), the black-skinned grapes listed as having "recognizable varietal character" were Barbera, Cabernet Franc, Cabernet Sauvignon, Gamay, Grignolino, Merlot, Nebbiolo, Petite Sirah, Pinot noir, Ruby Cabernet and Zinfandel.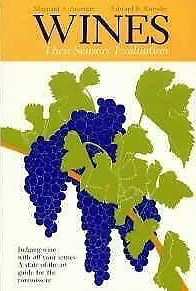 To add insult to injury, Amerine and Roessler went on to mention varieties "that rarely yield wines with a recognizable varietal character," citing Carignan, Early Burgundy (a.k.a. Abouriou), Mataró (a.k.a. Mourvèdre), Mondeuse, Royalty and Rubired. But no Tempranillo or Valdepeñas are mentioned anywhere. This noble Spanish variety could not even make a list that obviously included grapes (like Grignolino, Ruby Cabernet, and Mondeuse) that would never catch on during the ensuing modern-day varietal wine boom, which started in the 1970s.
And admittedly, even the finest Tempranillo-based reds of the world — not just those of California and Oregon, but also classic regions like Spain's Rioja and Ribera del Duero regions — do not have the obvious, fragrant fruit profiles of grapes like, say, Pinot noir or Zinfandel, or the pungent minty/herby tinged bearishness of a Cabernet Sauvignon or Cabernet Franc. The aromas of a top Tempranillo are always more subtle: more like hints or suggestions of berryish fruit, more often than not encased in equally faint notes of leather, tobacco, red meat, and/or earthy nuances.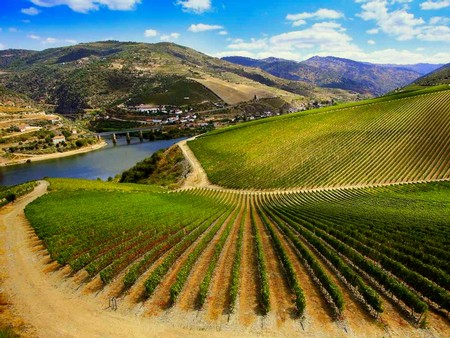 It is not surprising, given the average American wine consumer's penchant for more easily recognizable fruit aromas, that it wasn't until the early 2000s that American-grown Tempranillo bottlings finally caught on with modest numbers of wine lovers in search of alternative varietals, particularly as New World counterparts to the red Spanish imports that began to carve a niche in the U.S. market during the 1990s.
The relation to the fairly recent influx of Spanish imports can't be overstated. Once a small yet significant chunk of consumers developed a taste for red wines with lower key aromas and flavors — i.e. a more "European" taste, the opposite of the obvious fruit profiles appealing to most American consumers — it was only a matter of time before pioneering grower/producers like Abacela Vineyards in Southern Oregon or Bokisch Vineyards in Lodi (both of whom began planting Tempranillo in earnest during the mid-1990s) would be able to gain significant toeholds as leaders in their respective markets.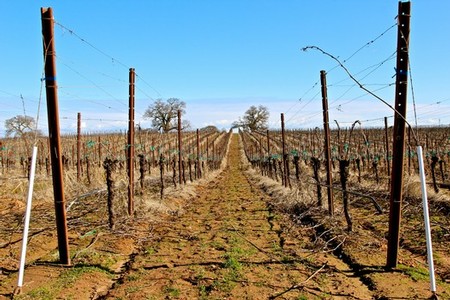 Lodi's Markus Bokisch broke ground on his Bokisch Vineyards in 1996. He felt that one of his first plantings of Spanish varietals — in Liberty Oaks Vineyard, selected for the restrictive, shallow loamy clay defining Lodi's Jahant AVA — was an ideal site for plant material that he sourced directly from Spain (now registered as Tempranillo 12 by U.C. Davis' Foundation Plant Services). For most of the past 20 years since, Bokisch Tempranillos have been produced in a supple, meaty, moderately weighted style with quiet yet pretty red berry aromas that invite immediate consumption.
Bokisch Vineyards has, however, recently released a "Gran Reserva" style Tempranillo aged an extra four years in wood and bottle, which has proven to have gained remarkable breadth and structure from the additional tannin and oxidation from the added maturation. It seems that Tempranillo is such that its intrinsically rounded fruit tannin makes for a very appealing wine when consumed young, yet you can take the exact same Tempranillo and put that tannin to work over extended periods of time, and come out with a pumped-up version of the varietal. We can think of only one other grape (Mourvèdre) with as flexible, or adaptable, a phenolic muscle.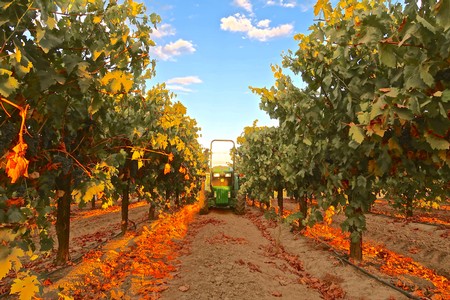 Also in Lodi during the late 1990s, the late Alan Kirschenmann planted a small block of Tempranillo for Mitch Cosentino in one of the sandiest pockets of the Mokelumne River AVA, east of the City of Lodi near the community of Victor. Just a quarter-mile away in a similar sandy riverside site, the Bokischs planted Tempranillo in their Las Cerezas ("Cherry Road") Vineyard. In the early 2000s, Harney Lane Winery followed up with their own modest block of Tempranillo south of Victor in the ultra-fine sandy soil of Mokelumne River-Lodi's east side.
All of these plantings have since matured — particularly the Kirschenmann Vineyard, now bottled by Lodi's McCay Cellars (who purchased the vineyard and renamed it Lot 13 Vineyard), Fields Family Wines, and m2 Wines — and have since proven that Tempranillo can produce perfectly "varietal" (i.e. meaty and dense, and not unlike new leather) qualities in sandy loam soils, as opposed to the rocky clay hillsides traditionally associated with the grape. No matter where you go in the Lodi appellation, of course, the prevailing climate is decidedly Mediterranean, marked by the bright, warm summer days and the cool summer nights that the Tempranillo grape loves.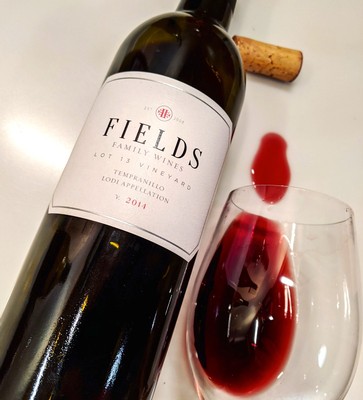 Perhaps the most phenomenal aspect of red wines made from Tempranillo is that their palate sensations are just as subtle as their aromas, typically giving a gripping feeling of fullness without the burdensome baggage of hard tannin or excessive alcohol. When red wines like this are consumed on their own, these sensory qualities are almost elusive to the senses. But when consumed with food, particularly high myoglobin protein meats, the nuanced varietal character suddenly become more delineated and intense, often in dramatic or surprising fashion.
Let's put this in English (or is it Spanish?): A good Tempranillo can be quite pleasing, in its own low-key sort of way, when sipped on its own. But when tasted in the context of certain foods, all of a sudden the wine tastes more expansive, and even aromas in the glass seem to intensify. A trick of the senses? Not really. It's simply that our olfactory and tongue receptors are strongly susceptible to sensory suggestions, and red meats act as triggers for Tempranillo components. The wine becomes, well, more exciting in these food contexts — which, we can surmise, is exactly why the grape has remained in high esteem, for centuries upon centuries, in regions like Rioja, Ribera del Duero, Toro, La Mancha, and the Catalunya of Spain. It just took us dumb Americans over 100 years to finally catch on.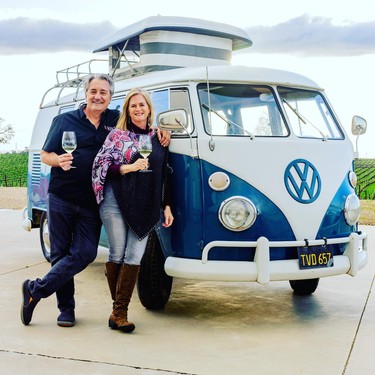 Bokisch Vineyards co-owner Liz Bokisch, for instance, loves to suggest her Tempranillo with pork tenderloin or chicken mole; but you may find Tempranillo characteristics to be even more distinctive when tasted with dark, rangy meats of muscle-using game animals such as lamb, venison, bison, goat, wild pig, goose, duck or squab.
But perhaps the most magic happens when Tempranillo-based reds are served with lamb — lamb chops, roasted legs of lamb, ground lamb, almost any kind of lamb, cooked almost any way. Best yet, it doesn't have to be elaborate: as long as the gamey, grassy taste of lamb is involved, you'll experience one of the world's greatest wine and food matches when a good glass of Tempranillo is poured.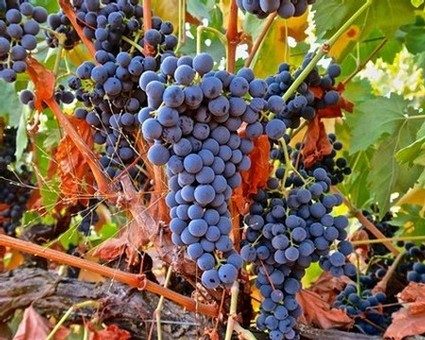 The following is a favorite "everyday" lamb recipe, which can be prepared from start to finish within 25 minutes. In this dish, the synergy between Tempranillo and lamb is amplified all the more by the umami-rich taste of Parmesan and the pungent herbiness of rosemary:
Parmesan Crusted Lamb Burgers
1 lb. ground lamb
½ cup panko (Japanese bread crumbs)
½ cup shredded Parmesan
½ teaspoon fine ground sea salt (or to taste)
½ teaspoon lemon pepper (or to taste)
½ teaspoon fine-chopped rosemary
¼ teaspoon dried minced garlic (or to taste)
1 egg
olive oil
butter
Mix panko, Parmesan, salt, pepper, rosemary, and garlic in a flat bowl. Beat the egg in a small bowl. Form small, flat ground lamb patties; dip in egg and then coat with panko mix. Heat a generous amount of olive oil in a large frying skillet over medium heat. Melt a fat pad of butter into oil and sauté burgers; about 5 minutes on each side until pale pink inside, golden brown on the outside.
Serving suggestions: Pour pan drippings over a serving of your favorite loose pasta (consider orzo or angel hair) or rice. For vegetable options, sauté spinach or zucchini with about a tablespoon of drippings; or finely chopped mushrooms, splashed with white wine or dry vermouth, then folded into pasta.
Note: for similar wine/food fireworks, ground lamb patties may be substituted by ground bison or grass-fed beef; or else cutlets from any part of the lamb.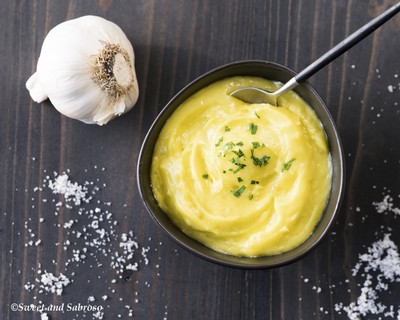 Catalan style allioli (image courtesy of Sweet and Sabroso blog)
Liz's Kitchen's Catalan Barbecued Rack of Lamb and Vegetables
If you are a vegetarian, it's not as if a Tempranillo is totally not for you. Charcoal-grilled portabello mushrooms, Chinese broccoli, eggplant, and green onions also give plenty of robust, smoky flavors to mingle with a meaty Tempranillo.
All the same, it's hard to beat a rack of lamb. The following recipe comes directly from Liz Bokisch's Liz's Kitchen online cookbook for "Catalan BBQ with Pili's allioli." Re:
Rack of lamb
Garlic
Sea salt
Fresh rosemary
Olive oil
Assorted vegetables (eggplant, zucchini, scallions and potatoes)
For allioli:
3-6 cloves garlic
1 cup olive oil
2 eggs
¼ tsp. sea salt
Marinate lamb with pressed garlic, sea salt, chopped rosemary, and olive oil. Slice vegetables and lightly coat with olive oil, salt and pepper.
Begin allioli by pressing garlic into a bowl. Add salt and mash into a paste with mortar and pestle. Put one egg plus one yolk into a food processor, and add the garlic/salt paste. While the processor is on, very slowly drizzle the olive oil into the mixture until it starts to thicken; continue until all the oil is added. Consistency should end up like homemade mayonnaise; can be refrigerated for up to 1 day.
Then you're ready to grill the lamb and vegetables; serve with the allioli on the side and garnish with fresh rosemary sprigs.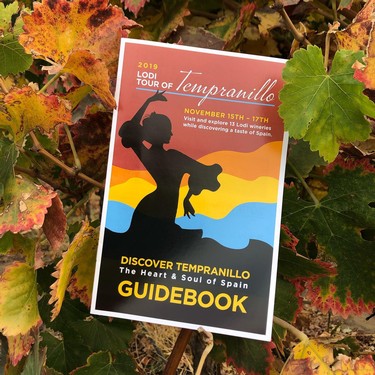 (image courtesy of Heritage Oak Winery)
Listing of Lodi Tempranillo Specialists
The following is a list of Lodi Tempranillo specialists that have been participating in the region's annual Lodi Tour of Tempranillo each November. Most of these wineries continue to offer drive-in/pick-up services during the shelter-in-place crisis, and many are waiving shipping costs. A couple of wineries (Bokisch Vineyards and Harney Lane Winery) are even doing home deliveries within the locale. Please check with each winery individually to find out your options:
Bokisch Vineyards
d'Art Wines
Dancing Coyote Wines
Drava Wines
Fields Family Wines
Goodmills Family Winery
Harney Lane Winery
Heritage Oak Winery
McCay Cellars
McConnell Estates Winery
Riaza Wines
Ripken Vineyards & Winery
St. Amant Winery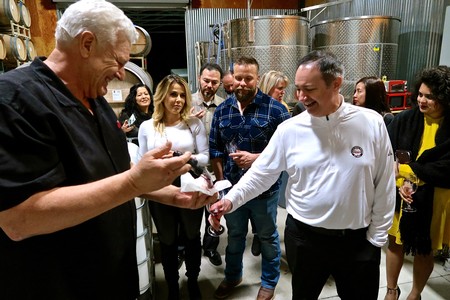 Comments