Letters from Lodi
An insightful and objective look at viticulture and winemaking from the Lodi
Appellation and the growers and vintners behind these crafts. Told from the
perspective of multi-award winning wine journalist, Randy Caparoso.

May 11, 2022 | Randy Caparoso
St. Jorge brings back Alicante Bouschet, one of Lodi's heritage grapes

One of Lodi's most unique heritage grapes is the black-skinned Alicante Bouschet.
There is nothing really cool or hip about Alicante Bouschet. There is nothing fashionable about any grape that was considered risqué more than 100 years ago, in the 1800s.
In fact, Alicante Bouschet is something of a curiosity, or grape of interest, precisely because it is more closely associated with Lodi's past rather than the present. The height of the cultivar's popularity in the state of California was during the 1920s. It was in greatest demand during Prohibition, a many-storied 14-year period when consumers were not allowed to purchase wine (at least not legally) but were allowed to produce up to 200 gallons per year as home winemakers.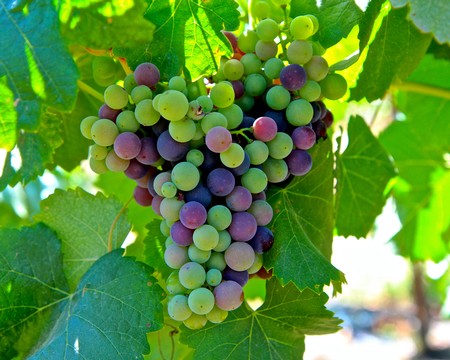 Plantings of Alicante Bouschet boomed during Prohibition because, out of all red wine grapes, it proved to be the most resilient during the long railroad trips — not always in refrigerated or properly iced cars — to destinations as far as New York's Pennsylvania Station.
There are two things that gave Alicante Bouschet an advantage during Prohibition:
1. The grape's skin is thick and highly resistant to mold or rot.
2. The grape's pulp is black colored.
Reddish "black" pulp, or flesh, in wine grape varieties, is very rare — something technically called teinturier (French for "dye" or "stained"). Almost all commercial red wine grapes — from Cabernet Sauvignon to Merlot, Pinot Noir, Zinfandel, and Zweigelt — have clear, white-colored pulp. Not so Alicante Bouschet. Its dark flesh was appealing to home winemakers because this added extra color to red wines, which could be watered down yet still retain a vivid pigmentation.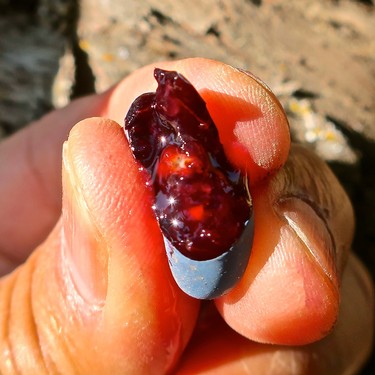 Although Alicante Bouschet has never been considered a high-echelon grape in the class of Cabernet Sauvignon or Pinot Noir, it remains popular among even today's commercial wineries for the same reason it worked for home winemakers — it adds color and sturdiness to red wines, especially when blended with other grape varieties.
You will no longer find whole blocks of Alicante Bouschet planted in regions such as Napa Valley or Sonoma County, although it was certainly planted throughout the North Coast as early as the 1880s, which was not too long after it was first developed by a Frenchman named Henri Bouschet (Alicante Bouschet is a cross of Grenache and Petit Bouschet, the latter variety a teinturier cross of Teinturier du Cher and Aramon devised by Bouschet's father, Louis-Marie Bouschet).
Today, it is regions such as the Lodi AVA where you find the most plantings because the grape still serves a commercial purpose. Although the grape is no longer widely planted in France, it has retained a semblance of popularity in Portugal; in the latter region, often blended with classic "Port" grapes (Touriga Nacional, Tinta Cão, Tinta Roriz, etc.) to produce dark, sturdy red table wines (re this interesting article in the most recent Wine Enthusiast Magazine, entitled A Finicky French Grape Is Now an Unlikely Star in Portugal).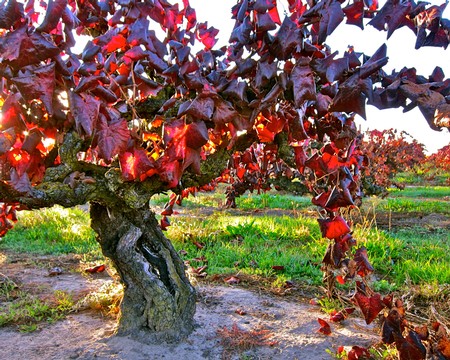 In Lodi, up until 2001, there was a 5-acre block of own-rooted, old vine Alicante Bouschet dating back to 1921, cultivated by the Fry family in their Mohr-Fry Ranch south of the City of Lodi. That vineyard was known to produce some phenomenal wines as a pure varietal bottling, but it was prone to extreme leafroll virus — its leaves turning a pure scarlet red long before the grapes were fully ripened. Despite the vineyard's venerated status, the Frys uprooted this block, but replanted it in its entirety two years later on a split-canopy trellis, using healthier plant material. The fruit goes primarily to large wineries to make red wine blends, although it now produces an award winning varietal red for St. Amant Winery.
A number of other Lodi growers have maintained older blocks of the head or vertical cordon trained Alicante Bouschet, leafroll virus and all, including among the mix of grapes in the Borra family's Church Block, a Historic Vineyard Society certified vineyard dating back to the 1930s. Markus Wine Co. owner/winemaker Markus Niggli cleverly weaves fruit from Church Block's gnarly old vines into various blends.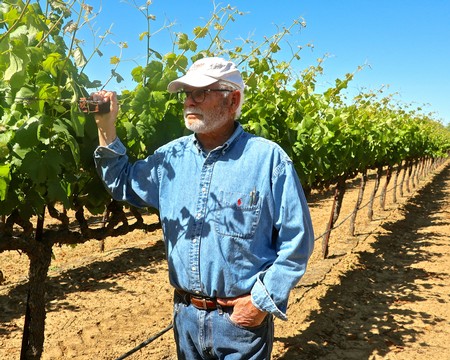 Then there is Vern Vierra, the owner/grower/winemaker of Lodi's St. Jorge Winery, who fell in love with Alicante Bouschet after tasting a bottle during a wine cruise with fellow members of the local chapter of Knights of the Vine. This is the story that Vierra tells: "We were cruising through New Zealand and Australia when Bob Hartzell [the late owner of Lodi's Harmony Wynelands Winery] brought out a bottle of Harmony Wynelands Alicante Bouschet made from the old Mohr-Fry Ranch block. I was so impressed I decided to plant some Alicante Bouschet of my own, the very next year in 2008."
The dominant aroma of Vierra's current vintage, the 2019 St. Jorge Winery Vierra Estate Lodi Alicante Bouschet ($26), is of sweet, teeming wild berries — the late Richard Ripken used to describe this aroma as something resembling elderberries, although to me it's more like marionberry, or at least like marionberry pies I've enjoyed in visits to the Pacific Northwest — mixed with a lightly herbal (vaguely green pepper-like) note and a touch of vanilla from oak aging. The nose is very compelling because it shows an intensely ripe, yet not overripe, fruit profile.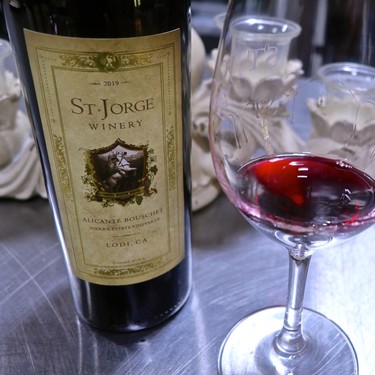 The wine's oak quality becomes more pronounced when the wine hits the palate — perhaps because it combines with the dense tannin quality typifying the grape — yet the marvelous thing is that the wine remains high-toned in its wild berry character, which is revved up by bright, zesty acidity, keeping the wine from being fat or plodding on the palate.
The color of the 2019 St. Jorge Alicante is a bright red color rather than the purplish black you might expect out of a grape known for its deeply pigmented skins and pulp. The color is restrained because, as Vierra reveals, "When I started making it, I learned that the way to avoid extracting extreme tannin or color is to not let the wine go completely dry in the tank.
"This is something I learned from Chad Joseph, who made the Harmony Wynelands Alicante Bouschet I first fell in love with. When I spoke to Chad about this, he was doing work with Oak Farm Vineyards. During lunch at Pietro's, he advised me to pull the must off the skins at 11° or 12° Brix [i.e., sugar reading] and finish the fermentation in French or American oak, which we've been doing ever since. If you let the wine ferment completely to dryness on its skins and seeds, you end up with a blacker color and harsher tannin. Pulling it off the skins makes the wine softer and more fruit-forward, although it still ends up with plenty of color and depth."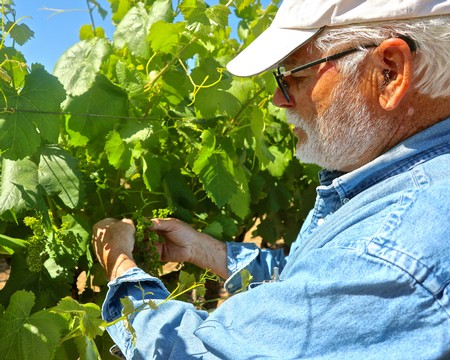 The other major factor behind the wine's semblance of balance and finesse — at least insofar as a grape such as Alicante Bouschet is capable of achieving — is farming. Says Vierra, "We drop a good 50%, 60% of the crop each year, in July just before veraison [i.e., when grape skins on vines transition from green to black colors]. I leave just 1 cluster per shoot on the vine and make sure that leaves are thinned out around the fruit zone early in the season to expose the grapes to the sun. But we do not trim the canes because we need all the leaves we can get to encourage photosynthesis and push the fruit towards ripeness.
"One year, just to check if we were doing the right thing, I let a couple of rows retain their full crop by not dropping any fruit. These vines barely ripened at all. They eventually got to 22° Brix, but I prefer getting them up to 25° Brix, which gives us a better-balanced wine, up to around 15% alcohol.
"Alicante Bouschet on young vines is a big cluster, with a lot of weight. Even by cutting the yield down to less than 6 tons per acre, our 3 acres of Alicante Bouschet are always the last grapes to be picked, in mid-to-late October. It takes longer than even Cabernet Sauvignon to ripen. We picked one harvest on November 1. Although the hang time of Alicante Bouschet is very long, it never shrivels on the vine. It remains healthy, resistant to rot, all the way to the end."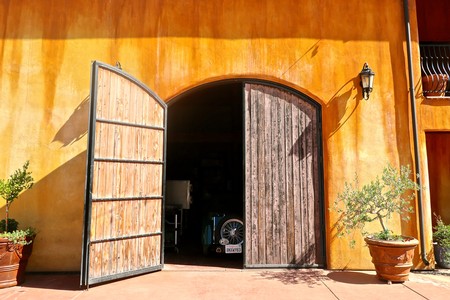 A notoriously thick-skinned grape such as Alicante Bouschet, according to Vierra, also needs special care in the winery. Says Vierra, "This is the only grape that we partially crush. All our other wines are fermented as whole berries, but the skins of Alicante Bouschet are so thick and heavy that it's difficult to start fermentation when they're intact. So when the grapes come in, I have to put the crushing rollers onto the de-stemmer, which are set to barely break the skins."
Adds Vierra, " I never really check the grapes for pH. I'm more concerned because sugar is because the grape always has great acidity. 2019 was aged one-third in new French oak with a light toast and medium toast head, one-third in new American oak, and one-third in neutral barrels — usually for about 30 months on average. We don't like to overdo the oak, but an intense wine like this needs time in wood to round itself out."
Longtime Lodi wine lovers who haven't been to St. Jorge Winery since before the Covid crisis would find more than a few changes around the estate, including a large "Garden Room" and adjoining an amphitheater-like "Wine Garden." The Vierra family is passionately Portuguese, and so they do not hold back on showiness — everywhere you go on the grounds you find Mediterranean landscaping, grapevine cast iron fencing, Romanesque columns, and statues.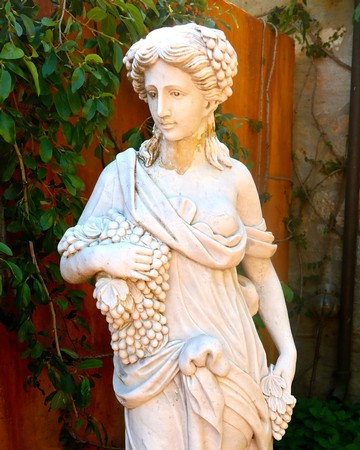 Says Vierra, "Our 'tasting room' is now actually outside, at a portable bar next to tables and chairs between our Garden Room and Wine Garden, where customers can also sit. The Garden Room sits up to 150 people but is licensed for only 12 events a year.
"We're especially proud of our Port Club. We produce six different Ports, including a Port Rosé [St. Jorge's Vinho Rosa Doce, made from Tinta Roriz and Carignan], all the blends of authentic Portuguese grapes that we grow in our own vineyard. We also bottle each of the five major Portuguese grapes as separate, single-variety Ports, but in limited quantities which we'll show on special occasions.
"People often ask me, what's my favorite wine? I think the wine I choose is what I plan on having with dinner. If it happens to be a thick ribeye of beef, I'd choose our Alicante Bouschet. My second choice might be our Mohr-Fry Ranch Zinfandel, but the Alicante Bouschet is definitely something you won't find in many other places!"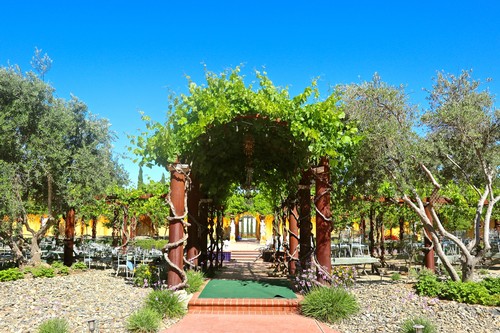 Comments