Letters from Lodi
An insightful and objective look at viticulture and winemaking from the Lodi
Appellation and the growers and vintners behind these crafts. Told from the
perspective of multi-award winning wine journalist, Randy Caparoso.

April 4, 2019 | Randy Caparoso
Spring flings and liquid danger at 2019 Lodi Wine & Food Festival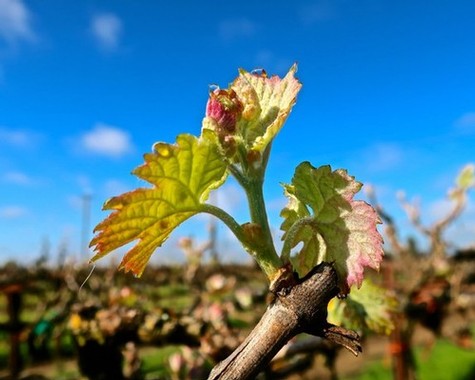 At the cusp of spring, wrote the poet Marge Piercy, the months become a "rich fresh wine," into which we stagger "smeared with pollen," when "the green will never again be so green, purely and lushly."
As a more sobering harbinger of events, The Old Farmer's Almanac prognosticates on the upcoming 2019 weather: "Raindrops won't be falling on heads (as often) in many parts of the U.S., with below normal precipitation expected in the Atlantic Corridor, Appalachians, and Intermountain regions, as well as in the Desert Southwest, Pacific Northwest (including California), Pacific Southwest, and western Hawaii."
Yet even if sporadic April showers are destined to bring fewer merry May flowers, we can obviously enjoy the current bursts of "super bloom" popping up on our hillsides and normally barren deserts as we speak. Or as that old song by Donovan goes, "The lock upon my garden gate's a snail, that's what it is." Whatever that meant (who knows what he was ingesting).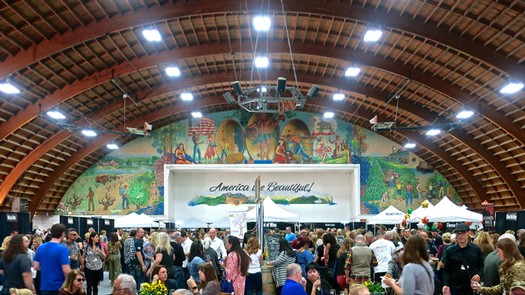 Although we do know very well what we were consuming at this past weekend's annual Lodi Wine & Food Festival, formerly known as the Lodi Spring Wine Show (we kinda like the old name): Lodi's latest fruits of the vine! For us, this yearly event is also a great excuse to enjoy a stroll through the City of Lodi's historic Ole Mettler Grape Pavilion, which is basically an auditorium shaped like a gigantic, ribbed, wooden wine barrel. Very "Lodi" (or, very "Lodi's-Teutonic-roots").
Lodi winemakers are always excited to be there, because the end-of-March/beginning-of-April is an opportunity to show off their spring releases – including recently bottled whites and rosés, fresh out of the previous vintage. Nothing like a pristinely flowery 7 or 8-month-old wine to tickle one's vernal fancy for promising, palpitating, plush and eminently pleasurable wines. Spring, after all, has sprung, so purely and lushly, in our minds as much as appetites.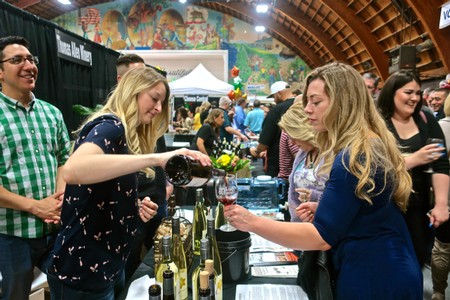 That said, some notes on some of the more promising new wines tasted at the 2019 Lodi Wine & Food Festival:
2018 LangeTwins Family, Lodi Aglianico Rosé ($20) – This pale pink wine – its fleshy transluscence reminiscent of the lips of circa-1960s models or "it" girls – undoubtedly gets our imaginary spring trophy for "best brand new wine." It is a distillation of multiple fun factors: a first-ever bottling of a varietal rarely seen outside its native regions of Campania and Basilicata in Italy – "innovative," "alternative," "bold," "cutting-edge"... pick a word, this is an "it" wine – produced from a grape that used to go into the finest wines of the Roman Empire (we imagine toga-clad aristocrats sipping Aglianico based wines from silver chalices on tableside beds), and in this case, grown and produced by one of Lodi's oldest families (the Langes have been farming in the Lodi region since the 1860s). The wine itself is spring-fresh and floral scented with rose petal/cranberry/strawberry notes, or a just-baked kitchen spiced rhubarb pie put out on the counter to cool. On the palate, it comes across as prickly with red berry tartness – at first, good and dry, and then tickling the tongue with just a whisper of sweetness as it glides gently past. We're already thinking things like a pomegranate seed-feta salad with arugula or bitter greens with a fresh strawberry balsamic vinaigrette (something a dry rosé handles better than a straight white wine). Life (in Lodi) is gooder than ever!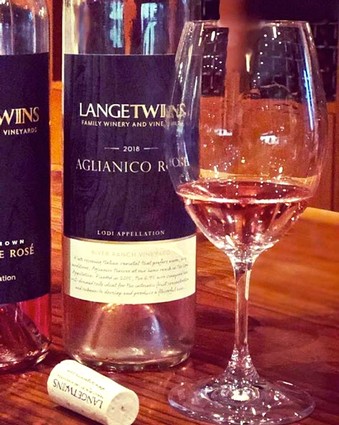 2018 Bokisch Vineyards, Vista Luna Vineyard Borden Ranch-Lodi Garnacha Blanca ($20) – The Bokisch family has been producing fresh, perky, bone-dry and demure wines from this grape – a white wine variant of the black skinned Garnacha (a.k.a. Grenache) grape – for over 15 years. But then another "it" happened: in April of last year this wine (the 2017 edition) won a gold medal at the International Grenaches du Monde competition, which took place in Gandesa, Spain. What the hey, we always knew it was wonderful, well before someone else came along to proclaim it "great" – but, of course, it's good to be recognized. The Bokischs, apparently, can do world class Garnacha Blanca in their sleep, as their 2018 is bursting with fresh, flowery, pear/apple blossom fragrances, the crisp, scrumptious, drippy pear qualities continuing on the palate, where it comes across as airy-soft (just 12.5% alcohol) yet zesty and demure (in a sense of not being showy, yet crazy compelling) as ever. As Janis Joplin sang, you'd best "get it, want it, need it, hold it... while you can."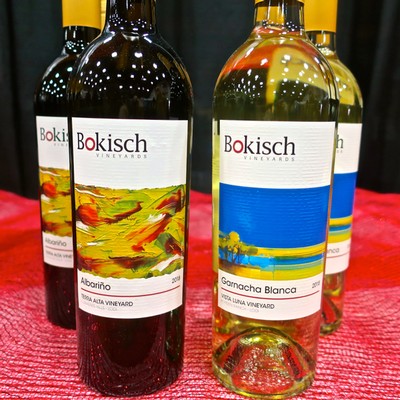 2018 Bokisch Vineyards, Terra Alta Vineyard Clements Hills-Lodi Albariño ($20) – The question of whether the native Spanish Albariño grape can grow well in Lodi is now answered by can-fish-swim?. Judging from the fact that over a dozen local wineries now produce an Albariño, plus the fact that they are all so effortlessly good, you can say that this grape has become synonymous with the "Lodi of today" – a little different than before, and most certainly deserving to be known for white wines as much as red wines like Zinfandel. Albariño from the Terra Alta Vineyard – grown in the rolling, orangy-red clay hills of the Clements Hills appellation – tends to fall slightly more on the citrus side than the floral or tropical fruit character of the varietal, although there are wildflowery notes complimenting the lemon, Mandarin wedge and orange blossom notes in the nose and flavors of this wine, which comes across as light yet mouth-watering in its natural lemon juice/orange peel quality. Bring on the ceviche or lemon zested seafood sushi!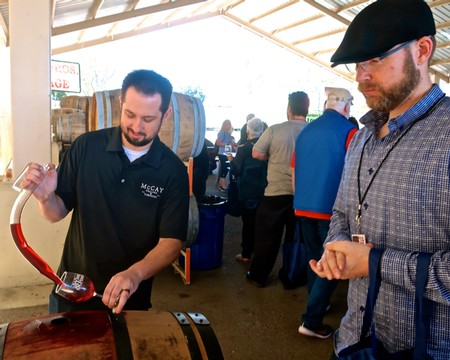 2018 Klinker Brick Winery, Lodi Albariño ($15) – Grown in the flat, sandy soils more closely associated with "traditional" Lodi, this native Spanish grape manifests itself in wines such as Klinker Brick's, which are compellingly flowery and almost honeyed in aromatic intensity, while ultra-bright in its ("purely and lushly") white peach character; yet at the same time, pushing through the mineral quality intrinsic in the grape, particularly on the palate, where the wine's citrusy tart/orange peel-like dryness and sense of lightness (12.8% alcohol) braces the senses.
2018 Rippey Family Vineyards, Overboe Vineyard Lodi Sauvignon Blanc ($20) – While evidently crafted with partial barrel fermentation and aging, this "Small Lot Production" (according to the label) expression of Sauvignon blanc is still very contemporary in its fresh, floral, lightly tropical fragrance and steely dry and tart edged dryness; the oak embellishments underlining the crisp fruit focus with notable restraint, adding a silky yet slightly grippy, meaty feel to the palate.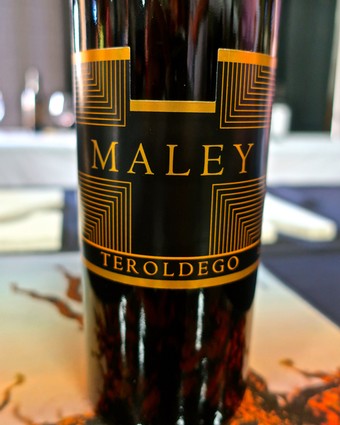 Maley Bros., Lodi Teroldego ($22) – And in the now-for-something-completely-different-and-new category, here is a deeply colored (purplish/black red) wine made from a Northern Italian grape that has recently become one of the most widely planted varieties in the Lodi region, mostly because of its penchant for adding both structure and pigmentation to red wine blends (today, the third most popular wine category – after Cabernet Sauvignon and Chardonnay – in the U.S.). The Maleys – close cousins of the Phillips family (owners of Michael David Winery) – trace their farming heritage in the Lodi wine region back to the 1860s, and produce just miniscule amounts of their own wine (found locally at Woodbridge Uncorked). This Teroldego, as it were, is not for the faint-of-heart: its black fruit aroma is stingy yet deep toned – qualities that follow up in a sturdy full body, dense with tannin yet cut with notably zesty acidity, with the thick black fruit sensations taking on roasted coffee tones towards the finish. While this sounds scary, think of this wine with grilled beef or full sized portobello with generous twists of black peppercorn, or finished in the pan with a rich demi-glace. Every wine has its place!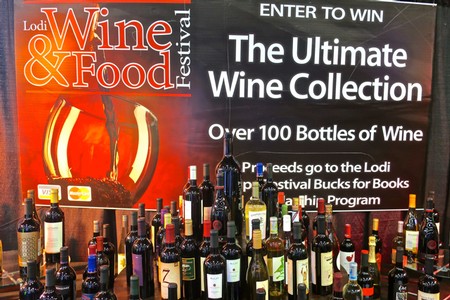 2017 Van Ruiten Family Winery, Sparkling Lodi Syrah Rosé ($22) – While this moderately light and sweet edged bubbly is obviously meant for fun and easy sipping, it is, after all is said and done, made 100% from Syrah, a black skinned grape that also gives the wine the slightest bit of phenolic (i.e. tannin from the grape skin) grip in the feel. Therefore, this hissing pink sparkler comes across and very perfumed in its cranberry/pomegranate/watermelon fragrance, and at the same time slightly sharp and more than a little edgy in its modestly sweet fruitiness. Like hanging out with a genuinely kind and sweet girl (or guy), covered with tattoos and body piercings. On their Web site, Van Ruiten Family recommends this wine with ahi (raw or rare Hawaiian tuna) salad, chicken with mango salsa, or figs served with goat cheese. Maybe add some salmon nigiri with ginger or fish roe, throw in some other edibles and wall rattling rock, and sounds like a party!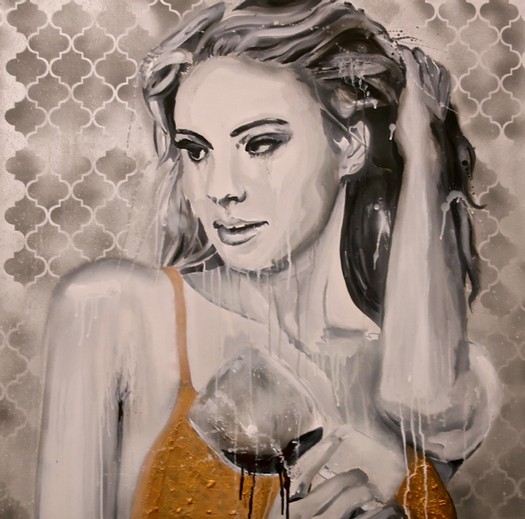 Comments