Letters from Lodi
An insightful and objective look at viticulture and winemaking from the Lodi
Appellation and the growers and vintners behind these crafts. Told from the
perspective of multi-award winning wine journalist, Randy Caparoso.

March 28, 2018 | Randy Caparoso
Spenker Winery's magical transformation into a farmstead artisan creamery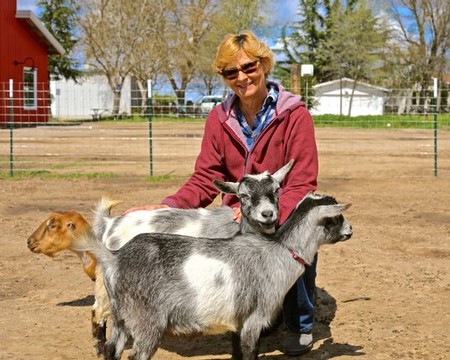 Something exciting is afoot – or shall we say, a-hoof? – at Spenker Winery, a 60-acre winery estate located on the west side of Lodi's Mokelumne River AVA.
This coming June 2018, the Spenker family will officially expand from being an estate grown winery to also being a licensed producer and seller of artisan farmstead cheeses ("artisan" defined as hand-made cheeses, and "farmstead" technically meaning that cheeses are produced only from milk raised on-property). A goat barn is already up and running; and construction of a creamery, which will share space with a new tasting room and retail space, is nearing completion as we speak.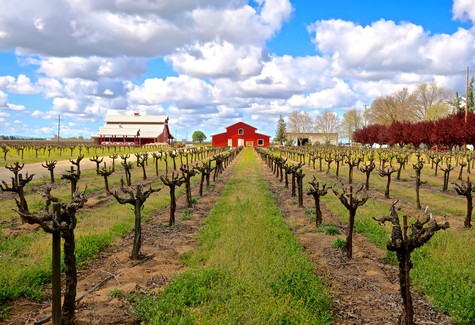 The cheesemaker will be winery co-owner Bettyann Spenker, who also happens to be the Spenker Winery winemaker. According to her daughter Sarah Spenker, who handles the sales of Spenker wines (her sister Kate Spenker spearheads the family's graphic and building designs, and their father Chuck grows the grapes): "The cheesemaking started when my sister and I went off to college in 2008. Now the family joke is that when Bettyann's kids left home, she replaced them with two other kids."
That is to say, exactly two female Nigerian dwarf goats.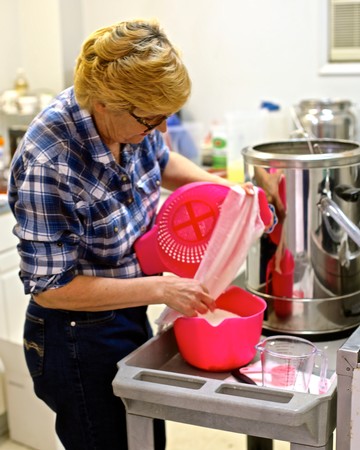 According to other Spenker lore, Bettyann and Chuck Spenker first met at a home winemakers' party. Chuck is a third generation grape grower, who traces his Lodi roots to his grandfather Fritz Spenker, who first arrived from Germany during the 1890s to work for his second cousin, Joseph Spenker (founder of the more widely known Spenker Ranch, which is now the Jessie's Grove Winery property). Fritz Spenker established his own vineyard in 1902, just across W. Turner Rd. from Joseph Spenker's original square-mile block.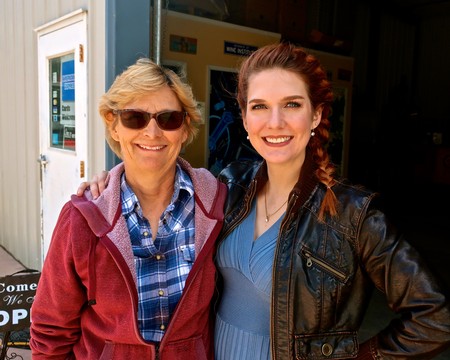 Bettyann and Chuck established Spenker Winery in 2004. Since Bettyann had the background in biological sciences and as an educator, the winery became her domain. It was almost inevitable that she would become interested in other types of production – one bound to bring a new educational experience to the community. In fact, as Lodi's first-ever brand of homegrown cheeses.
"The cheesemaking started off as a hobby, really," says Bettyann. "I became interested in goats because I didn't grow up on a farm (in Colorado Springs), and wanted to experience what I had missed. It actually started with chickens – which they say is like a 'gateway drug' for people just getting into farm animals – and then came the two Nigerian dwarf goats.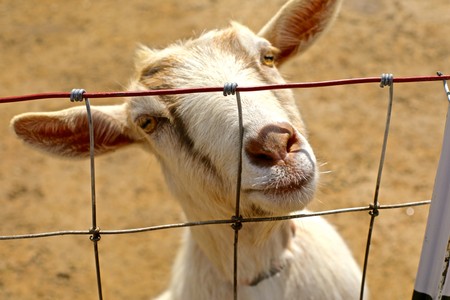 "At first they were like pets; but a friend of mine, who thought I was a brilliant scientist, encouraged me to start making cheese from their milk. The problem with miniature goats, however, is that it means there is a miniature amount of milk; which was okay, because I probably couldn't handle full sized goats in the beginning."
One thing led to another. The Spenkers' goat herd now numbers around 24 "working" goats, plus their kid goats. "The number fluctuates," says Bettyann, "because we sell some of the kids, or give them away, to manage the size. Besides the Nigerian dwarves, we now have Nubian goats, known for their long floppy ears and Roman noses. We also have MiniNubians – a cross of Nigerian dwarves and Nubians. Our lastest breed, starting just two months ago, are Lamancha goats, recognized by their very short ears"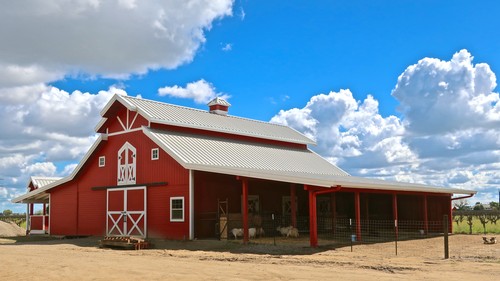 The prospective Spenker Artisan Creamery is the culmination of nearly 10 years of cheesemaking practice. According to Bettyann: "Our primary product will be chèvre, fresh goat's milk cheese. But we'll also sell Gouda style cheese, which is a pressed and aged washed curd cheese; as well as a Camembert style goat's milk cheese, which has a bloomy rind, like what you find in Brie. To top it all off, there will be Spenker Artisan frozen yogurt, and maybe a few handmade soaps as well."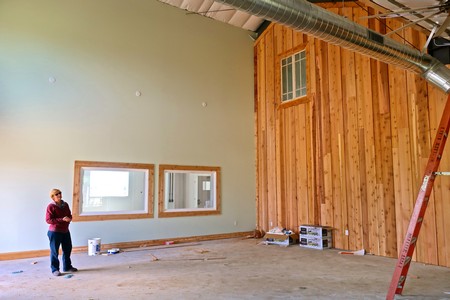 After a visit with her exceedingly friendly flock of goats, Bettyann took us into the newly constructed creamery and tasting room – all but the interior already completed. She tells us: "Just like we grow our own grapes to make our wines, we will use pasteurized milk from our own goats to make our cheeses and yogurts.
"When people visit, it will be an educational experience – they will be able to see the goats being milked and how cheese is made through glass windows, from the tasting room. The educational value is important to us – we want to exposed people to the process, and get them excited about it the same way that we were when we first started."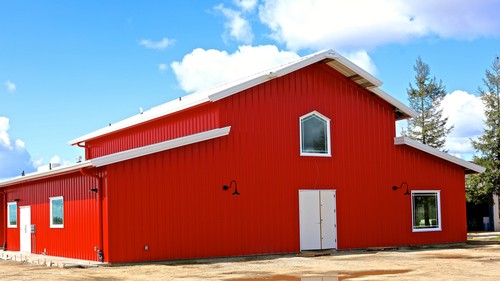 And of course, when you drive into the Spenker estate from off N. DeVries Rd., you pass the family's beautifully manicured head trained Zinfandel vines, all lined up like Chinese terracotta soldiers. If the vines look a little smaller than what you might see elsewhere in Lodi, that's because these are not what you would call "old vines" – the property was completely replanted recently, in 2003 and 2004.
Sarah Spenker explains: "We had old vines, but they began to fall prey to a virus (fanleaf); and to survive as commercial grape growers, we had to pull them all out and replant with more resistant plants, on disease-tolerant rootstock. Most of our fruit is sold to other wineries, but we keep a little each year – Zinfandel, Petite Sirah, and a little Muscat of Alexandria – for our own production."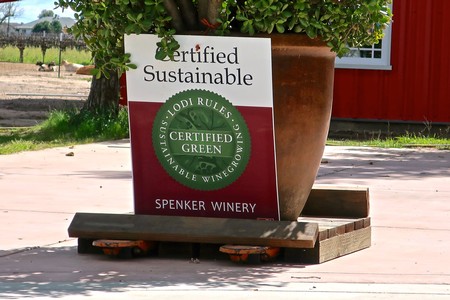 The Spenker family's entire vineyard, however, is "Certified Green," following the strict, third party audited and certified protocols of LODI RULES for Sustainable Winegrowing.
Of Spenker Winery's modest line-up of wines, the most attractive right now may be their 2012 Spenker Winery Lodi Zinfandel, which is a classic "west-side" Lodi style rendering of the varietal: soft, round and fruit-forward; accessibly moderate in weight, rather than big or heavy; and zippy with bright cherry/raspberry fruit with distinctively earthy/loamy undertones.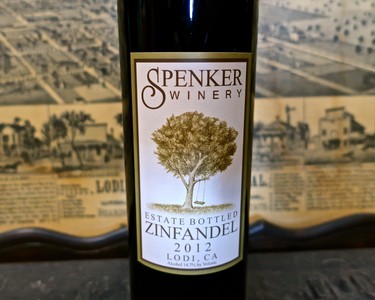 If you are interested in keeping tabs on the Spenkers' magical metamorphosis from estate grown "Winery" to "Winery & Artisan Creamery," we strongly suggest dropping by their current tasting room (visiting hours are Saturdays and Sundays, 12-4 PM), or by signing up for their mailing list online at spenkerwinery.com.
Can't wait 'til June!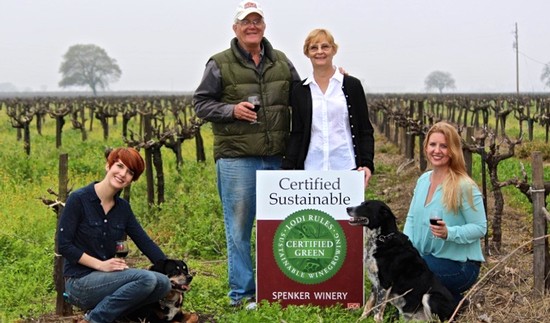 Comments