Letters from Lodi
An insightful and objective look at viticulture and winemaking from the Lodi
Appellation and the growers and vintners behind these crafts. Told from the
perspective of multi-award winning wine journalist, Randy Caparoso.

April 9, 2018 | Randy Caparoso
Latest styles and grapes at the 2018 Lodi Wine & Food Festival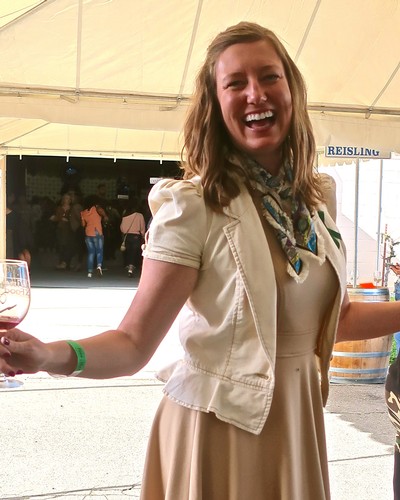 Winemakers are like everyone else. As soon as they get something done, they can't wait to show it off.
Which is why, in early April of each year, the Lodi Wine & Food Festival is the place to be if you, too, can't wait to try many of the local wineries' latest releases – especially some of the previous vintage's whites and rosés, fresh off the bottling lines.
It's also a great opportunity to see where the Lodi wine industry is at in terms of latest styles and grapes. Some of it, of course, is invariably experimental. Wineries will try out this or that idea. If it takes off, they'll stick with it. If not, they move on.
Now more than ever, though, wineries are trying different things to stick out from the crowd, inside and outside the region. This is true throughout California. The only difference? In Lodi, wineries have considerable more access to different grapes than wineries in other regions, where farmers are economically constrained – almost forced to focus on the usual commercial grapes (Cabernet Sauvignon, Chardonnay, Pinot noir, Merlot, Sauvignon blanc, etc.).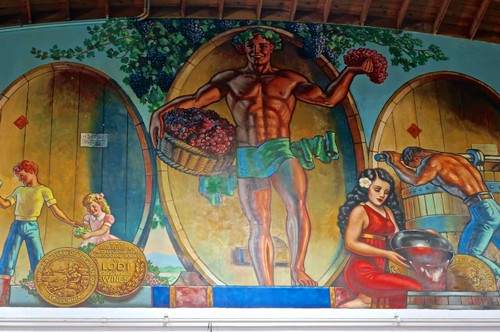 That said, here are some of the more interesting wines found at this past weekend's Lodi Wine & Food Festival (April 7, 2018) which may, or may not, be signs of funner things to come:
2017 PRIE, Lodi Grenache Clair (Blanc de Noir; $23) – This may have been the most interesting wine of the weekend. Clair means "clear" in French, and this refers to the fact that this is a white wine made from black skinned Grenache grapes grown on PRIE's property on Alpine Rd. (east side of Lodi's Mokelumne River-Lodi AVA). Grenache, as it were, is the most commonly used grape in the world to produce dry rosés, and so this dry white bears some resemblance with pink permutations with its effusive perfume of fresh fruit (sweet pear, sliver of strawberry) with faintly mineral/dried herb nuances. New fangled wine enthusiasts will love its light (12.8% alcohol), puckery/lemony yet silken fine feel. Old-timers will start to sing that old Nancy Sinatra/Lee Hazlewood song, Summer Wine (Strawberries, cherries and an angel's kiss in spring... my summer wine is really made from all these things).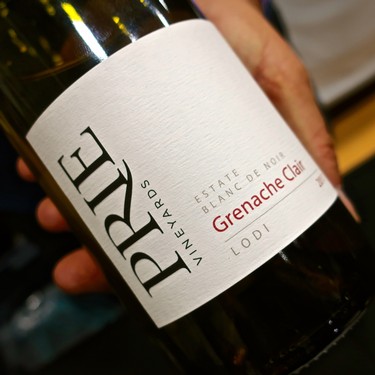 2017 PRIE, Delu Vineyard, Lodi Vermentino ($21) – Following up on successful previous vintages of this classic Southern French/Mediterranean-Italian grape, PRIE owner/winemakers Lisa and John Gash are now starting to hit their stride with this eminently contemporary style varietal white: Subtle yet distinctive scents of violet, lavender and licorice notes tinge flowery and citrus skin (like the scent that lingers on your finger long after you've peeled an orange) fragrances; lightly tart, feathery light (12.1% alcohol), medium body, finishing with lemony/citrusy/dried herby notes.
2017 Oak Farm, Mohr-Fry Ranches, Lodi Sauvignon Blanc ($20) – Sauvignon Blanc enthusiasts are so spoiled – so many great choices to choose from, grown and produced all over the world – that we're afraid that many of them probably overlook the quiet, sneaky ways in which this winery has been excelling in this varietal. Start with this vintage's nose: A fine, deftly arranged array (think of the precise yet stunning Japanese style of ikebana flower arrangement) of aromas in the nose: White flowers, grapefruit, pear, a touch of leafy greenery, a tinge of exotic mango, an intriguing trace of lime. On the palate, the wine is properly dry and vibrant with citrusy acidity, while coming across as lithe, liquid and lissome in its medium body. All very subtle; and when you stand back and look at it, all the more impressive.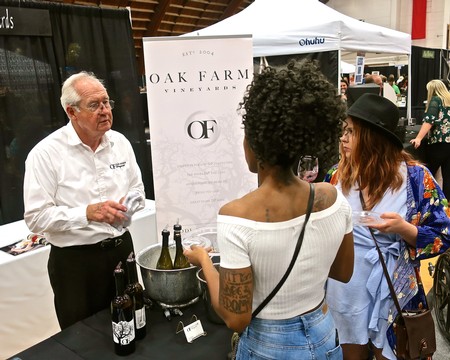 2017 d'Art, Lodi White Barbera ($22) – This winery has its fans – mostly for signature notes of subtle yet distinctive, spicy wood framework, coupled with supple texturing, running through all of their reds. When it comes to their flesh-toned White Barbera, however, d'Art steps out of itself a little bit; like the buttoned-up office worker who throws off the librarian glasses and dons the slinky black-slit dress on occasional weekend nights. Here the aroma is more of unfettered, almost plain yet pure fruit, like a mist of perfume alighting on the neck – a suggestion of violet, a splash of orange flower water, the faintly musky scent of glowing skin when the senses are riled. On the palate, the taste is dry and lightly tart, balancing a soft fleshiness with bony acidity.
2017 LangeTwins Family, Lodi Sangiovese Rosé ($15) – While unorthodox within the scope of the world of dry rosés, the Lange family has been hitting upon the perfect way to utilize the black skinned Sangiovese grape, which radiates bright, pomegranate tea-like fruit, bustling with natural acidity. In their latest vintage, the winery takes it to the bank; starting with a hot pink color ("if you got it, flaunt it"), exuberant strawberry/pomegranate fruit tinged with rose petal, and a zesty, palate freshening, red fruit soaked dryness.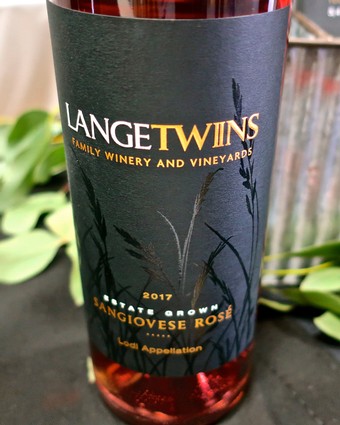 2017 McCay Cellars, Lodi Rosé of Grenache ($18) – Brace yourself, dry rosé lovers: This is just one of no less than four different bottlings of rosé produced by owner/winemaker/grower Mike McCay in 2017. Is he crazy, or just tenacious about taking advantage of the current mania for this style of wine? Probably both – then again, that's "Lodi." This is a classic Grenache style; one that does, indeed, recall many of the finer examples this style of dry pink grown in that vast sea of rosé known as France's Provence region: Strawberry-fresh fruit, zesty, airy, firmly dry with an almost meaty feel punctuated by twists of lemon.
2017 McCay Cellars, Lodi Reserve Rosé ($28) – According to McCay, one of the reasons why this 50/50 blend of Grenache and Cinsaut merits a "Reserve" moniker is that the latter grape comes from the fabled Bechthold Vineyard, planted on Lodi's west side in 1886 (the region's oldest vines). The other reason is because it's pretty damned good: Here the exuberant red fruit nose combines strawberry, cherry and watermelon sensations, with undertones of a minerally/herbal/dried herbiness keeping things more than interesting. The feel is dense, slightly meaty, yet round and pliant in its refreshing dryness.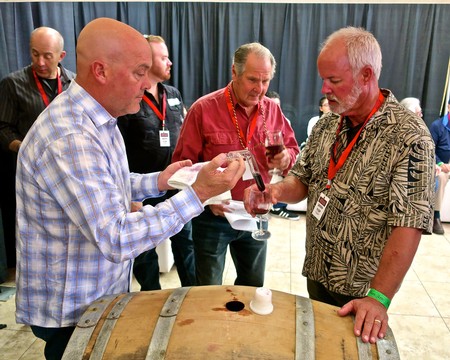 2017 McCay Cellars, Lodi Cellar Reserve Rosé ($45) – Not a lot of this wine was made (barely 40 cases). Like all of McCay's rosés, it was native yeast fermented and finished in stainless steel casks to enhance contact with lees and other residuals of the fermentation process, accentuating qualities of the grapes utilized – in the case of the Cellar Reserve, Grenache and Mourvèdre. Strawberry-toned fruit qualities with slightest loamy/earthy notes tickle the nostrils; but on the palate, this bone dry wine turns into a completely different animal: It is tight, prickly, lean with acidity (but not alcohol), firm, almost grippy with mild tannin – more like a light red wine than a pink one. Explains McCay, "I wanted to produce a weird, geeky, beefy style of rosé, more for foodies who are looking for an alternative for more challenging dishes, like spicy lamb, grilled salmon, or maybe a persimmon salad ... I liken it to a good Beaujolais, or a light Pinot noir or red Grenache, except you can drink it like a nice, cold, refreshing rosé."
2017 McCay Cellars, Barrel Select Lodi Reserve Rosé ($60) – Crafted from Grenache and Syrah grown by Abba Vineyard on Lodi's east side; and as you would expect, the deepest, most flavorful of the McCay rosés: Soaring, penetrating perfumes of cherry and violet; firmly textured in its dryness, not quite as wild or meaty as McCay's Cellar Reserve (his Grenache/Mourvèdre blend), yet just as round and pliant as his Reserve (Grenache/Cinsaut), while maintaining a balanced, medium bodied feel (13.1% alcohol) through a lip smacking finish.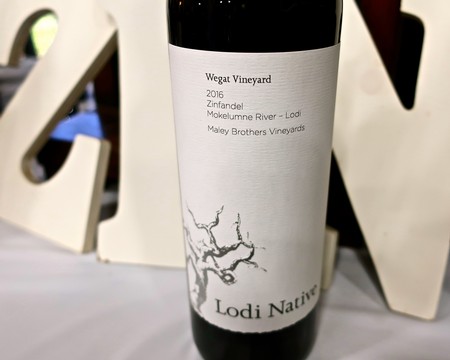 2016 Lodi Native (by Maley Bros.), Wegat Vineyard, Lodi Zinfandel ($35) – This wine is unreleased (Maley Bros.'s 2015 and 2014 are the vintages currently sold in the local market), but owner/grower Todd Maley couldn't resist giving springfest enthusiasts a sneak preview. He calls it his "Euro-style" vintage, as grapes from this 62-year-old block were harvested earlier than usual (at about 22.8° Brix), and its alcohol finished at a very modest (for any California Zinfandel) 12.5%. If you're into more generous, ripe or jammy styles of Zinfandel, you might be disappointed. But if, like a growing number of other Lodi wine lovers, you like a zesty, pert, finesse style of Zinfandel, you're going to welcome this upcoming vintage, crafted in the native yeast fermented/minimal intervention style required of vignerons participating in the Lodi Native project: Particularly for its bright, ringing red cherry aroma tinged with subtle herby and loamy notes, and the zippy, medium bodied sensations bracing the palate, without the bludgeoning qualities of most California Zinfandels.
2015 Heritage Oak, Lodi Carnival (Grenache/Syrah/Mourvèdre/Cinsaut; $28) – One thing you have to hand Heritage Oak owner/winemaker/grower Tom Hoffman: When he sets out to craft a red wine blend, he invariably hits the bullseye. His Carnival, for instance, is meant to achieve what he calls a "circus in your mouth"; and in fact, the sensations of red, black and plummy fruit come in layered, undulating waves on the palate, forging a feel that is at once sturdy, round, meaty, fleshy, sensuous and spicy. Neither is this a wine that you have to think too deeply about – it is, simply, a joy to savor.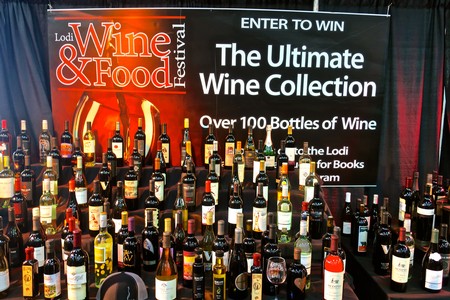 2015 Van Ruiten Family, Lodi Reserve Malbec ($35) – This is this winery's first shot at this varietal, coming across with a feel that seems to suggest: "If you're going to produce a Malbec, you might as well produce one that Malbec drinkers love." This one has pretty much all the requisite qualities; beginning with an ultra-ripe, sweet blackberry/black cherry aroma encased in unrepentantly rich, spicy, slightly charred oak (it "smells" like a winery barrel room), and following through with a firm, full feel thickened by fruit/oak tannin, and the slightly floral, hibiscus tea-like flavor typical of the grape lingering in the finish.
2015 Tizona (by Bokisch Vineyards), Linden Ridge Vineyard, Lodi Malbec ($32) – Long-time Bokisch Vineyards fans know this producer as Lodi's leading Spanish grape specialist. Tizona is the label utilized for their non-Iberian style wines, such as those made from Malbec, the grape associated with France's Bordeaux and Cahors regions, as well as the mountain terroirs of Argentina. The nice thing about Tizona's rendition is that it captures more of a peculiarly Lodi style of the grape, with its emphasis on soft tannin, mildly earthy notes, and more floral scented fruit qualities reflecting the Bing cherry/edible hibiscus (i.e. like a perfumey cranberry essence) spectrum of the varietal character. Still, the feel on the palate is medium-full, tight, and a little zesty – with just enough oomph to handle the food contexts you expect out of a good Malbec, like grilled beef soaked in gingery/soy saucy teriyaki or Korean style marinades (ready for your summer cook-outs?!).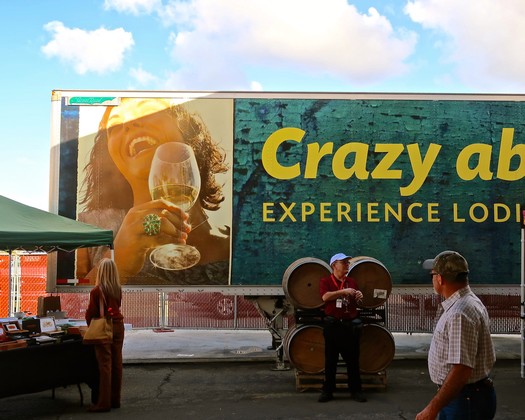 Comments