Letters from Lodi
An insightful and objective look at viticulture and winemaking from the Lodi
Appellation and the growers and vintners behind these crafts. Told from the
perspective of multi-award winning wine journalist, Randy Caparoso.

April 3, 2023 | Randy Caparoso
Red wines to help celebrate the season for spring lamb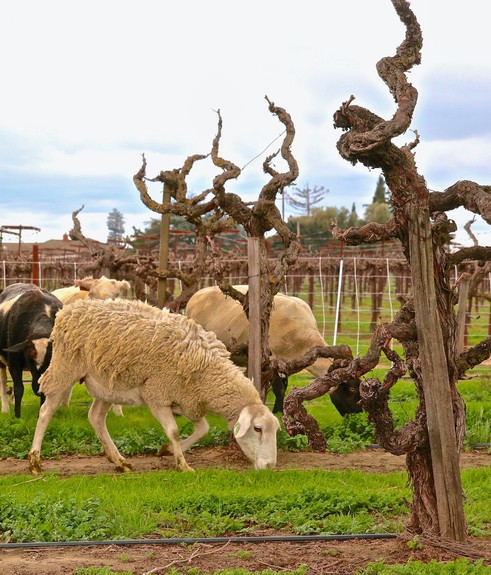 This coming Sunday (April 9, 2023) is Easter. I don't know about you, but my Easter dinner main course is all set: a leg of lamb!
What's up with the entire idea of "spring lamb?" The USDA actually defines lamb meat as such:
Most lambs are brought to market at about 6 to 8 months old. A lamb weighs about 140 pounds and yields approximately 46 to 49 pounds of edible lean retail lamb cuts, semi-boneless. If the phrase "Spring Lamb" is on a meat label, it means the lamb was slaughtered between March and October.
The term comes from olden times when lambs born in harsh winter weather would have little chance to survive until the next year. Today with more protected animal husbandry conditions, enjoying "lamb" is not confined to a particular season of the year.
While lamb consumed in early spring is not actually that of animals born in early spring, it has always been a popular Easter dish; especially for Catholics who'd been fasting, more or less, during the prior 40 days of Lent. While there is nothing like a Friday Fish Fry, it gets a little old after a while, and you start to crave meaty kinds of meat.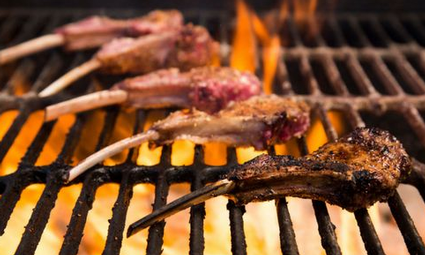 Lamb, as it were, is also a terrific culinary excuse for a good bottle of wine, or two. I've had over four decades of experience recommending lamb-friendly wines not just to myself but also to countless wine lovers during my 30 years as a restaurant wine professional. Consequently, I have a few basic, tried-and-true recommendations on what wines to enjoy, which I'd like to share. Namely...
For legs of lamb roasted with herbs and/or mustard: Is there anything more "spring" than the vision of fields of mustard? Red Zinfandel—especially bottlings from authentic old vine vineyards, designated as such on labels—has the zesty fruitiness and soft enough tannin to bring out optimal amounts of savory (i.e., umami sensations) elements in the taste of lamb leg.
Grilled lamb chops: No matter how its marinated, or what condiments you serve with it when you grill lamb chops, the best wine to compliment the slight char and high myoglobin (i.e., the protein taste of red-colored meat) that you get is Cabernet Sauvignon, a higher tannin red wine with both herby/minty flavors and the slight char of oak barrel aging.
Braised lamb shanks: Tempranillo—a red wine that is always more subtle in fruit than Zinfandel and much smoother in tannin compared to Cabernet Sauvignon—is the most magical choice of wine when shanks are slow cooked, allowing more subtle, and the highest possible umami-rich braising flavors, to evolve over extended periods of time.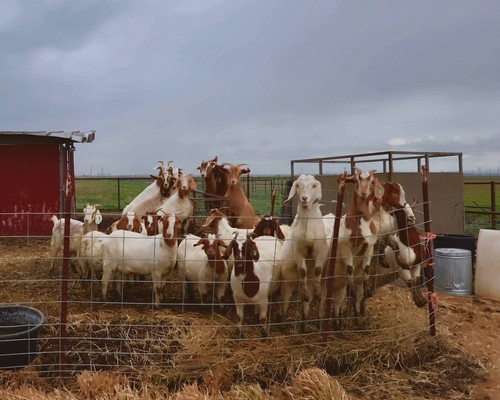 Lamb, of course, is not for everyone because it can be, well, "gamy"—it tastes like a wild "animal." What is gaminess anyway? Recent research has shown that the gaminess you taste in lamb—or, say, the red meat of animals caught in the wild or domestically raised on grass rather than corn or grain—is a flavor derived primarily from fatty acids (re Cook's Illustrated's explanation of the relation of gamy flavors to fat).
This explains why lamb imported from Australia or New Zealand, which are almost always grass-fed, tastes gamier than domestically raised lamb, which is largely grain-fed. These gamy fatty acids are also stronger in cuts from the leg, shank, shoulder, or "stew" meats, and less intense in lamb chops, loin cuts, or racks of lamb.
I have always used that thought process when deciding on choices of wine: When you are making a meal of milder, less fatty (hence, less gamy), sweeter tasting lamb chops, you choose a wine that, not coincidentally, that is also ideal with the most tender cuts of beef (which are rarely gamy). When you char the chops over a flame, choosing a red wine aged in smoky oak barrels just makes sense—hence, the choice of Cabernet Sauvignon, or even a Merlot or Syrah (the latter, often aged in charred oak to achieve a bacon-like smokiness), although Cabernet Sauvignon is ideal.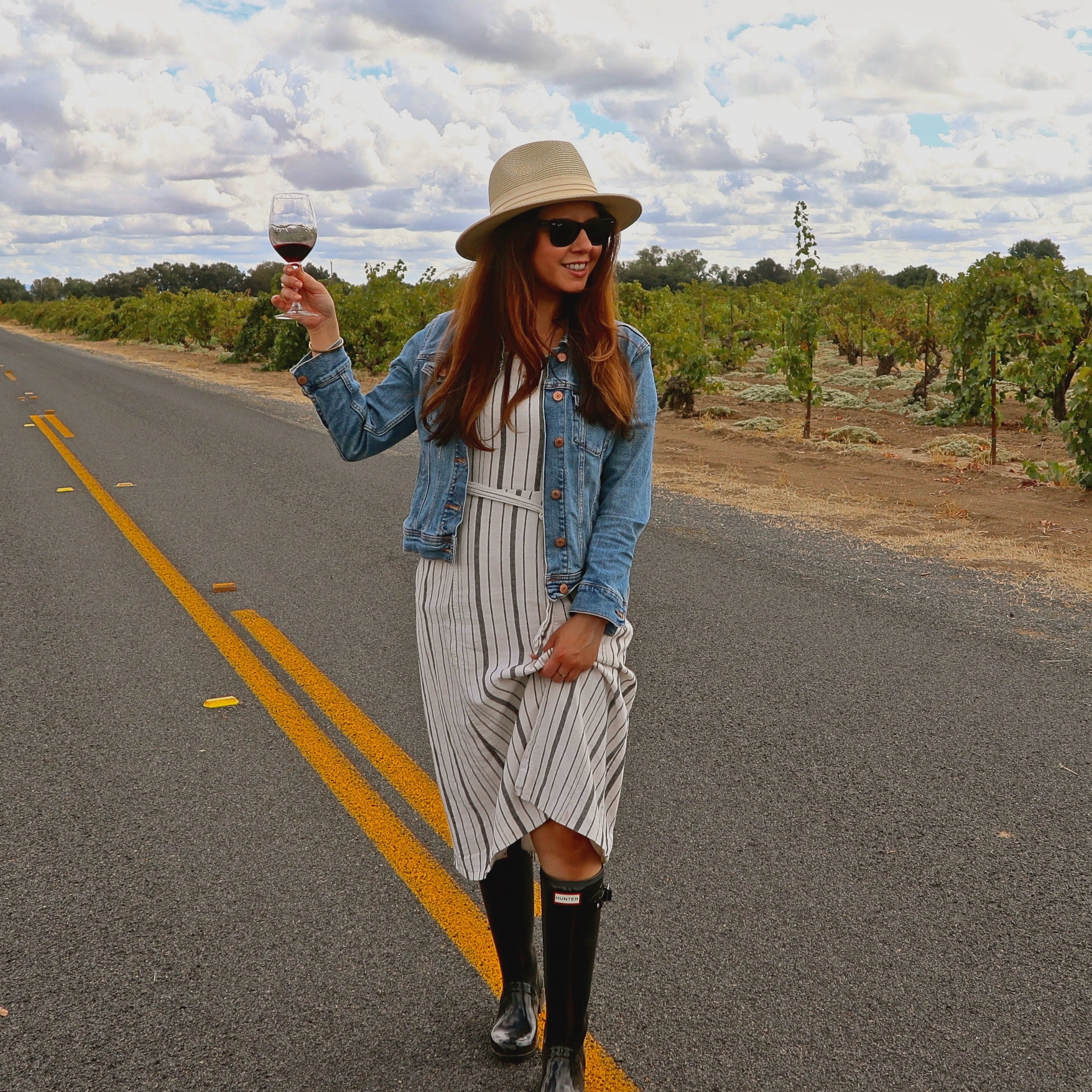 Because lamb shanks and legs of lamb are gamier, or "earthier," red wines that are rounder in tannin and have an intrinsic earthiness of their own make sensible matches. Zinfandel is probably the most food-versatile red wine on the planet because it tends to be high in fruit profile and has a zestier acidity than even other red wines often associated with food flexibility, such as Pinot Noir.
Tempranillo—especially Lodi-grown Tempranillo, which is naturally soft in tannin, perfumed in red fruit yet meaty in flavor—is an exciting wild card. I lost count of the number of times I've enjoyed a Lodi Tempranillo with a gamy cut of lamb, discovering how it brings out flavors in the wine that seemingly weren't there when not tasted with the meat. And vice-versa, how a good, earth-toned Tempranillo mingles with fattier cuts of lamb to the point of reducing the sensations of "gaminess." Try it—you'll like it!
That said, here are the recipes for three preparations of lamb, along with a few more specific recommendations of wines giving you plenty of food for thought on how to better enjoy your Easter or springtime meals...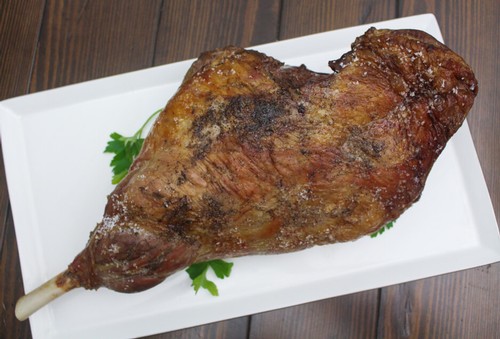 Julia Child's Mustard Leg of Lamb
This recipe goes back to 1961 when Julia Child first published her monumental Mastering the Art of French Cooking. This dish, originally called Gigot à la Moutarde (Herbal Mustard Coating for Roast Lamb), is actually simple and straightforward enough, which is probably why it has become a rite of spring or Easter fixture in many an American household—and is oh-so-good with a transparent style of red wine (meaning, a wine that tastes like the vineyard it comes from) such as an earthy, vineyard-designate bottling of Zinfandel.
The original recipe, calling for ground rosemary, can be substituted by chopped fresh rosemary, but our recommendation is to go easy on the herb—you want the earthy taste of Dijon mustard to predominate, not the pungent herb. In the early 1960s, most people were not nearly as accustomed to the taste of garlic as they are now, and so I'd surmise that most versions of this classic lamb dish now utilize up to 3 cloves of garlic (especially if they're large and meaty), or 5 or 6 small cloves.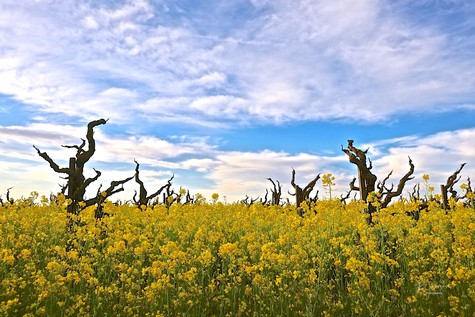 The soy sauce, while modest in proportion, is essential to combining with the mustard to create the savory sense of umami, and that's the compelling sensation that tastes so good with wine. Finally, when mixing the mustard and soy sauce together, you may want to up the amount of olive oil to get just the right amount of consistency (Mrs. Caparoso says "lubricious") to coat the entire leg. That would be a "feel" thing, only adding to the sensory nature of this dish.
1/2 cup Dijon mustard
2 Tb. soy sauce
1 clove garlic, mashed
1 tsp ground rosemary
1/4 Tsp. powdered ginger
2 Tb. olive oil
Blend the mustard, soy sauce, garlic, herbs and ginger together in a bowl. Beat in the olive oil by droplets to make a mayonnaise-like cream. Completely coat the lamb with the mixture and sit it on the rack of the roasting pan.
The meat will pick up more flavor if it is coated several hours before roasting. Roast in a 350-degree oven, 1 to 1 1/2 hours, for medium rare or 1 1/4 to 1 1/2 hours for well done.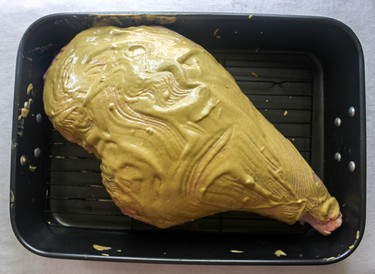 Leg of lamb coated with Dijon mustard mix before roasting (laurathegastronaut.com).
Matching Zinfandels: The finest Zinfandels, from Lodi or anywhere else in California, are now usually those that come with vineyard identifications on the label (i.e., vineyard-designate bottlings). Why? Invariably, these are vineyards consisting of older plants—in Lodi, a vineyard is not really considered "old vine" unless at least a third or half the plants in the vineyard are over 50 years old. There are local wineries—such as m2 Wines, McCay Cellars, St. Amant Winery, Turley Wine Cellars, Harney Lane Winery, The Lucas Winery, Jessie's Grove Winery, Perlegos Family Wine Co., Haarmeyer Wine Cellars, Little Trouble Wine Co. and Fields Family Wines—who produce wines from vineyards close to or over 100 years old, each and every one with its own unique, subtle, often earthy and distinctive taste.
Beware, if anything, of bottlings that simply say "Old Vine Zinfandel," without vineyard identifications. These tend to be commercialized bottlings, often with more flavor of oak than of the pure taste of Zinfandel; and very often, these wines are blended with as much as 25% Petite Sirah, giving them a darker color, sturdier tannin, and, alas, less actual "Zinfandel" flavor. For a dish such mustard coated leg of lamb, you want the purest Zinfandel possible. It's all about umami connections.
If, however, you are making do with a sturdier, oakier non-vineyard-designate Zinfandel, then treat it more like you would a Cabernet Sauvignon: find a cut of lamb that you can grill and caramelize to create the charred flavors that would better compliment the higher amounts of oak and tannin in this style of wine.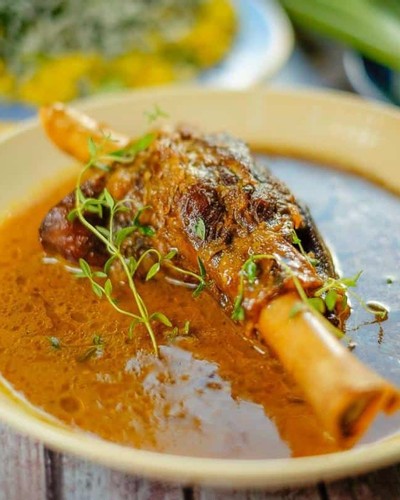 Slow Cooked Saffon Lamb Shanks
This recipe is a Middle Eastern inspired approach to lamb shanks, employing a good dose of saffron. "I'm just wild about saffron," as Donovan sang long ago, and for good reason: It is a wild, indescribably pure, organic seasoning derived directly from the stigma of the crocus flower, familiar to most of us as the elemental spice used to make Spanish style paella or Southern French style bouillabaisse. The sensation of saffron has been described in many ways: as suggestive of sea water, citrus peel, burnt hay, roasted clove, warm humus, dusty velvet, sun dried fruit, wet wool, and even human perspiration.
Saffron, above all for wine lovers, is absolutely magical with round yet meaty textured textured red wines such as Tempranillo, which tend to have aromas suggesting as much roasted meats and elusive earth tones as pure fruit. And lamb cooked with saffron has that double-whammy effect of bringing out the taste of a good Tempranillo.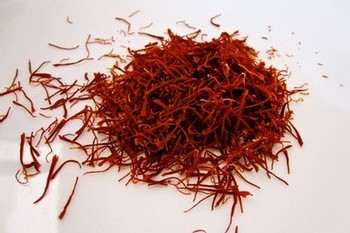 Besides the pungent combination of saffon, cinnamon, turmeric and cardamom, it is the long cooking process itself that creates the savory taste maximizing this particular wine and food combination. Re the following, which can be done in a pressure cooker or Dutch oven:
3 to 4 lamb shanks
1 large onion, thinly sliced
1 tsp. cinnamon
1 tsp. turmeric
½ tsp. cardamom powder
¼ tsp. saffron (threads ground in a mortar and soaked in 5 tsp. hot water for 10 minutes)
2 tsp. pepper
4 tsp. salt
2 TB. olive oil
3 cups water or chicken stock
2 TB. tomato paste (optional)
Utilizing a large pressure cooker: Season the lamb shank with salt and pepper. In a large frying pan, add olive oil and brown lamb shanks on all sides; remove and set aside.
In a pressure cooker, sauté onions with olive oil until translucent in color. Add back lamb shanks and season with cinnamon, cardamom powder, turmeric, salt, and pepper. Add water (or stock), the liquid saffron, and tomato paste.
Cover the pressure cooker and cook on low heat for 30 minutes. Before removing the lid of the pressure cooker, make sure that all the steam has been removed to safely open the pot. Serve with saffroned or yellow rice.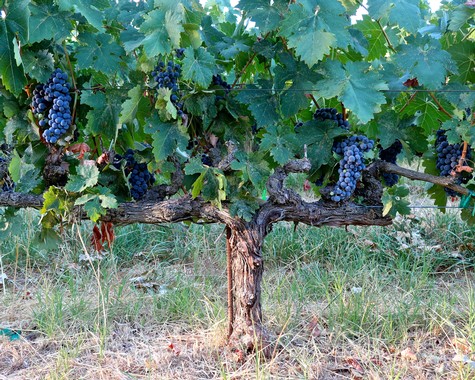 Utilizing a large Dutch oven: Preheat oven to 350° F. Season lamb shanks with salt and pepper. Heat a Dutch oven with a tight-fitting cover on medium high heat on the stovetop. Add the olive oil and brown lamb shanks on all sides; remove and set aside.
In Dutch oven, sauté onions with olive oil until translucent in color. Add back lamb shanks and season with cinnamon, cardamom powder, turmeric, salt, and pepper. Add water (or stock), the liquid saffron, and tomato paste; then bring to a simmer. Remove from heat, cover the pot and bake in the oven for 90 minutes to 2 hours, or until shanks are tender. Serve with saffroned or yellow rice.
Matching Tempranillos: If you've never enjoyed Lodi Tempranillo before, you can expect this: The climate and soils of Lodi are such that these iterations of the grape are not nearly as earthy as those of Spain (i.e., Tempranillo based reds grown in Rioja or Ribera del Duero), nor are they as high in tannin as many from Spain, other California appellations or from Oregon. Consequently, Lodi-grown Tempranillos also tend to be more subtle in oak and brighter in the varietal's "red fruit" (cherry, strawberry, reaspberry, pomegranate, etc.) profile. Yet like Tempranillos from around the world, Lodi bottlings are very svelte, round and meaty—almost always better as "food" wines than as wines savored on their own.
Lodi Tempranillo lovers in-the-know often gravitate towards top producers such as m2 Wines, Bokisch Vineyards, Harney Lane Winery, Heritage Oak Winery, McCay Cellars, Fields Family Winery, Peirano Estate and d'Art Wines, although there are other brands that regularly participate in the region's yearly Lodi Tour of Tempranillo.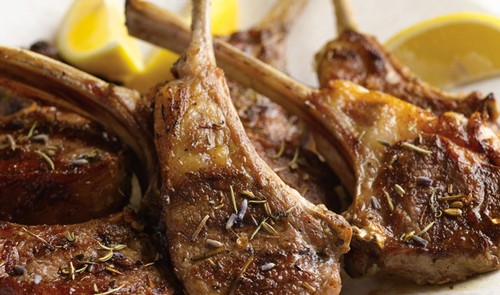 Grilled Herbes de Provence Lamb Chops with Fresh Mint Gremolata
This recipe comes courtesy of Steve Raichlen's Barbecue Bible. We are adding an extra condiment to Mr. Raichlen's rendering: fresh mint gremolata, for two reasons—mint tastes so darned good with lamb, and because mint because tastes even better with Cabernet Sauvignon, a varietal red that often retains an intrinsic herbal character that is often mint-like, especially when combined with the smoky/vanillin taste of white oak barrels in which Cabernet Sauvignons are almost always aged for good lengths of time.
1 Rib lamb chops (each 3 to 4 ounces and 1 inch thick)
1/4 cup extra-virgin olive oil
2 lemons
Salt and freshly ground black pepper
2 tablespoons Herbes de Provence
Gremolata
1/2 cup finely chopped fresh mint
1/2 cup finely chopped Italian parsley
1 Tb. lemon juice
1 Tb. minced fresh green garlic or 1 garlic clove, minced
1/4 cup extra virgin olive oil
Ahead of time (2 hours or so), make the gremolata by mixing all the ingredients in a small bowl or in a mini-food processor.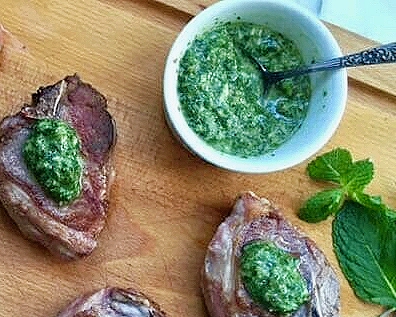 Arrange the chops in a nonreactive baking dish just large enough to hold them in a single layer. Place the olive oil in a small bowl, then cut one lemon in half and squeeze the juice from both halves into the oil and whisk to blend. Set half aside for basting.
Brush the lamb chops on both sides with the remaining olive oil mixture and season the chops with salt and pepper to taste. Sprinkle the chops with 2 tablespoons of the Herbes de Provence and let them marinate, at room temperature, for 10 minutes.
Set up the grill for direct grilling and preheat to high. When ready to cook, brush and oil the grill gate. Arrange the lamb chops on the hot grate and grill, turning with tongs, until cooked to taste, about 4 minutes per side for medium-rare. As the lamb chops cook, baste them from time to time with the remaining olive oil mixture.
Transfer the grilled chops to a platter and serve at once, accompanied by the gremolata and the remaining lemon, cut into wedges.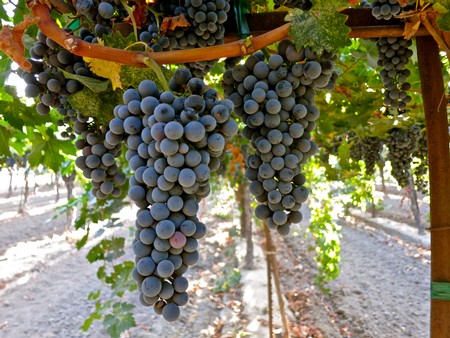 Matching Cabernet Sauvignons: Similar to the nature of Lodi Tempranillos, Cabernet Sauvignons grown in Lodi tend to be rounder in tannin and more pungent in fruit tones than Cabernet Sauvignons grown elsewhere around the world. This is a byproduct of the region's Mediterranean climate; and much of it, also because of rich yet deep, porous sandy loam soils, representing the alluvium of the Lodi watershed area.
Consequently, some of the region's top producers of Cabernet Sauvignon, such as Michael David Winery and Mettler Family Vineyards, typically blend their varietal bottlings with Petite Sirah, which can deepen color and fortify tannin structure. Other outstanding producers, such as Peltier Winery & Vineyards and LangeTwins Family Winery & Vineyards, do not see the value of Petite Sirah as a blending element, preferring to craft their Cabernet Sauvignons with the use of more traditional Bordeaux grapes such as Petit Verdot, Cabernet Franc, Malbec or Merlot. Although of these wineries make generous use of French oak in their barrel aging, which embellishes the wine and, just as much, the tasted of grilled lamb chops.
Other reliable Lodi Cabernet Sauvignon producers to look for include Anaya Vineyards, Oak Ridge Winery, Van Ruiten Family Winery, Harney Lane Winery, Heritage Oak Winery, Oak Farm Vineyards, Klinker Brick Winery, Paskett Winery, Stama Winery, Concrete Wine Company and Rippey Family Vineyards.
Happy Easter!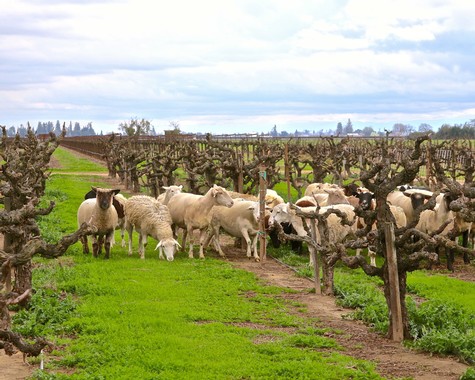 Comments