Letters from Lodi
An insightful and objective look at viticulture and winemaking from the Lodi
Appellation and the growers and vintners behind these crafts. Told from the
perspective of multi-award winning wine journalist, Randy Caparoso.

May 4, 2020 | Randy Caparoso
Quarantining 49er style with beans, barbecue and Zinfandel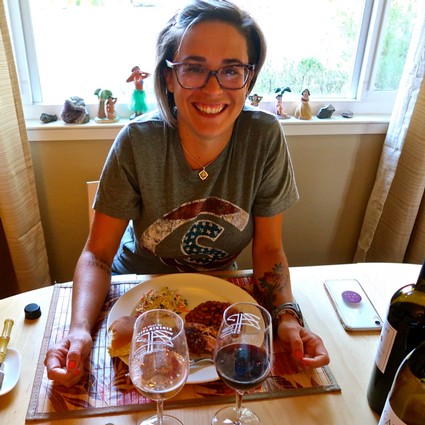 Dwelt a miner, forty-niner (a little bit of Lodi winegrowing history)
Beans, beans, the musical fruit. Like wine, it's very good for you; and like wine, it's best consumed in moderation.
But when beans are really good, moderation can be, well, challenging. Like Mike McCay's self-described 49er Gold Rush Beans (please see recipe at end of this post). At the backyard/family clubhouse barbecues inundated with the smell of all-day smokers manned each and every second by Mr. McCay, the owner/grower/winemaker of Lodi's McCay Cellars, center-stage is often stolen by zesty, zingy, molasses and earth-toned beans that go with the wet or dry rub baby back ribs, as amazing as those ribs can be. Just can't get enough of those beans — which, as it were, are fantastic with wines. Especially Lodi grew Zinfandel!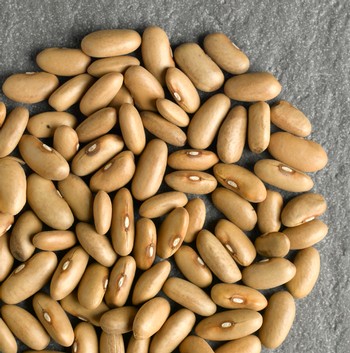 Mr. McCay's 49er beans are aptly named. McCay has a habit of naming things after his favorite things, like his Zinfandel sourced from a designated vineyard owned and farmed by his lifetime Lodi buddy Keith Watts, which McCay calls TruLux (doesn't matter what the Watts family calls it for McCay) after a Florida crab house where he and his wife Linda once had a romantic date a long, long time ago. As for the beans, guess what McCay's favorite football team is?
The actual forty-niners, of course, were the estimated 380,000 fortune hunters who flocked to the vicinity of Sutter's Mill in the foothills of California's Sierra Nevada during the first two years immediately following the discovery of gold in January 1848. The lucky ones went on to establish extravagant homes on Nob Hill in San Francisco, while the less successful or downright luckless miners ended up in farmlands in San Joaquin Valley — particularly the bourgeoning Wild West settlement of Mokelumne (later renamed "Lodi"), or the Delta seaport towns of Sacramento or Stockton, all less than a day's horseback or slow covered wagon ride away.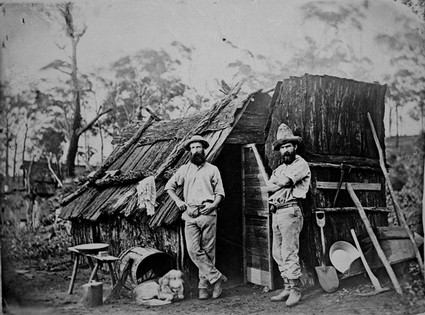 An estimated 92% of the forty-niners were men. For her PBS show "Food of the California Gold Rush," Tori Avey wrote,
In the harsh conditions of American frontier life, men were forced to cook for themselves without the help of women, the traditional homemakers of that time period. This culinary self-sufficiency proved important in California's gold rush, where only eight percent of the new population was made up of women, with even smaller numbers in mining areas. In the early days, both food and riches were plentiful. Miners could uncover $2000 of gold in just one day; when it came to food, there was plenty of wild game to be hunted and bacon, beans, and coffee could be purchased for a reasonable price.
During the 1850s and 1860s, many of these forty-niners also picked up the habit of immigrants who came directly from European countries: the need to grow grapes to make wine. Although the Mission Vine, originally brought into California by Franciscan missionaries (starting in 1769) was available to them, Zinfandel was quickly established as the grape of choice because of the variety's thicker skin and color, producing more flavorful wine. In Amador County, the heart of Gold Rush Country itself, the oldest vineyards still being farmed today are planted to both Mission (vines dating back to 1853) and Zinfandel (1869).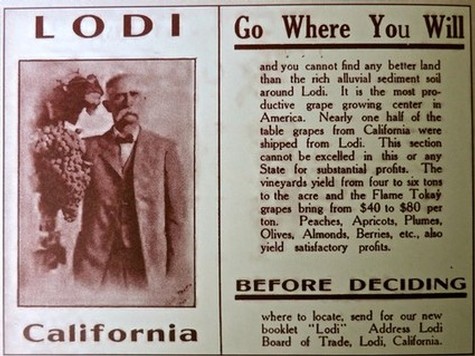 As largely ex-forty-niners, Lodi farmers had learned to be a calculating lot. According to the Lodi Historical Society's Lodi Historian newsletter, the first vineyards on record were probably planted by Ezekiel Lawrence in 1857, when "there was less than 10 acres of grapes in San Joaquin County." In 1861 George Perley planted 30 different grape varieties in partnership with George West (who owned El Pinal Winery in Stockton) on a farm just west of present-day Woodbridge (a CDP now adjoining the City of Lodi).
In 1864 George J. Leffler "planted 6 acres of Tokay (primarily a fresh table grape crop), 2 acres of Black Prince (a black-skinned grape with large berries like a table grape, but often used to vinify wine), and 2 acres containing 15 other varieties." Mixed fields often consisted of grapes such as Madeline, Black Hamburg, Sweet Water, Black Ferrar, Emperor, Mission, Black Malvoisie (later identified as Cinsaut), Carignan, and of course, Zinfandel.
But by the 1890s, through the usual economic process of elimination Flame Tokay as a table grape and Zinfandel as a wine grape began to dominate the Lodi landscape, as farmers began to move away from wheat, rye, alfalfa, watermelon, and other crops to concentrate either on grapes or cattle ranching (the latter, primarily for dairy).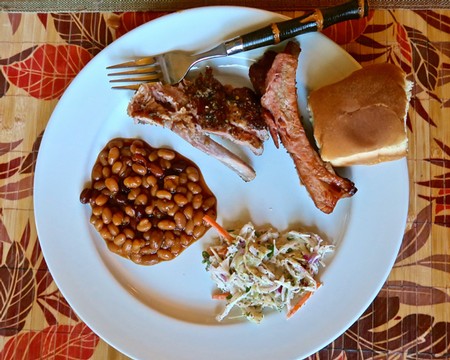 May Day Beans, Barbecue, Zinfandel and Grenache blanc
This past Friday, May 1 — the start of the Merry Month of May for many, and the first "official day for barbecuing" for many others — Mr. McCay decided to smoke 8 racks of baby back ribs (one of which was dropped off curbside for us to try). Besides his 49er Gold Rush Beans, the McCay family feasted on his "Winemaker Cole Slaw" (please see recipe below) — the latter dolled up with shredded jicama and a good dose of nostril-tingling horseradish.
The unabashedly fruit-forward, zesty bearishness of good ol' red Zinfandel makes simple sense for beans laced with molasses, brown sugar, and cider vinegar — there is, simply, no better wine in the world for this dish. The original forty-niners, and Lodi farming pioneers, knew what they were doing.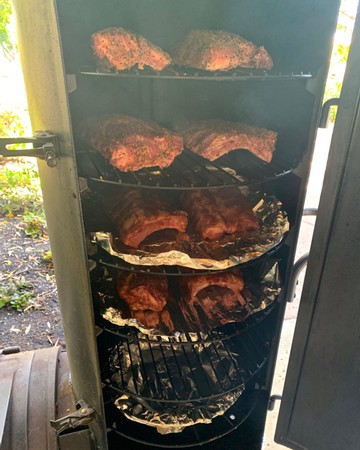 It also goes without saying that Zinfandel is the sensible match for any dry rubbed pork dish: the combination of peppery spices in the rubs brings out the intrinsic peppercorn-like spice in the grape — an exhilarating sensory match — and when the dry rubs are made "wet" with the addition of sweet/vinegary BBQ sauces, the lush, zesty fruit of the varietal really finds its element.
The McCay family marked their first day of barbecue season with bottles of their soon-to-be-released 2017 McCay Cellars "Faith" Lot 13 Vineyard Estate Mokelumne River-Lodi Zinfandel ($32). Mr. McCay says 2017 is probably his " best Faith Zinfandel ever." But what do you expect? He's a grape grower and winemaker, and undoubtedly a forever-hopeful forty-niner at heart — every vintage is a chance to produce possibly the "best wine ever," or so they will always believe.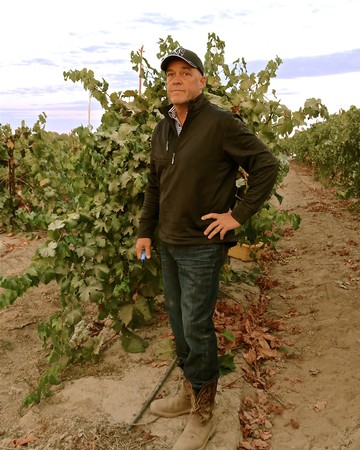 If anything, 2017 can be described as one of McCay's more bodacious vintages, judging from what Mother Nature seems to have bestowed. Whereas in most years, Lot 13 Vineyard grown Zinfandels are zesty with natural acidity and quite delicate, or "feminine," in its cherry-like perfume and demeanor, this latest vintage goes a little further by being a tad deeper in color and a positively briny/barbecue-ish spice concentration in its typically raspberry/red cherry fruit profile. Instead, in other words, of being just "feminine," it's almost as if it's been working out in a gym to harden its sleek and slinky curves.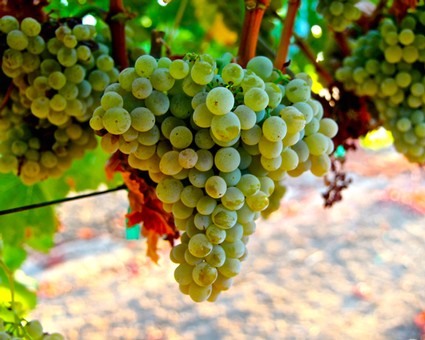 In between bites of beans and baby backs with Zinfandel, we also enjoyed sips of the new 2019 McCay Cellars Lodi Grenache Blanc ($24), particularly with the horseradish-laced cole slaw. Grenache Blanc has become quite the fashionable varietal white both in and out of Lodi. Outside of Lodi, seemingly more often than not vintners give into the temptation to barrel ferment and oak age the wine to harness the grape's naturally phenolic (i.e. density of skin-related qualities) character. Grenache blanc, after all, is a clonal variant of the black-skinned Grenache grape, one of the most widely planted red wine grapes in Southern France as well as Spain.
Almost all the Lodi producers of Grenache blanc stick to pure stainless steel production, employing zero oak influence, and McCay is no different except that he also goes a step further by fermenting with native yeast, which tends to introduce even more of the "wild," herby character of the grape — resulting in a bone dry white wine pungent with an almost herbes de Provence-like lavender/violet perfume, slaking the palate with edgy natural acidity and sense of minerality.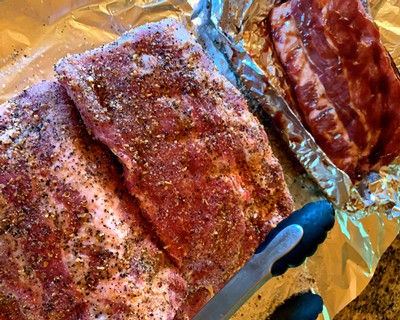 McCay's 49er Gold Rush Beans
8 slices bacon, diced
1 yellow onion, finely diced
1/2 green bell pepper, finely diced
54 oz. canned pork and beans
4 tablespoons ketchup
1/4 cup molasses
2/3 cup brown sugar
1/4 cup apple cider vinegar
2 teaspoons dry mustard
Cook bacon and dice. Preheat oven to 325° F. Sauté onion and bell pepper in bacon until softened, 4-5 minutes. Add the rest of the ingredients and bacon to a Dutch oven. Bake 2 to 3 hours until beans are at a desired consistency.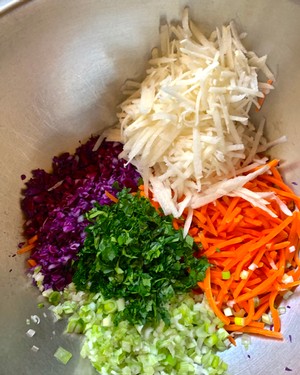 Winemaker Cole Slaw
10 to 12 oz. finely shredded green cabbage
1 Jicama (medium-sized), peeled and shredded (roll in paper towel to take out moisture)
1 bunch of green onions, finely chopped
1 bunch of Italian parsley, finely chopped
Mix all ingredients in a salad bowl
Dressing
3/4 cup of mayonnaise
1/4 cup apple cider vinegar
1 tablespoon sugar
2 tablespoons Beaver hot horseradish
Add to salad bowl to desired consistency. The McCays say they prefer theirs on the dryer side, "not goopy." Salt and pepper to taste.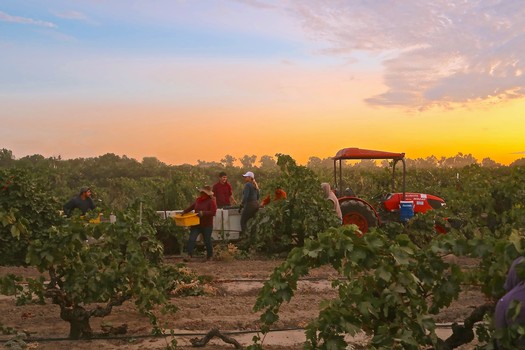 Comments