Letters from Lodi
An insightful and objective look at viticulture and winemaking from the Lodi
Appellation and the growers and vintners behind these crafts. Told from the
perspective of multi-award winning wine journalist, Randy Caparoso.

June 28, 2019 | Randy Caparoso
Summary of nearly an entire chapter devoted to Lodi Zinfandel by Catherine Fallis MS in her book Ten Grapes to Know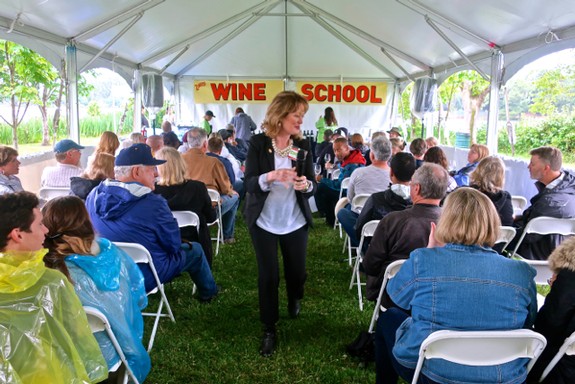 Many have called for it, but few have earned it. That is, the coveted title of Master Sommelier, which Catherine Fallis achieved 22 years ago, in 1997.
How few? There are only 219 Master Sommeliers in the entire world, 140 of them in the U.S. Fallis – who you can read about on her Planet Grape® Web site – was the fifth of only 21 female Master Sommeliers (the sommelier industry is still clearly dominated by men). Being an "MS" is sort of a big deal.
Therefore, an MS who absolutely adores the wines of Lodi is also a big deal (to us). Ms. Fallis backs this up in words: In her current best selling book, entitled Ten Grapes to Know (2018 Countryman Press, available on Amazon as Ten Grapes to Know: The Ten and Done Wine Guide), Fallis devotes not just an entire chapter to Zinfandel, but to Lodi grown Zinfandel in particular.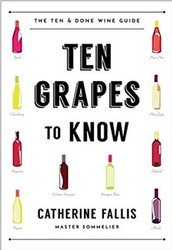 To Fallis, if Zinfandel is one of the most basic "ten grapes to know" (and there are, according to Jancis Robinson's authoritative Wine Grapes, well over 1,000 grapes of significance grown all around the world), Lodi is Zinfandel's "mistress" – and by that, we hope she means Zinfandel's "better half" (if a grape was ever smart enough to "put a ring on it").
Well, this is how she puts it in her book:
Lodi as a quality wine-producing region is only now coming out of the shadows, having provided so much old vine Zin for so long to wineries in Napa Valley, and to the big names, like Gallo. Lodi was the mistress. Trucks would come in from Napa, pick up fruit, and return with it via Lodi Lane. Lodi growers didn't have to rely on the whims of the consumer. It was easy money. Gallo grape sourcing teams are in the fields on a regular basis communicating with and courting growers for their fruit. With top dollar being paid, did it matter the fruit would end up in Gallo or other White Zins? Why not sell to Bogle, or Michael David Winery, who treat these growers like family and who produce old-vine labelled Zins?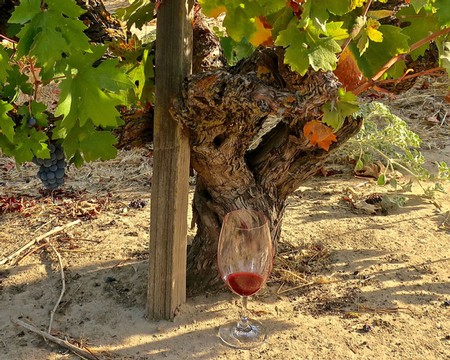 We also love Fallis' tome because she makes the subject of wine – admittedly, an often perplexing topic – so easy to understand that you can actually enjoy reading about it. Or as another popular wine book author, Marnie Old, has put it:
If grape names are Greek to you, the wine shopping experience can feel overwhelming and stressful. Catherine Fallis has created a terrific new tool for cracking the wine label code that goes deep on the top ten grapes any wine lover needs to know to feel calm, confident, and in control when cruising the wine aisle...
In short, we love the way Fallis talks about Zinfandel. So much so that we asked for her permission to reprint most of her chapter on Zinfandel from her book, which we're sure you'll enjoy as much as we have. No one makes "wine education" as much fun as Ms. Fallis!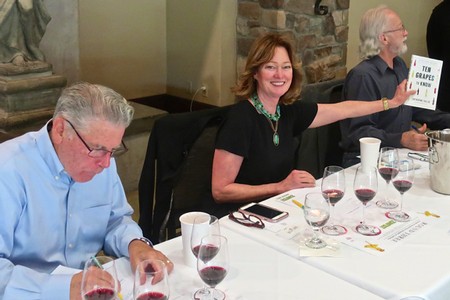 Hence, the "Gospel of Zinfandel" in the words of Catherine Fallis:
Grape Goddess (a.k.a. Catherine Fallis MS) says...
"Zin fun dell." Repeat after me, "zin fun dell."
"Zin fan dell." Repeat after me, "zin fan dell."
Go ahead, say it. Either way, Zinfandel is fun and will make a fan out of you. This warm, inviting, fruity and supple red may whisper in your ear or shout from the rooftop, but two things are for sure. It will engage the senses and it will deliver pleasure. Zinfandel is a wine that makes people smile.
ZINFANDEL HISTORY
Many of the benchmark, standard or point of reference wines, role models for the world at large, are in France. Pinot noir producers look to red Burgundy, Cabernet Sauvignon producers look to Bordeaux, Syrah producers look to the Northern Rhône. Zinfandel is the only major grape without an Old World role model. While European in origin, Zinfandel is the all-American grape. Why? The best Zinfandels in the world are produced in California. American Zinfandel is the benchmark for the world. Producers from around the world who are considering planting it look to those produced in California.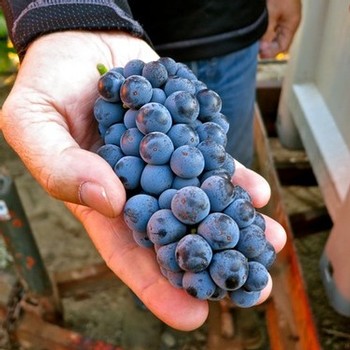 In the Middle Ages, a grape called Tribidrag was widely planted along the Dalmatian Coast in present day Croatia. As Tribidrag mutated and adapted to local conditions, new versions grew there. One, transported to the USA, became known as Zinfandel. One transported to Southern Italy became known as Primitivo. A version that stayed local was named Crljenak Kastelanski, after the place it was found. This knowledge is all thanks to Dr. Carole Meredith's extensive research there and DNA testing here in the U.S.
It is believed that in 1820 Zinfandel was one of several table grapes brought to the U.S. from Europe by the owner of a plant nursery. Immigrants in California planted it for wine during and even more so after the Gold Rush. Zinfandel was easy enough to grow, and the style of the wines they made was similar to that at home, especially for the Italians, who liked to drink it out of little tumblers, not fancy wine stems.
A century and a quarter later it was dying out as tastes turned to Cabernet Sauvignon and Chardonnay. In the early 1980s, the Trinchero family accidentally "invented" White Zinfandel, which met with instant success. With demand for Zinfandel high, many priceless old vines were saved from extinction, particularly in Lodi, a bucolic, rural area near Sacramento cooled by the Delta and home to growers of old vine Zinfandel who would have gone out of business. Not only is White Zinfandel a friendly ambassador and wine-converting gateway, it is easy to enjoy, can handle spicy food or in-laws, and is available everywhere. Most notably, it is a strong economic engine for the American wine industry...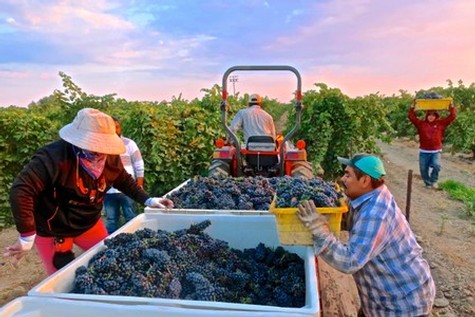 Single vineyard old vine Zinfandel will never have the cachet of Cabernet Sauvignon. Even Zin-master Tegan Passalacqua, winemaker for Turley Wine Cellars, the ultimate cult Zin, admits $38 is on the upper end for single vineyard Lodi Zins. Lodi Native, a recent project focusing on the treasure trove of old vine vineyards produced in a non-interventionist method – native yeast for fermentation and no new oak or additives – sells a six-pack for $180, or $35 per bottle.
Architected, under-$20 styles such as The Seven Deadly Zins (up until very recently, produced by Lodi's Michael David Winery) have been widely successful, bringing hundreds of thousands of new customers to the name Lodi and to Zinfandel. With lavishly ripe fruit, sweet oak and a touch of sugar, this crowd-pleasing style inspired the new category of "dark" wines such as Apothic Red. These dark-labeled, dark-named wines are so noticeably sweet and eminently drinkable that they have cannibalized the Zin market even further. These days grape prices are again falling for Zinfandel. Some growers are looking at ripping out their vines, and replacing them with Pinot grigio, Malbec, or even esoteric Teroldego. This is such a shame. Organizations like ZAP, Zinfandel Advocates and Producers, hold annual events to help promote this underappreciated grape.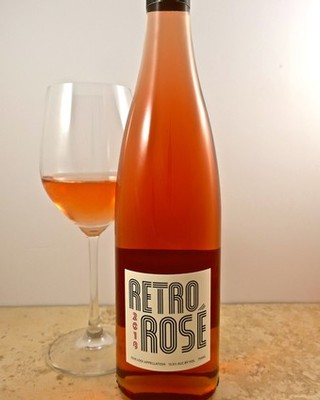 TASTE PROFILE AND STYLES
Zinfandel is vibrantly fruity, with notes of raspberry, blackberry, blueberry and boysenberry.
Beyond fruit there are herbal, earth, meat, and spice notes as well as notes of vanilla, cedar, mocha or espresso cinnamon red hots from oak. Old vine Zinfandels are the most complex and the most introverted. If you are interested, share a six-pack of Lodi Native with some friends, and then have one on one time with the gems from these cherished old plants. Without sugar and oak, they are the truest, greatest expressions of Zinfandel on the planet. If California had Grand Crus, these old vine vineyards would be at the top of the list.
Aside from flavors, body ranges from light and sweet, as in White Zinfandel, to light and dry rosé of Zinfandel. The lightest red is the Claret style, "Claret" referring to an old, pale style of Bordeaux. Napa's Storybook Mountain is a classic producer of this restrained, elegant style. Easy going under-$15 Zins, such as the Ravenswood Vintners Blend, are made in this lighter style as well, though there may be a touch of sweetness. From here the style gets richer, rounder, warmer, jammier, and spicier. These hedonistic technicolor Zins dazzle and wow folks. It's as if they were ready for their Instagram moment. Alcohols range from 15.5 to as high as 17% ABV. The best maintain naturally high acids to balance their rich fruit and high alcohol levels. Zinfandel captures spirit of the California lifestyle. Acid keeps things in check.
Turley Wine Cellars winemaker Tegan Passalacqua adds, "Lodi and Sicily have a lot in common. The resurgence is in wines that are transparent. Sicilian and Lodi wines have alcohol, acid, and color."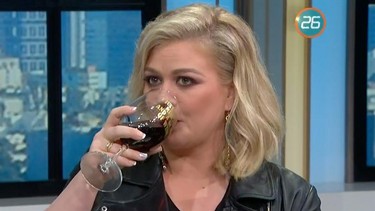 Kelly Clarkson, who was once quoted to say: "I don't work out, but I will do red wine" (image from accessonline.com)
IF ZINFANDEL WAS A MUSICIAN
Kelly Clarkson is an all-American girl, a powerhouse with a soft, tender side. This soulful singer delivers the goods every time.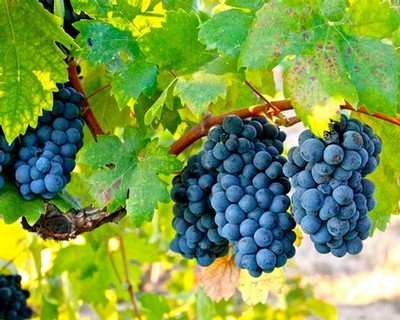 ZINFANDEL'S "DATING PROFILE"
• I am outgoing, exuberant, colorful, and fun.
• I am as down to earth as they come.
• I am always raring to go.
• I prefer dancing to shopping.
• Let's hang out under the moon and stars.
• Cigars? Sure, no problem. I can be sweet and enough to handle them.

A ZINFANDEL SENSE EXERCISE
This will require a few ingredients and at least one partner. Take...
Cinnamon Red Hots candy
Vanilla ice cream
Raspberry, blackberry, boysenberry and/or blueberry jam
Toasted white bread triangles
Espresso or dark roast coffee
Lay out the ingredients on a table. Taste each component separately. Then, start to "compound" or layer them together, as in spreading jam on the toast and sipping the coffee. Just relax and enjoy the sensations. Later on, when tasting Zinfandel, you might be surprised how easily these descriptive words pop into your brain.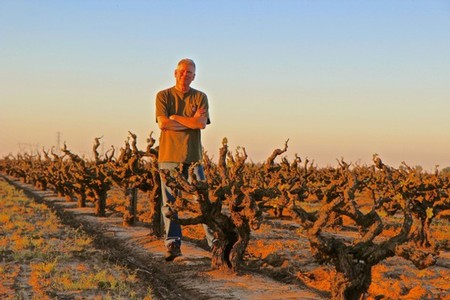 ZINFANDEL MATCHMAKING
With so much mouth-filling fruit, high alcohol and oak, Zins are eminently enjoyable on their own. As the wines get richer and oakier, the less heat and spice they can handle. Otherwise, with their blessing of high natural acidity, these juicy reds are ready to rock the table. From the grill to desserts and cigars, Zin has it covered. Layne Montgomery, the co-owner and winemaker of Lodi's m2 Wines, says, "What should I pair with this? A second bottle." Harney Lane matriarch Kathy Mettler says, "A bubble bath."
EVERY DAY WITH ZINFANDEL
Salmon
Lake trout
Halibut
Orange-glazed duck
Roast turkey
Beef Stroganoff
Red pepper oil crusted rib eye
Slow-braised beef
Roasted leg of lamb with rosemary
Wood-fired pizza with sausage and pepper
Zucchini, bell pepper and eggplant skewers
Baked stuffed green peppers

ZINFANDEL CHEESES
Brie
Blue
SWEETS
Raspberry brownie
Red velvet cake
Reese's Peanut Butter Cups (especially with a Zinfandel "Port")
INSTA-DINNERS
Lean Cuisine – Santa Fe Style Rice & Beans
Healthy Choice – Korean-Inspired Beef Bowl
Takeout – enchiladas
UPSCALE CONVENIENCE
Plated – Spaghetti Nests with Italian Sausage, Broccoli, and Hot Cherry Peppers
Blue Apron – Roasted Red Pepper Pasta with Lemon Parmesan Broccoli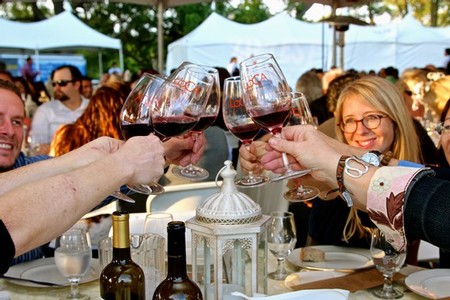 SNACKS
Reuben sandwich with White Zinfandel
Pick up some rye bread, corned beef, Thousand Island dressing and sauerkraut if you like, assemble, and serve with a pleasantly sweet and juicy White Zinfandel
DINNER TONIGHT
Grilled Portobello Mushrooms
Soak the heads in Zinfandel overnight, brush with olive oil, grill over charcoal, then serve with flank steak or quinoa, along with a soft, supple yet intense red Zinfandel from Lodi or Amador County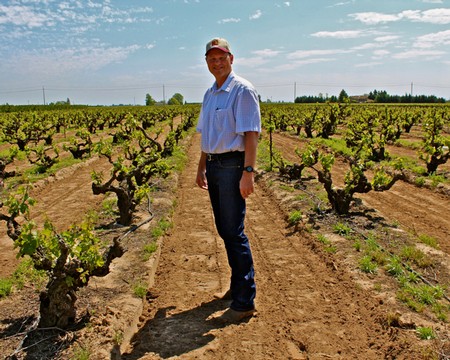 SHOPPING (RECOMMENDED LODI GROWN ZINFANDEL BOTTLINGS)
The Seven Deadly Zins, Old Vine Zinfandel ($16)
Full, silky and sweet-tart with notes of raspberry, sour cherry, sun dried tomato, green olive, red licorice, dark chocolate and cinnamon
Fields Family, Old Vine Family Vineyard Zinfandel ($28)
Jammy, ripe, full and fresh with notes of raspberry, strawberry, blueberry, vanilla and sage
Harney Lane, Old Vine Lizzy James Vineyard Zinfandel ($36)
Nearly Port-like with sultry red raspberry, currant, cherry cola, red licorice and vanilla notes
Ironstone Vineyards, Rous Vineyard Reserve Ancient Vine Zinfandel ($35)
Full, lightly chewy and tart with notes of raspberry, cherry, blueberry, braised meat, nutmeg and violet
Jessie's Grove, Old Vine Westwind Zinfandel ($36)
Complex and balanced with notes of cherry, blueberry, root beer, molasses, earth, and porcini dust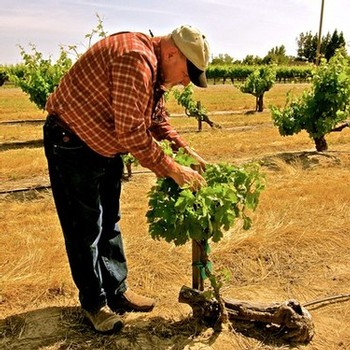 Klinker Brick, Old Ghost Old Vine Zinfandel ($37)
Richly flavorful and unctuous with notes of raspberry, cherry, cinnamon Red Hots and caramel apple
McCay Cellars, Rous Vineyard Zinfandel ($32)
Full, supple, tart and dry with notes of raspberry, cherry, green and black olive, oregano and lavender
St. Amant Zinfandel Old Vine Mohr-Fry Ranch Zinfandel ($18)
Supple and fresh with layers of dried cranberry, orange peel, spearmint, chocolate covered cherry, red licorice, mushroom, tarragon, roasted eggplant, Chinese five-spice and prosciutto
Van Ruiten Family, Old Vine Zinfandel ($20)
Full, luscious and silky with notes of peach, orange crème, raspberry, cherry, blackberry, fudge brownie, balsam, seared pork, brisket, sun-dried tomato, and dried Italian herbs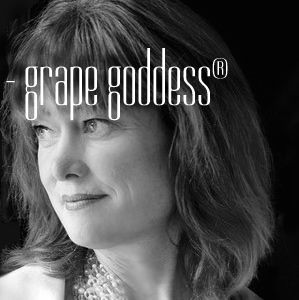 DINING OUT
Zinfandels are easier to order as they typically will be from California, so there is no need to recognize esoteric European villages. As with other grapes, ask for the smaller, artisanal producers. For example, Napa Valley excels at Cabernet Sauvignon, while Lodi and Sonoma's Dry Creek Valley excel at Zinfandel, even if all these regions grow the same grapes. But they only "master" one.
LODI ZINFEST
Lodi has more growers than winemakers. Their annual festival, ZinFest, celebrates the growers. Instead of black tie auctions, these folks and some of us lucky members of the trade eat and drink, then throw off their shoes and dance under the moonlight. A few might sit back under the trees and smoke cigars while sipping on Zinfandel Port.
TURLEY WINE CELLARS
The ultimate Cult Zin, Turley Wine Cellars Zinfandels are mail list only, which is why I have not included them in the shopping guide. Despite their richness and concentration, they maintain a freshness and finesse, and oak is always in the background. All are from old vine Zinfandel vineyards across the state. Despite their cult status, Director of Winemaking Tegan Passalacqua says, "Zin is not this wine that's up on a pedestal. People actually consume it. It's a grower's wine."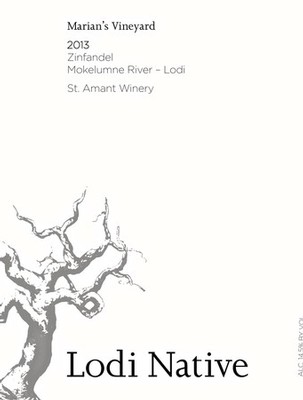 LODI NATIVE
A group of local winemakers inspired by sommelier/writer Randy Caparoso have looked to their cherished old vine Zinfandel vineyards, many over 100 years old, to produce pure, unadulterated wines which showcase the personality of the land and grape plant vs. winemaker style and technique.
This collaborative project, known as Lodi Native, is focusing on old vine, certified sustainable heritage vineyards, many of which are multi-generational family owned sites, including Wegat, Soucie, TruLux and Marian's on the West Side, and Stampede, Schmiedt, Noma and Lot 13 on the East Side.
The six founding winemakers – Stuart Spencer of St. Amant, Ryan Sherman of Fields Family Wines, Tim Holdener of Macchia Wines, Michael McCay of McCay Cellars, Chad Joseph of Maley Bros., and Layne Montgomery of m2 Wines – agreed to a strict, non-interventionist protocol beginning with native yeast fermentation and the use of no new oak. In other words, pure, unadulterated, exquisitely expressive old vine Zinfandel so full of personality they can never become mainstream wines. This is the discovery of real treasure, Grand Cru American Zinfandel, pure, simple, unadorned, yet rich, complex, layered, and so beautifully balanced they glide across the palate like world champion tango dancers.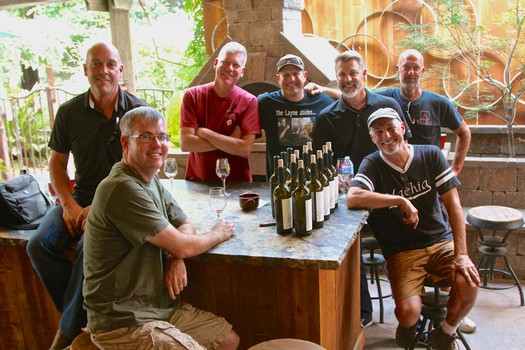 Upon first sniff, they may not be for everyone. There is something more here than super-ripe, squeaky clean and hyper oaked, and something less. Think of Justin Bieber singing without auto-tune – he is vulnerable, fragile, real, more human than super human. Now add to that a lifetime of experience – think Aretha Franklin, Stevie Wonder, Keith Richards or Nina Simone – and this is what you get with Lodi Native wines. Rich, layered, complex, evocative, and timeless.
While each of these wines is unique, as you can tell by my reviews below, they do share similarities. Lodi's West Side Zins are deeper, richer, with notes of blackberry, earth, tobacco and herbs, while those from the East Side are more perfumed, racy with bright red fruits and not as much intensity of structure. Overall the climate is more Mediterranean than Central Valley as Lodi enjoys breezes off the San Joaquin River Delta. The West Side gets the breezes first. It is also sandwiched between two deep sea ports, to the north and south, and enjoys the insulating influence of these bodies of water.
Lodi Native Zinfandel by Fields Family Wines, Stampede Vineyard, Clements Hills-Lodi
Fresh, expressive, smooth and juicy with notes of strawberry, cherry, plum, dried fig, canned plum tomato, and cedar
Lodi Native Zinfandel by Maley Bros., Wegat Vineyard, Mokelumne River-Lodi
Juicy, deep, lively and luscious with notes of strawberry, raspberry, blackcurrant, fig, raisin, dark chocolate, caramel, vanilla and white flowers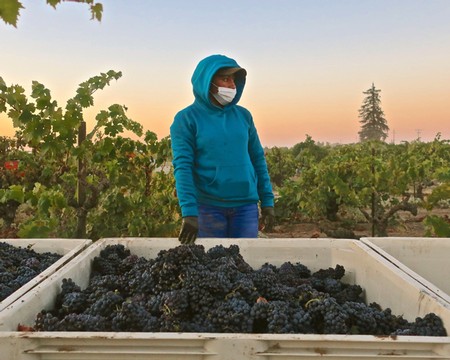 Lodi Native Zinfandel by McCay Cellars, Trulux Vineyard, Mokelumne River-Lodi
Big, brawny, balanced and inviting with notes of orange rind, cranberry, sour cherry, chocolate covered raisin, cocoa powder, stewed and cured meats and cedar
Lodi Native Zinfandel by m2 Wines, Soucie Vineyard, Mokelumne River-Lodi
Silky, round, plush and long with notes of red berry, candied orange, watermelon, mango sorbet, mint tea, black tea, Airheads Rainbow Berry Sour, and s'mores
Lodi Native Zinfandel by St. Amant Winery, Marian's Vineyard, Mokelumne River-Lodi
Intense, layered, plush and sultry with notes of raspberry, blueberry, boysenberry, red and pink rose, peppermint tea, dark chocolate ganache and orange sherbet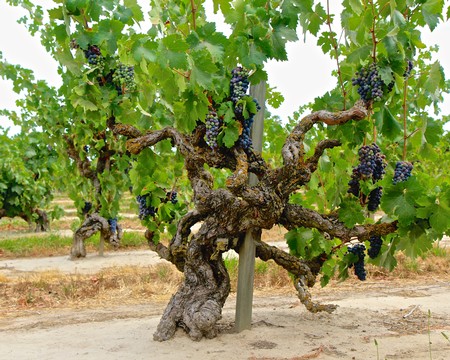 Lodi Native Zinfandels are sold as a set of six different single vineyard wines in a collectable original wooden case (OWC) for $180. Contact jeremy@lodiwine.com at the Lodi Wine & Visitor Center. You may also reach out directly to the individual wineries. If available, individual bottles are $35.
GIFT A ZIN
Zinfandel is an excellent choice for gift giving. It is one of the best values in American red wine, and its jazzy boysenberry and spice flavors give it enough sex appeal to seduce even the snobbiest of wine snobs. Harney Lane's Kyle Lerner says of Zinfandel, "It's just a beverage, like milk or soda, but we've wrapped so much romance to it." I love gifting old vine Lodi Zins to my European friends. It is the one wine we do better than them!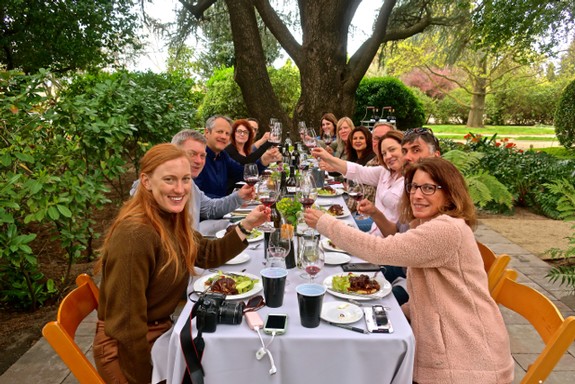 Comments