Letters from Lodi
An insightful and objective look at viticulture and winemaking from the Lodi
Appellation and the growers and vintners behind these crafts. Told from the
perspective of multi-award winning wine journalist, Randy Caparoso.

October 24, 2019 | Randy Caparoso
Peltier Winery finds a natural sweet spot in Lodi's Clements Hills for its new Reserve Cabernet Sauvignon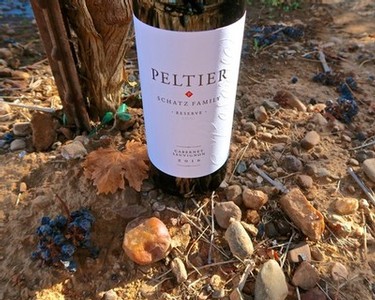 The just-released 2016 Peltier Winery Schatz Family Reserve Lodi Cabernet Sauvignon ($60) opens up a new chapter for Lodi grown Cabernet Sauvignon.
Yes, other excellent, lavishly fruited, round and expansive Cabernet Sauvignons have been growing in vineyards surrounding the City of Lodi, bottled by wineries such as Mettler Family Vineyards, Michael David Winery, Van Ruiten Family Winery, and more recently, Oak Farm Vineyards, Klinker Brick Winery and others. In what way does Peltier's 2016 Reserve – the first commercial vintage from owner/grower Rod Schatz's Coyote Creek Vineyard, planted just recently in 2013 – disturb the Lodi winegrowing force?
On a sensory level, it is the wine's tightly focused blueberry/boysenberry nose underscored by a cassis-like concentration, and a dense yet compact, velvety, seamlessly knit feel – the Cabernet Sauvignon character allowed to sing without the burdensome weight of excessive oak (although the wine is aged in 100% French oak barrels).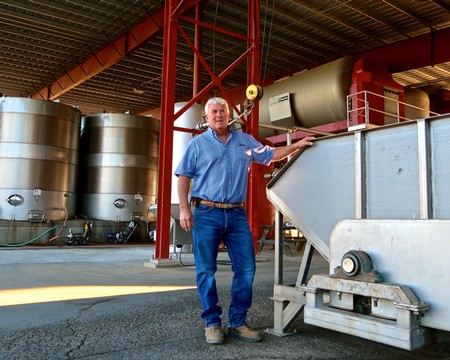 In other words, there is a sense of unfettered, almost effortless purity to the wine, saying "I'm-not-just-another-pretty-face-in-the-world-of-Cabernet-Sauvignons." It's a sense of naturalness that you get primarily from intrinsic quality of grapes, not through manipulation of winemakers, and it's no coincidence.
That is to say, when Rod Schatz first broke ground on his newest 200-acre Clements Hills-Lodi ranch, he set out to plant what he has unabashedly called "Lodi's finest Cabernet Sauvignon vineyard." This was no braggadocio. There was plenty of precedent going into Schatz's thought process, although not necessarily precedents set in Lodi.
Schatz's Coyote Creek planting, which includes 80 acres of Cabernet Sauvignon, is located on the east side of Lodi close to Dog Town, an 1850s mining site that is now a ghost town, although registered as a California Historical Landmark.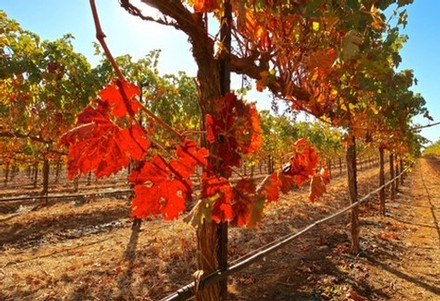 The topography of this area typifies the Clements Hills appellation: gently rolling hills at about a 200-ft. elevation, with shallow (clay hardpans at 2 to 4-ft. depths), Redding Series orangy-red clay soils replete with cobble and stones, derived from volcanic mud flows and alluvial stream deposits formed over the course of 250,000 to 500,000 years.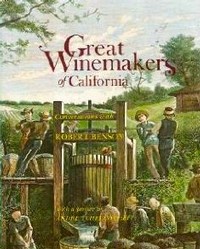 You can contrast this terroir to the much younger soils (generally about 100,000 years old) in Lodi's Mokelumne River AVA, the historic winegrowing region encircling the City of Lodi consisting of flat, low lying (less than 100-ft. elevation), deep sandy loams with nary a rock, not even pea-sized gravel, going down a good 30, 50 feet or more before hitting a hardpan. It's precisely because of these dramatic differences in growing conditions that Lodi growers established their seven sub-appellations back in the early 2000s.
Clements Hills' shallow, rocky clay hillsides are particularly conducive to Cabernet Sauvignon, long considered California's finest red wine grape. Why Cabernet Sauvignon, and not, say, Zinfandel or Pinot noir? Because early in California's wine history, back in the 1880s, the most prestigious wines in the state – such as Gustave Niebaum's Inglenook Extra Fine Claret (made from Cabernet Sauvignon) – were grown on the western benches of Napa Valley between the towns of Oakville and Rutherford.
In the classic book Great Winemakers of California (Robert Benson, 1977), the longtime legendary Beaulieu Vineyard winemaker André Tchelistcheff described "what act of God made that piece of land (in Napa Valley) so great." To quote Tchelistecheff:
"This is volcanic soil, and volcanic erosion. There is a great amount of gravel moved into that section and the soils there are basically not too rich and of rather medium depth, even shallow. The region prohibits a production of Cabernet Sauvignon above three and a half to four tons per acre, and that's it. Mother Nature, the ecological regime, does not permit more... once you try... the vineyard complains."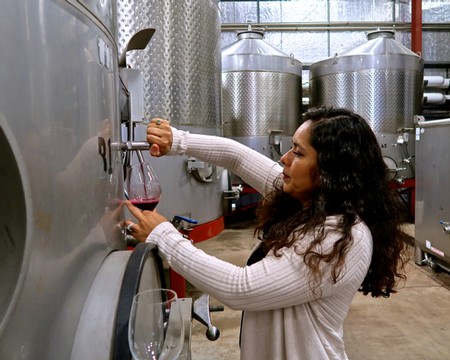 Just as Tchelistcheff contrasts the shallow volcanic benchland of Oakville and Rutherford with the "rich soils, sometimes 12 to 15 feet of heavy, rich soil," found in surrounding areas of Napa Valley, in Lodi you can contrast the shallow volcanic soils of Clements Hills with the far deeper and more vigorous soils of Mokelumne River. For grape varieties such as Cabernet Sauvignon, it is the restrictive nature of low vigor volcanic soils that build structure – rich color, deep tannin, and ample acid balance – in resulting wines. For the finest Cabernet Sauvignons in the world, it is always about that structure.
To illustrate the intrinsic quality of Peltier Winery's Coyote Creek Vineyard Cabernet Sauvignon, Peltier Winery winemaker Susana Vasquez drew a tank sample of 2019 Cabernet Sauvignon that had just completed fermentation, and was just being settled before going to barrel. The 2019 tank sample's profile was virtually identical to that of the 2016 bottling – soaring blueberry/boysenberry fruit and a compact, concentrated yet svelte and fluid feel – only without the toasty, caramel subtleties that will come later with aging in oak.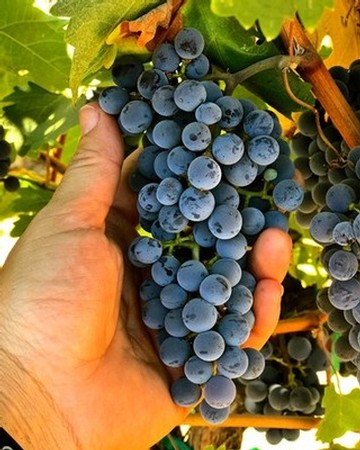 Comments Vasquez, "I like the mouth-feel that comes natural to this vineyard. It is not lean, and not 'big' – just a lot of beautiful color and deep, bright fruit." Consequently, she adds, "I don't use additions when handling this wine... We try as much as possible to be true to the vineyard, and we use barrels only as a framework to enhance the fruit."
Adds Vasquez, "The hard thing about Cabernet Sauvignon is that there is always a lot of tannin, and we don't want our wines to kill the palate with rough tannin – the palate-feel needs to be smooth but at the same time rich, because it's Cabernet Sauvignon." Vasquez "massages," or softens, the high tannin levels that are particularly natural to Cabernet Sauvignons grown in low-vigor shallow clay soils (generally more concentration of color and tannin than Cabernet Sauvignons grown in more vigorous sandy loam soils) like Coyote Creek's by aging over two years in new and neutral (i.e. previously used) French oak barrels. "The 2017 is still in the barrel," says Vasquez, "and we just released the 2016 last month."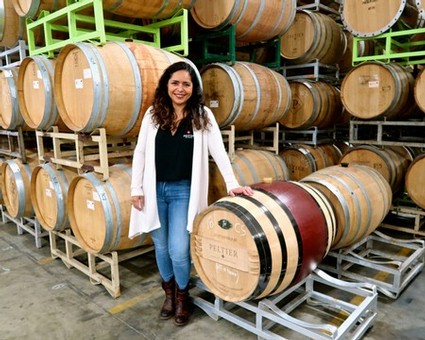 Popping open her iPhone, Vasquez proudly shows off photos of 2019 Coyote Creek Cabernet Sauvignon grape bunches like a newborn baby, just before they were picked at the beginning of the month. She explains, "You can see how small and dark the berries are, and it's consistent in all the clusters... The vines have a good canopy, but it is not a big jungle of canes and leaves shading the fruit... This is a very balanced vineyard in terms of canopy/fruit ratio because it is planted on the top of a hill, and because it has an ideal soil...
"More than anything, this is what makes it so easy for me to make a truly 'Reserve' quality wine from this vineyard!"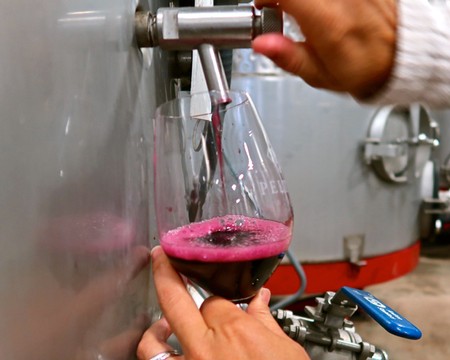 Comments