Letters from Lodi
An insightful and objective look at viticulture and winemaking from the Lodi
Appellation and the growers and vintners behind these crafts. Told from the
perspective of multi-award winning wine journalist, Randy Caparoso.

November 24, 2017 | Randy Caparoso
Paskett tasting room opens on site of Lodi's historic Langford Colony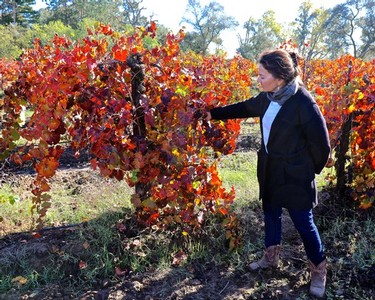 All the stars seem to be aligned for the tasting room debut of Lodi's newest artisanal producer, Paskett Vineyards & Winery, on the Saturday of 2017's Thanksgiving weekend, November 25 (11:30 AM to 5:00 PM).
The "stars" being:
• A great, well-established vineyard site; located on the east side of Lodi's Mokelumne River AVA (next door to Heritage Oak Winery's esteemed riverside plantings), and long known for its extraordinary Charbono grapes (in the past, bottled by Heritage Oak, Pasos Vineyards, and other specialty producers).
• The Paskett family's original vineyard (owned and cultivated since the late 1960s) located in the rich yet porous, sandy loam soils of Mokelumne River-Lodi's west side, representing one of the Lodi community's earliest forays into Cabernet Sauvignon.
• The winemaking talents of Heather Pyle – already well-known for the exquisitely crafted wines of Lodi's The Lucas Winery, as well as for her previous career as a winemaker for Robert Mondavi Winery between 1985 and 2001 (which included stints as director of winemaking for Opus One Winery and the now-defunct La Famiglia di Robert Mondavi).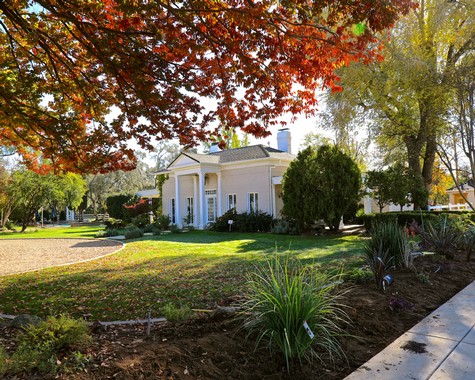 Another great reason to beat a path to this exciting new producer's tasting room? Paskett's east side Lodi property is located at 11070 E. Woodbridge Rd. (Acampo), which is also the site of the historic "Langford Colony" – the humble former abode of Benjamin F. Langford, who served in the California State Senate between 1879 and 1900. Langford, in fact, was renowned in his day as both "Father of the Senate" and "Honest Ben."
A successful gold miner and entrepreneur, Senator Langford at one time owned 3,000 acres in San Joaquin County and another 8,000 acres in Fresno and Tulare Counties. In 1851 Langford acquired the Mokelumne River-side property where Paskett Vineyards now sits in a virginal state, consisting of native valley oaks and grass. Langford first cultivated it as wheat (after milling all the oaks on the property), and then turned it into a showcase 320-acre farm planted to peach, apricot, almond and plum trees.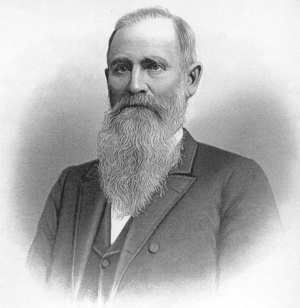 Senator Langford also co-founded (in 1883) and served as the first president of the Bank of Lodi, as well as helped establish the San Joaquin & Sierra Nevada Railroad. Alas, by the time of his death at the age of 74 in 1904, according to The San Francisco Call newspaper, Langford's once-vast fortune had disappeared, and he died "a poor man."
The good news is that, at long last, the memory of "Honest Ben" can now be experienced by the public with exterior views of his original Lodi home, lovingly restored at great expense and attention to detail by the Paskett family, who acquired the property in 2015.
According to owner Lorraine Paskett, who grew up on Lodi's west side on Lucas Rd., but now splits her time between Lodi and Pasadena where she works in the field of renewable green energies: "We had been wanting to get into winemaking forever, and so we finally established Paskett Vineyards & Winery in 2012.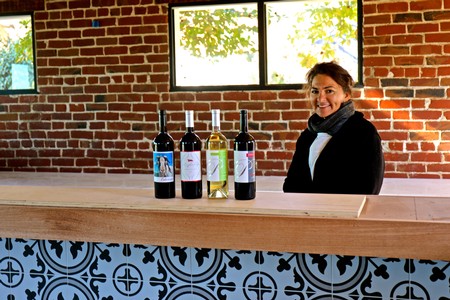 "Our family also owns a vineyard planted to Cabernet Sauvignon, along with a walnut orchard, over on Lucas Rd., which my dad (Herb Paskett, an L.A.-based attorney) started up 50 years ago, when he first got the hankering to get into agriculture. That was when we got to know (The Lucas Winery's) David Lucas, and how we met Heather Pyle (David Lucas' spouse).
"Between the two properties, we now own and farm just under 100 acres of vineyards. When we bought the Charbono planting, which dates back to the 1970s, it was in pretty rough shape. There are still plenty of dead spots, which we plan to replant. Meantime, Heather has been spending a lot of time in the field, working hand in hand with our vineyard manager (Mark Mayer) in the restoration of the vineyard.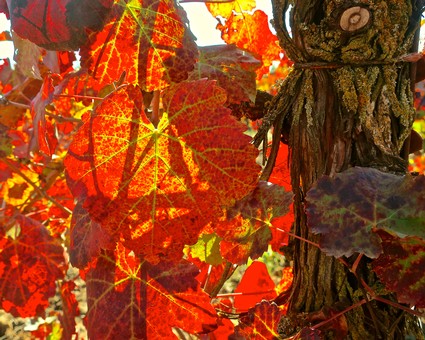 "Although the Charbono has gone to other wineries in the past, this past year we made the decision to keep all the fruit for our own brand. We would have loved to have shared some fruit with people like (Turley Wine Cellars winemaker) Tegan Passalacqua, who had requested some of it, and Tom Hoffman (Heritage Oak owner/grower) next door has also been very encouraging. But with the opening of our tasting room next weekend, I think we're ready to stand out on our own."
When you enter the Paskett property on Woodbridge Rd., you will find their "no frills tasting room" (at least in the words of Ms. Paskett, who severely understates her artful touch for interior design) just behind the historic Langford home in what was formerly the garage. The only structure added to the property by the Pasketts is a modest sized barrel room alongside the tasting room.
Says Ms. Paskett, "We are proud to join the Lodi winemaking community as another multi-generational farming family." If anything, the Pasketts are starting off with all the right ingredients!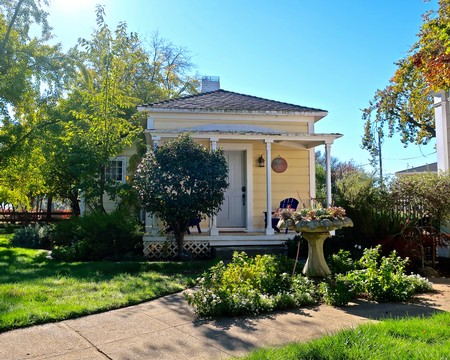 Notes on current Paskett releases:
2015 Paskett, Bokisch Vineyard Lodi Albariño ($26) – Spring-fresh, flowery and honeyed notes emanating from a mandarin orange-like aroma; lemon/lime tartness to medium-full feel; finishing with a minerally dryness, and refreshing tweaks of orange wedge.
2016 Paskett, Silvaspoons Vineyard Lodi Verdelho ($28) – Fresh lime and lemon blossom nose over a silken fine texture; a light tasting medium body punctuated by lemony crispness. A gold medal winner in the most recent Sunset Magazine International Wine Competition as well as San Francisco International Wine Competition.
2014 Paskett, Lodi Cabrona ($28; 75% Cabernet Sauvignon/25% Petite Sirah) – This artist-label proprietary bottling, according to Lorraine Paskett, is meant to be "fun – a reference to a female goat ... my girlfriends and I often call each other that because it can also be a slang for 'strong female.'" Be as it may, as a wine Paskett's Cabrona is satisfying, deep yet streamlined: an almost violet-like, floral and cassis-like (i.e. like blackcurrant syrup) intensity in the nose, with a sprig of mint. Velvet sensation on the palate beefed up by firm, medium-weight tannin. Slightly Bony Moronie in the middle; but then comes around with a burst of cassis-like fruit, with a touch of gunflint, tea and earth tones, towards the finish.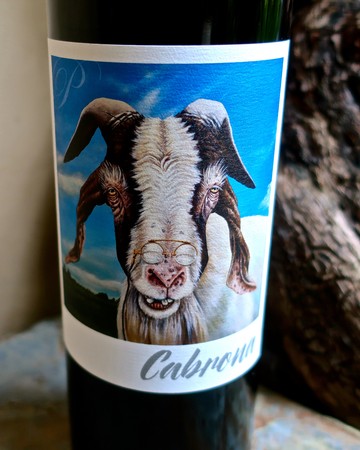 2013 Paskett, Kingdon Edge Reserve Lodi Cabernet Sauvignon ($38) – Core of minty/herbal blackcurrant fruit tinged with a cherry liqueur-like fragrance and subtle loamy/earthy undertones. Round, velvety entry in the mouth; with moderate tannin, earthy and blackcurrant-like sensations mingling in a soft finish. This Paskett Family Vineyard bottling is very "Lodi" in its accessibility, yet rich and multifaceted.
2015 Paskett, Paskett Vineyard Estate Lodi Charbono ($28) – Don't let the recent vintage fool you – this style of red wine is meant to be appreciated with closer to 10 to 20 years bottle age, rather than at 2 or 3 years. Still, if you love a chunky, sinewy red wine – "big" more in the sense of hardscrabble tannin than alcohol, which is a moderate (for California) 13.8% – you'll love this Charbono, along with some grilled, charred steak. The youthful nose is tightly wound, but with a blackberryish concentration and some forest floor/crumpled autumn leaf intrigue. The dense, weighty feel is filled to the gills with coffee-ground tannin, all but smothering the blackberry/black cherry ball fruit quality below. Remarks Ms. Paskett, "We bought this vineyard because we think it's special ... I believe there are fewer than 100 acres of Charbono (a grape of Italian origin – technically named Douce Noire, but known as Bonarda in Argentina – although historically cultivated in France's Savoie region) remaining in the state."
A few more images from Paskett Vineyards & Winery: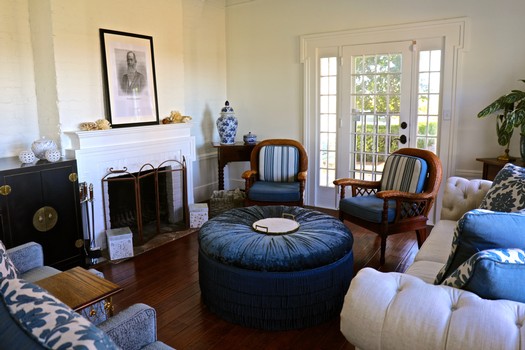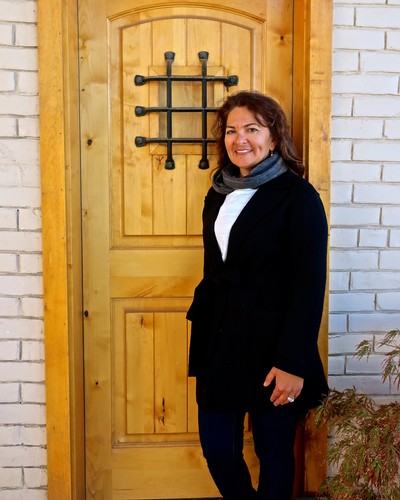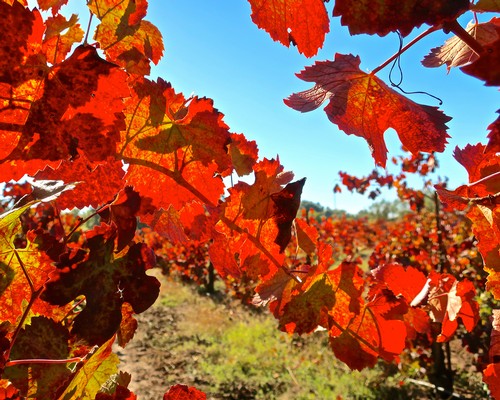 Autumn in the Paskett family's east side Lodi Charbono block
Comments