Letters from Lodi
An insightful and objective look at viticulture and winemaking from the Lodi
Appellation and the growers and vintners behind these crafts. Told from the
perspective of multi-award winning wine journalist, Randy Caparoso.

September 12, 2022 | Randy Caparoso
On the work, and people, going into the hand picking of Lodi's vineyards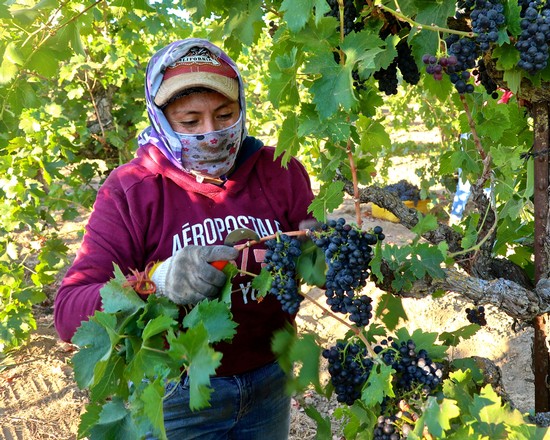 The prevalent image of the wine grape harvest in Lodi, as in other winegrowing regions around the world, is of people working their way through jungles of leafy vines with curved knives or shears, picking off whole clusters of grapes one at a time, entirely by hand.
This is despite the fact that today, most vineyards in regions such as Lodi are now picked by mechanical harvesters. Picking by machines manned by just one or two operators is more than five times faster than hand-picking by crews of six to eight people. Thus, the cost of machine picking is well less than half of hand picking, and usage of fuel and carbon footprint is not much higher, since hand harvesting still requires tractors to pull bins weighing over 2 tons when filled by hand pickers.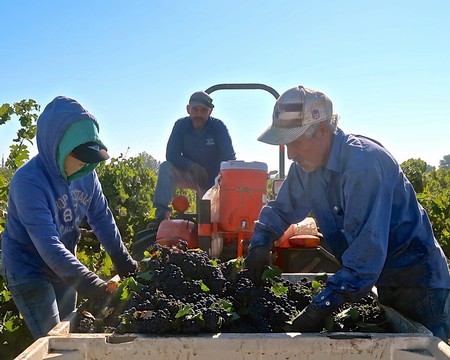 All the same, there is still a lot of hand harvesting done in Lodi. Why? Because machine harvesting requires vines to be trained on trellises held together by wires—mechanical harvesters work by shaking wires to separate individual berries from their stems.
However, there are still thousands of acres of grapes in Lodi that are cultivated on free-standing "head-trained" or "vertical cordon" trained vines, held up only by stakes. These types of vines cannot be picked by machine; they require hand picking.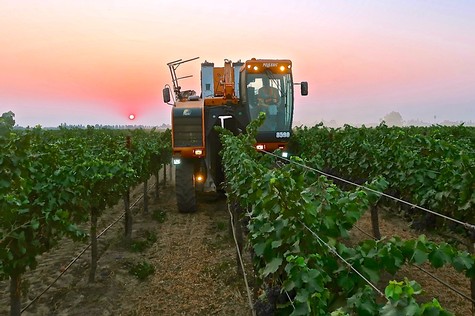 Many of Lodi's trellised vineyards are, in fact, still meticulously harvested by hand because vineyard owners prefer the human touch. Acquiesce Vineyards, for one, is an example of a small estate (just 16 planted acres) that is primarily trellised, yet picked entirely by hand. Grower/owner Sue Tipton, a meticulous winemaker, would have it no other way.
Michael David Winery is an example of a much larger winery and grower that picks all of its grapes by hand, despite the fact that well over half of their vineyards (over 1,000 acres) are trellised, and could be machined picked if they wanted to. The Phillips family—who own Michael David and have been farming in Lodi since the late 1860s—strongly believe that their vineyards are better sustained, and the quality of their wines better served, by hand harvesting. Many growers would disagree with this practice, but that's the way Phillips operates.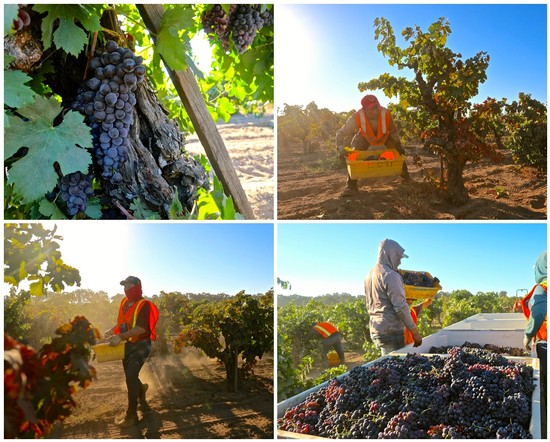 Three harvests ago we got an insider's look into the business of grape picking through a conversation with Alex Lopez, one of the managers of Galvan Farming Services, owned by Mario Galvan. Many of Lodi's vineyard and winery owners rely on Galvan Farming Services for their labor throughout the year, especially during the harvest months, lasting from late July to the end of October.
Coming from a family that has worked in Lodi vineyards for three generations. Lopez himself has worked as a vineyard manager for Bokisch Vineyards for nearly 13 years, and for the Wetmore family's Round Valley Ranches for a year before joining Galvan Farming Services in 2019.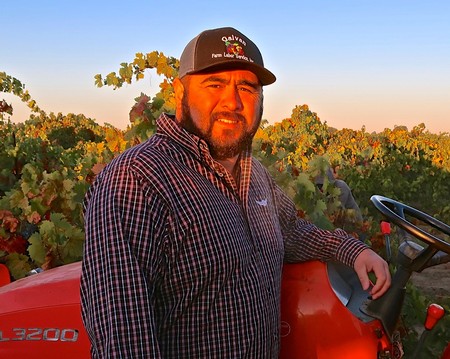 From our conversation with Lopez:
"Grape picking, anyone can see, is a real art. It's a skill not everyone can do. I always say, it's like The Karate Kid, where you learn by going wax-on, wax-off. The better you get at it, the more rewarding the work."
"If I were to describe my own involvement in the business, I would say it is mostly just answering the phone whenever someone needs help, and Mario can draw from a pool of well over 100 people living mostly in Lodi, but also in Stockton, Galt or as far off as Sacramento. I'd say that at least 95% of our people live in the 209 area code.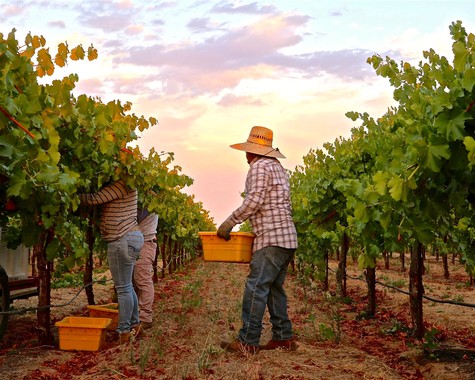 "Labor shortage these days is such that we can pick and choose our clients, and so our preference is not to work with one-offs or companies who can offer just occasional work. We prefer vineyard management companies that need help all year-round—pruning in the winter, shooting thinning in the spring, dropping fruit, and removing leaves in the summer.
"We supply labor to a lot of local companies. I still have a lot of connections with Bokisch Vineyards [which up until recently farmed over 2,000 acres in Lodi] and Round Valley Ranches [who manage vineyards for wineries such as Oak Farm Vineyards, Acquiesce Winery, and Jessie's Grove]. We also do some work with the Machado family [R-N-R Vineyard], Ben and Madelyn Kolber [KG Vineyard Management], Gregg Lewis [Dancing Fox Vineyards], Keith Watts Vineyards, Phillips Farms [Michael David Winery], and a few others.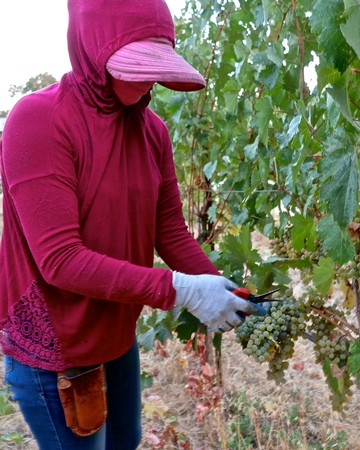 "The big advantage for picking crews who work with the same vineyards all year round is, when it comes time for harvest, they're already familiar with the grapevines. We always tell them that when they do a good job earlier in the year, the job of picking is so much easier because you have higher quality fruit, and the plants are groomed so that they're nice and clean, with all the leaves removed from the fruit zones, which makes it faster and easier to pick.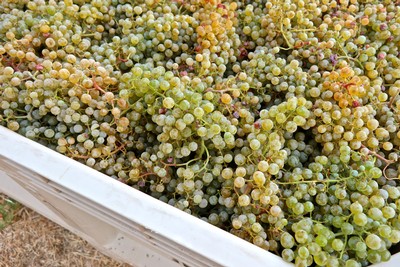 "And the faster and easier to pick, the more money you make since they get paid primarily by the ton. On the other hand, when vineyards are not properly maintained there's more chance for injuries. You can get hurt when you have to fight through leaves and canes to get at the fruit, and of course, these vineyards are slower to pick. Usually, when we know we are working with vineyards that haven't been properly managed, we'll negotiate for a higher price. Our priority is to always make sure our guys are making their money. That's how we are able to keep the large numbers of people needed to supply our farming services.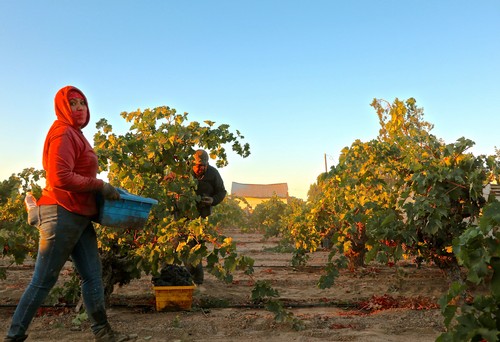 "Typically, at least for the picking crews coming out of Lodi, it's about 50% couples, husband/wife teams, who work in teams of 8 people. For fields with trellised vines, each crew will pick 4 rows at a time, with 2 people in charge of picking each row, with the tractor pulling the macro-bins going down the middle rows.
"One person can pick 2 tons in 5 hours, depending on the grape type. In vineyards where they're usually filling half-ton macro-bins, each picker will get paid $50 or as much as $70 per every macro-bin they fill. Ideally, each 8-man crew is able to pick about 33 macro-bins a day, adding up to 16 and a half tons. Even making our minimum charge of $50/bin, divided by 8 members in a crew this means each person earns $206.25 for about 5 hours of work. That's approximately $41.25/hour.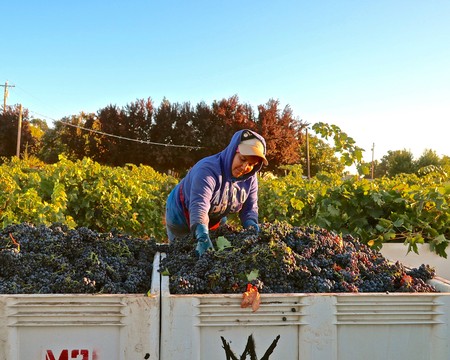 "We'll also supply at least 2 sorters to pick out all the MOG [i.e., 'material other than grapes'] at the macro-bins or gondolas, and so the vineyard owner or winery gets a high quality, clean pick.
"There are cases where vineyard managers are asking for a more delicate pick or more rigorous sorting—they might not want any clusters with signs of rot or red "water berry." In those cases, they'll want the pickers to take their time, so we may have to negotiate hourly pay. For field work during the year, like pruning and leaf pulling, the going rate in Lodi is at least $12.50/hour. But during the harvest, our pickers obviously prefer to get paid by the ton so they can make as much as $30 to $40/hour.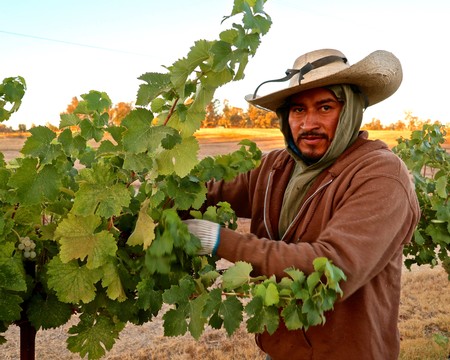 "It is true, these days, that in regions like Napa Valley or Sonoma County, the going rate for farm labor is as much as twice that of Lodi, and we do take a few jobs over there. But by and large, our people would rather stick close to home. For many of them, a higher hourly pay is not quite worth their time, or the danger of commuting to Napa.
"Grape picking is hard work. You may ask, why do people do it? Of course, only certain people are willing to do it. You notice that fewer and fewer of the new generation of kids are in the fields. Young people, even of Mexican descent, are just not into it. They're into technology, or work where they can make more money for less effort. But the ones who are still doing it—especially all the old-timers you still see out there—say they love it. I know because I ask them all the time. A lot of them say it's a good way to get away from what they normally do or to spend time outdoors.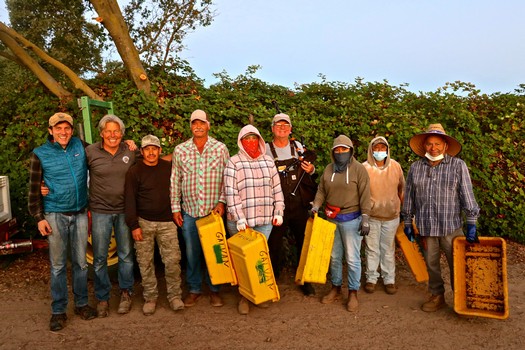 "I know one guy who normally does work as an independent contractor, where he makes a lot more money. One day I saw him out with the picking crews. I went up and asked, 'What brings you here?' The story he gave is that he lives and works here by himself since his family is in Mexico. But being with a picking crew, he said, he can literally 'smell' the food and women—things he can't smell when working by himself—and of course, there's the talking, the singing, the music, sharing lunch with the crews. With some of the crews, especially the ones with a lot of couples, it can be a soap opera, which I guess is fun in that way.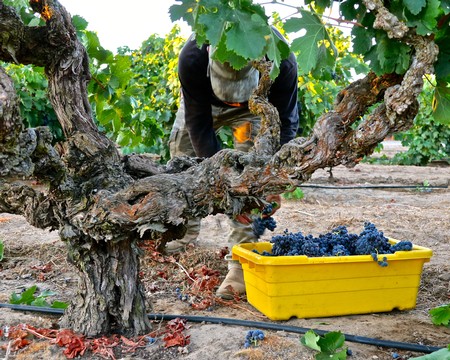 "In other words, it's social, not just a way to make money. Of course, many of our farm laborers have other jobs. But by picking grapes, they can make their $150 by the end of the morning and still get to their other jobs. A lot of our jobs involve night picking, so ladies can go to work at 9:00 PM, finish by 2:00 AM, go home, wake up the kids, fix them their lunch and send them off to school, and maybe go off to work somewhere else."
More images from the 2022 Lodi grape harvest thus far...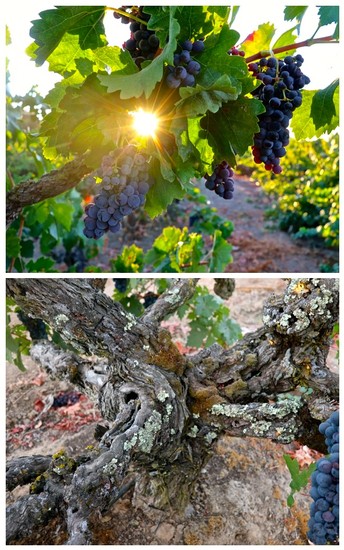 Comments