Letters from Lodi
An insightful and objective look at viticulture and winemaking from the Lodi
Appellation and the growers and vintners behind these crafts. Told from the
perspective of multi-award winning wine journalist, Randy Caparoso.

December 9, 2015 | Randy Caparoso
Oak Ridge Winery is taking destiny into its own farmers' hands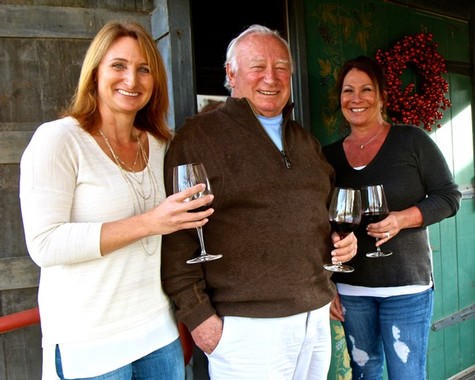 The Lodi natives behind Oak Ridge Winery: Raquel Maggio-Casity, Rudy Maggio and Shelly Maggio-Woltkamp
Quietly, effectively – almost like a stealth craft the size of a long-range B-52 – there is one Lodi grower/winery that has been compiling a stellar record of fine, consistent, dependably well-priced wines available in not just every state, but also around the world.
You may not have noticed, but Oak Ridge Winery has been growing stronger than a locomotive and leaping tall buildings faster than a speeding bullet right before our eyes. They have already hit 350,000 cases in yearly production, for instance, and are in the midst of production and bottling line upgrades that will put them on track for at least 1 million cases by 2020, and upwards of twice that if warranted by further market growth.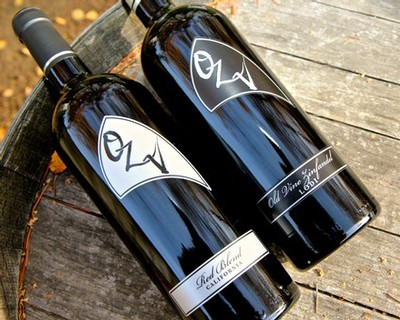 Meanwhile Chue Her – the winery's Laotian born Production Manager, who has over 22 vintages under his belt (the last 10 of them as Oak Ridge's Director of Winemaking) – has been exerting a steady hand in shaping a distinctive winery style, focused on varietal characteristics of grapes with a sense of what he views as Lodi typicity: moderately sized, balanced, fragrant fruit qualities – as gentle on the palate as they are on the pocketbook.
"This is Lodi's strength," Mr. Her tells us. "We don't have to produce wines that sell for over $50 in order to compete with the best of other regions. We just produce the smooth, balanced style of wines that comes natural to Lodi, which I think the consumers prefer anyway."
So far, proof has been in the pudding. Recently, red wines such as 2012 OZV Lodi Old Vine Zinfandel, which retails for $13 or lower, has won gold medals at both the 2015 TEXSOM International Wine Competition and 2015 Critics Challenge International Wine Competition. The recently released 2013 OZV Lodi Old Vine Zinfandel is probably even better: bursting with flowery red berry and intriguingly spicy, black tea perfumes, with silky sensations lingering long and evenly in a smooth, medium sized body.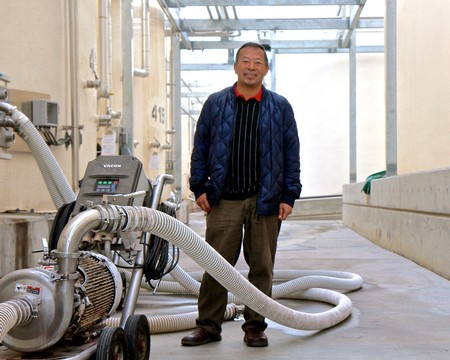 Oak Ridge Production Manager/Director of Winemaking Chue Her
The 2012 Old Soul Pure Red (about $13) – under another one of the winery's multiple sub-labels (besides OZV and Old Soul, also including Three Girls, Maggio, Helena Ranch, Moss Roxx, Lodi Estates, Oak Ridge and INTO) – is a Cabernet Sauvignon based blend that has won a gold medal at the 2015 Sunset International Wine Competition. The newly bottled 2013 Old Soul Pure Red is a worthy successor: a purplish-red, sturdy yet upbeat, velvety, medium-full bodied blend with the word "suave" written all over it.
Just as impressive? Look for the 2013 OZV Red Blend (about $13) – a Zinfandel based blend that combines the pretty, floral, almost delicate, fresh fruit qualities Lodi grown Zinfandel with zippy yet silken fine sensations, floating on the palate like a feather in a breeze.
For a fuller, fleshier body and a smoky, savory taste, look for the 2014 Maggio Lodi Petite Sirah (about $13), which has recently become one of the winery's fastest selling labels, and is a perfect wine for holidays roasts and toasts.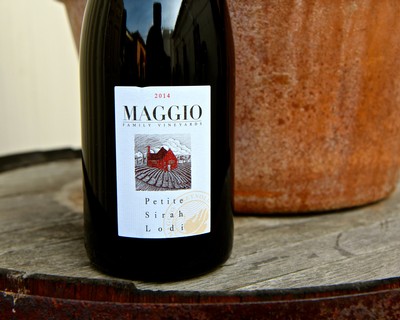 We could go on and on: The double golds garnered by the winery's Old Soul Chardonnay as well as Silk Oak Chardonnay at last June's 2015 San Francisco International Wine Competition. Being named "Lodi Winery of the Year" at the 2015 Berlin International Wine Competition as well as 2014 New York International Wine Competiton, and more (see Oak Ridge Winery Accolades)... Point being, Oak Ridge Winery's growth is being driven by consistent quality as much as competitive pricing and savvy marketing.
Sitting with her father, winery founder Rudy Maggio, outside the 50,000-gallon redwood storage tank once used by Roma Wine Co. and converted into Oak Ridge's nifty tasting room, Oak Ridge Controller Raquel Maggio-Casity proudly told us: "According to most recent Nielsen sales figures, OZV Zinfandel is the #1 selling Zinfandel in California, and #5 nationally. My two sisters and I are all 4th generation Lodi grape growers, and many of our children are part of a 5th generation who have decided to carry on the family farming business."
Ms. Maggio-Casity – who also has a degree in Business Administration from University of the Pacific (1995) – is excited about recently re-joining the family winery business after taking a little time off to raise her three daughters and focusing on managing her 240 acres of wine grapes with her husband Bryan. "My new job is to control costs," she says, "at a time when the company is on the verge of a tremendous growth spurt."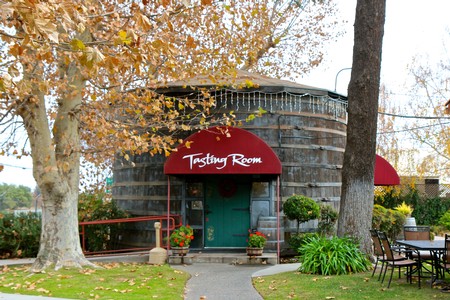 The 50,000-gallon redwood tank serving as Oak Ridge's tasting room
Maggio-Casity originally helped launch the family winemaking business along with her sister Shelly Maggio-Woltkamp – who oversees the winery's tasting room as well as dramatic sales growth and public relations – in 2002 when Rudy Maggio and partners Don and Rocky Reynolds took possession of what used to be East-Side Winery, one of the last of the large-scale grower-cooperatives (involving as many as over 100 farming families at a time) that once dominated the Lodi landscape during the decades following Prohibition (ending in 1933). (See Lodi's history as a Johnny-come-lately wine region).
Mr. Maggio took the time to reminisce on the nearly 100 years it has taken for Oak Ridge to come to fruition. "In the beginning, I had no intention of ever going into the wine business," he tells us. "We were always grape growers. My grandfather, Angelo, came from Italy to San Francisco in 1906 – couldn't speak a word of English. That was the same time as the big earthquake; so he stayed in the City for about 5 years to help clean up and rebuild. Eventually he came out to the Stockton area, about the same time my grandparents on my mother's side arrived from Italy.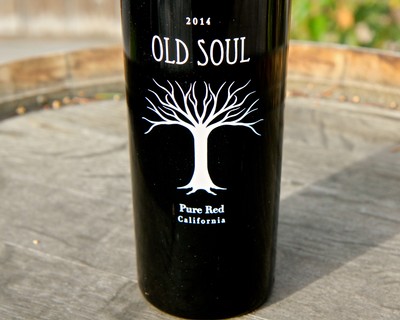 "Angelo worked as a farmer and eventually earned enough to own three homes in Stockton, which he sold to buy property on Peltier Rd. and Ray Rd. (on the west side of the Lodi Viticultural Area) – that was around 1925. On my mom's side, the family farmed on DeVries Rd. I planted Zinfandel on Ray Rd. in 1954 on St. George rootstock, which has matured into some of the best of our old vine plantings today.
"We didn't actually join the co-op until the 1980s, although I was on the East-Side Board of Directors by 1984. Up until then, the grapes from our family vineyards – mostly Zinfandel, Carignan and Tokay, totaling maybe 500 acres – were shipped back East in 36-lb. lugs. Then in the 1980s we began to ship most of our grapes as press-juice – over 90% of it going to the Canadian market.
"By the '90s the co-op business had dwindled down to nothing. It had its heyday, but by then there were more downs than ups – some years you were lucky to get paid for your grapes! Besides, East-Side never really kept up with the times. Very little table wine was being made there – most of the grapes went into brandy production. In today's world, to make brandy and sit on it for at least 2 years before selling simply isn't cost-effective. Plus there were environmental issues – tanks that needed to converted to control emissions. The business was headed into bankruptcy.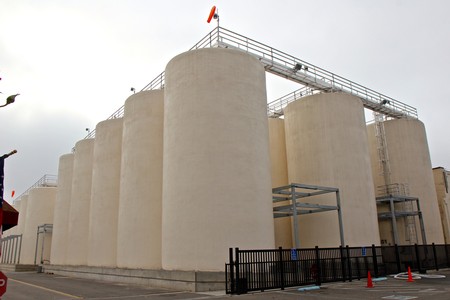 Part of Oak Ridge's investment in its recent quality/production push: new 65,000 and 99,000-gallon temperature controlled tanks
"But in 2002, when the winery was being put up for bid, Don (Reynolds) had a juice deal he didn't want to lose, so we put in an offer. It turned out that we were the only bidders – so ready or not, we were suddenly in the wine business!
"The Dondero family, who have been farming in Lodi since 1920s, joined us in 2010. Between the three families, most of what we grow is still bulked out as 'bottle-ready' wine, produced here in the winery. We do more bulk business, for instance, with Germany than anywhere else, although we do sell domestically, to other California wineries – all sold mostly through brokers. Our largest lots will go out in 6,400-gallon flex-tanks; gets put on containers, then bottled in Germany. Actually, it gets 'boxed,' since most of it is sold as boxed wine; about 90% of it to Sweden, where it gets to compete with all the bottles of OZV Zinfandel that we're also shipping over.
"We are getting close to being 50/50 between wines produced and bottled under our own labels and wines shipped out as bulk. The plan is eventually to turn all of it into our own wine – ultimately, you get the largest margin through case goods. Like everyone else in Lodi, we've come a long ways towards achieving that, just within the past 10, 15 years. We've learned how to become good winemakers. Production is going up, and at the same time we're gaining more notoriety for the quality – especially for Zinfandel, which is still Lodi's workhorse grape."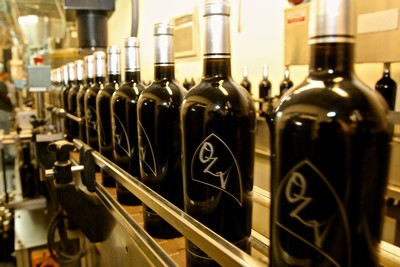 Mr. Her chips in his two cents; telling us, "We do Zinfandel well because we have about 400 acres of truly 'old vine' plantings to draw from; but we're also making great strides with grapes like Cabernet Sauvignon, Chardonnay, even Pinot Noir. We have the advantage because of our climate, soils and ability to grow any type of grape. We're competing with everyone else in California in terms of quality, not just price."
Regarding the future of Oak Ridge Winery, Her tells us: "I admit that it's taken maybe 10 years for us to really put things together in the winery and insofar as our winemaking team, but what we are capable of doing today doesn't even compare to what we started out with. We've recently updated all our fermentation equipment, and the bottling line we'll have installed by next fall will be absolute state-of-the-art – the most sophisticated in the region. We're already bottling 64 bottles-a-minute, 2000 cases-a-day, working 5-days-a-week all year round. We'll soon have the capability of going far beyond that."
Mr. Her adds, "Maybe we're not quite ready to focus on the $50/bottle market. That's okay. We have the grapes to do that if we want. Meanwhile, it's all going into $15 or $20-range wines, which means we are putting $50 quality into those price points. This is the great thing about Lodi – I think the consumer appreciates that!"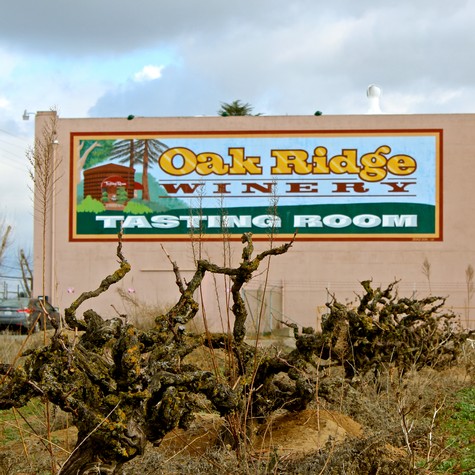 Comments