Letters from Lodi
An insightful and objective look at viticulture and winemaking from the Lodi
Appellation and the growers and vintners behind these crafts. Told from the
perspective of multi-award winning wine journalist, Randy Caparoso.

June 7, 2019 | Randy Caparoso
Oak Farm's Fiano is further confirmation of Lodi's white wine grape versatility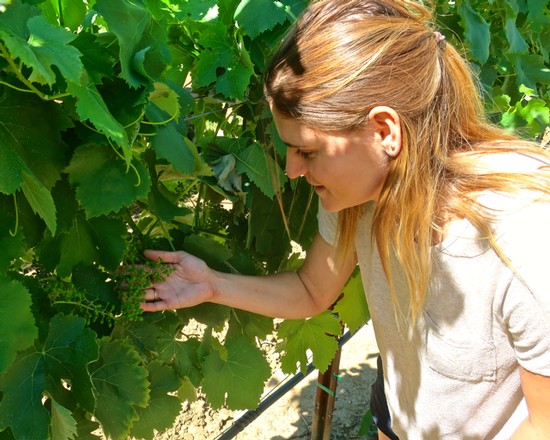 One of the most promising new wines to recently come out of Lodi is the 2018 Oak Farm Vineyards Estate Grown Lodi Fiano ($26), especially if you – like more and more wine lovers – have been gravitating towards dryer and dryer white wines with fresh, palate zinging natural acidity. This wine absolutely sings with flowery, honeyed fragrances with suggestions of toasted nuts (think pecan, veering towards hazelnut or filbert), and its lemon/lime zestiness on the palate is cushioned by a silk-textured viscosity.
The question for many, of course, would be: Fiano... why Fiano? Fiano is one of the three most important white wine grapes of Italy's Campania region (the other two being Greco and Falanghina). How important?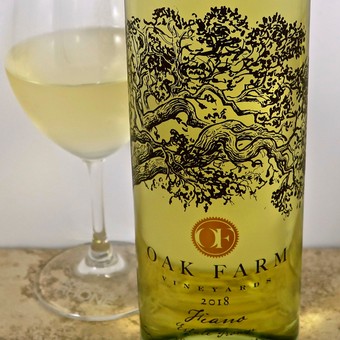 Put it this way: At the height of the Roman Empire, founded before the time of Christ, one of the most prestigious wines was considered to be what was called Apianum, made from the Vitis Apiana grape. That same grape is now cultivated as Fiano, and it produces one of Italy's highest ranked wines (as such, awarded official DOCG status), called Fiano de Avellino.
Bear in mind that the Romans grew a lot of different grapes, in every nook and cranny of the republic, because (there's no other way to put it) they drank a ridiculous amount of wine. It has been estimated that in Ancient Rome alone, just north of Campania, over 180 million liters (equal to 47 million gallons) of wine was consumed each year – or approximately 1 bottle of wine for every day, for every citizen. And so being considered one of the finest wines in an Empire of inveterate oenophiles was, indeed, something of a big deal.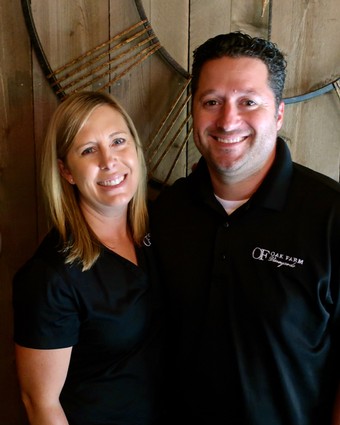 This past week Oak Farm Vineyards owner and GM Dan Panella explained why he decided to grow 2 full acres of Fiano on his family's home estate, located in the north-west corner of Lodi's Mokelumne River Viticultural Area: "My dad's dad is from Avellino in Italy, and so it seemed that planting Fiano could be something of a tip of a hat to him. I was named after my grandfather, but his name was Raphael while my real first name is Ralph. My mom said, 'There's no way I'm calling him Ralph,' and so I've been known as Dan all my life."
The planting at Fiano at Oak Farm Vineyards, however, was not something done on a lark. Through prior relationships with Clarksburg area growers established by Oak Farm consulting winemaker Chad Joseph, a number of Clarksburg appellation Fianos were produced under the Oak Farm label. The Oak Farm 2018 Lodi Fiano is the winery's first estate grown bottling of the grape.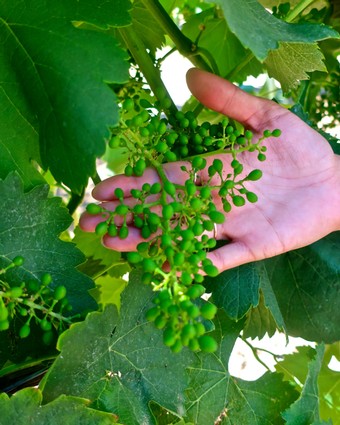 According to Oak Farm assistant winemaker Sierra Zeiter, there is a big, terroir related difference between Fiano grown in Clarksburg and Fiano grown in Lodi. "The fruit from Clarksburg," says Zeiter, "is smaller berried, greener, more acidic, and makes wine with grassier characteristics. Right away we noticed that our Lodi Fiano is bigger berried, more floral, and has more tropical characteristics. The only thing that is pretty much the same is that this is a high acid grape no matter where it's grown. Therefore, we had to drop a lot of fruit to get the acid to drop and push the fruit to ripen."
Panella chimes in, "Yeah, in 2018 we sent out a crew to aggressively thin a lot of the crop load, but Sierra and I still had to go out after they were done to drop even more fruit to the ground. It's a beautiful grape, too – it has teardrop shaped berries, rather than the usual round sized berries. But last year we got it to get to full ripeness by September 5, when we finally picked."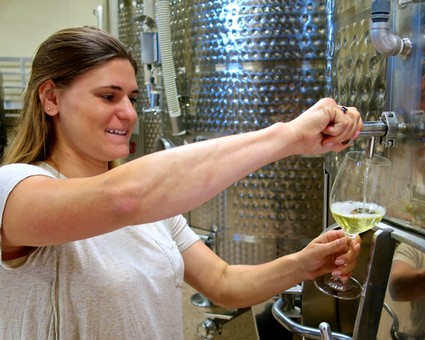 "By ripeness," explained Zeiter, "it was more about waiting for TA (i.e. total acidity) to drop to palatable levels rather than looking for sugar ripeness. From our experience with Clarksburg fruit, we knew what to expect, and so we had a plan for addressing the grape's high acid, and at the same time we wanted to make a bone dry wine. We fermented in two tanks, one inoculated and one 'wild' to get some interesting funky qualities, and then we add added malolactic (i.e. lactic acid) bacteria during the primary fermentation to help reduce the sharpness of the wine further, also to avoid any diacetyl (i.e. buttery or popcorn-like) qualities. The last thing we wanted was a Fiano that tastes like a Sauvignon blanc or Chardonnay because we already make a Sauvignon blanc and Chardonnay.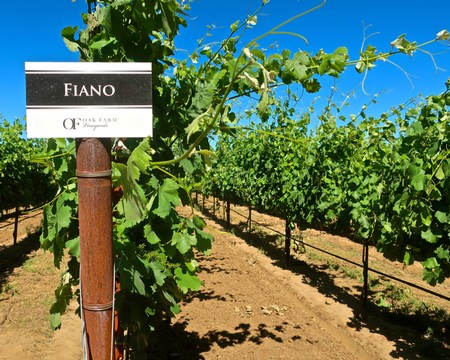 "Both tanks were put into all-neutral oak barrels, at least three years old. Fiano naturally has honeyed characteristics, and that touch of oak gave us a slight butter-pecan quality. The acidity is there, but it doesn't stick out. What we get in the nose of the 2018 is rose petal, lavender, green apple, a little pineapple, honeyed pecan and hazelnut – far more complex that what we ever got from Clarksburg."
Adds Panella, "The way it ended up is another confirmation of what Lodi can do with white wine varieties. We're extremely pleased with how the 2018 came out, especially considering it was for the first time, from young vines. We can't wait to see how the 2019 Fiano turns out, and we have a few ideas on how to make it even better – as long as we can get the acid to drop to reasonable levels!"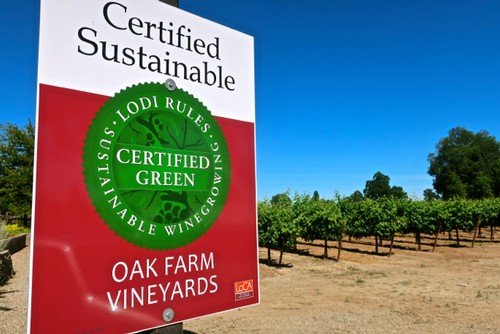 Comments