Letters from Lodi
An insightful and objective look at viticulture and winemaking from the Lodi
Appellation and the growers and vintners behind these crafts. Told from the
perspective of multi-award winning wine journalist, Randy Caparoso.

August 3, 2016 | Randy Caparoso
Neyers Zinfandels gently preserve the natural beauty of Lodi's Borden Ranch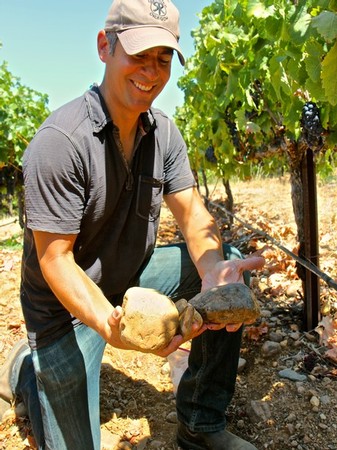 Yesterday (August 2, 2016), walking through the trellised rows of Bokisch Ranches' Vista Luna Vineyard, Neyers Vineyards winemaker Tadeo Borchardt plucked berries off a couple dozen Zinfandel clusters for analysis back in his winery, located a good 90 minutes' drive away, just east of St. Helena in Napa County.
Vista Luna Vineyard is located in Lodi's Borden Ranch Viticultural Area; a sub-region consisting of rolling hills of reddish, rocky, shallow soils over a clay pan, at 200 to 250-ft elevations. This, in essence, represents the slightly elevated lower-low foot-slopes of the Sierra Foothills; in dramatic contrast to the fine, silty sandy loam and nearly flat topography of the more historic Mokelumne River AVA surrounding the City of Lodi, no higher than 50-100-ft., and with nary a rock or even speck of gravel to be found.
"Looks like veraison (i.e. seasonal change of grape skin colors from green to blue-ish purple) is just about complete," Borchardt commented, "and the grapes are already starting to taste sweet." Taking a cluster into his hand, Borchardt added, "Considering that they just went through a little heat wave, the grapes are looking great – see, no signs of sunburn, no wrinkling.
"Most of the clusters are hanging nice and loose because of a little bit of unpollinated berry (also called coulure, or shatter) – these little green jacks you see in between the ripening berries that failed to set because of a weather event this past spring. These little green berries will drop out when going through the destemmer."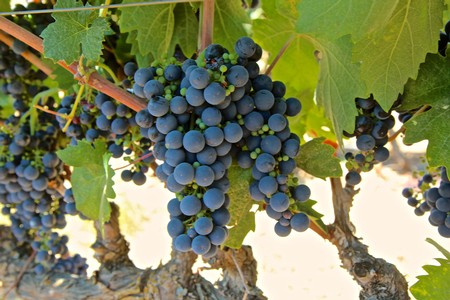 On a few vines Borchardt made note of some clusters with full sized berries that were either a pale green, a pink or weak red color. "These clusters with low color," says Borchardt, "will not produce good wine, so we'll go through the block and clip them all off before the picking crew eventually comes through. Whatever pink berried clusters get into the picking bins, we'll sort out at the winery before they get to the destemmer.
"Markus's (Bokisch) crew also does 3 AM hand picking, which is good because the grapes can get to us at the winery at a good, cool temperature, first thing in the morning. But the problem with night picking is that visibility is not the best, and so a lot of these weak colored clusters get into the bins. And so in recent vintages, we've asked them to stick to morning picking, so at least there's a little more light for them to see which clusters to leave on the vine."
When asked to compare Zinfandel coming off Bokisch's hillside Borden Ranch planting to Zinfandels from much older vineyards (largely between 40 and over 100 years old) grown on the west and east sides of Lodi City, Borchardt commented, "We've been producing Zinfandel from Vista Luna since the vineyard's first crop, in 2009, and we've been thrilled with it."
Bending down to pick up some of big, chunky cobbled stones making up half the soil, Borchardt added, "This is what Vista Luna is all about – beautiful pink and blue quartz stones, sort of like Lodi's Châteauneuf-du-Pape. I've made Zinfandel from Tegan's (Passalacqua) Kirschenmann Vineyard, which is more of your classic, old vine Lodi planting (vines dating back to 1915) – making a Zinfandel with beautiful aromatic complexity, and a little finer in texture than what we get in Vista Luna.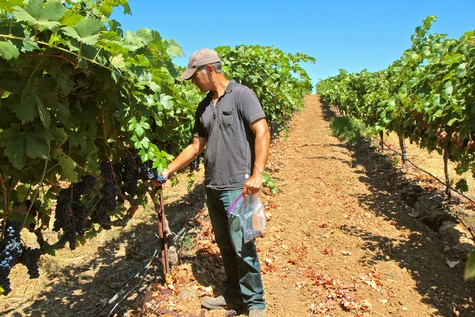 "But it's these rocks that give these much younger Zinfandel vines (planted in 2006) in Vista Luna its own complexity. We'll drop a little fruit, but vineyard never sets much more than 3 to 3 and half tons per acre. Clusters and berries are never fat, and the acid is always high enough to keep the wine fresh, adding to the vineyard's own dense yet fine texture, without the chunky tannin you might find in Zinfandels from other regions. That's the distinctive character Borden Ranch's rocky soil gives you."
Following our vineyard walk, Mr. Borchardt sat down in Downtown Lodi's School Street Bistro with Tim Holdener of Lodi's Macchia Wines to compare bottlings of Vista Luna Vineyard reds. Holdener bottles his Vista Luna grapes as Primitivo, since Vista Luna is planted to a clonal variant that is genetically identical to Zinfandel. Notes comparing Neyers' and Macchia's 2014s:
2014 Neyers, Vista Luna Vineyard Borden Ranch (Lodi) Zinfandel ($24) – Compact, pert, prettily perfumed blueberry/raspberry aroma with faint cedary note (not really an oak aroma, since Neyers ages his Vista Luna strictly in well used, neutral tasting French oak barrels); velvety, medium full body (14.3% alcohol) with the zesty blue and red berry flavors humming with a fine, gentle, upbeat, syncopated rhythm on the palate.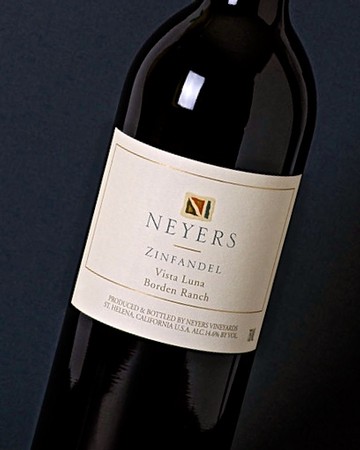 2014 Macchia, Meticulous Vista Luna Vineyard Lodi Primitivo ($28) – Deeper color and nose than the Neyers – the blueberry/black cherry aroma taking on a lush, jammy quality – and considerably bigger on the palate (16.3% alcohol). While dense, broad, and sweetened by more aggressive oak (one-third new barrels; all hybrids, with American oak staves and toasted French oak heads) and glycerol of higher alcohol fermentation, still a velvety, balanced, buoyant feel, even if done in an ultra-ripe style.
Commented Mr. Holdener, "I call this wine 'Meticulous' because of the way Markus (Bokisch) farms it. This is as meticulous a vineyard as you will ever see – the canopies (on trellis wires) are always perfect, leaves pulled to expose the fruit, and pretty much perfect clusters coming to the winery.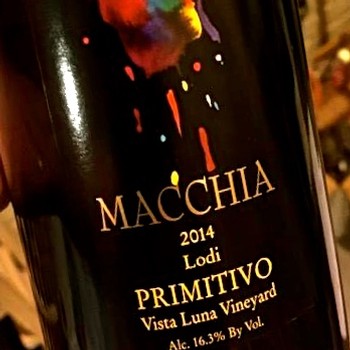 "However," adds Holdener, "2014 was a year in which everything ripened at once. We had Zinfandel, Barbera, and even Petite Sirah coming in, all at the same time. We can handle that, but it's challenging for a small winery. But we couldn't get our Vista Luna fruit picked until a week after Neyers and Turley (Wine Cellars), and so our sugars shot up, the fermenting bins soaked in to at least 26° Brix (i.e. sugar reading). Like all winemakers, I don't deliberately try to make a higher alcohol wine, especially for a wine we look to bottle as Primitivo; but in some years, circumstances work out that way."
Mr. Borchardt added his two cents; saying, "We got in our fruit closer to 23.5°, 24°, which is where we usually like to end up, and so we didn't need to add water to lower the alcohol in 2014. Still, we never pick by sugar or acid readings. We're more concerned about the appearance of the fruit, and the canopy is very telling as well. We look at dimpling in the grapes, or yellowing or stress in the leaves, and weather is always another factor when we finally make decisions to pick.
"In 2015, we got the grapes in at slightly higher Brix, so the wine ended up maybe about .2% higher in alcohol, but when you taste it next to the 2014 you can see the two vintages are almost like twins, although you may like one over the other." Re:
2015 Neyers, Vista Luna Vineyard Borden Ranch Zinfandel ($24) – Ready for its August 2016 release (the 2014 Neyers is sold out); rich purplish red robe and slightly riper toned (yet not jammy, and not even close to "raisiny") red fruit (raspberry towards plump cherry) array of fruit qualities in the nose; very pure, bright and fresh (not a hint of obvious oak); slightly weightier in the mouth than the 2014, but predominantly round, fleshy, velvety in feel.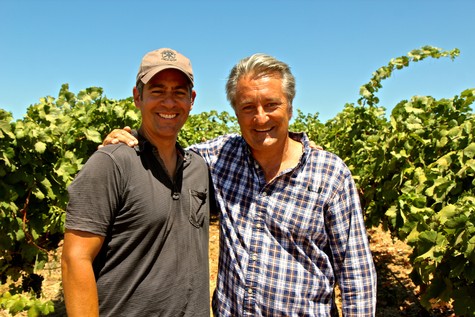 When asked how he achieves such a fresh, puristic fruit style of Zinfandel, Mr. Borchardt explained: "A lot of it is the vineyard, but it's also our approach in the winery. For instance, we've tried open-top fermenting and punching down the caps (the standard approach to Zinfandel production in California), but when we compared those to Zinfandel we fermented in closed-top, 5-ton fermentors with pump-overs – coming out in a very gently sprinkle over the cap to avoid breaking stems (which can increase bitter or astringent tannin content) – we found that we liked the closed-tops much better. You also seem to retain more of the fresh fruit aromas and flavors with closed-top fermentors."
We also asked Borchardt how Zinfandel is initially handled in the winery: "We sort, and then destem – all the berries remain whole, or with skins just slightly broken – and then cold-soak in tanks for 5 days. Like all our wines (Neyers is also acclaimed for its Chardonnay, organic/estate grown Cabernet Sauvignon, Merlot, Pinot Noir, and several red Rhône varietals sourced from multiple regions, including Lodi), we ferment strictly with native yeast (i.e. without the use of cultured yeasts, which is the industry standard because they usually yield more predictable, efficient fermentations), so we don't sulfur until wines finish malo (-lactic fermentation).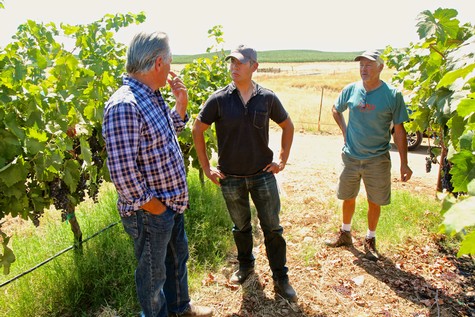 "To get fermentations started following their cold soak, someone steps into the tank with bare feet to break up a few skins, and off it goes. Native yeast fermentations of Zinfandel usually take 17 to 20 days; which is easy, in comparison to, say, our barrel fermented Chardonnays, which sometimes can take until May the following year to completely finish native yeast fermentation.
"Our Zinfandel goes straight to barrel following fermentation; and as you know, we don't like oak, so the French barrels that we used are completely used up before coming into contact with our Zinfandel, imparting no flavor of their own. Finally, we never fine or filter our wines.
"Some of these ways of doing things might sound risky to other winemakers. But really, it's the only way Neyers has every done it. In fact, it's the only way I knew even before coming to Neyers in 2004, when I took over the winemaking from Ehren Jordan (now, the winemaker/owner of his own Failla Wines). I thought all wines are supposed to be fermented on native yeast and bottled unfiltered!"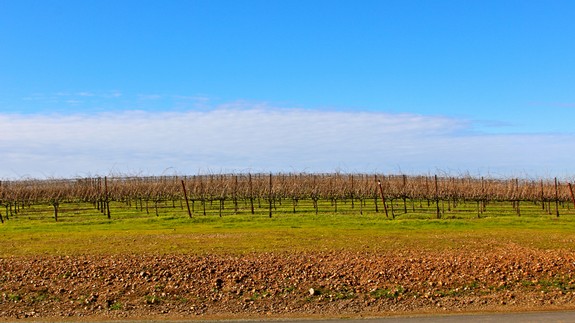 Comments