Letters from Lodi
An insightful and objective look at viticulture and winemaking from the Lodi
Appellation and the growers and vintners behind these crafts. Told from the
perspective of multi-award winning wine journalist, Randy Caparoso.

October 16, 2015 | Randy Caparoso
Neyers' Lodi Zinfandel is making waves across the country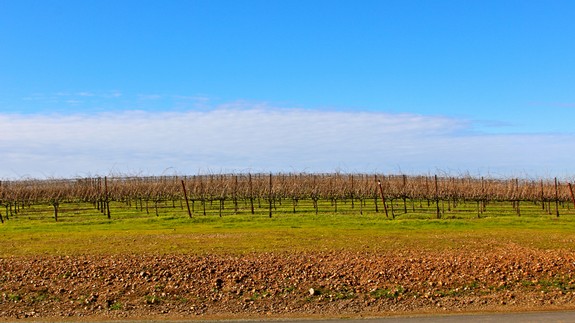 Rocky gravelly-clay hillside terroir of Vista Luna Vineyard in Lodi's Borden Ranch AVA
It is always a big deal when a Napa Valley producer like Neyers Vineyards comes out with another Lodi grown Zinfandel of dreamy, sumptuous quality.
Why? Not just because this is an acclaimed winery, known more for first class Cabernet Sauvignon and Chardonnay; but also because Neyers wines are distributed in every major American city, from Honolulu to New York, Chicago to Dallas, Seattle to Miami Beach, Maine to California. So when they talk, wine savvy folks listen.
Although there wasn't nearly enough of the 2014 Neyers Vista Luna Borden Ranch (Lodi) Zinfandel ($24) produced to supply every specialty retailer or hoity toity restaurant in the nation, the word is still getting out: Lodi grows kick-butt Zinfandel.
Kick-butt, though, only in a sense of the balanced, elegant, sumptuously textured style in which this wine is made. The Neyers Zinfandel is the opposite of the fat, alcoholic, coarse or overripe style which turns many non-Zinfandel lovers off. That's right, it's a Zinfandel that might appeal more to people who like, say, a good, well behaved Pinot Noir, or a pretty, flirtatious Grenache – it's that refined and silky.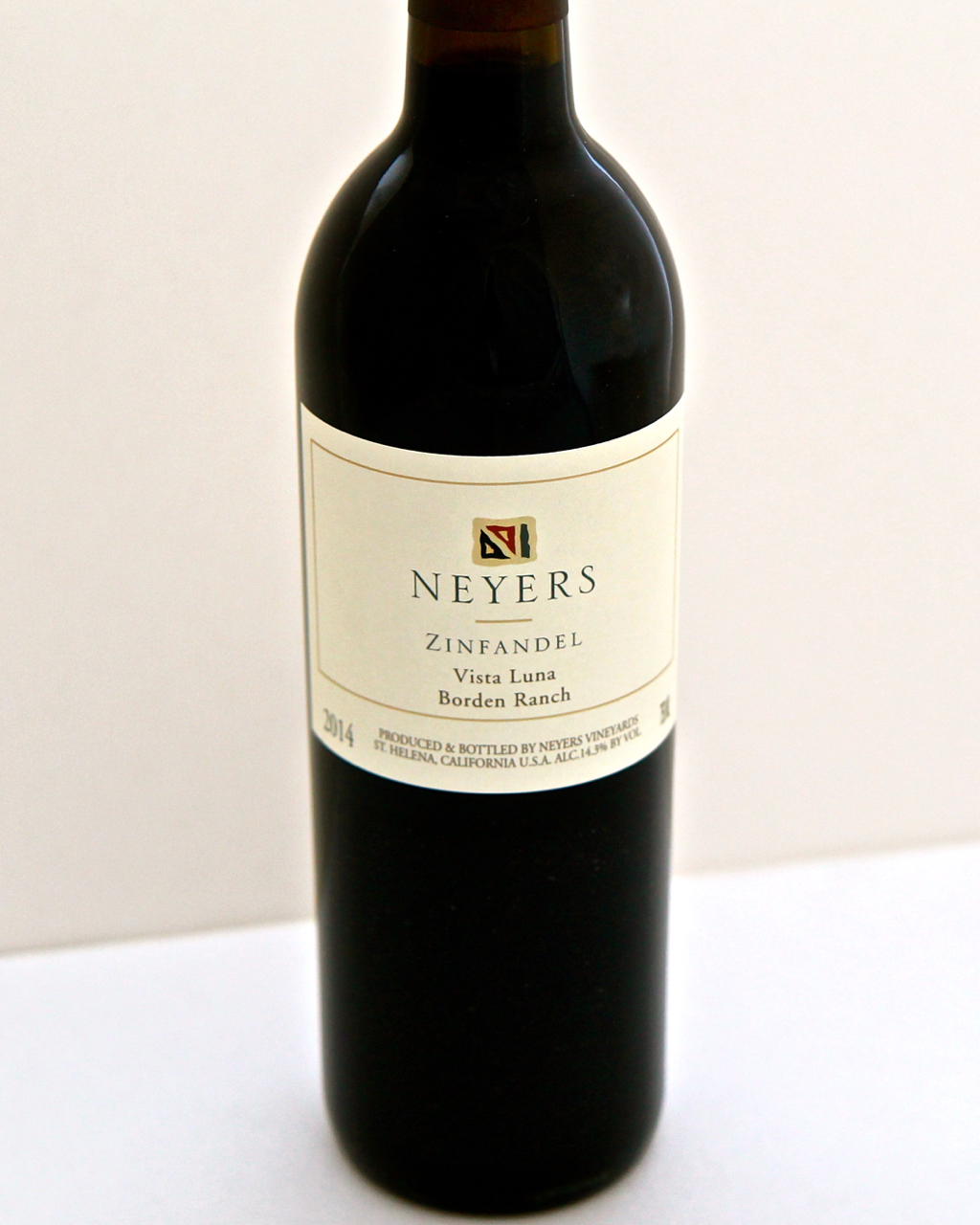 Aromatically, the Neyers Vista Luna Zinfandel is an explosion of strawberry-fields-forever – the floral, red and blueberry fragrances leaping from the rim, whispering sweet nothings. The feel is zesty, svelte, with sturdy yet perfectly rounded tannins. Technically, the wine was finished at 14.3% alcohol, but it tastes more like 13%. In other words, it has weight, but it leaps like it occupies its own low-gravity eco-system.
Next question – why is the Neyers Zinfandel so good? Well, it helps that it's made by a great winemaker: a gentleman named Tadeo Borchardt, who has a precisioned magician's touch with everything he touches (he also makes world class wines from Pinot Noir, Syrah, Grenache, Carignan, Mourvèdre, Merlot).
Borchardt approaches Zinfandel like he does more delicate black skinned varieties, such as Pinot Noir and Grenache. He ferments and gently pumps over his Zinfandel in closed-top stainless steel tanks, which reduces dissipation of fruit qualities (as well as alcohol) during the fermentation process. He applies French/Bordelaise techniques of letting the wine sit a few days on its skins following fermentation (as opposed to going directly to press, per standard Zinfandel practice), which helps accentuate the dense yet round, fluid quality of the wine's texturing.
Finally, Mr. Borchardt ages Zinfandel in neutral French oak barrels. The use of previously used barrels minimizes flavors and excess tannins from the wood, while garnering the smoothing-out benefits of the oxidation process.
But, as the tired yet true cliché goes, the best wines are always "made in the vineyard." In the case of the Neyers Zinfandel, the grapes' provenance is especially significant: the Vista Luna Vineyard – farmed by the widely respected Markus Bokisch of Bokisch Ranches –located in Lodi's Borden Ranch Viticultural Area.
Neyers Vineyards proprietor Bruce Neyers extols the rocky hillside terroir of Borden Ranch; describing it as "an outcropping of quartz at the base of the Sierra Nevada range." Indeed, the Vista Luna Vineyard is located closer to the Foothills town of Ione than to the City of Lodi – very different from the flat, sandy-silty-loam environment associated with Lodi's historic Mokelumne River AVA.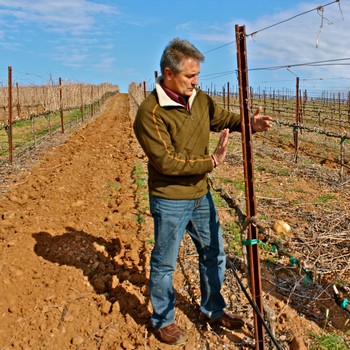 Bokisch Ranches' Markus Bokisch with wintering Vista Luna Vineyard Zinfandel
These are not "old vines" or classic head trained plants, but who cares? The wine is perfectly gorgeous, coming off still-fairly-young vines (planted in 2006) trained on cross-armed trellises; and planted to a tried-and-proven clonal variant of Zinfandel, U.C. Davis' FPS 03 Primitivo.
We still don't know a lot about the profile of Borden Ranch grown Zinfandel – the early history of the region is being forged as we speak. But so far, from these rock and boulder strewn, gravelly clay hillsides, we are seeing floral styles of Zinfandel; somewhat soft and delicate, like Mokelumne River grown Zinfandels, but with more structured acid/tannin backbones giving a crisper feel beneath deeply flavorful phenolics (vivid pigments, savory fruit/tannin sensations, etc.).
Despite Borden Ranch's proximity to the Foothills, these really aren't lean, edgy, spice inundated styles of wines typical of classic Amador County Zinfandel. There's a "between-ness" to wines like Neyers' Vista Luna Zinfandel, but we could just be blowing smoke. As we said, the vines are still fairly young, looking to prove themselves. But the future looks bright indeed!
Neyers himself describes the wine as having very pleasing "rustic" qualities, citing its "stony minerality layered with fruit... perfect with a spicy pasta dish." Consequently, he prescribes the Zinfandel with a pasta dish prepared by his wife Barbara Neyers, who is a fabulous cook.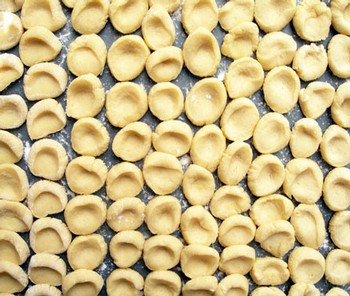 Orecchiette ("ear") pasta
Better yet, Mr. Neyers even goes so far as to supply Mrs. Neyers' recipe:
Barbara Neyers' Orecchiette
Pancetta, cubed
Baguette, sliced
Olive oil
Onion, chopped
Garlic, minced
Snow peas
Orecchiette pasta
Cayenne pepper
Sauté the cubed pancetta - enough to cover the bottom of an 8" frying pan - and when it's crisp take it out of the pan and set it aside.
Toast some baguette slices – stale is better – then grind them in a blender. Sauté some chopped onion until clear, then add some freshly minced garlic. Sauté until both onions and garlic start to turn brown. When they're done, add the snow peas with a little water.
Cook the pasta – either dried or fresh – in boiling water until soft yet firm to the touch. Rinse under cold water, then add to the sauté pan with the onions, garlic and snow peas. Stir slowly to mix, while adding the pancetta. Sprinkle on a pinch or two of cayenne to taste, pour into a serving bowl and then cover with the bread crumbs. Voila!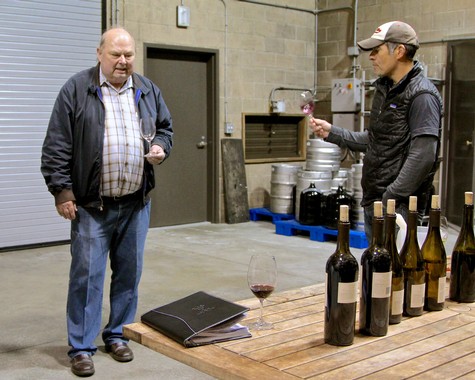 Bruce Neyers and Tadeo Borchardt in their Neyers Vineyards winery
Comments