Letters from Lodi
An insightful and objective look at viticulture and winemaking from the Lodi
Appellation and the growers and vintners behind these crafts. Told from the
perspective of multi-award winning wine journalist, Randy Caparoso.

August 23, 2023 | Randy Caparoso
Newly opened Lodi Bowling features wines not just grown in Lodi, but also crafted to compliment high-umami foods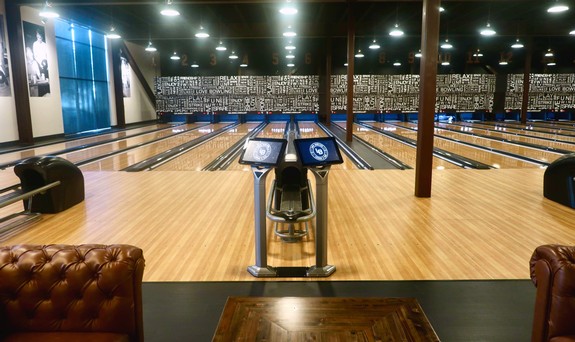 There's never any question how important grapes are to the Lodi region economy, history and culture. It's everywhere. Clusters or vines festoon public landmarks and permanent displays, including the emblem on the sides of City of Lodi police cars. The Lodi High School football team is called the Flames—after Flame Tokay, once the region's most widely planted grape—and their crosstown rival is Tokay High School.
Last week Lodi Bowling, located alongside Lodi's historic railroad tracks at W. Lockeford and N. Sacramento streets, held its soft opening, and is now revving up for full-fledged business. Its full name is Lodi Bowling, Lounge & Bar, as in full bar and menus, ranging from appetizers, fresh salads, hand kneaded pizzas, complete-plate entrées and made-to-order desserts.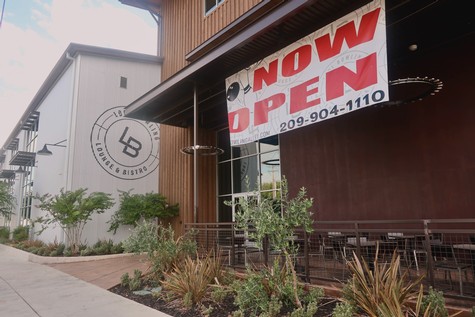 For the bowling crowd, of course, tap and bottled beers are a must; but since this is Lodi, so is a selection of Lodi-grown wines by the glass or bottle.
For Julio Camberos—Lodi Bowling GM and Director of Food and Beverage—wine is not an afterthought in the overall conception of the business. It's also a matter of offering a best possible experience, even if it is mostly about bowling, appropriate to the community itself.
For example, take the Lodi Bowling wine list, which is short and fully integrated into the food menu. The Lodi Bowling wines were not selected to feature the usual suspects from Lodi and elsewhere in California. They are also shrewdly calculated to achieve sensory objectives. Front and center are six wines available as 6-ounce glasses (wine is served in stemless glassware), all poured from 5-gallon kegs to assure maximum freshness, supplied by three of Lodi's most respected local wineries: Bokisch Vineyards, Michael David Winery and Van Ruiten Family Winery.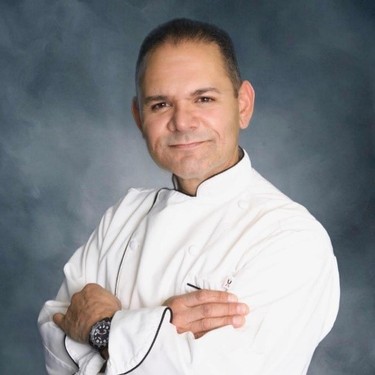 Camberos singles out the two Bokisch wines, an Albariño-based white wine and a red wine consisting entirely of Tempranillo. "A lot of our dishes are intense in umami [i.e., savory sensations] or have some fat in the ingredients." Cases in point from the menu: an "Umami Turkey Burger" with pesto aioli and balsamic glaze; "Chicken Quesadilla" with roasted corn, poblano peppers, pickled onions and chipotle aioli; "Spiced Salmon Filet" with avocado mango salsa and pomegranate reduction. To learn more about high-umami foods, see our past post Deconstructing Umami.
Says Camberos, "The two Bokisch wines are exactly the type of wines you need for these dishes. They are fruit-forward wines with enough acid to cut through the fat. The Albariño is the obvious choice for these foods, a perfect balance of lightness and acidity in its blend"—in the latter respect, Camberos refers to its exclusive composition, consisting of 75% Albariño, 15% Grenache blanc, and 10% Parellada, all grown in Bokisch's acclaimed Lodi vineyards.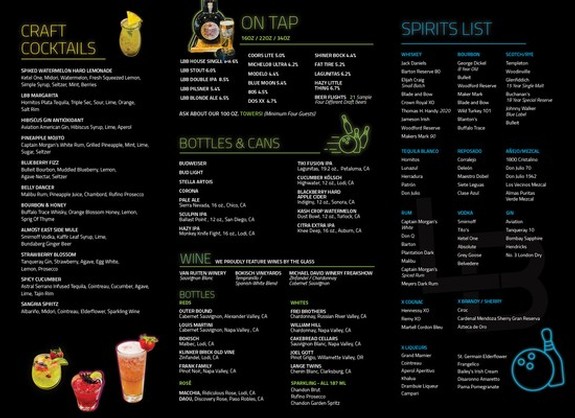 "But the Tempranillo will surprise our guests," adds Camberos. "Not only is it a perfect umami wine, it is round and savory enough to go even with dishes with hot chile spices. In most California red wines, high alcohol exacerbates spice, but in Lodi Tempranillo is light enough that it doesn't, yet you can turn around and enjoy it just as much with a grilled 1-pound bone-in ribeye, which we also offer.
"We're well aware that people won't walk into a bowling alley expecting a perfect wine and food combination, but they will order what you sell to them. My job is bringing my experience of knowing what, why and how we sell, from every dish to every specific wine, beer or cocktail. If we guide them towards wines that are most suitable for the dishes, this will benefit them from the standpoint of having the best possible experience of Lodi Bowling."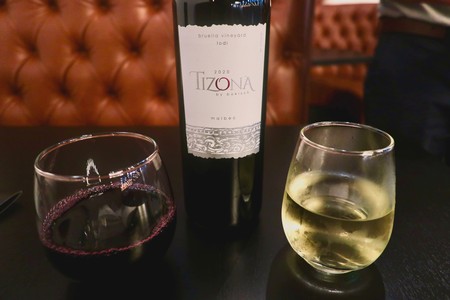 Although Camberos thinks like a chef, the thought going into these wine selections are not purely culinary or wine-conscious. It's also rooted in cultural awareness. "I'm from Lodi," says Camberos, "although I bring 30 years of experience in the food and beverage industry, here and across the country." Older Lodi locals already know Camberos as a former chef for independent local restaurants and hotels (including Wine & Roses), as well as his own catering company. Although over the past decade Camberos was working for multi-unit resorts and corporations on the East Coast, he recently bounced right back to Lodi because, well, this is home.
"My dad was a chef here in Lodi," says Camberos, "and my mother worked as a cashier for the Phillips family [of Michael David Winery] at their fruit stand. Don Phillips [the late father of Michael and David Philips] gave away jugs of red wine to his employees. I was working here when the region was more famous for jug wines and during the transition when it became what it is today, known as the Zin capital of the world and now considered one of the best wine regions in the world, thanks to the local growers, wineries, and leadership of people like Mark Chandler and the Lodi Winegrape Commission."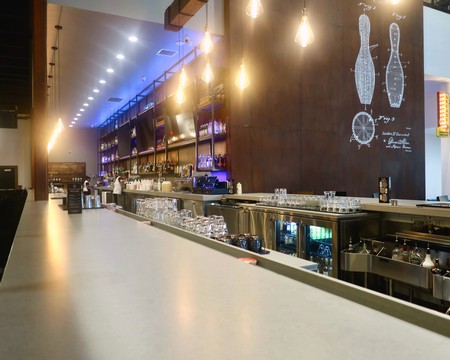 Camberos has also returned to his hometown, he tells us, "for life and love." He is currently engaged to a woman who also happens to be a Lodi native—someone he recently met, by chance, while working in North Carolina, of all places.
In preparation for its opening, Lodi Bowling has hired 80 employees for all phases of the operation. As well thought out as it is as a complete, soup-to-nuts concept, even Camberos has been caught somewhat off-guard by the community response thus far. "This past Sunday [August 20, 2023]," he tells us, "there were 100 people waiting at the door when we opened at 2:00. Right now we're at only 50% capacity, but during the first week we generated over $100,000 in food and beverage sales, and that's not even including revenue from the bowling and arcade.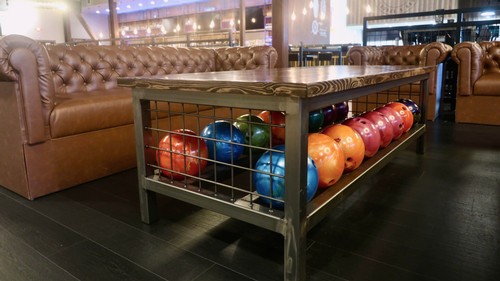 "We are, in fact, a full service restaurant that can seat up to 150 people plus 50 at the bar. At the same time, each bowling lane is considered another seating area—you can enjoy glasses of Bokisch Tempranillo, or bottles made by our current feature winery [Peltier Vineyards] with an umami burger while you bowl. In addition, we wil be able to seat up to 160 in a private banquet room designed for social or corporate events, plus we have another 17 lanes on the second floor scheduled to open in September."
In other words, a bowling alley truly befitting Lodi wine country!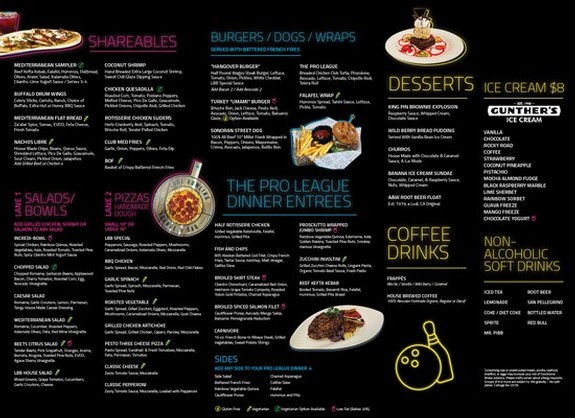 Comments