Letters from Lodi
An insightful and objective look at viticulture and winemaking from the Lodi
Appellation and the growers and vintners behind these crafts. Told from the
perspective of multi-award winning wine journalist, Randy Caparoso.

December 4, 2015 | Randy Caparoso
New winemakers, new styles and wines at Van Ruiten Family Vineyards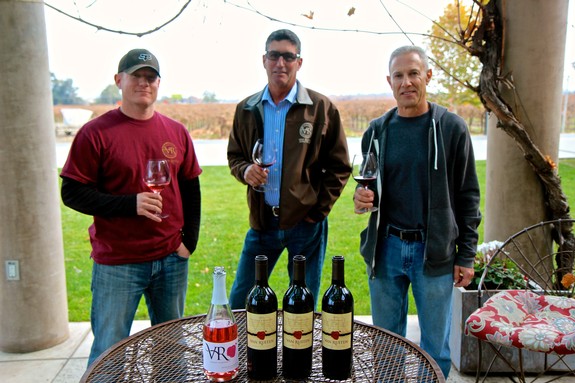 The Van Ruiten Family team: Ron Justice (Assistant Winemaker), Bill Rogan (President/GM) and John Giannini (Winemaker)
There are some subtle yet significant changes afoot at Van Ruiten Family Vineyards & Winery. "VR" is not just one of the Lodi Viticultural Area's most consistent wine producers, but also one of the region's largest vineyard holders (most of what the Van Ruiten family grows actually goes to other wineries).
First, there is the recent hiring of John Giannini as Winemaker. This is a real coup for Lodi, as Mr. Giannini had recently left his post as oenology instructor at California State University Fresno (which he held for over 10 years) as well as winemaker for the Fresno State Winery.
While it was Van Ruiten Family President/GM Bill Rogan who made the bold move of bringing Mr. Giannini onboard, credit also goes to the winery's newly appointed Assistant Winemaker Ron Justice, previously known to many Lodi wine lovers as the former jack-of-all-trades at Lodi's Sorelle Winery (up until last spring). It was Mr. Justice who brought his former Fresno State instructor to Mr. Rogan's attention.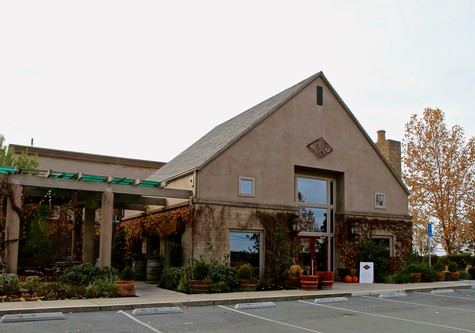 Van Ruiten Family Winery
Giannini and Justice are already making their presence felt in this west side Lodi winery. Says Mr. Giannini, "My instinct is to always let a wine speak for itself by moving away from use of 'products' that increase things like color, tannin, acid or certain aromas, and by minimizing the impact of oak as a significant component."
Giannini's approach is especially refreshing because he brings an attitude of no longer being compelled to produce wines that are comparable to wines of other regions. That is to say: no longer feeling it necessary to grow and produce a Zinfandel that is just as big, jammy, opulent or oaky as a Zinfandel from, say, Sonoma, even if many Zinfandel lovers think of Sonoma Zinfandels as varietal "standards."
Exhibit A: the newly released 2013 Van Ruiten Family Lodi Old Vine Zinfandel ($16), which is silken fine, perky and moderately weighted to the point of being almost lean and lanky – think of a svelte cowboy in tight jeans rather than a pumped-up, knuckle dragging bodybuilder – while scented with fresh, low key raspberry fruit underlined by nuanced smidgens of sweet oak.
Exhibit B: the 2013 Van Ruiten Family Lodi Cabernet Sauvignon ($16); a 100% varietal that treads in a similar lean, lanky amble, yet with a little more of the tannin sinew expected in the grape, along with floral and lightly spiced notes in a neatly packaged nose of black and red berries.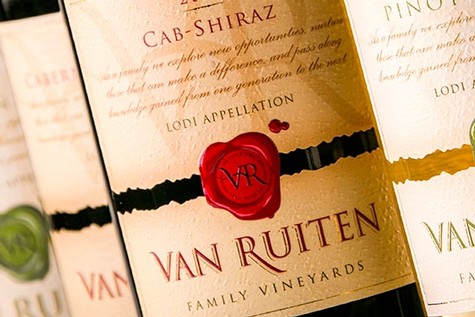 Asked why, like virtually all other Lodi producers, he doesn't blend Petite Sirah into his Cabernet Sauvignon in order to beef up color, tannin and alcoholic weight, Mr. Giannini tells us, "To me, when you add even just a little Petite Sirah, it no longer tastes like Cabernet Sauvignon... I'm all for more intense wines, but not at the expense of varietal character, or what I think of as true Lodi style Cabernet Sauvignon."
Adds Giannini, "To produce Lodi wines that can compare with wines from other regions, you often have to do manipulative things in the winery, which takes away from the natural expression of a grape. That's just not my style." Adds Mr. Justice, "That's the point of what we're doing; what you should be seeing more of in our new wines. We're going for a Lodi character in our wines. We're not concerned if Napa Valley happens to set the bar when it comes to Cabernet Sauvignon. We're happy with 100% Lodi Zinfandel, pure Cabernet Sauvignon, without the use of Petite Sirah to add color and tannin."
"Besides," says Giannini, "I'm not sure if Napa or Sonoma produces the best expressions of grapes, even for their vineyards. I actually prefer Napa wines from 25, 30 years ago, before winemakers were given all those tools to 'make' wine. In recent years wineries have been under pressure to produce wines to please writers or critics in order to sell them. I like working here in Lodi because we can make wine the way we want to, not the way someone tells us it should be done."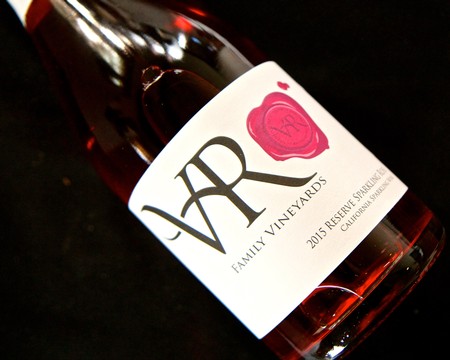 Giannini and Justice are also presenting two more new releases:
First, a 2013 Van Ruiten Family Lodi Cab-Shiraz ($16); a blend of Cabernet Sauvignon (45%) and Syrah (55%) crafted in the sleek, zesty, medium bodied style of previous vintages by this winery, while showing a tad less tannin and oak influence in order to let natural violet, cassis and blackcurrant perfumes of the two grapes pop up more in the nose and in the wine's gentle palate-feel.
Finally, for a little bit of levity and holiday cheer, the winery has released its first-ever 2015 Van Ruiten Family Reserve Sparkling Wine ($18), fashioned from 100% Lodi grown Syrah grapes. But rather than the deep red color of Australian style "Sparkling Shiraz," this is a bright, mildy frothy, transparently pink colored wine, produced by the quick turn-around Charmat process (i.e. secondary fermentation taking place in a tank rather than individual bottle).
The nose of Van Ruiten's pink sparkler is shamelessly effusive of strawberry fruitiness and guava nectar – the only thing missing is the yeastiness typical of traditional champagne style wines – and the mildly zesty, medium bodied fruit sensations fall on the medium-sweet side. Says Giannini, "We set out to make this wine an easy-going crowd pleaser, and I think we hit it."
It appears that the Van Ruiten family will soon be hitting a lot more!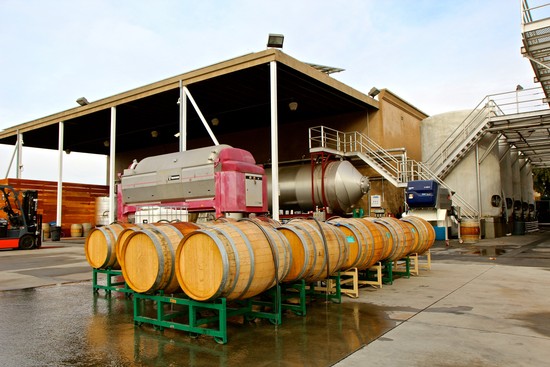 December barrel rinsing at Van Ruiten Winery
Comments
nike
@ Apr 30, 2016 at 5:46 AM
nice.