Letters from Lodi
An insightful and objective look at viticulture and winemaking from the Lodi
Appellation and the growers and vintners behind these crafts. Told from the
perspective of multi-award winning wine journalist, Randy Caparoso.

January 29, 2020 | Randy Caparoso
Mountain Tides is changing the face of Petite Sirah with Lodi appellation vineyards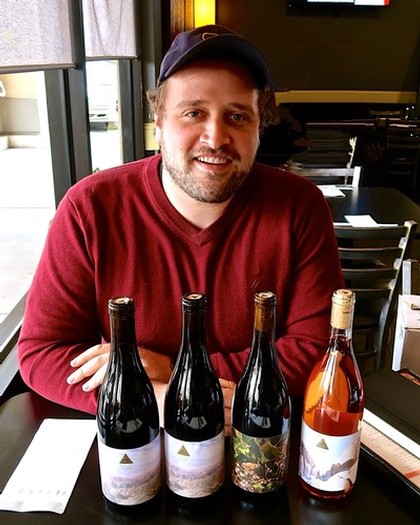 The modern day history of California wine is full of winemakers on a "mission" — many of the most famous of them starting off literally on shoestrings, or working out of garages (circumstances considered noble enough in the wine world to merit its own fancy French term, garagistes).
Mountain Tides Wine Co. owner/winemaker Scott Kirkpatrick responded to his personal calling in a more sensible way: while earning his daily bread as Cellarmaster for someone else's winery in Napa. The thought process, however, was as dramatic as anyone's: The idea for the brand struck him when, back in August 2014, a 6.0 earthquake tossed Mr. Kirkpatrick and his wife (Allison Watkins) out of bed, causing them to think about (in Kirkpatrick's words) "the power of the land... almost as if we were being called to make our own move." Hence the name of their independent company, "Mountain Tides," which they started up in 2016 with one Lodi grown Petite Sirah.
The big news, as of the start of 2020, is that Kirkpatrick and Watkins have decided to go full-time with their Mountain Tides brand — something akin to flying without a net, and pretty scary when your current inventory amounts to barely a thousand cases.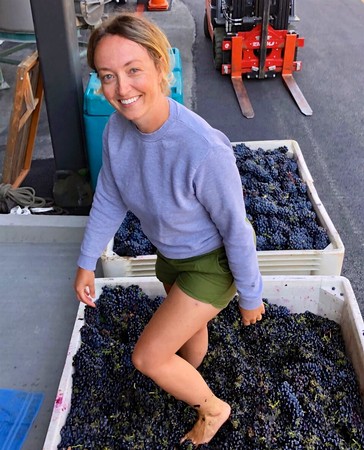 This brand, however, has more than a fighting chance because of two reasons:
1. Mountain Tides specializes in just one grape, Petite Sirah, a varietal category that has been growing slowly yet very surely over the past ten years.
2. Mountain Tides works primarily with Petite Sirah grown in Lodi, a region that Kirkpatrick believes gives him exactly the tools he needs to distinguish his brand, specializing in a "lighter style style faithful to its terroir" (i.e. "sense of place").
Earlier this week — over lunch at Lodi's Komachi Sushi with Petite Sirah-friendly dishes (which included sea urchin sushi, grilled hamachi and Korean style sliced ribeye with onions) — Mr. Kirkpatrick reflected on his goals, and why he believes his unique take on Petite Sirah will get him there:
"In 2019 we crushed enough Petite Sirah to make 1,200 cases, which for us is a point where it just may be impossible to manage a 600-ton custom crush winery and do what we do at the same time. You can make all the great wine you like, but you still have to go out and sell it. After talking it over with Allison, we both agreed that if we don't go all-in on this it's bound to fall apart. But we feel the time is right because over the past year some awesome doors have been opening for us, and we've received some nice affirmations for what we're doing, which is primarily a lighter style, higher acid driven, terroir focused style of Petite Sirah.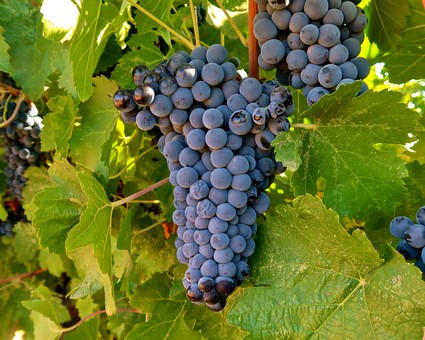 "There is no doubt in our minds that it will take a little time to gain market acceptance for this style of wine, but I think we are already helping to move the needle a little bit on how that approach to the varietal is perceived. Other winemakers similar to us, concentrating on terroir-focused wines, have told me that because of Mountain Tides they're no longer using their Petite Sirah strictly for blending — they're taking it more seriously and also bottling it on its own.
"For me, it's about asking the question: What is possible with Petite Sirah? So far, the possibilities seem almost limitless. For instance, we have a 12% alcohol Petite Sirah rosé that surprised even us by its great acidity and unique, almost gritty texture, giving the wine an unusually salty taste. It's the first rosé that we've ever tasted that goes really well with raw oysters. The wine seems to connect to foods on a different level.
"By taking a hands-off approach (which includes 100% native yeast and non-inoculated malolactic fermentations, plus neutral oak, minimal SO², no additives, fining or filtering, etc.) to all of our wines, we're starting to get a very clear picture of how strongly the grape can express individual vineyards. It's worth noting because most people have never thought of Petite Sirah as being capable of that, but I think the varietal can be a showcase for terroir.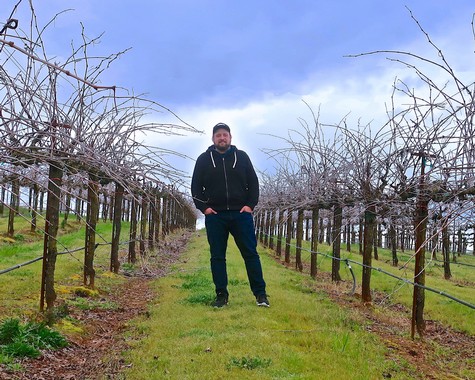 "Petite Sirah has been dominated by one perceived style for so long, even Petite Sirah lovers who belong to PS I Love You (a winemaker and consumer driven "Petite Sirah Advocacy Organization") have those expectations — the idea that Petite Sirah should always be very ripe, big in alcohol, very concentrated and dense, more along the lines of a blueberry compote, with some degree of a cooked fruit profile.
"A lot of the past conversation has also been that 'serious Petite Sirah' should be so high in tannin, ideally it shouldn't be opened for at least 10 years. Before I started working with the grape I always thought of it in a weird sort of way — like a comic book superhero, super-big and strong. Now I look upon that as just one side of the story. There are so many other stories to tell — Petite Sirah can be lighter and more subtle or as powerful as the grape wants to be, and maybe something in between. What's more important to us is Petite Sirah that is less about varietal fruit and more about where it's grown.
"Of course, we're not re-inventing the wheel. Other people have been exploring other sides of Petite Sirah for years, but we're trying for something different by dedicating ourselves to exploring the multiple expressions of the grape, each one unique but no less beautiful and compelling. What's different is we're letting vineyard sites be our guide, as opposed to deciding on a style and then forcing that upon a wine.
"This approach also allows us to tell stories of places I wasn't hearing much about before, like the Borden Ranch and Clements Hills appellations in Lodi. Someday, I hope soon, we'll be able to source from other places in Lodi and other areas. In the winery we're exploring our options by fermenting Petite Sirah from each vineyard in four or five different ways. With the 2019 vintage we'll start experimenting with a solera system (i.e. blending different vintages together), and someday I'd like to produce a sparkling Petite Sirah. I feel like we're just scratching the surface by continuing to ask the questions: What is possible, what's real or what's not, when it comes to Petite Sirah?"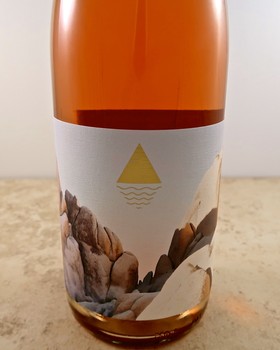 Our notes on Mountain Tides current releases of Lodi grown Petite Sirah:
2018 Mountain Tides, Clements Hills-Lodi Rosé of Petite Sirah ($22) - Sourced 100% from the Anaya family's Viñedos Aurora Vineyard, a pale rusted orange tinted wine with a pure fruit toned aroma suggesting red berry tea and organic notes faintly of loam. Tart (although not sharp), lean and edgy on the palate with the lightness of moderate alcohol (12%), and a briny texture that penetrates the senses in the middle and aroma driven finish (when the wine, after it is swallowed, still sends scented messages through the back-nasal passages).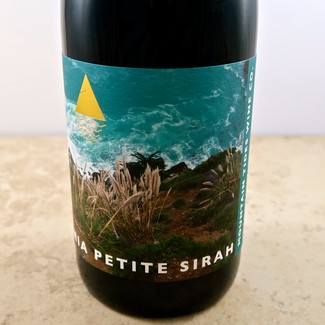 2018 Mountain Tides, California Petite Sirah ($20) - While this red wine is also blended with fruit from Contra Costa County and Dry Creek Valley, it is predominantly sourced from Lodi sub-appellations (Viñedos Aurora Vineyard in Clements Hills and Palmero Vineyard in Borden Ranch). Bright purplish-red color and richly concentrated briary-berry aroma characterized by a sense of freshness as opposed to jammy-sweet ripeness, with loamy-earth tones lingering in a backdrop. The flavors have a fine, silken feel in the entry, while the profile never gets "big" or weighty (a modestly scaled 13.4% alcohol) — instead, the wine remains finely textured, bright and buoyant in its fresh fruit toned, slightly earthen/organic feel and flavor.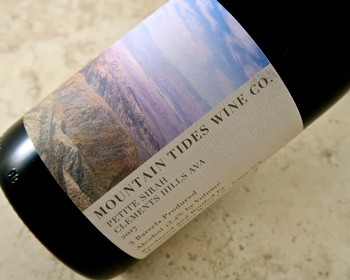 2017 Mountain Tides, Clements Hills-Lodi Petite Sirah ($32) - Sourced from Viñedos Aurora Vineyard — according the Kirkpatrick, "the vineyard that first opened my mind up to the possibility of Petite Sirah in a fresher, lighter style, yet no less concentrated and beautiful than any other." A dark ruby color is complimented by aromas of red and blue berried fruit in slightly floral fashion, underscored by earthy/organic notes. On the palate, the wine is medium bodied (13.4% alcohol) yet firm in its tannin core, while meaty, compact, svelte and fluid in its flow of fruit-centered qualities. Adds Kirkpatrick, "Viñedos Aurora always retains something of a mid-palate sweetness (although the wine is completely dry) that has led some of my winemaker friends to ask, 'how much new oak did you use?'... we don't use any new oak in our wines, strictly neutral barrels — those sweet tones are just the vineyard expressing itself."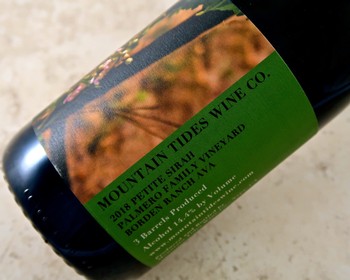 2018 Mountain Tides, Palmero Family Vineyard Borden Ranch-Lodi Petite Sirah ($36) - Deep, vivid purplish red cast and sweetly focused, floral red berry aroma tinged by the faintest hint of nostril tingling leafiness — the latter quality attributed by Kirkpatrick to the presence of a few eucalyptus trees growing on the property, giving the wine an "aromatic lift" without coming across as herby or overtly eucalyptic. On the palate, the Palmero Family Vineyard asserts its individuality through its lively, zesty, markedly tart edged balance of meaty textured fruit and firmly structured medium-full body (14.4% alcohol). Kirkpatrick adds: "After just two vintages, we already know this vineyard wants to be a little fuller bodied because its rockier red clay soils ripen fruit with higher acidity than in our Clements Hills vineyard. We have to wait a little longer than what we prefer to get a fruit/acid balance in the grapes, but to do 'right' by the vineyard we'll take the higher sugars, and the wine really sings because of that."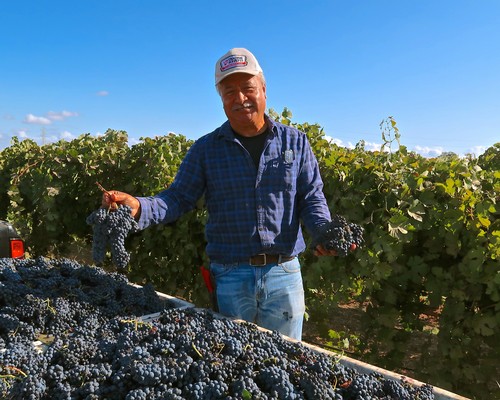 Comments