Letters from Lodi
An insightful and objective look at viticulture and winemaking from the Lodi
Appellation and the growers and vintners behind these crafts. Told from the
perspective of multi-award winning wine journalist, Randy Caparoso.

July 19, 2018 | Randy Caparoso
Mikami's Lodi grown wines combine restraint, intensity and over 100 years of winegrowing experience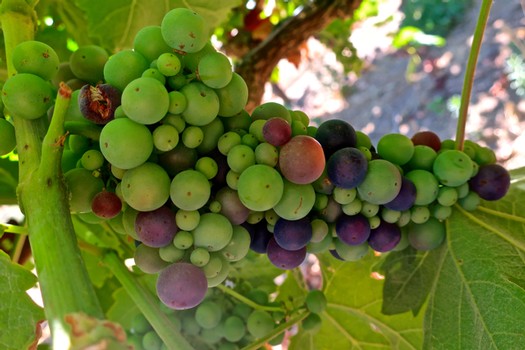 When is the last time you've had a darned good rosé made from Zinfandel? Not a typically tutti-fruity White Zinfandel, mind you. But rather, a bone-dry, full and fleshy, reddish pink rosé that is just as deep and meaty as it is bouncy and opulent with watermelon/black cherry/blueberryish fruit, tinged with a sprinkle of cinnamon/spice.
Chances are, you haven't had a wine like this because, for some reason, Zinfandel specialists (even in Lodi) seem to be extremely reluctant to make seriously dry pink wines from Zinfandel, even though the grape is perfectly capable of that.
And chances are, you haven't yet experienced the 2017 Mikami Vineyards Lodi Rosé ($29), grown and farmed by the same family with roots embedded deep in Lodi soil for well over 100 years.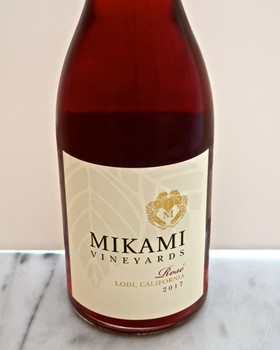 The Mikami Rosé is a relatively rare wine – only 41 cases were bottled – and it is not a pure Zinfandel. A good dose of Petite Sirah (27%) is probably what gives the wine its oomph, and a top and bottom opulence that goes beyond what a 100% Zinfandel would have delivered. The rosé's complexity and textured intensity are further enhanced by barrel fermentation as well as stirring of the lees (i.e. spent yeast cells). It is a wham, bam, thank you ma'am style of rosé – but not something that came about overnight.
"Hard work, passion and perseverance." This is what Mikami Vineyards owner/grower Jason Mikami says he learned from his father, Jim Mikami, who farmed the Mikami family's 15-acre vineyard – located in the heart of Mokelumne River-Lodi's west side, off W. Sargent Rd. – from 1945 to his passing in 2005.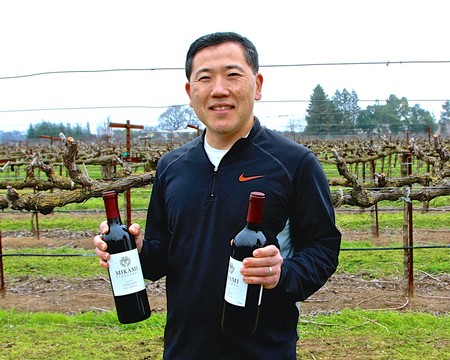 The Mikami family first began farming in Lodi in 1896, after emigrating from Japan. The grape growing tradition was interrupted only once – during World War II, when the family was temporarily relocated to an internment camp in Arkansas.
More than anything, it is three generations of experience – establishing an intimate knowledge and connection to the Lodi appellation – that probably accounts for the exceptional quality of Mikami Vineyards Zinfandel, a perennial San Francisco Chronicle Wine Competition Gold Medal winner since the family's first bottling (a 2008 vintage).
Says Jason Mikami: "This past July 10 marked the 13th anniversary of my father's passing. It is still in his memory that we continue to strive for the best wine we can make from our family vineyard. He toiled on this property single-handedly for over 40 years, when it was still mostly Tokays. Unfortunately, he never saw the creation of these wines, but I hope he would be proud of what we've done thus far."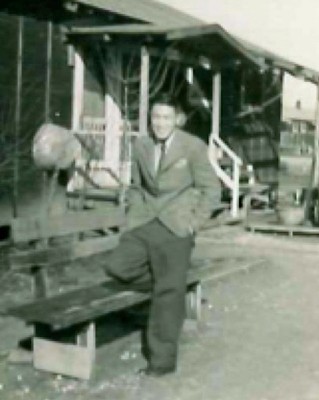 Mikami grew up the same way as many kids in Lodi's farming community: When not helping his father Jim work the vines, he tells us, he spent his time "running around the vines throwing dirt clods and chasing rabbits." Later, Mikami took the lessons of hard work, passion and perseverance absorbed from his father and applied it to an enormously successful career in the technology industry.
Farming, however, remains in his blood. He was also smart enough to contract Manna Ranch Inc.'s Mike Manna – one of Lodi's leading wine grape growers – to replant the entire estate to Zinfandel in 2004. The vines are trained on a quadrilateral trellis; spurs extended horizontally on parallel wires on two sides, with another two wires on top allowing canes to hang over and duplicate the dappled sunlight and shading that protects the ripening fruit – a phenomenon found in more traditional head-trained, spur-pruned Zinfandel plantings.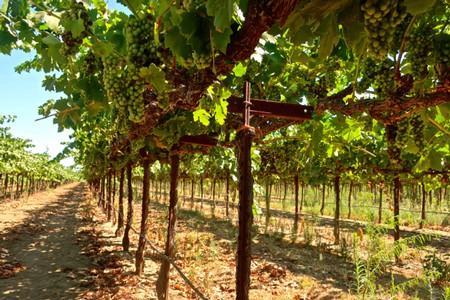 Says Mikami: "Zinfandel has been grown on the property since 1923. It has some of the region's best soil conditions – that deep, fine sandy loam – for high quality Zinfandel. It's this type of soil that allows vines to slowly draw water to produce uniform and balanced growth. We planted the vines on only 4-ft. spacing to force greater competition, which gives us more concentrated fruit."
Most of the vineyard is cropped for bigger tonnage, which go to one of the giant wineries. However, the rows next to the old family home are cultivated to yield less than 4 tons per acre. Hence, the 2015 Mikami Vineyards Lodi Zinfandel ($39): as seriously fine and balanced as any Zinfandel, from anywhere in California, yet at the same time very "Lodi." "Elegant" is another way to describe this wine; with its laser beam focused nose of raspberry, cherry, trace of earthiness, a dash of peppermint spice and oh-so-subtle vanillin oak flourish. On the palate, the wine is rounded, fleshy and medium-full bodied. It has weight, the richness of a multi-layered red velvet cake, yet also a svelte, balanced touch. Only 105 cases produced.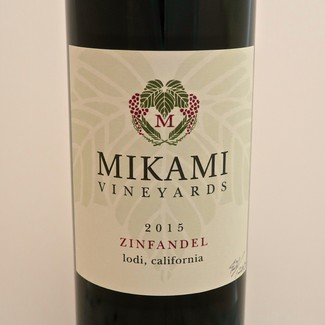 Like the brand's previous bottlings, the 2015 Mikami Zinfandel took a gold medal at this past January's San Francisco Chronicle Wine Competition. Yet at the same time, the 2015 comes across as a somewhat more sophisticated iteration of this west-side Lodi estate. There is a tad more finesse in its feel (despite the label's stated 15.3% alcohol); and definitely more subtlety in the oak than in previous vintages.
When queried about this, Mr. Mikami concurred; telling us: "One upgrade we did make is to a blended barrel strategy of 25% new French, 25% new American, and 50% neutral (i.e. previously used barrels). We find that the addition of the French oak brings an additional elegance that complements our fruit well."
On paper, use of 50% new oak barrels would come with the expectation of an oak-driven taste (that is, stronger sensations of vanilla or burnt wood). Yet nothing about the 2015 Mikami suggests a heavy hand – just more of a winemaker's feathery light brush stroke. Kudos to Mikami winemaker, the Napa Valley based Kian Tavakoli, for exercising a restraint more in keeping with the gentle qualities that seem to be natural to the Lodi terroir.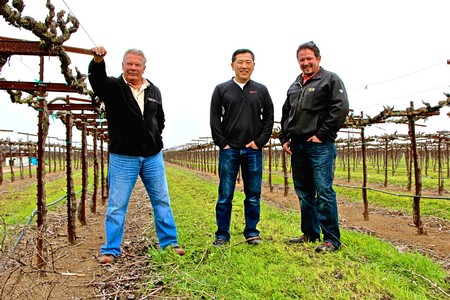 Mr. Mikami also credits his Zinfandel's increased sense of elegance to the maturation of the vineyard, now in its fourteenth leaf; telling us: "The vines are still relatively young, so we spend an enormous amount of time shoot thinning, on canopy management, and dropping fruit multiple times to ensure we get the right balance of fruit on the vine – all of it hand-work. The recognition these 'teenage' vines have already been receiving has been very encouraging, but I can't wait to see what they can produce in the next 30, 50 years!"
When asked about a tasting room, Mikami said: "We're often asked about that. We don't yet, but hopefully over the next few years, as we continue to grow our production, we'll have a place here in the vineyard."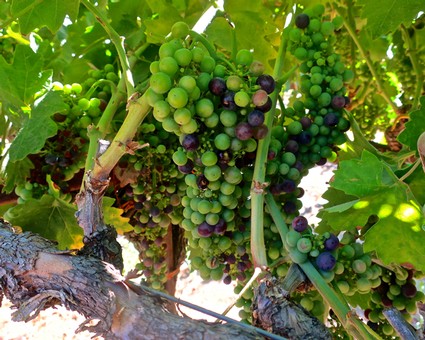 Coming down the pipe for Mikami Vineyards: A soon-to-be-bottled Petite Sirah, to complement their modestly sized red and rosé program. Meanwhile, there is just enough production to raise the brand's market profile. According to Mikami: "Today in Berkeley, we are featured at Iyasare Restaurant, a Michelin rated and San Francisco Chronicle Top 100 restaurant. We are also in the Napa Valley Winery Exchange (a retailer near San Francisco's Union Square), Marukai Market in Silicon Valley, as well as two locations in Japan – the award-winning Wine Terrace Yume near Tokyo, and at a brand new gourmet market concept store called Kitchen and Market in Osaka."
For the convenience of Lodi residents as well as wine country visitors, the Mikami brand has also been a mainstay at the Lodi Wine & Visitor Center on W. Turner Rd. While supplies of Mikami wines have been miniscule, growth has been steady. Says Mikami: "We are now up to nearly 400 cases a year – compared to just 50 cases ten years ago, when we released our inaugural 2008 vintage. We've consciously remained small because our focus is on quality; not extending ourselves where we have to sacrifice how we manage our fruit."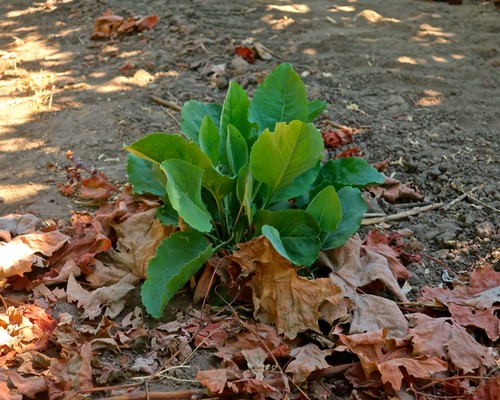 Comments