Letters from Lodi
An insightful and objective look at viticulture and winemaking from the Lodi
Appellation and the growers and vintners behind these crafts. Told from the
perspective of multi-award winning wine journalist, Randy Caparoso.

January 13, 2022 | Randy Caparoso
Micro-sized Sabelli-Frisch cultivates a welcome menagerie of misbegotten grapes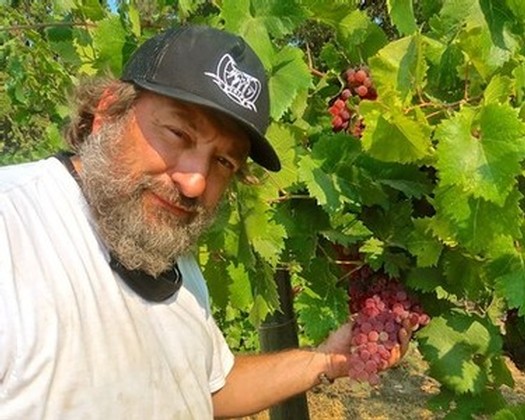 The general thinking, when it comes to micro-sized wine wineries such as Sabelli-Frisch, which produces barely 50 to 100 cases of every bottling, is that craftsmanship on such a small scale had damned well better result in exceptional wines.
Still, it's not really a fair expectation. Why should big commercial wineries be excused for boatloads of ho-hum or even awful wines, while the peons are cut zero slack?
As with many of today's tiny, handcraft producers, the L.A.-based Sabelli-Frisch at least does not cut itself any slack when it comes to its chosen style. Insofar as quality, the wines are exceptional.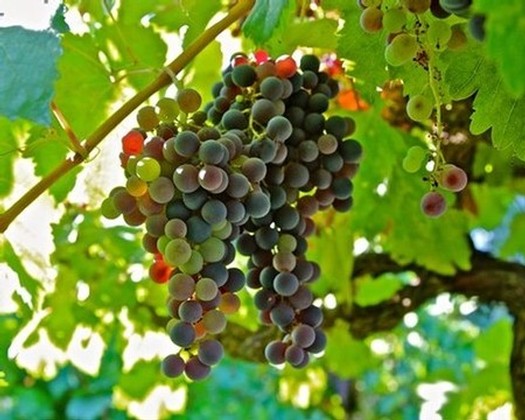 Owner/winemaker Adam Sabelli-Frisch makes no bones about the fact, as he quotes himself on his website, that "I make wines from low-impact vineyards, and focus on rare, forgotten, under-appreciated or historic grape varieties because that's what gets me excited personally."
In terms of style, Sabelli-Frisch's stated approach reflects a litany common to many of today's small producers who position themselves on the "alternative" side of the industry: "I tend to go for more restrained oak usage for best expression, but not at all opposed to oak if the wine demands it (and some do). My wines are normally bone dry, fermented naturally, contain no added chemicals, low in sulfites. I try not to filter and I try not to fine." Sabelli-Frisch does not use the "n-word" ("natural," which is practically a swear word within the conventional wine industry of today), but that's basically what it is.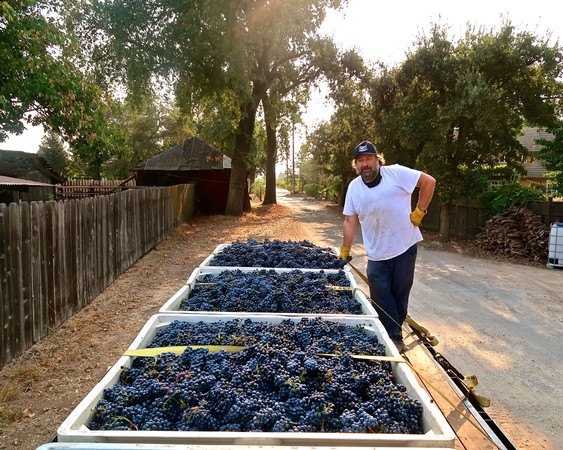 It is almost ironic, however, that Sabelli-Frisch's focus is primarily on fruit grown in Lodi, which has grown into America's largest winegrowing region precisely because it supplies grapes to the gigantic, and very much conventional, wineries — going into the brands that you find in virtually every supermarket and retail wine store in the country. It is the artistic side of Mr. Sabelli-Frisch's personality that prompts him to sniff out the "rare, forgotten, under-appreciated" grape varieties that float his boat. Because, as longtime Lodi wine industry people well know, those grapes are still there, barely surviving, hanging on for dear life in the near-forgotten crevices and corners of the appellation.
In that sense, it's a good thing there are minuscule producers such as Sabelli-Frish who can appreciate these grapes which have fallen out of the mainstream of commercial expectations — if they were ever there at all — and thus, keeping them from dying out completely. No matter how unwanted or disrespected, it's sad to see a grape disappear.
The latest bottlings among Sabelli-Frisch's current menagerie of misfit varietal wines: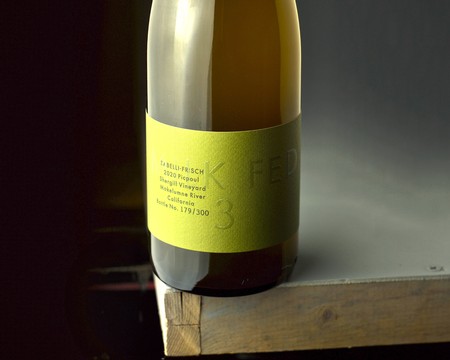 2020 Sabelli-Frisch, Shergill Vineyard Mokelumne River (Lodi) Picpoul ($35)
Having trumpeted Sabelli-Frisch's predilection for older, forgotten grapes, this white wine does not quite fit that description: It is a very recent planting, grafted from Primitivo (a clonal variant of Zinfandel) plants just in 2019 by Mike Agnagnos, an independent farming company owner whose winegrowing lineage intertwines with that of the Mettler family. The site is a patch of ultra-fine sand on Scottsdale Rd. south of the City of Lodi.
Picpoul, a.k.a. Piqupoul, at least qualifies as an "under-appreciated" grape, producing typically light dry whites with an acidity capable of physically curling the tongue (the name of the grape is derived from the French word for "sting"). Like a crossing of grape and lemon. Ten years ago, no American grape grower could cultivate this variety because wineries — conscious of bottling products suitable to consumer tastes for soft, flabby wines — would never buy it. Consumer tastes, however, are never static, and there is now a modest, steadily expanding market for puckery, even stingingly tart, dry white wines.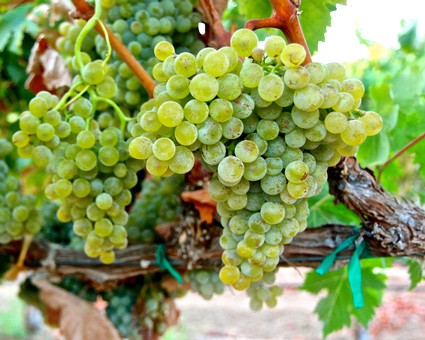 Indicative of Sabelli-Frisch's unconventional outlook on fining or filtering for commercially acceptable clarity, the Shergill Picpoul is slightly cloudy with an almost pink grapefruit-like color, yet the wine was pressed from its skins and fermented in conventional fashion. Except for the fact, as Sabelli-Frisch confesses, that the clay amphora which contained the wine cracked halfway through the pressing process, spilling out half the juice (leaving him with just 1 barrel, or 25 cases worth of, wine to sell).
To Sabelli-Frisch's glee, though, the Picpoul evolved into something "great." The nose is a plethora of fresh peach and lemon fragrances; and on the palate, this profile is defined by tart, edgy, citrus-fresh sensations, cutting through a fleshy yet light, airy feel. The bone dry, tart qualities linger on the palate with a lip-smacking freshness. Think shrimp Louie salad, or grab a plate of raw oysters with lemon or mignonette, and you're in culinary hog heaven.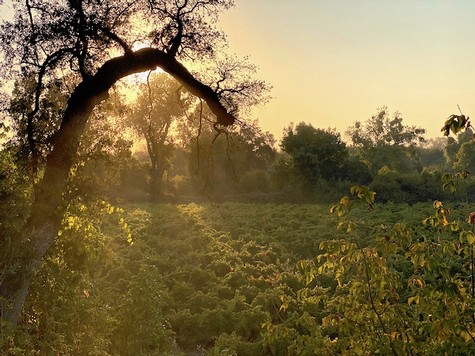 2019 Sabelli-Frisch, "La Malinche" Somers Vineyard Mokelumne River (Lodi) Mission ($29)
Sabelli-Frisch unabashedly dubs this his "signature" wine, citing the Mission grape's history as California's "oldest... mistreated and neglected for over a century." It is true that up until about 1850, this was the only wine grape planted in California, thanks to the Franciscan ranches dotting the El Camino Real. After that, cultivars such as Zinfandel and Cabernet Sauvignon came into much stronger favor because of their ability to produce darker, sturdier red wines, the opposite of the pale, light, comparatively feeble qualities typical of the Mission grape.
Well, guess what: Pale, light, comparatively feeble red wines have suddenly come into fashion — a very recent phenomenon, at least among consumers who have grown tired of heavy, overwrought reds. According to Mr. Agnagnos, who also farms Somers Vineyard, ten years ago he could barely give away grapes from this block, originally planted during the 1970s. Worse yet, these Mission grapes were planted on a high-vigor, low-lying flat along the banks of the Mokelumne River on Lodi's east side; and so the vines, sitting on a high water table, quickly grew into Brobdingnagian heights, producing giant clusters barely turning color by each September.
Today, says Agnagnos, Sabelli-Frisch is one of more than half-a-dozen wineries now happily buying Somers Vineyard Mission (a group currently including Buena Vista, Toogood Estate, Found Wine Company, Ramos Torres, Pax, Voluptuary, Nue Wild, and Vending Machine).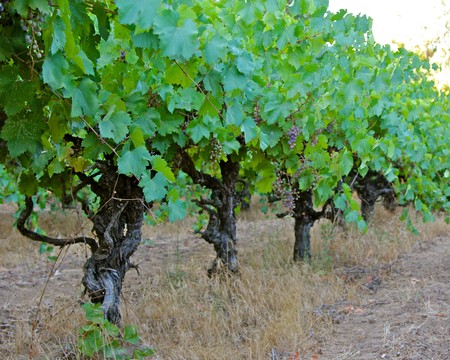 Sabelli-Frisch's 2019 Somers Vineyard Mission is a suitably transparent, reddish-orange brick color. The nose is floral, almost like white wine, yet flush with red berry aromas and a piquant (that is, nose tingling) kitchen spice suggesting peppercorn and faint gratings of cardamom and nutmeg — manifestations of both the grape and Sabelli-Frisch's instinct towards minimalist vinification and élevage (re the latter, strictly "neutral" wood, nothing that might diminish fruit).
The clarity in the nose continues on the palate in a light, soft body that is notably zippy in natural acidity — the latter quality, reflecting the natural advantage of a vineyard that is slow to ripen because of intrinsic plant and cluster sizes (yes, this qualifies as terroir — even grapes and vineyards of modest standing are capable of this). The soft tannin and low alcohol (12.5%) structure allow the laidback spiced berry flavors to gel in a long, savory middle and finish. Voilà, an ideal, contemporary style wine.
As always, food context is key. You'll find this Mission to be quite amenable to fatty fish like peppercorn grilled salmon or spicy tuna poke, chile pepper laced pizza, or better yet, any chili-infused puttanesca or Calabrian style pasta (especially with umami-rich anchovy-chili paste).
Sabelli-Frisch tells us that the 2020 Mission has even garnered "93 points" in John Gilman's View From the Cellar. Not that scores matter (points can't convey the sensory distinction or food versatility of wines like Somers-grown Mission), but it does go to show that, when it comes to taste, down can be up and up can be down, with none the wiser among today's wine cognoscenti.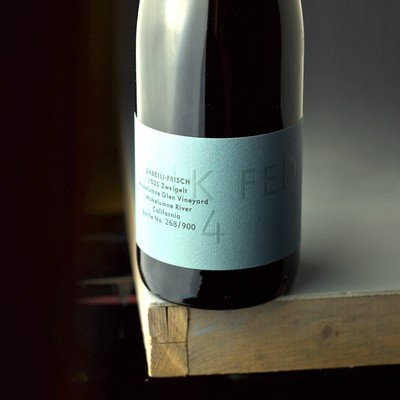 2020 Sabelli-Frisch, Mokelumne Glen Vineyard Mokelumne River (Lodi) Zweigelt ($32)
This red wine is sourced from perhaps Lodi's most unusual vineyard, Mokelumne Glen, planted to some 55 grapes of German (mostly) and Austrian origin (Zweigelt is Austrian). While these particular European wine regions are known for a far cooler climate than that of Lodi, the beauty of many of these grapes is that they retain a natural acidity even when grown under the ceaseless sun within a Mediterranean climate such as Lodi's. Which falls right into Mr. Sabelli-Frisch's wheelhouse, at least insofar as his penchant for doing as little as possible in the winery. No need to do much when there is plenty there already, natural to the grape.
Hence, the Mokelumne Glen-grown Zweigelt's effortlessly deep and opaque color — a purplish-black with vivid violet rim — and palate presence bolstered by plenty of plucky acidities and a tannin content that is generous yet amazingly svelte and well rounded. Says Sabelli-Frisch, "Despite the impenetrably deep coloring that might fool you into thinking it's a heavy wine, it makes a delicious medium-bodied wine, very fruit-forward..."
The Lodi-grown Zweigelt's varietal profile strongly suggests primary fruit aromas, like still-fermenting wild berries growing in a thicket of weeds along a dusty roadside (Mokelumne Glen, in fact, is more of a bucolic green hillside, nestled among towering oaks along the Mokelumne River). Moderate alcohol (12%) belies the dark color and fairly high volume of fruit, and lets the wine finish long, rich, savory, yet easy peasy, as much "Lodi" as it is "Zweigelt."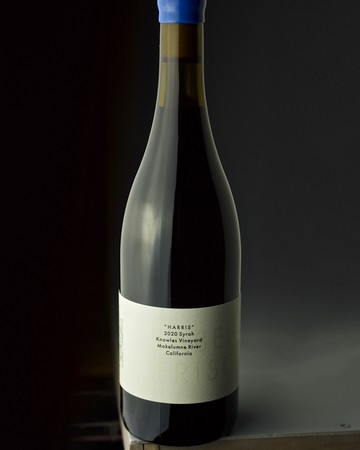 2020 Sabelli-Frisch, "Harris" Knowles Vineyard Mokelumne River (Lodi) Syrah ($35)
California's historical accounting of grape plantings is fuzzy, to say the least. When you look up "California Syrah history" online, you read that the first significant planting of the grape was in 1975, at Estrella River Winery (long defunct) in Paso Robles. Gary Eberle, the Estrella River winemaker at the time, rescued the plant material from a U.C. Davis test plot, which was buried under a freeway shortly thereafter. The "Eberle clone" has since become the most widely planted Syrah selection in California.
At the same time, it is well known that Napa Valley's Joseph Phelps Vineyards produced America's first varietal bottling of Syrah in 1974, utilizing grapes planted by Christian Brothers Winery, purportedly in 1959. In Mendocino County's McDowell Valley, there was also a mixed block of Syrah, Petite Syrah, Peloursin, and other grapes, said to have been planted around 1919, if not earlier. Up until the 1970s, strange as it may now seem, Syrah in California was often identified (or mixed up with) as Petite Sirah, and vice-versa — neither growers nor vintners could tell them apart despite outward differences in morphology (Syrah clusters are much smaller and looser than Petite Sirah clusters). This is forgivable. Heck, through the early half of the twentieth century, vignerons in France's Northern Rhône Valley appellations had at least half-a-dozen different names for Syrah — in each village, they thought they were growing different varieties!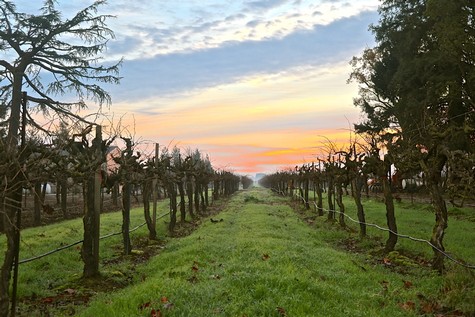 Pipsqueak-sized Sabelli-Frisch deserves credit for bringing the Knowles Vineyard Syrah, another one of Lodi's historical peculiarities, back into the light of day. This planting dates back to 1964! It is located along Alpine Rd. on the east side of Lodi's Mokelumne River appellation, and consists of less than half an acre of old, stunted trellised vines. The story goes, according to Mettler Family Vineyards' Larry Mettler — whose father Carl Mettler planted the vines (originally about 5 acres, and since sold to Casey and Kelli Knowles) — that there was a San Joaquin Valley farm advisor named Jim Kissler who snuck in "suitcase" cuttings from Australia, and prevailed upon the Mettler family (farming in Lodi since 1899) to plant them. Therefore the Knowles Vineyard Syrah planting is, in fact, a "Shiraz" (as the grape is called in Australia) clone, although its precise origin is lost in shrouds of history. Since then, the Mettlers have propagated this selection in at least a couple of other east side blocks.
Says Larry Mettler, "Jim Kissler was involved with rootstock and varietal trials at U.C. Davis 'back in the day.' I was in college when my dad planted those Shiraz cuttings. Of course, no one in California knew much of anything about Syrah back in the 1960s. The vines were planted on their own roots, because that's what was done in those days. Thanks to eutypa [i.e. "dead arm" disease], the vineyard is now in pretty poor shape."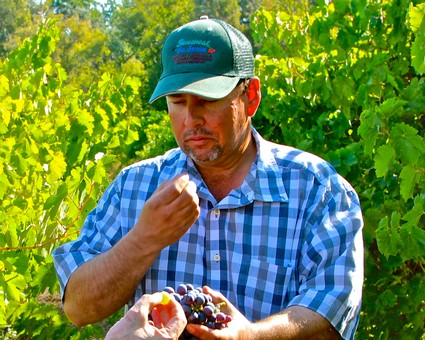 Mike Agnagnos, who now farms the decrepit old Syrah vines for the Knowles family, says that these days the vines barely produce half-a-ton an acre. Says Sabelli-Frisch: "It has to be the oldest Syrah in Lodi. It produces so little fruit that nobody really wants it. At first, I wasn't interested in it either, but the 'oldness' of the vines and the fact that it yields so little made me change my mind. After three vintages, I have to say it's one of my favorite little wines."
Sabelli-Frisch's 2020 iteration is not exactly "little," although it has a sense of restraint reflecting both a minimalist house style (particularly a dearth of oak in the sensory profile) and an intrinsic terroir ("sense of place" having to do as much with natural environmental factors as a vineyard's specific human-driven history). The color is a violet red, and the nose is tight and raspberry-like, with interesting touches of scrubby herbs and coffee ground-like spice. On the palate, there is a dense, firm, meaty feel to a medium-full body/tannin structure, punctuated by notable acid balance propping up a modest sense of concentration, giving the wine an almost Mexican chocolate-like texture and finish.
Is this the world's greatest Syrah? Of course not. Such a thing does not exist — if you subscribe to, say, what Kermit Lynch, author of the all-time classic Adventures on the Wine Route, has to say about "ranking Syrahs." Wrote Lynch...
... the critics want us to believe that you can apply the same standard to all of them [the Syrahs of the world], as if when you uncork a bottle of Syrah you are always looking for the same qualities. The truth is if a perfect Hermitage deserves an A+, or 20 points, or 100, or five stars, so does a perfect Saint-Joseph. Perfection is perfection, even if the wines taste different. Thank God they taste different!
And thank God for "little wines" like a Knowles Vineyard Syrah.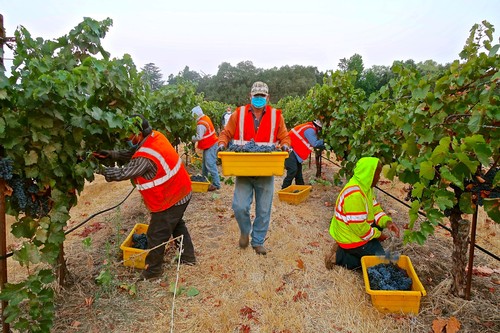 Comments