Letters from Lodi
An insightful and objective look at viticulture and winemaking from the Lodi
Appellation and the growers and vintners behind these crafts. Told from the
perspective of multi-award winning wine journalist, Randy Caparoso.

April 7, 2019 | Randy Caparoso
Michael Klouda's mission to "save" Lodi Zinfandel with his dry style Retro Rosé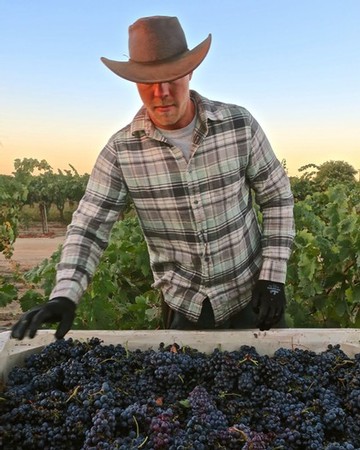 It's ba-a-ack. A pale, transparently pink wine made 100% from black skinned Zinfandel grapes – otherwise known as "White Zinfandel."
Only, this time around it's a bone dry pink wine – bottled without one, single gram of residual sugar. To hedge his bets, however, Michael Klouda Wines owner/winemaker Michael Klouda is calling his new fangled wine "Retro Rosé."
Why? Because dry rosé is one of the hottest wine categories in the market today, whereas the White Zinfandel sales are plunging rapidly. Hence, the hundreds of acres of fields with piles of pulled-up vines – many of these, vineyards planted over 50 years ago – that locals have been seeing all over Lodi during the past three years.
Yet, in the interest of full disclosure, Klouda writes on his back label: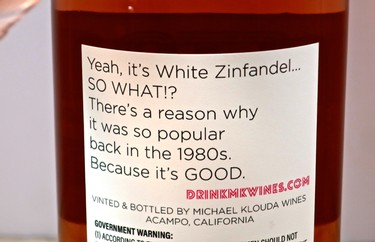 And so it is. The 2018 Michael Klouda Lodi Retro Rosé ($19) is positively flush in green apple skin, cranberry, rose petal and rosehip tea-like fragrances. The nose makes you want to kiss it, not sip it. On the palate, it is crisply dry and light feeling in its medium body (13.5% alcohol); the apple-like fruit quality taking on a mild fleshiness and citrusy freshness. Think salmon nigiri or Italian antipasto on a perfect summer day. And yeah, it compares to a lot of the first-rate dry rosés you see out in the market these days; but as Klouda freely admits, "It's White Zinfandel!"
So we asked Mr. Klouda the obvious question: What in the world possessed you to produce a "White Zinfandel" at a time when the wine is becoming more and more "uncool" by the day? His response: "Grapes like Grenache, Syrah, Mourvèdre, etc. all make great rosés, but I like doing things differently and turning heads. I figured if I could make a good dry rosé out of Zinfandel, it might change some minds."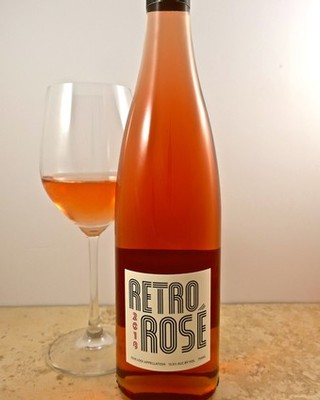 In other words, Klouda is on some sort of mission – even if, as one of the tiniest of tiny producers (small even by standards in Lodi, where most wineries produce less than 10,000 cases a year), he might be, at this point, jousting at windmills. Nonetheless, Klouda is of serious, even altruistic, mind, which is connected to his day job (which he won't be quitting anytime soon) as a viticulturist for the relatively giant sized Michael David Winery. The winery's agricultural arm, Phillips Farms, has been so intent in stopping the bleeding insofar as the loss of more and more old vine Zinfandel plantings in Lodi, they have recently been buying up old vineyards just to save them.
Says Klouda: "I think that Zinfandel is a fantastic grape and very versatile. It makes delicate wine, and it can make robust wine. It's great as a stand-alone or can help out in a red blend. I think Retro Rosé shows it can make great rosé as well. With that being said, we are losing more and more acres of old vine Zinfandel every year because, frankly, there is not much of a market for it right now, and prices are low. However, sales of rosés are through the roof, with no end in sight. So why not turn some of this Zinfandel into rosé to help keep these old vines in the ground a little while longer? White Zinfandel saved the old vines once before, and I personally feel like it's time for it do to it again."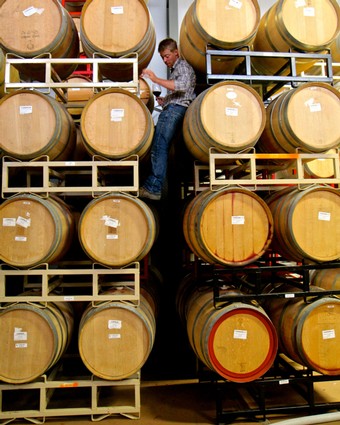 Because it is our wont, let us recall the recent history of the California grape and wine history that Klouda is talking about. The late 1970s and early 1980s were a time when many California wine lovers were weaning themselves from generic wines like "Chablis" and "Burgundy," and were suddenly discovering premium varietals such as Cabernet Sauvignon, Chardonnay and Sauvignon blanc. Subsequently, leading wineries such as Robert Mondavi began dropping Zinfandel from their line-ups, and scores of new wineries were founded with the specific objective of specializing in these "new" varietals. And this was even before Merlot and Pinot noir became major varietal categories.
In 1975, however, Sutter Home Winery – which, in the early '70s, had been producing dry style pink wines from Zinfandel through the old French process called saignée ("bleeding" off lightly colored juice from fermenting red wine vats) – unintentionally had a fermenting tank of pale colored Zinfandel juice get "stuck" (meaning, a little bit of residual sugar was left unfermented). But rather than throw it down the drain, they bottled the slightly sweet White Zinfandel as-is, and suddenly they had a wine that customers were going crazy for. Being of shrewd mind, the winery began producing more and more of this slightly sweet pink wine, while also dialing up its sweetness and fruitiness. Other wineries jumped aboard the gravy train; and voilà, the White Zinfandel craze was born.
Vintage label for early '70s, dry style Sutter Home White Zinfandel (then called "Oeil de Perdrix")
But not, mind you, that this was actually a new thing for California. Did you know that the first, historic commercial White Zinfandel was actually made... in Lodi? In his book, Zinfandel – A History of a Grape and Its Wine, Charles L Sullivan wrote about Lodi's earliest days of winegrowing, during the 1860s:
... north of Stockton in the Lodi area of San Joaquin County, the production of acceptable table wines was a possibility. George West had been doing it since the 1860s at his El Pinal Winery. And Zinfandel was one of his favorite varieties... West had also started making "white" Zinfandel, a pink wine, from his free-run juice in 1869. This was so successful that in his 1884 report viticultural commissioner Charles Wetmore specifically recommended that Zinfandel be classified a white wine grape in San Joaquin County and praised its wine there for its "delicate" flavor.
In his book Sullivan also makes note of the "swift rise to fame" of California White Zinfandel more than 100 years later during the 1980s, saying: "Score one for George West and Commissioner Wetmore!"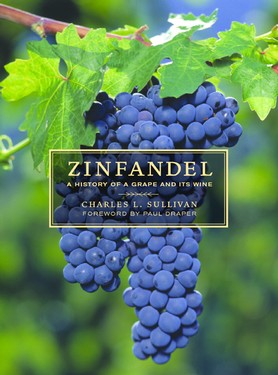 What the more recent White Zinfandel craze did was stave off the demise of Zinfandel in Lodi as well as other regions such as Napa Valley, Sonoma County, Mendocino, Paso Robles and the Sierra Foothills. Growing interest in red Zinfandels during the 1990s, of course, added to the appreciation of many of the more venerated old vine plantings throughout the state.
Today, however, these old vines in Lodi are once more in danger – not only because of plummeting sales of White Zinfandel, but also because of sinking sales of red Zinfandel in the $12-and-under market ("jug" wine territory). Strangely enough, $18-and-up red Zinfandel sales are still on the rise, although not quite fast enough to sustain many of our Lodi growers who have been farming much of their Zinfandel all these years for value-priced wine production. If, say, the market calls for no more Zinfandel and more Cabernet Sauvignon, Petite Sirah or Sauvignon blanc, then out goes the Zinfandel and in comes more Cabernet Sauvignon, Petite Sirah or Sauvignon blanc. Sort of like a vinous circle-of-life thing.
Michael Kouda, however, is not to be deterred, even though he has seen other premium Lodi producers, such as McCay Cellars and Heritage Oak Winery, recently try their hand at producing dry style pink Zinfandels, only to give up after one or two vintages. Says Klouda, "I thought Mike McCay's White Zinfandel was pretty good, and it got me thinking – if I'm going to make a rosé, why not Zin?"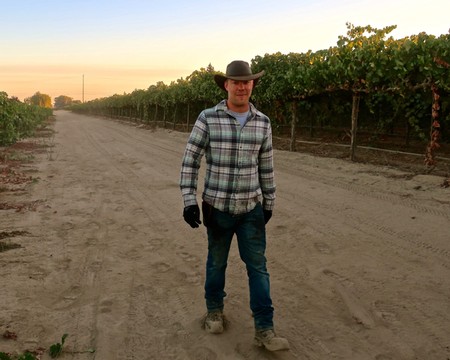 Klouda adds that he is calling his wine "Retro" because it harkens back to the days, not so long ago, when "White Zinfandel was all the rage... Retro Rosé is meant to be a throwback to those times when people where unashamed of their White Zin... I just happen to make mine in a dry style instead of sweet."
The grapes going into Klouda's retro-inspired pink Zinfandel were sourced from young (less than 5 years old... and yeah, Lodi also has locos still planting new Zinfandel), trellised vines on the m2 Wines estate, just south of W. Peltier Rd. along the railroad tracks. Says Klouda: "We picked right around 23° Brix (i.e. sugar reading). I wanted to have lower alcohol and also keep as much of the natural acidity as I could. Zin tends to raisin up a little if you hang it too long on the vine, and I didn't want any of those bigger flavors in my rosé. I just wanted to keep it light and fresh.
In the winery, Klouda fermented the wine fairly cold in a tank at 52° F. The wine took nearly five weeks to go all the way to dryness. Adds Klouda: "I used a yeast strain that does great at low temperatures and retains acid and freshness. I also kept the wine on lees (i.e. dead yeast cells) as long as I could and racked it about one month before bottling" – and the wine saw no time in oak barrels, going directly into the bottle."
When asked how he describes his own wine, Klouda said: "I am not great at tasting notes, and I don't believe in telling people what they taste in a wine. Let's just say that Retro Rosé is a crisp fruit driven wine with nice acid and a creamy, long lasting finish. But don't take my word for it."
Buy the wine to find out for yourself, and help save Lodi's old vine Zinfandel plantings!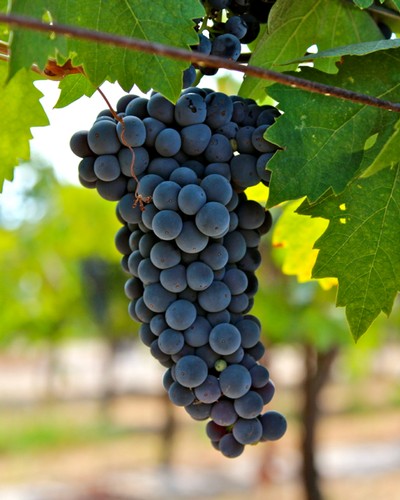 Comments