Letters from Lodi
An insightful and objective look at viticulture and winemaking from the Lodi
Appellation and the growers and vintners behind these crafts. Told from the
perspective of multi-award winning wine journalist, Randy Caparoso.

October 23, 2018 | Randy Caparoso
Michael David's new Politically Correct red continues to shake things up in Lodi's wine industry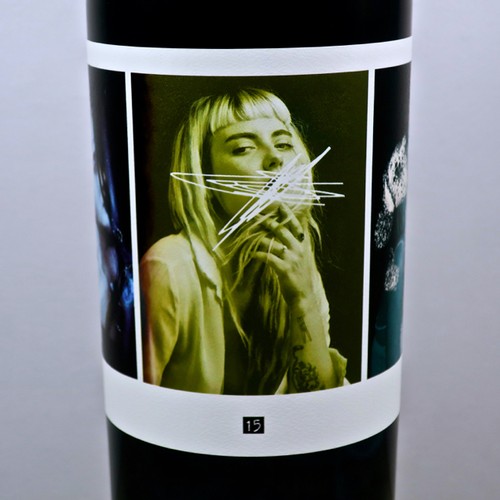 Bold, decisive strokes. That's what's turned Lodi's Michael David Winery from a modest (2,000-case), local winery in 2002 to a million-case winery producing wines sold all over the world in 2018.
With yesterday's news that Michael David Winery has sold their eponymous brand, 7 Deadly Zins, to the The Wine Group (TWG) – a Livermore-based management-owned company that also controls Cupcake, Franzia, flipflop, Almaden, Big House, Benzinger Family, Glen Ellen, Mogen David and even more brands – it has become clear that more changes are afoot at Lodi's most widely known family-owned winegrowing/winemaking company.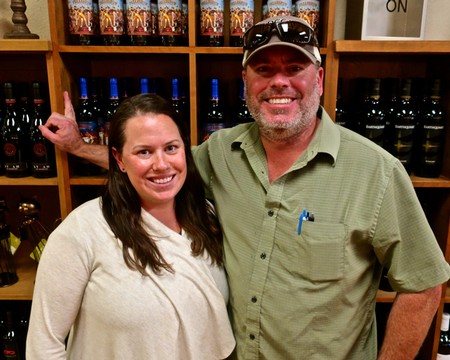 And one of those shifts is already on the shelves at Michael David's tasting room on California Hwy. 12/W. Kettleman Ln. Something that is very "Lodi," yet at the same time, takes a different direction from other Lodi grown wines.
Motivated, in part, by her family's hankering to shake things up, Michael David Winery V.P. of Sales & Marketing Melissa Phillips Stroud (daughter of Co-Owner/CEO Mike Phillips and sister of V.P. of Operations Kevin Phillips) has spearheaded a new concept for a red wine, just in time to get you through 2018's harrowing political season: the 2015 Michael David Lodi Politically Correct ($49).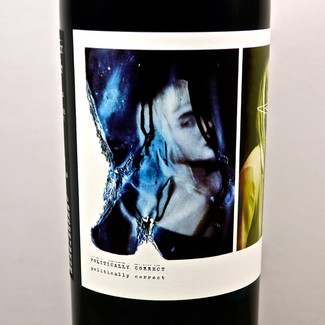 One look at the bottle tells you that something different is up. The glass is hefty and broad-shouldered – typifying many of today's "serious" reds – but the images on the label are practically a slap on the face. It's like, wake up and smell... this defiant wine, which is black as night, and far more brooding than what you usually expect out of Lodi grown reds (which, face it, are usually all about round, lush, super-friendly, accessible fruit, even when dark and intense).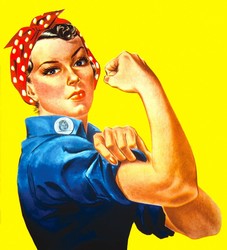 The Politically Correct's nose has a strong sense of concentrated, dark berries with elegant, cedary flourishes (old-timers: think of the comforting scent of cigar boxes you may have used to carry your pencils in elementary school); and the feel is densely muscled and gripping with Rosie-the-Riveter tannin, while also notably zesty with acid driven, black and blue fruit that literally smack the lips. A wine that leaves you slightly bruised, while begging for more.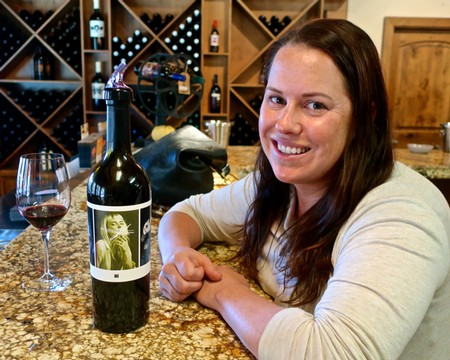 So of course, the sixty-four-thousand-dollar question: What makes this wine "Politically Correct?" We asked Ms. Stroud, who explained:
"I first came up with the concept of a 'Politically Correct' wine a few years ago, when I was working towards my certificate in wine business management at Sonoma State, and one of my assignments was to create a business plan for a product that can work in today's market, and meet the expectations of today's society. At first, I thought a wine with a blank label might work, because it seemed to me that to make a wine that makes any kind of political statement to please everyone, you really can't make any statement at all.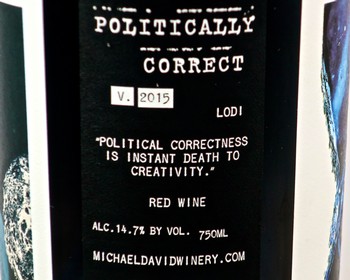 "To be actually 'politically correct' these days, you have to be careful about what you say. Someone else said that 'political correctness is instant death to creativity,' and so we put that saying right on the label. When you try too hard not to offend anyone in the market, you end up not pleasing anyone. Of course, we haven't been following that rule at Michael David.
"For example, one of our most popular brands is Petite Petit, which features a label with two circus elephants. We've actually had complaints that the label shows insensitivity to animal cruelty, when all we wanted to do was to create a fun wine from two 'big' varietals, Petite Sirah and Petit Verdot. Most of our consumer base loves it, but you can't please everyone.
"When I brought the idea of a Politically Correct wine to the Michael David marketing team, they thought this could be another good thing to have some fun with. The winemaking staff also liked it. They suggested a Bordeaux style red; only, going in a different direction from the Cabernet Sauvignons we've already been bottling under the Rapture, Earthquake and Freakshow labels.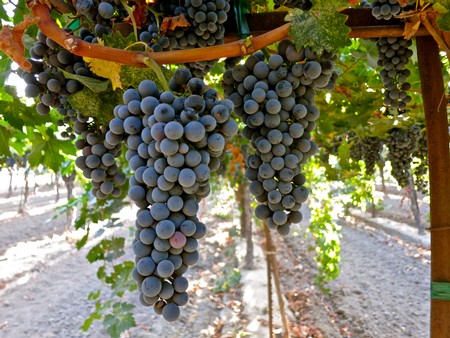 "Although our entire Michael David line has been very successful, I thought there was plenty of room to develop a Bordeaux style red that appeals to a slightly different segment of the market. A major part of it would be an edgy, artistic, avant-garde style packaging that reaches out to a new audience, different from our established Michael David customers. In doing so, I feel we are recognizing the diversity of wine lovers that we have out in the market. Not everyone is the same – we come in different colors, all kinds of preferences, tastes, identities. By reaching out, I think this is what being 'politically correct' is all about. At least in today's society.
"Our winemaking team, led by Jeff Farthing, came up with the idea of moving away from Cabernet Sauvignon, with more emphasis on the other four Bordeaux grapes. There would also be no Petite Sirah, which has played a major part in all our Michael David reds; plus less emphasis on new oak and more on neutral wood, on top of higher acidity to achieve more food friendliness.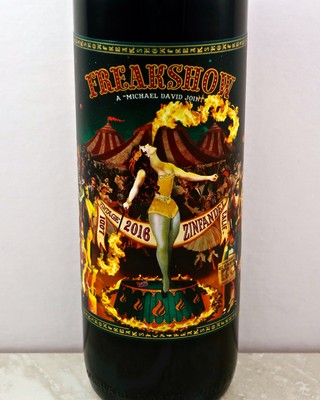 "This, by the way, is also the direction we have gone with our latest version of Zinfandel, under a Freakshow label – it's a $19 Zinfandel with less Petite Sirah, less oak, and higher acid for better food matching. I think it's about time we did that."
To get more of the wine geeky details, we queried Michael David winemaker Jeff Farthing on the making of the 2015 Politically Correct. According to Farthing:
"When presented with the idea of doing something called Politically Correct, I took it as an opportunity to do something different from our other Cabernet Sauvignon based reds. We have, as a matter of fact, all six red Bordeaux grapes in our vineyards – including Carménère, Malbec, Petit Verdot, Merlot, Cabernet Franc and, of course, Cabernet Sauvignon. Our Carménère, however, is still coming off of a new planting, and the fruit from our first two vintages (2016 and 2017) has not been fitting in with the blends – a little too much of the green peppery taste for which Carménère is known.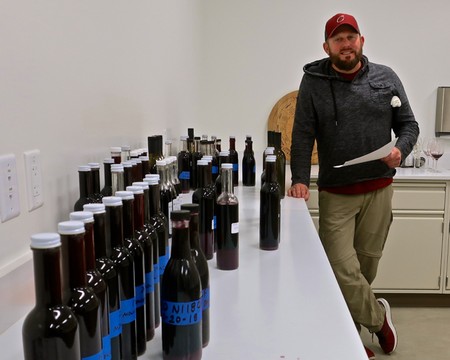 "But we did come up with some really nice blends consisting mostly of Cabernet Franc, which makes up 50% of the 2015 Politically Correct. It still has a good proportion of Cabernet Sauvignon (35%), and small amounts of Malbec, Petit Verdot and Merlot (5% each). What's different, as Melissa mentioned, is there is no Petite Sirah, which has pretty much supported every other red wine for which Michael David has been known – Freakshow, 7 Deadly Zins, all the Earthquakes, and so forth.
"When talking with Melissa about what a Politically Correct red should be, the word 'elegant' kept coming up. Frankly, the red wines Michael David are known for have been more along the lines of big, bold, concentrated, super-extracted – characteristics that the use of Petite Sirah can give you. While there's nothing wrong with that, I think the sales and marketing team was looking for something else; and having worked in Napa Valley, I was already totally comfortable with a wine that utilizes only Bordeaux varietals.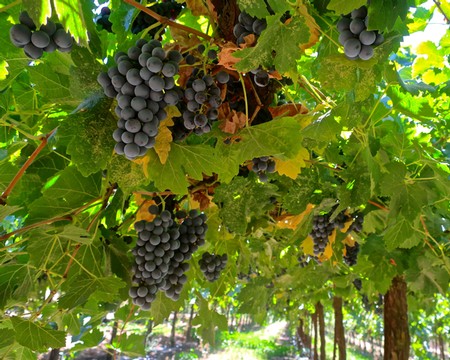 "There are also some beautiful French oak qualities in the wine, but not nearly to the degree as in our other wines. I think the use of new French oak is closer to 33% in the Politically Correct, plus some 1-year old barrels and even more neutral oak, which I define as barrels that are 4 years or older.
"Above all, I think Politically Correct shows off the beautiful Cabernet Franc fruit we can grow in Lodi. The wine is still intense with tannin and color, since grapes like Cabernet Sauvignon and Petit Verdot add quite a bit of that in the blend. But the great thing about Lodi is that we have the moderate climate without the marine layer in the morning that regions closer to the coast see. So our grapes enjoy exposure to sunshine from sun-up to sundown. The result is that we can grow beautifully intense, balanced Cabernet Franc, without any of the green, vegetal qualities – which come from excess pyrazines (a.k.a. methoxypyrazines) – that typify Cabernet Franc grown in most regions.
"And that's what really makes the Politically Correct; at least from the winemaking perspective. It's a departure from what we've done in the past, but it's still different from what everyone else is doing – mostly because it's something we can do in Lodi, but other regions really can't!"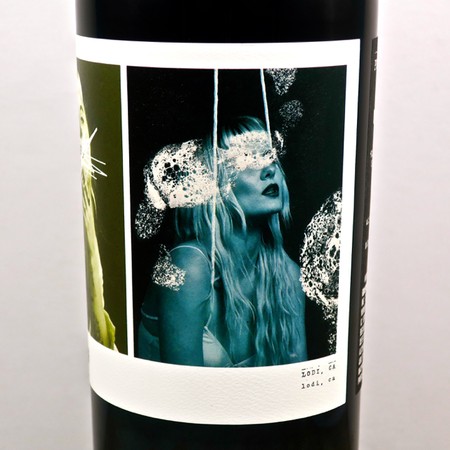 Comments