Letters from Lodi
An insightful and objective look at viticulture and winemaking from the Lodi
Appellation and the growers and vintners behind these crafts. Told from the
perspective of multi-award winning wine journalist, Randy Caparoso.

February 1, 2016 | Randy Caparoso
MK Zinfandel - agonies and ecstasies of micro-scaled wine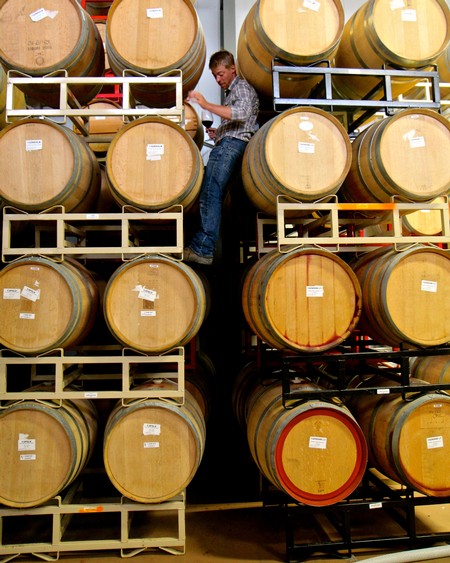 In the world of wine, there are always Davids and Goliaths.
Michael David Winery, for one, has been flexing considerable muscle of late as one of Lodi's most dependable producers of premium wine. They certainly have turned into one of our largest: as of this date, some 700,000 cases of wine produced each year; bottled under myriad sub-brands, such as Earthquake, Inkblot, 6th Sense, Freakshow, Petite Petit, 7 Deadly Zins, Lust, and Rapture.
The Michael David labels have an undeniably eye-candyish appeal, but make no mistake: it is the quality of the wines in the bottle that have driven the winery's success, which has also led to their most recent industry-wide accolade as 2016 Winery of the Year at last week's Unified Wine & Grape Symposium.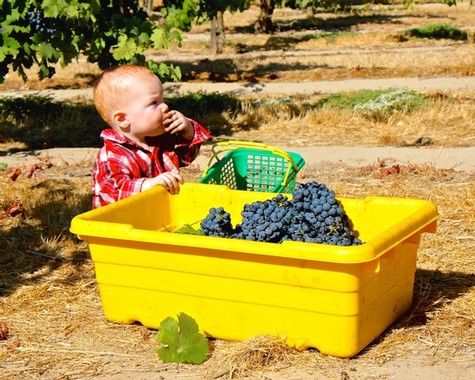 Michael David Winery might look like a giant, but compared to other Lodi based wineries they are relatively puny. Woodbridge by Robert Mondavi, by comparison, produces over 10 million cases each year. On the far western edge of the Lodi AVA, Trinchero Family Estates (consisting of Sutter Home, Ménage à Trois, Trinity Oaks, Napa Cellars, and other popular brands) has recently completed their Trinchero Westside facility, which turns out over 20 million cases of wine (with projected growth of another 10 million cases by 2023).
Still, out of the 80-plus physical or virtual wineries operating in the Lodi area today, a good majority is producing well less than 12,000 cases of wine each year. This includes leading established brands such as The Lucas Winery, Harney Lane Winery, McCay Cellars, d'Art Wines, m2 Wines, and Oak Farm Vineyards. Others, like Mettler Family Vineyards and Klinker Brick Winery, hover around 30,000 cases.
Then there are the true Davids, such as Michael Klouda Wines, a.k.a. MK Wines. According to owner/winemaker Michael Klouda, production is closing in on 300 yearly cases. Stop the presses. Seriously, though, this represents a giant step for this producer, who was crafting just 75 cases worth of wine two years ago.
An argument can be made, of course, that if you can't make good wine at a microscopic level, then you probably have no business trying. Thank goodness, Mr. Klouda's latest release – the 2014 MK Broken Vine Lodi Zinfandel ($26) – is more than good. It is wonderful, in its own stubbornly low-key, yet bright, zesty, refreshingly transparent way. A miniature icon.
It is often the quiet wines that carry the biggest schtick. The MK's boon is that it is an unembellished iteration of Lodi grown varietal fruit – a warm fruit compote of raspberry and blueberry, tinged with a floral, almost violet-like perfume, with whiffs of sweet tea and faintly dusty earthiness – couched comfortably upon a slim medium-weight body, taut with springy acidity, and gentle in its moderate fruit (as opposed to blundering oak) tannin.
In this world of bigger-than-thou-wine-upmanship, it's nice to find a wine comfortable in its own grape skin: grown in one particular old vine growth, and tasting like it.
When you're small, serendipity also plays a part in your product. According to Mr. Klouda – who holds down a day-job as a viticulturist for Michael David Winery's Phillips Farms – half of this Zinfandel was originally slated to go into the minimalist style 2014 Lodi Native project. He tells us, "I native yeast fermented two and a half barrels following Lodi Native protocols, and another three barrels with cultured yeast – all from the 65-year-old Schulenburg Vineyard.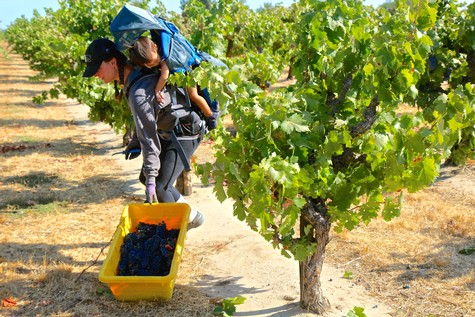 "I liked the Lodi Native half better – it had a richer mouth-feel, more body and fruit expression, probably because that portion was picked in a better part of the vineyard. So rather than bottling the two separately, I decided to combine them to make a better wine."
The Broken Vine moniker refers to Mr. Klouda's first agonizing, coming-of-age experience in Lodi: when, as a 22-year-old field laborer, fresh out of the cornfields of Ohio, he accidentally knocked over a 60-year-old Zinfandel vine with his tractor while mowing between the rows of Bob Schulenburg's vineyard off Moore Rd., on Lodi's west side. That was in spring of 2009. Six years, seemingly like six decades ago.
As the proverbial pages flutter from the calendar, you can see why it's often said that great things can come out of small, even ignoble, beginnings. From the tractor-worn seat of his pants, Mr. Klouda has developed a keen instinct for what constitutes "Lodi Zinfandel," which he executes with an acute sense of restraint – absent, that is to say, a usual winemaker's compulsion to stomp on that thang with flamboyant oak, overweening ego or compulsive ambition.
Picking Zinfandel grapes early - usually well before everyone else in Lodi - has been part of MK's MO. Faith in the grape's, and region's, ability to exude varietal charm, not to mention more natural acid balance, at lower degrees of ripeness has been paying off. Then again, there was a time when all Lodi Zinfandel vineyards were picked at lower sugars (when 13% alcohol wines were considered "big"). Mr. Klouda is simply turning back the hands of time. Sometimes it's good to not remember the distant past and being able to repeat it. Wine can be funny that way.
If you are interested in the same things - good, modestly scaled Zinfandel that tastes like where it comes from - then you might want to look into the labors of this David-sized producer.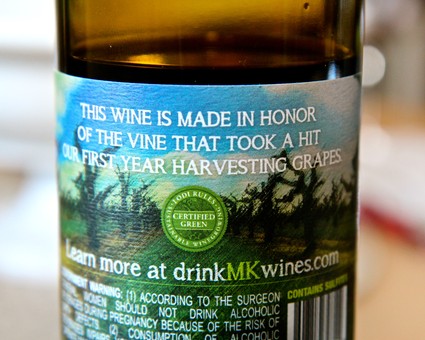 Comments