Letters from Lodi
An insightful and objective look at viticulture and winemaking from the Lodi
Appellation and the growers and vintners behind these crafts. Told from the
perspective of multi-award winning wine journalist, Randy Caparoso.

July 20, 2015 | Randy Caparoso
Lodi's stoned dry, soulful rosés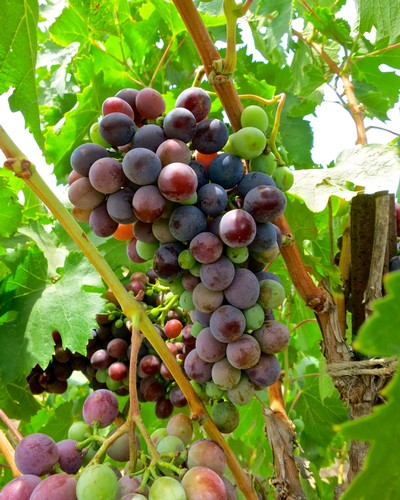 Bechthold Vineyard Cinsaut (ancient vines planted in 1886) during July 2015 veraison; source of some of the finest roses in California
Summer, as many Lodi wine lovers well know, is the time for backyards brimming with tinkles and laughter, hovering hummingbirds, and the pungently earthy scent of golden paellas or the wispy gray smoke of grilling vegetables and marinated white or red meats; the heat bending the optics of multi-colored flora through the dappled shades and blinding rays of sun penetrating through the typically towering trees nourished by our fertile Delta soil.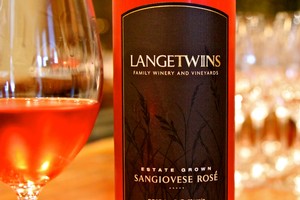 Our high season afternoons can be like Mediterranean ovens, as tyrannical as Tuscany's or as palatial as Provence's; but predictably, soothingly, cooling breezes kick up from the Delta islands to the west like magical rescue-genies from pent-up lamps towards the end of each day, when the light on sun drenched sidewalks transition into milder, deeper golds, and we close our eyes... raise our glasses to our lips and enjoy what, perhaps, the Lodi earth produces best for these summer moments: cool, refreshing, dry rosés.
And why not? Classic, modern day styles of rosé are not just much dryer and sleeker than the gooey-sweet, mushy styles of "vin rosé" many of us drank during yesteryears long past. They are also typically crafted to retain the titillating, tart sensations of natural grape acidity; at the same time, with the natural, gushy fruit qualities of high class black skinned grapes – since the best rosés are always made from the same, gently pressed grapes that are primarily used to produce red wines (hence, the pink colors and fruity flavors derived from pigments and flavonoids in the skins of noble grapes such as Grenache, Syrah, Mourvèdre, Carignan, Cinsaut, Sangiovese, Barbera, etc.).
The best rosés, in other words, are basically red wines gussied up to be light and refreshing like white wines. In that sense, the wine world's ultimate cross-dressers; possessing the strength and audacity to go with meaty, even fatty, foods, yet delicate, chill and sprightly enough to freshen the sun parched palate and dance with the lightest, crunchiest, sharpest foods as well as notorious "wine fighters" such as artichokes, salad vinaigrettes, fiery sambal or salsa laced dishes.
Really... what doesn't taste absolutely fantastic with a good, dry rosé? Sushi and sashimi, tartare and tuna, meatloaf and meatballs, salmon and spiedini, salade Niçoise and salade Hidden Valley®, pasta primavera and lazy pasta Boyardee, shrimp 'n grits and fish 'n chips, baby back ribs and shake 'n baked chicken... you name it, dry rosé handles it with ease. It's good to be pink.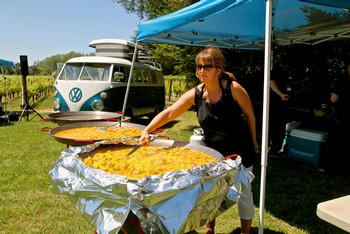 Backyard paella in Lodi
Having stated our organoleptic peace, here are six of our favorite Lodi grown rosés at this very moment, along with the reasons why we think each is as good as any rosé in the world:
2014 McCay Cellars, Lodi Rosé ($18) – There are a number of things that make this rosé special. First, it comes primarily from 110-year old Carignan vines – one of Lodi's truly rare and unique viticultural treasures – along with a smidgen of Grenache. Second, McCay Cellars owner/winemaker Mike McCay works as hard on the crafting of his dry pink wine as he does with any other of his wines – starting with whole cluster pressing on the gentlest setting, transferring the juice into stainless steel "barrels" held in cold temperatures for over a month, then very slow (about 30 days) fermentation on 100% native yeast. The result is a sleek, finely delineated wine; as naturally tart as a high season strawberry, luscious as a white peach, feathery as a rose petal, and as dry and faintly earthy and dusty as, well, a typically balmy Delta summer day in Lodi. What's not to like?
2014 Onesta Wines, Bechthold Vineyard Lodi Rosé of Cinsaut ($22) – Anyone doubting the premise that Lodi produces rosés that are a cut above most other rosés from elsewhere in the world need look no further than here. There is both sensory and historical significance here in this a bone-dry wine made from 128-year-old, own-rooted Cinsaut vines in Lodi's Bechthold Vineyard – a national treasure, and the oldest block of vines amidst a sea of ancient vines. In appropriate fashion, Onesta winemaker/owner Jillian Johnson DeLeon lavishes meticulous details; crafting a light-medium bodied wine that is dry yet plush, tender, delicate and pinpoint on the palate – effusive with compellingly airy fragrances suggesting strawberry, baking rhubarb, mild yet pervasive whiffs of loamy earth, gravel, and the proverbial breezes from the South.
2014 Bokisch Vineyards, Linden Ridge Vineyard Lodi Rosado ($16) - If you like your rosés desert dry, zesty, and light to medium bodied (12.5% alcohol) rather than fat, overly fruity and plodding, Bokisch Vineyards' latest edition is tailored-made for you. Fashioned 95% from the Garnacha grape, with 5% Graciano – the latter, an earthy, exotically scented, voluptuously rounded black skinned grape – this rosado has the dramatic olé of a matador's cape, and the rattling spike of a bailarina de flamenco's heel. That is to say, a stilleto dryness penetrated by lush, aromatic fruit suggesting drippy strawberry guava; and fluid, mouth-watering sensations recalling the zing of fresh raspberry, with the bracing edge of cranberry and pomegranate.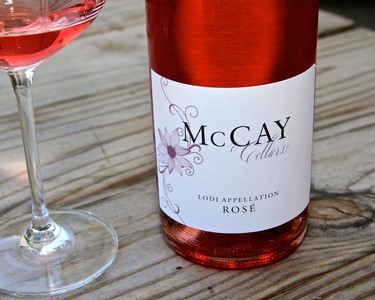 2014 Acquiesce Winery, Lodi Grenache Rosé ($18) – This pale pink, bone-dry, delicate style of rosé is very much inspired by the Provençal (or "Rhône") styles of dry pink wines of Southern France, and makes us absolutely salivate for brothy shellfish laced dishes like bouillabaisse, cioppino, and tarragon laced mussels. Pure stainless steel fermented Grenache; achieving a soft, fleshy, round yet pliant, delicate feel; at the same time, bursting at the seams with strawberryish fruit, tinged with black pepper spice, faint loaminess, and crinkly rose petals in potpourri.
2014 LangeTwins Family, Lodi Sangiovese Rosé ($15) – Here is a ginger haired stunner made from a classic Italian grape that grabs us by the color and shakes our culinary world with its deft, effortless food-versatility (especially sea salt scented seafood pastas and fresh herb pizzas!). Sleek, slinky, and dry as a bone, yet brightly aromatic in lush strawberry fruit, hinting at rosehip and berry infused tea; underlined by medium bodied palate sensations as wet, zippy and exhilarating as the flesh of blood oranges.
2014 Klinker Brick, Lodi Rosé ($15) – It is soooo hard to go wrong with this classically styled dry rosè: a rusted pink blend of the familiar Southern French grapes (Grenache with Carignan, Mourvèdre and Syrah), combining to hit harmoniously aromatic notes of refreshingly watermelony, honeydew-ish, pink grapefruit-like fruit tinged by whispers of wet stone earthiness and neatly tied in a nimble medium-weight body, tarted up by mild citrusy sensations, finishing soft, round... easy as summer mornings.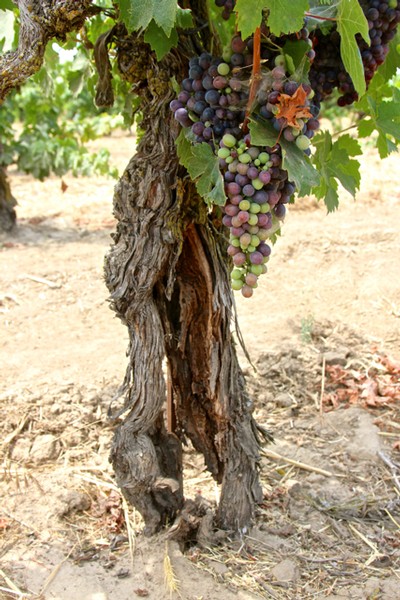 129-year-old Bechthold Vineyard Cinsaut during July 2015 veraison
Comments