Letters from Lodi
An insightful and objective look at viticulture and winemaking from the Lodi
Appellation and the growers and vintners behind these crafts. Told from the
perspective of multi-award winning wine journalist, Randy Caparoso.

August 20, 2015 | Randy Caparoso
Lodi's foreign legion (part 2)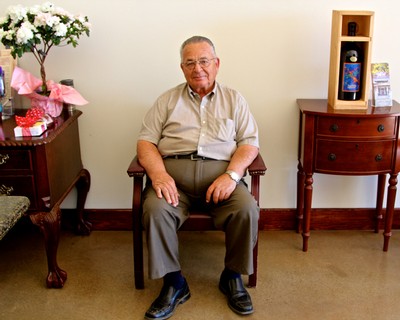 Stama Winery owner/grower Konstantino "Gus" Kapiniaris
Continuing our stories of outstanding growers and winemakers born in far flung places, and now fully immersed in the Lodi Viticultural Area's rich culture of winegrowing:
Konstantino "Gus" Kapiniaris – Owner/Grower, Stama Winery
For Konstantino "Gus" Kapiniaris, the opening this past spring of his stunning, Mediterranean inspired Stama Winery and tasting room on Lodi's west side is the culmination of a journey that began in October 1966, when he first arrived (by way of Canada) in the Delta region, the youngest of six siblings born and raised in Koroni, a small fishing village in Southern Greece's Peloponnese.
"When I first came to California," says Mr. Kapiniaris, "I took one look around and said, 'My God, this is where I want to stay forever.'" Although Mr. Kapiniaris first worked as a machinist, and then as an independent restaurant owner (from 1979 to 1994), the goal from the beginning was to own a vineyard and make wine – a Kapiniaris family tradition in Greece going back four previous generations.
In 1987 Mr. Kapiniaris was finally able to purchase his first 30-acre vineyard on the east side of Lodi, and began selling his wine grapes to large commercial wineries. Since then the Kapiniaris family has expanded their vineyard operations to four more properties on Lodi's east side, now totaling 210 acres. The first vintage under his own Stama Winery label was bottled in 2005.
Stama is short for Stamatelopoulus, a legendary Greek patriot who is said to have escaped from captivity from Ottoman Turks by breaking chains holding him to a stone wall. For the Kapiniaris, these chains – also depicted on their Stama labels – are also symbolic of the freedom and passion they have found in the U.S.
Mr. Kapiniaris's son, Frank Kapiniaris, is also very much involved as the Stama Winery General Manager. According to the younger Kapiniaris, "When I was a boy, my father told me that no matter what, I must make wine, from our own grapes, to honor the family's tradition, which goes back five generations before me. It is unbelievable, but now that dream has come true!"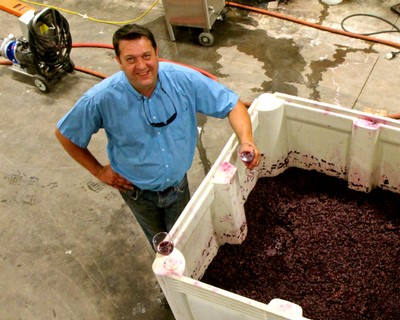 Franck Lambert – Winemaker, Stama Winery & Watts Family Winery
Monsieur Franck Lambert, who was born in Southern France and educated at University of Montpellier (where he attained a Master's degree in winemaking), is one of those super-talented winemakers who consults for several wineries at a time. In this fashion, he has been a quiet yet influential part of the Lodi winemaking community over the past 13 years.
After plying his craft in France's Alsace, Bordeaux and Languedoc regions, as well as a short time in South Africa, Lambert arrived in the Lodi wine region in 2002 to be part of Michael David Winery's rapid (or rather, explosive) expansion. As Michael David's Senior Winemaker, Lambert was an integral part of the team perfecting wines like 7 Deadly Zins and Earthquake, helping to take the Phillips family's winery from just 10,000 cases in 2002 to over 350,000 cases by 2010.
Over the past four years Lambert has branched out as an independent; lending his prodigious talents to Oak Farm Vineyards during its formative years, and today, to Watts Family Winery and Stama Winery. When you taste a Watts Family or Stama label wine, you can always expect impeccable balance and bright, buoyant stylishness - reflecting the unerring hand of this French born winemaker as much as the giving quality of Lodi grown fruit.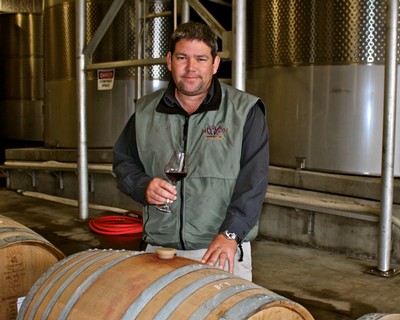 South African-born Peltier Station winemaker J.C. van Staden
J.C. van Staden – Winemaker, Peltier Station
J.C. van Staden was born and raised on a game farm in South Africa, where his family raised cattle, sheep and game. According to van Staden, he grew up riding bulls, wrestling crocodiles and catching warthogs – and that was for fun.
It also seems that he was born to raise cane; or rather, every crop imaginable, including table grapes, which he was doing by the time he was 14, This eventually led to his taking a summer job at a well established South African winery called Robertson at the age of 19.
After beginning his career at Robertson Winery, Mr. van Staden joined the prestigious Boekenhoutskloof Winery in Franschhoek, South Africa. He still jokes that he made wine at Boekenhoutskloof until he grew sick of having to explain how to pronounce its name.
And so Mr. van Staden branched out even further: first with short stints in France, and finally, coming all the way to Lodi to take a job at Michael David Winery in 2003. The winemaking position at Peltier Winery became available in 2005; which he admits being compelled to take because of the possibility of a little more personal creativity.
Since then he has helped Peltier Station attained its solid rep for big and powerful reds – just the way Mr. van Staden likes it – including an amazingly original, deep, if somewhat austere, Lodi estate grown Teroldego.
You can take a winemaker out of South Africa, but evidently you can't quite take the South African out of Mr. van Staden: his favorite activity, aside from turning grapes into liquid gold, is now playing and coathing sports with his two kids - rugby, of course.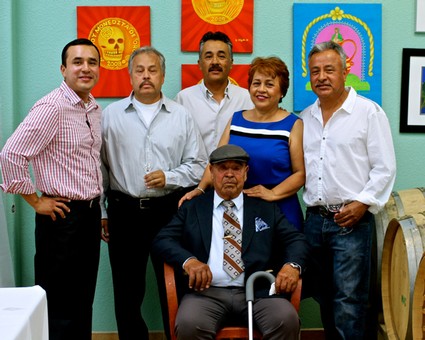 The Anaya family of Venedos Aurora: Victor Anaya Rocha (seated) with (from left) Gerardo Espinosa, Armando Anaya, Gerardo Anaya, Leticia Anaya, and Ramon Anaya (missing: Victor Anaya Jr.)
Anaya Family – Viñedos Aurora Winery
The wines of Viñedos Aurora – headlined by powerful Cabernet Sauvignons and a manly, aromatic Petite Sirah – take a back seat to no others in Lodi.
Theirs is also a great American story, which begins with the grandfather of winemaker Gerardo Espinosa, Victor Anaya Rocha, who first came to the Stockton/Lodi area from Michoacán, Mexico to work the fields in 1944. For several decades, Anaya Sr. – Don Victor, as the family now calls him – traveled back and forth between California and Mexico. He successfully raised four sons – Victor Jr., Ramon, Armando and Gerardo Anaya – all of whom earned degrees in agricultural engineering from the University of Michoacán.
Viñedos Aurora winemaker Gerardo Espinosa is the son of Anaya Sr.'s daughter, Leticia Anaya. Like his grandfather and uncles before him, for much of his life the younger Gerardo traveled back and forth between San Joaquin Valley and Michoacán before finally staying put and finishing school at Lodi's Tokay High, then later earning a degree in architecture.
Typical of countless immigrant families who found success by pooling resources, the four Anaya brothers transitioned from agriculture to owning and operating retail and restaurant businesses in Downtown Lodi. Yet farming was in their blood; and so in 1998, the Anayas purchased and broke ground on 40 acres of prime vineyard property east of Lodi in the Clements Hills AVA, planting Cabernet Sauvignon and Petite Sirah. Since then, they have added another 50 acres of wine grapes on a nearby ranch.
But like many growers in Lodi, the Anaya brothers anticipated the need to take destiny into their own hands, and began to make their own wine from their vineyards in the classic garagistes ("garage") tradition, starting with Petite Sirah in 2002. The younger Gerardo jumped in with both feet in 2007; focusing more on the family's winemaking ambitions while continuing to work for a prestigious Stockton architectural firm.
After a 2008 vintage of their estate grown Petite Sirah earned a double-gold in the California State Fair Home Wine Competition, the family decided to go commercial: launching Viñedos Aurora – named for Victor Anaya Sr.'s wife Aurora (while also expressing the idea of a "vineyard" that sees "first light of day" on the eastern side of Lodi) – was born.
Says Espinosa, "When I started making wine with my uncles, it was all about honoring our roots and traditions – especially the hard work my family did to get to where they are today. It all started with my grandfather, who was only 15 years old when he first started working as a bracero in the fields. The entire time he spent going back and forth, he dreamed of owning his own land – not just in Mexico, but also in California."
The Anaya family has accomplished all of that, and much more – something you can taste in every rich, suave, satisfying bottling of Viñedos Aurora wine.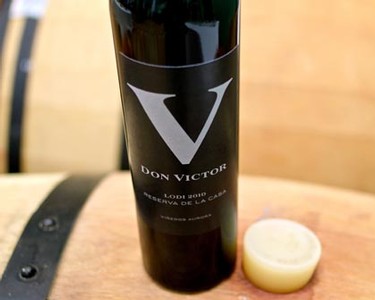 Vinedos Aurora Don Victor Reserva de la Casa Cabernet Sauvignon
Comments