Letters from Lodi
An insightful and objective look at viticulture and winemaking from the Lodi
Appellation and the growers and vintners behind these crafts. Told from the
perspective of multi-award winning wine journalist, Randy Caparoso.

December 26, 2016 | Randy Caparoso
Lodi's diversity of wines is perfect for New Year's party dishes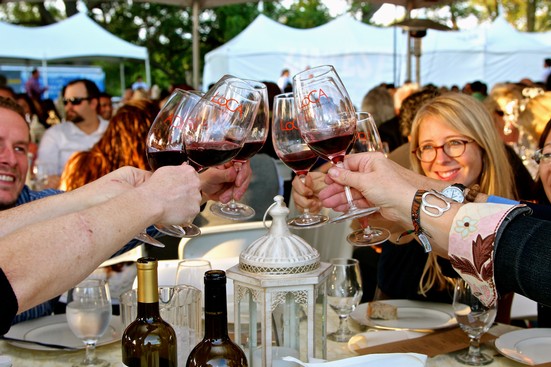 Planning a New Year's Eve or New Year's Day get-together with family or close friends?
With holiday cheer still lingering in the wintry air, a warm kitchen beckons, firing up the senses. We're in the mood to roll up our sleeves and do some cooking, but at the same time we want our party dishes to be as simple or do-ahead-able enough as possible in order to focus most of our attention on what really matters: spending time in good company, preferably with equally friendly wines.
With a leisurely spin through the internet, we have come across a number of fun, entertaining, delicious reading dishes inspiring a number of great ideas pertaining to wines – specifically Lodi grown wines, of course.
Because this is the beauty of Lodi wines:
• Food-friendly diversity (Lodi is a heckuva lot more than just about Cabernet Sauvignon, Merlot, Chardonnay and Pinot Noir),
• Unbeatable value (especially if austerity happens to be a New Year's resolution... why scrimp on pleasure?),
• And exceptional ease of drinking (smooth, rounded sensory qualities coming naturally to wines crafted from grapes grown in the Delta's moderate Mediterranean climate).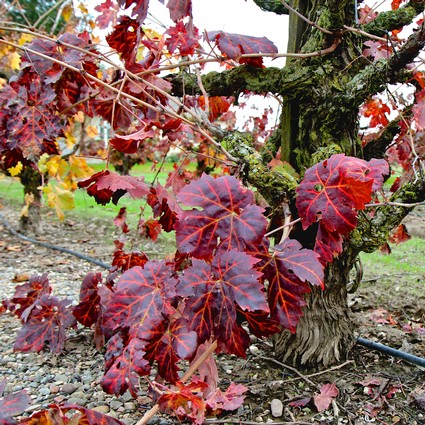 Ergo, the following ideal matches of Lodi wines and New Year's celebration victuals:
Lobster mac 'n cheese (Albariño)
How much fun is this combination of good ol' macaroni, luxurious lobster meat, and the savory, melting taste of Gruyere and Cheddar in this recipe by Ina Garten. Lobster is always best complimented by lighter style white wines laced with naturally crisp, zesty acidity such as Sauvignon Blanc (a specialty of Lodi's LangeTwins Family Winery and Vineyards, although Michael David Winery and Oak Farm Vineyards also produce a pure, ringing style of this popular varietal).
But Lodi is also a second home for Albariño, a Spanish grape that thrives in Lodi's strikingly Mediterranean-ish terroirs; engendering feathery dry whites with floral, subtly exotic perfumes, along with palate slaking citrusy tartness and minerally textures – practically screaming for little bowls of lobster mac 'n cheese. Bokisch Vineyards is known for a quintessential Lodi style Albariño; although first rate, typically steely dry bottlings are also produced by Harney Lane Winery, Klinker Brick Winery, Oak Farm Vineyards, Viñedos Aurora, Estate Crush, and Jeremy Wine Co.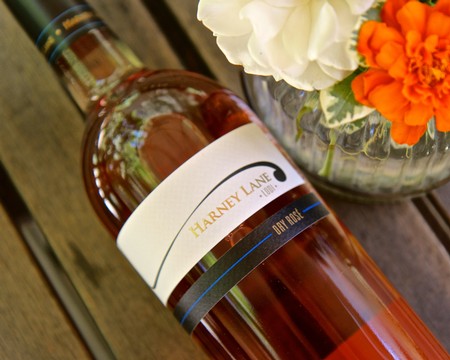 Caprese skewers with balsamic drizzle (dry rosès)
It's hard to think of a more refreshing New Year's Eve canapé than milky white mozzarella strung together with pungent, leafy green sweet basil and palate popping cherry tomatoes, as in this recipe by iowa girl eats.
The natural wine for this combination of soft cheese, herbs and zesty tomato is something soft (subtle yet refreshingly natural acidity), chill-able, and aromatic with minerals and herbs rather than simple fruitiness. In other words, a Lodi style dry rosé, made from an imaginative array of grapes; such as those by Onesta Wines (crafted from 130-year-old Cinsaut vines), McCay Cellars (from 100-year-old Carignan), Klinker Brick Winery (a classic Grenache based dry pink), Bokisch Vineyards (Grenache with a splash of Graciano), Harney Lane Winery (from Tempranillo, with Petite Sirah and Zinfandel) LangeTwins Family Winery & Vineyards (from Sangiovese), Borra Vineyards (from Syrah and Carignan), or Estate Crush (Zinfandel/Cabernet Sauvignon/Petite Sirah).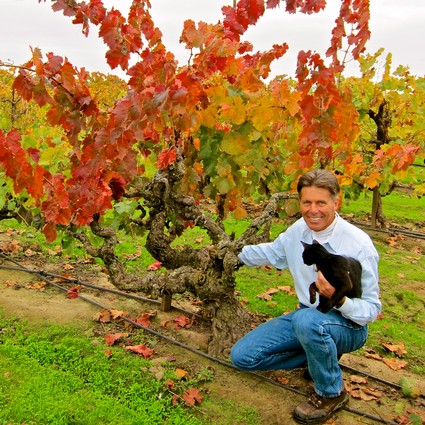 Bacon stuffed mushrooms (Grenache or Cinsaut)
Who doesn't love earthy mushrooms stuffed with smoky bacon, such as this bourbon laced version by Paula Deen? To wash these dreamy poppers down, you really need a soft, easy drinking red wine marked by minimal tannin, yet plenty of slightly smoky, spicy, brightly red fruited sensations.
Pinot Noir would immediately come to mind if not for the fact that in Lodi's warm, steady Mediterranean climate, red wines made from the black skinned Grenache grape are even more of a natural fit. Those of McCay Cellars and Bokisch Vineyards (bottled as Garnacha by the latter), in fact, are truly as fine as any varietal bottlings of this grape produced on the West Coast: silky smooth, lacy reds that titillate the nostrils and tongue with subtle, intriguing notes of scrubby earthiness (mingling with the taste of mushrooms) and spice laden (cracked pepper, allspice, clove) perfumes.
But wait, there's more: in a way, the Cinsaut based red wines sourced from Lodi's venerated Bechthold Vineyard are also Pinot Noir-like in their soft, silky texturing, faint earthiness, and red berry perfumes (often suggesting pomegranate or strawberry-rhubarb pie). Look for the bottlings of Lodi Cinsaut by Michael David Winery, Turley Wine Cellars, Estate Crush, Fields Family Wines, McCay Cellars or Onesta Wines.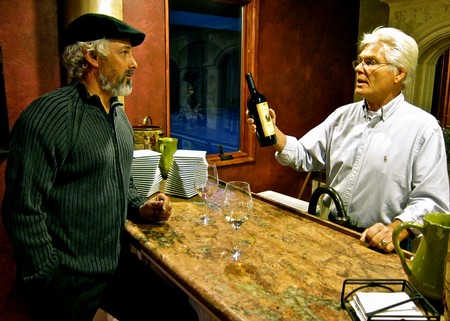 Lodi winemaker/owners: Macchia's Tim Holdener with St. Jorge's Vern Vierra
Slow cooker German style pork roast with sauerkraut and potatoes (Grenache Blanc, Verdelho, Vermentino or German varieties)
The ease and depth of flavors that you get through slow cookers make total sense for New Year's gatherings, as in this rendering of caraway scented German style pork roast found on allrecipes.com.
Both the sauerkraut and licorice-like taste of this dish definitely calls for a light, bone dry white wine with great clarity of fruit and minerality. This is what gives Lodi a leg up on other American wine regions: we grow all kinds of white wine grapes that produce wines of this style. The Markus Wine Co. Nativo immediately comes to mind, with its artful blend of Germanic grapes (Kerner, Riesling, Bacchus and Gewürztraminer).
For slow cooked pork, we are also high on Lodi's light and minerally style whites made from the Grenache Blanc grape (look for those by either Acquiesce Winery, Fields Family Wines, or Bokisch Vineyards' Garnacha Blanca). In similar yet different fashion, the Verdelho grape produces silky, fleshy, lemon-lime nuanced dry whites (notably, by Bokisch Vineyards or Toasted Toad Cellars). Then there is the Vermentino grape, which yields crisply balanced, downright minerally, kitchen herb and floral scented dry whites (look for those by Uvaggio Wines, Fields Family Wines or PRIE Winery). So many choices for slow cooked German pork roasts; all of them delicious!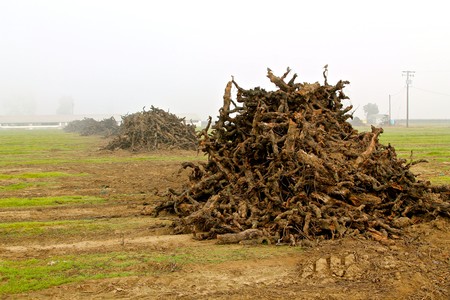 Osso buco in white wine (Chardonnay or Barbera)
Classic osso buco – Northern Italian style slow braised lamb shanks – is another ideal do-ahead dish. There is one version, found on the Italian Food Forever page, that we find particularly fascinating because of its use of white wine (instead of red) and elimination of tomatoes: which makes it a heavenly match with a creamy rich yet light, airy feeling style of Chardonnay, such as those crafted by Lodi's Harney Lane Winery, The Lucas Winery, Oak Farm Vineyards, Watts Family's Upstream Wines label, and Michael David Winery.
But here's the thing: this style of osso buco, deepened by the infusion of mushrooms in beef stock and wine, is also just as delicious with a red wine with a buoyant balance of natural acidity yet without an excess amount of tannin. The perfect fit? Lodi style Barbera – especially those by St. Amant Winery, Oak Farm Vineyards, Borra Vineyards, Uvaggio Wines, Jeremy Wine Co., Heritage Oak Winery, Macchia Wines, or Sorelle Winery.
Suggestion for a fun experience: sit down some special wine lover/friends around a table with osso buco Milanese; and open bottles of both a Lodi style Chardonnay and Barbera to decide for yourself which varietal you prefer. If you're like us, of course, you'll say "both!"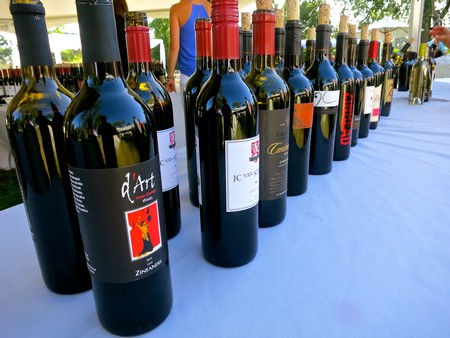 Cracked black pepper salmon (Zinfandel)
What turns us on about simple salmon preparations such as this one on food.com's page? Answer: we are Lodi Zinfandel lovers; and if there is anything that brings out the peppery spiced qualities of Lodi grown Zinfandel, it is cracked peppercorn crusted salmon. This style of salmon also highlights the softer, gentler, friendlier nature of Zinfandels typifying the Lodi region – easy on the palate, and easy in the context this spiced up, fleshy, oily fish.
There are, of course, more great drinking Zinfandels from Lodi than we can shake a chopstick at. From the most ubiquitous commercial labels (like Michael David's 7 Deadly Zins or Delicato Family Vineyards' Gnarly Head), to more artisanal, specialty bottlings (such as The Lucas Winery's ZinStar, Ironstone Vineyards' Rous Vineyard, Macchia Wines' Voluptuous, McCay Cellars' TruLux, Tizona by Bokisch's Kirschenmann Vineyard, Jessie's Grove's Westwind, Michael David's Earthquake, and more, really many more!): you will find that combination of gentle textures and pungently spicy, earthy, red fruit scented qualities which make Lodi style Zinfandel so ideal for dishes like peppercorn crusted salmon.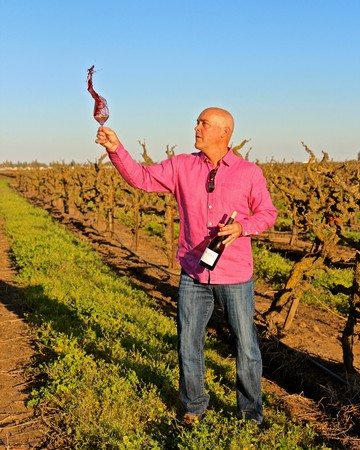 Lamb chop sandwich (Tempranillo)
For a New Year's Day lunch or afternoon gathering, you can't get much more bodacious than a lamb chop sandwich, such as this recipe posted by Better Homes & Gardens. And it is with the gamey, grassy taste of lamb where the earthy complexity and supple texture of Tempranillo – another Lodi specialty – really comes alive. We recommend celebrating this magical match and Lodi's diversity of wine grapes with bottlings by any one of Lodi's legion of Tempranillo specialists: starting with Bokisch Vineyards (Lodi's premier grower of Spanish grapes), and including m2 Wines, Fields Family Wines, Harney Lane Winery, Peirano Estate, Jeremy Wine Co., The Dancing Fox Winery, Heritage Oak Winery, d'Art Wines, St. Jorge Winery, or McCay Cellars.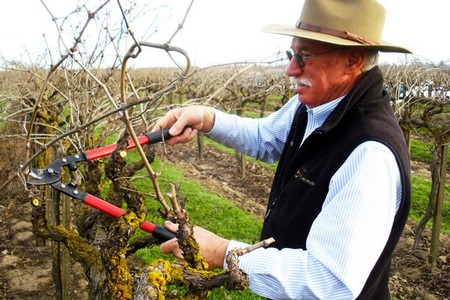 Red wine pot roast (Petite Sirah or Cabernet Sauvignon)
Still another perfect slow cooked wintry meal is a red wine pot roast, such as this "pioneer woman's" recipe featured on The Dr. Oz Show. For this deeply flavorful, hearty dish, a classic, broad, generous Petite Sirah makes an easy match. We suggest any by Mettler Family Vineyards, Harney Lane Winery, Rippey Family Vineyards, McCay Cellars, Oak Ridge's Old Soul, Michael David's Earthquake, Viñedos Aurora, or Peirano Estate.
For a more traditional match, however, you might want to look into Lodi's particularly round, fleshy, forward styles of Cabernet Sauvignon. Some of Lodi's finest include Michael David's Rapture, Mettler Family Vineyards, PRIE Winery, Viñedos Aurora, Concrete Wine Co., Klinker Brick Winery, or Delicato Family Vineyards' Noble Vines 337.
Have a Happy Lodi New Year!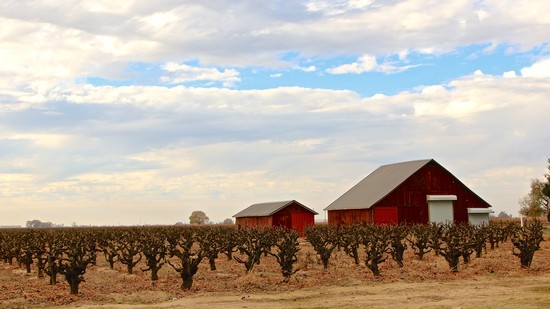 Comments