Letters from Lodi
An insightful and objective look at viticulture and winemaking from the Lodi
Appellation and the growers and vintners behind these crafts. Told from the
perspective of multi-award winning wine journalist, Randy Caparoso.
August 22, 2018 |
Lodi's Scott McKenzie is building his family's tradition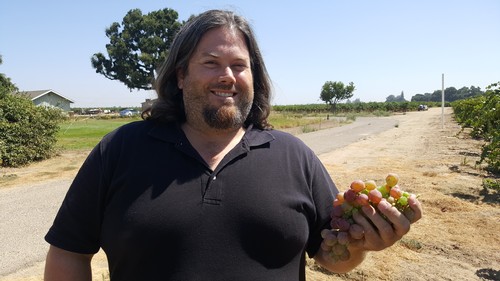 Scott McKenzie is a winegrape grower, husband and father.
And he's a curator of his family's history.
Stepping onto the McKenzie's property in Acampo is a step back in time. Barns, stables, sheds, tractors, trucks, farming implements, picking boxes, a crank telephone and volumes of photos and records detail a proud family farming history that dates to 1895. Pictures of a bygone era stand on book shelves and night stands and hang from the walls inside the home his great grandparents built, where Woodbridge Road dead ends east of Dustin Road.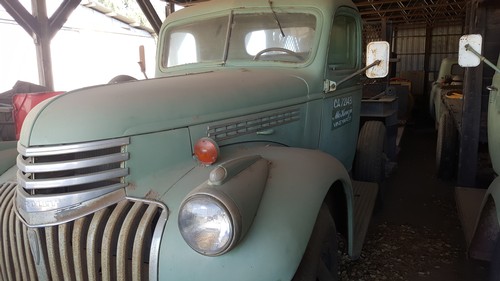 "There's just a lot of history that people don't know," McKenzie said. "I'd like to get it out there before it's all forgotten."
The four-bedroom home, shaded by a majestic, 90-year-old cork oak tree, now serves as McKenzie's office and as a place to crash when work on the farm lasts deep into the night. Just east of the home, a horse stable and barn, standing tall yet ravaged by time, house a museum-worthy collection of vintage farming equipment, tractors and trucks, including a 1935 Caterpillar D2 tractor that can traverse any terrain but also leave one rattled from the roar of its diesel engine. For a video showing what it takes to start the tractor, click here.
"My grandfather was hard of hearing because he never wore any headphones," McKenzie said over the tractor's deafening din. "This doesn't even come with a muffler. You have to add all of this stuff."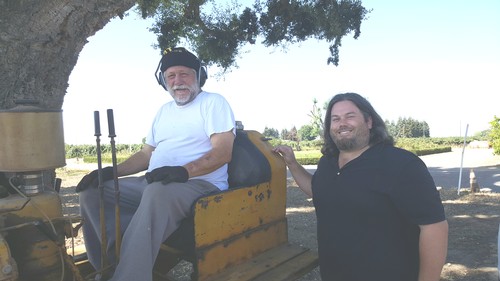 McKenzie might have to bed down a night or two on the family property with harvest now in full swing. His family's business – McKenzie Vineyards and Winery – predominantly grows head-pruned Zinfandel, as well as Cabernet Sauvignon, Cabernet Franc, Chardonnay, Sauvignon blanc and Pinot noir – all LODI RULES certified -- in Lodi's Mokelumne River sub-appellation for its brand and other wineries.
These are exciting times for the McKenzies: in addition to harvest, LVVR Sparkling Cellars owner and winemaker Eric Donaldson recently received several bins of McKenzie estate Chardonnay that he will vinify into McKenzie's first sparkling wine due for release next year, and the finishing touches are being made on McKenzie's new tasting room, formerly occupied by Riaza Wines, at 20 West Elm Street in downtown Lodi, scheduled to open in September.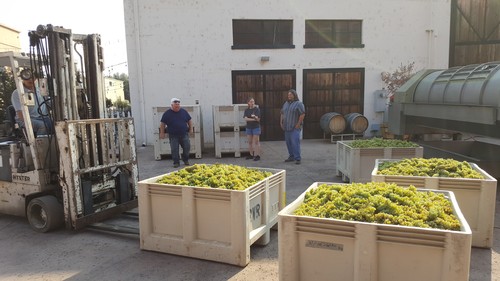 "Trying to open a tasting room and deal with harvest at the same time, getting everything ready," said McKenzie, "is a little hectic right now."
McKenzie Vineyards and Winery owns 250 acres of winegrapes planted in several parcels near the family home, the Mokelumne river bottom and just east of Woodbridge by Robert Mondavi. The grapes soak up the warm sun and benefit from the cool evening breezes, shady Valley Oaks and sandy loam soil.
In 1895, John McKenzie, from New Brunswick, Canada, and his wife, Christina, from Scotland, came to Lodi after logging in Redding and established the family farm. Their son, Everett McKenzie, and his wife, Estella McKenzie, took over and turned the farm into a commercial enterprise, growing stone fruit and table grapes, including Flame Tokays. Everett served in World War I and built the family home that stands today.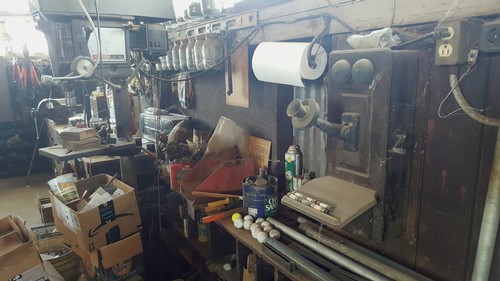 Scott's grandparents, Roberta and Donald McKenzie, continued the farming operation and raised three boys: Scott's father, Leslie, and Scott's uncles, Dr. Thomas McKenzie, a physician with Sutter Health, and Doug McKenzie. Leslie and Tom still own the company and Doug is the shop mechanic.
The McKenzies shipped fruit across the country from a cold storage and packing shed next to their own railroad spur near Woodbridge by Robert Mondavi. Now, the shed is used for storage but stands pretty much intact from its glory days when Leslie, Tom, Doug and their father loaded boxes of their grapes onto outbound trains.
"Basically, all morning and all hours of the night, my father, my uncle, my grandfather, they were all out here loading trains and shipping them in and out," McKenzie said. "Those grapes were shipped all over back east and across the country."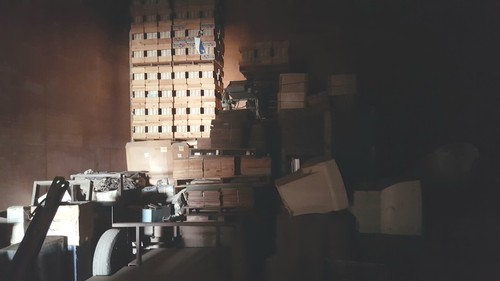 Along the south side of the large shed are openings where trucks dumped one-ton blocks of ice to cool the inside of the building. On the north side, the bay doors open onto what's left of the railroad tracks. Inside, numbers written on the bay walls helped the workers organize the grape boxes. The box-making machines and other equipment sit idle, covered in dust. One piece of history that's gone forever is a nearby bunk house that served as a stopover for migrant workers. The building caught fire and was torn down several years ago.
Scott and his brother grew up in Morada and as kids, they played with their cousins on the family property, driving three-wheeled golf carts all over the place and helping with the farming chores. In 2016, Donald McKenzie, who served as a pilot in World War II and was a prisoner of war and later inducted into the San Joaquin Agricultural Hall of Fame, passed away at age 92. Scott's father and uncles are involved in the day-to-day operations and oversight of the company. Scott is a sixth-generation farmer and the only one among his peers in his family carrying on the family business.
"I'm classified as operations manager," said Scott McKenzie, who graduated from California State Universtiy, Sacramento with a degree in Business Administration/Marketing. "I'm the eyes and ears for my family."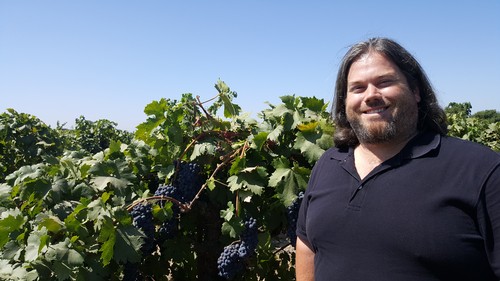 Among Scott's duties is to oversee the vineyards, of which the payload goes to larger wineries and the McKenzie brand. Currently in bottle are McKenzie Estate Old Vine Zinfandel, Chardonnay, Sauvignon blanc and Cabernet Sauvignon. McKenzie makes its wines at Estate Crush and Sorelle Winery. They are available to taste and purchase at Estate Crush and the Lodi Wine & Visitor Center, when available. In the future, Scott said McKenzie will bottle estate Cabernet Franc, Pinot noir and the sparkling Chardonnay.
"All our wines are single vineyard wines and all in-house," McKenzie said. "All our vineyards are certified LODI RULES and are in the Mokelumne River sub-AVA."
Scott and his wife, Dr. Sabrina McKenzie, a physician at UC Davis Medical Center, and their children, Andrew, who's 8 years old, and 5-year-old Audrina live in Sacramento.
Comments