Letters from Lodi
An insightful and objective look at viticulture and winemaking from the Lodi
Appellation and the growers and vintners behind these crafts. Told from the
perspective of multi-award winning wine journalist, Randy Caparoso.

July 17, 2017 | Randy Caparoso
Lodi's PRIE Vineyards releases a seriously deep, layered Dornfelder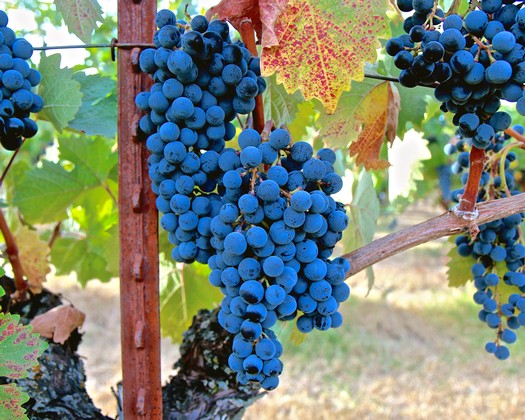 Whoda thunk?
That a German red wine varietal normally turned into light, simple, tutti-fruity red wines, typically with small amounts of residual sugar, could yield such a seriously dry, deep, ponderously dark and flavorful red wine in the Lodi, California?
But that's exactly what Mokelumne Glen Vineyards, located on the east side of the City of Lodi, has been doing over the past 10 years on their property, quietly becoming renowned for its "German Collection" (albeit, German and Austrian grape varieties – at this writing, numbering 50 total).
The particular black skinned grape in question is called Dornfelder; which is actually a fairly recent crossing of two other crosses of Vitis vinifera, created by a German viticulturist named August Herold in 1955, and approved by German authorities for commercial cultivation in 1979. Technically, Dornfelder is a cross of Helfensteiner (Frühburgunder x Trollinger) and Heroldrebe (Blauer Portugieser x Blaufränkisch); which, of course, means absolutely nothing to most Americans since German grown Dornfelder (much less Blauer Portugieser, Blaufränkish, Trollinger, etc.) is not exactly a high-demand import.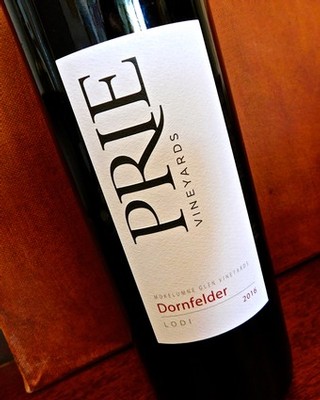 Germany, after all, is far better known for its white wines. However, after many visits to German wine country we can confirm this fact: Germans enjoy drinking red wines almost as much as any other Europeans. It's not their fault that they live in a country with colder climates more conducive to the growing of white wine grapes.
Hence, Germans drink lots of red wines imported from countries like Italy and France; and recently, even Lodi grown Zinfandel has become popular. Nonetheless, Germans also drink local – particularly German grown reds made from Pinot Noir (called Spätburgunder in Germany) and of course, Dornfelder, which became Germany's second most cultivated red wine grape fairly soon after its release in the 1980s.
Germany being Germany, however, the Dornfelder known for easy drinking Beaujolais-style German reds becomes a completely different animal in Lodi's warmer Mediterranean climate and deep, sandy loam soils. Here, the grape's propensity for exceptionally deep, almost inky color, firm tannin, yet terrifically refreshing levels of acidity seems to flower.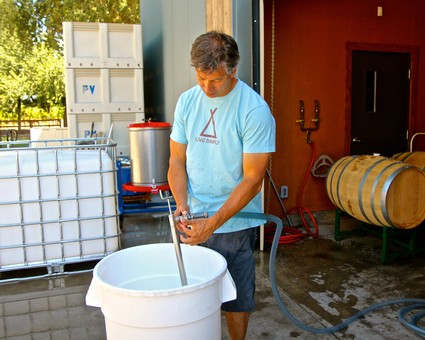 Which is exactly what you find in the just recently released 2016 PRIE Mokelumne Glen Vineyards Lodi Dornfelder ($27). Should you be lucky enough to experience this wine, throw everything you've previously heard or tasted concerning Dornfelder out the window. PRIE Vineyards' is an opaque, vivid, inky-black purplish color; a harbinger of a deep, concentrated nose suggesting blackberry jam and roasted coffee spices (yeah, we know – sounds like breakfast). These sensations – unencumbered by oak (aged in strictly neutral French oak for less than 7 months) – carry over to the mouth in a medium-weight body (a refreshingly restrained 12.7% alcohol), bolstered by dense yet smoothly rounded tannin; finishing in a juxtaposition of velvet textures and lip smacking, zesty qualities.
If you're not yet familiar with PRIE, most likely it's because this is a relatively new, artisanal style winery; established in Lodi in 2015. Co-proprietor/winemakers John and Lisa Gash first began their wine production business in Livermore Valley, but were lured to Lodi by the opportunity to purchase an existing 8.5-acre block of Cabernet Sauvignon on N. Alpine Rd., where they built a working winery and sleek, cozy tasting room (during the week Mr. Gash continues to commute to his primary job at Lawrence Livermore National Laboratory).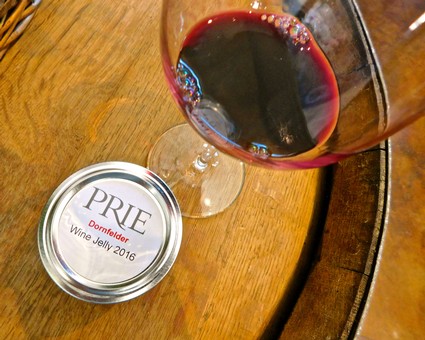 When moving to Lodi, however, producing Dornfelder was probably the last thing on the Gashes' minds. Serendipity came about by way of meeting Brett Koth, who farms his family's Mokelumne Glen Vineyards, at one of the monthly Lodi Winegrape Commision-sponsored grower/winery mixers. Ms. Gash tells us: "Brett stopped by and tasted one of our wines, but to tell you the truth, he liked our wine jellies even better (the Gashes also produce their own wonderful brand of jelly made with the juice of grapes like Dornfelder and Petite Sirah). In a short while we got to know the Koth family well, and later Brett recommended some of the Dornfelder grapes that he had available."
Lest there be any misunderstanding: the Koth family's German grapes have been in huge demand over the past four, five years. There is a waiting list of winemakers clamoring to work with grapes like Dornfelder, Zweigelt, Blaufränkish, Kerner, Bacchus, etc.
Mr. Gash tells us, "We jumped at the chance to make Dornfelder because we like a challenge, and the wine has gone beyond even what we expected." Adds Lisa, "We gravitate to red headed step-children grapes anyway – I don't know why, they're just more interesting. When you taste the Dornfelder, for the intensity of the color it's not nearly as much of an in-your-face wine as you would expect – the tannins are not excessive, and the flavors are really quite subtle."
John seconds that emotion, saying: "The deep color speaks of richness, but the Dornfelder really has a neat layering of flavor. At the same time, it surprises people who have tried fruity, sweet styles of Dornfelders from Germany. Here in Lodi, the grape is clearly capable of producing a very serious red wine. You can enjoy our 2016 now, but I expect the wine to open up and blossom in a couple more years. But as Lisa says, you never want to spill any of this wine on a white shirt or blouse – it will definitely leave a nasty stain!"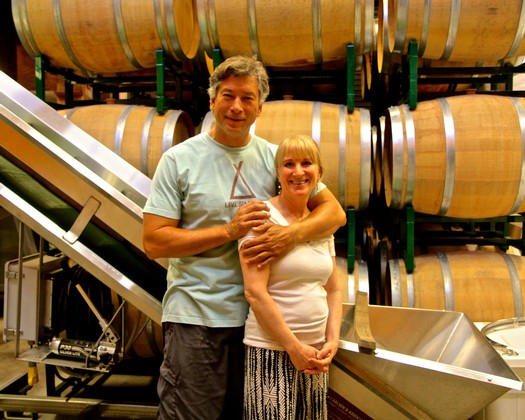 Comments