Letters from Lodi
An insightful and objective look at viticulture and winemaking from the Lodi
Appellation and the growers and vintners behind these crafts. Told from the
perspective of multi-award winning wine journalist, Randy Caparoso.

May 29, 2018 | Randy Caparoso
Lodi's Mettler Family and Chef Bradley Ogden team up for a culinary tour de force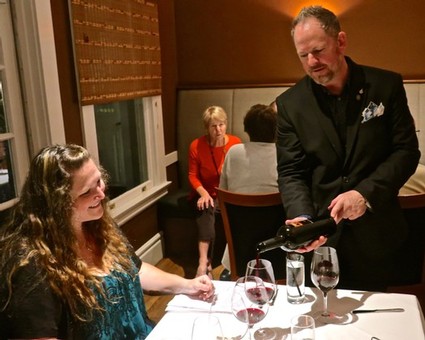 Last week Wednesday (May 23, 2018), Lodi wine country's Mettler Family Vineyards hosted a most "unusual" wine dinner at Towne House Restaurant in Wine & Roses Hotel & Spa.
Instead of showing off the wines for which they are best known from Hawaii to New York – namely, their acclaimed, elegant Cabernet Sauvignon, their powerful Petite Sirah, and their classically rich and chunky Zinfandel – they presented a dinner highlighting their lesser known, alternative style wines.
In fact, so "alternative," they are the only Lodi based winery producing two of these wines – a Pinotage and Aglianico – and among the few (less than a handful) in the entire state working with these grapes.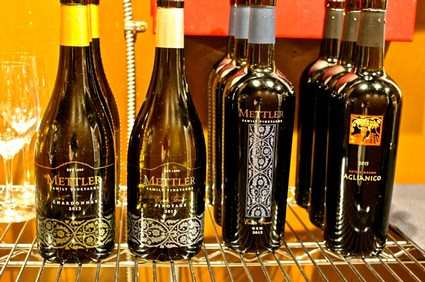 But one taste of both the Pinotage and the Aglianico by Mettler Family, and you wonder why more wineries aren't producing these varietals. These are dramatic, intense and beautifully balanced red wines. While fairly obscure in the U.S., these reds are certainly well known in other countries: In South Africa Pinotage is considered the country's most prestigious red wine grape; and Aglianico has been considered the finest red wine of Central Italy's Campania region since before the fall of the Roman Empire.
But the reasons why Mettler Family Vineyards were showing off these wines last week were, to put it simply, culinary. Speaking to a cozy room of 40 wine and food lovers, the family estate's Director of Sales Kelli Mettler-Costamagna shared these insights: "When we presented our wines to Chef Bradley (Bradley Ogden, Wine & Roses' acclaimed Culinary Director), he gravitated to the wines that were, well, different.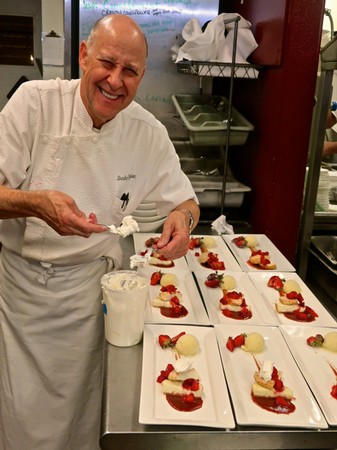 "We could practically see the wheels in Chef's brain begin to turn the moment he tasted our Albariño, then our Pinotage, our GSM (the Mettlers' Grenache/Syrah/Mourvèdre blend) and the Aglianico. He immediately started rattling off dishes and ingredients that would go well with each wine."
Added Mettler-Costagmagna: "I always like to say that a big reason why our wines are so good is that my baby brother Adam (Mettler) is a great winemaker. He takes these fantastic grapes grown by my father (family patriarch, Larry Mettler) and Jason (Mettler Family Vineyard Manager Jason Eells, and husband of Mettler-Costamagna's older sister Kim Mettler-Eells) and sort of sprinkles a magic dust to conjure up these amazing wines. That's what Chef Bradley seems to do – sprinkle magic dust to come up with the perfect dishes for our wines."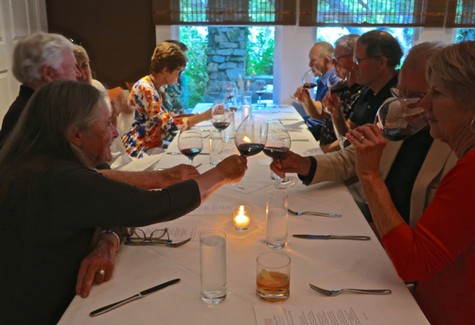 Two years ago Adam Mettler received national acclaim when he was featured on the cover of Wine Enthusiast Magazine as one of the wine industry's "40 Under 40 Tastemakers" – recognized particularly for the work he does in his "day job" as Director of Winemaking for Michael David Winery (responsible for the production of nearly a million cases a year). "Adam finally turns 40 this year," said Mettler-Costamagna, "but I can still call him 'baby brother' because that's what he'll always be to me."
A course-by-course recounting of this "magical" dinner; enhanced by a few choice photos by Frances Siria, a Digital Marketing Specialist who helps businesses in the Lodi area (including Wine & Roses Hotel & Spa) grow their online reach and exposure: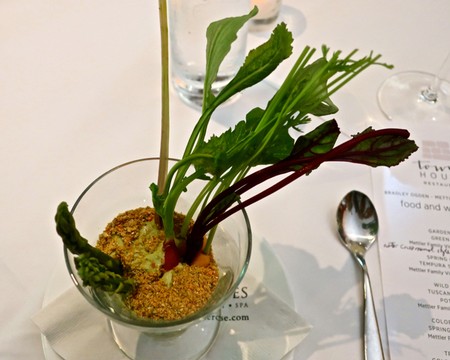 Garden Crudité with Green Goddess
2016 Mettler Family Vineyards, Lodi Albariño
It's always a light and refreshing experience to start off a meal with a pure vegetable dish – baby sized sprigs of radish, asparagus and other crunchy vegetables dipped in Ogden's nostalgic ode to Green Goddess (a homemade mayonnaise with the tingling taste of fresh picked parsley, tarragon, chives and other green herbs). What was even more magical was the way Mettler Family's low-key, citrusy fresh and minerally Albariño – undoubtedly the crispest, leanest, least flowery and fruit driven style of the varietal grown in Lodi, and all the better for that – seemed to add a lemon/lime zip of its own to enhance the vegetables and salad "dip" in this first course.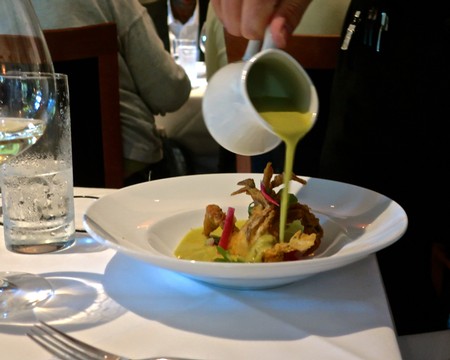 Tempura Soft Shell Crab with Spring Garlic Soup
2015 Mettler Family Vineyards, Lodi Chardonnay
When arriving from the coast of Maine, Ogden told us, the soft shell crabs were "pristine, alive and kicking." Nestled on a bed of tingly, lightly creamy "garlic soup" with a miniature, faintly spicy "blood radish salad," the tempura battered crabs seemed to scream for a dry white wine with just the right combination of creaminess and citrus/lemon zest. Mettler Family's Chardonnay proved to be the perfect match because, as Mettler-Costamagna told us: "Our Chardonnay is neither the big barrel fermented style nor the lean stainless steel style...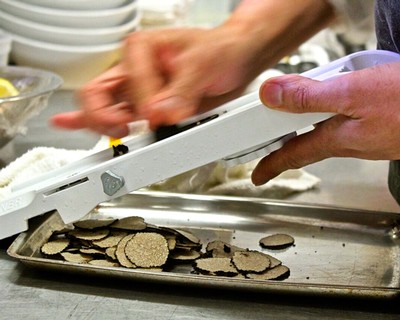 "Adam utilizes the full range of winemaking techniques – some fermented in oak and undergoing malolactic fermentation and lees contact to attain a creamy, complex texture, and some fermented in stainless steel without malolactic to preserve the wonderful citrus and tropical fruit character natural to the grape – to mix, match and blend our Chardonnay. That's what I mean by his 'magic dust.'"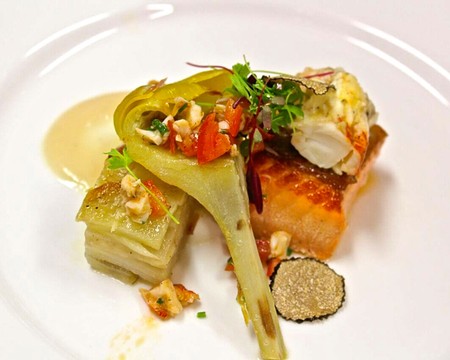 Wild King Salmon with Tuscan Black Truffle Potato Galette and Roasted Artichoke
2015 Mettler Family Vineyards, Lodi Pinotage
Pinotage is a red wine varietal with aromas that are more earthy than fruity or fragrant; and while meaty in texture, the tannins are moderate and round enough to give the wine a smooth, svelte feel. Hence, Chef Ogden's choice of a meaty, pink fleshed salmon dish, strongly influenced by slivers of pungent, earthy black truffle (giving the potatoes a taste of wild mushrooms dialed up to an nth degree), along with a tender, fresh stem of baby artichoke which seemed to sweeten the low-key fruit quality of the Pinotage. Inspiring!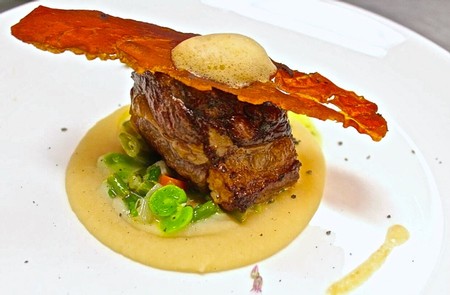 Ribeye of Colorado Spring Lamb with Spring Vegetable Ragout
2015 Mettler Family Vineyards, Lodi GSM (Grenache/Syrah/Mourvèdre)
"There's nothing like lamb this time of year," said Chef Ogden, "and Colorado is the place to get it." Mettler-Costamagna added: "In my college years, Australian GSM was my go-to wine because it always had the rich yet smooth quality I enjoyed most... We grow all our Grenache, Syrah and Mourvèdre on our own estate surrounding our tasting room (located on the east side of the City of Lodi) – the Grenache giving the wine its bright fruit, the Syrah its elegance and spice, and the Mourvèdre some deep, bold tannins."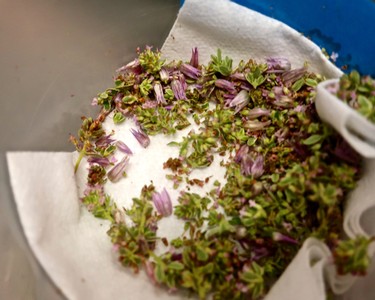 While the deep, dense 'sweet meat' quality of the GSM was a perfect match for the mildly gamy, filet-like lushness of the lamb, it was the Chef's finishing touches to the dish – particularly a faintly smoke tinged "barbecue foam," a crisped ribbon of prosciutto (adding its own umami-rich spice) and sprinkling of aromatic herbes de Provence (particularly the touches of lavender and marjoram, mingling with and bringing out spice qualities in the wine) – that seemed to kick this course up several more notches.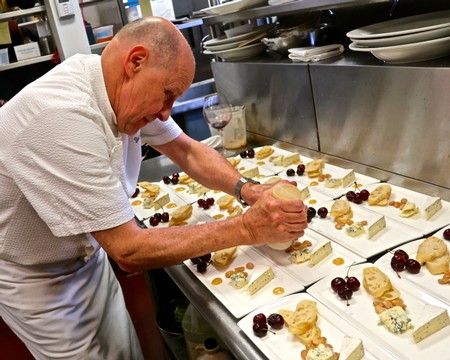 Truffled Brie and Point Reyes Blue with Golden Bear Ranch Honey
2015 Mettler Family Vineyards, Lodi Aglianico
Artisanal cheeses – for all the variety of taste sensations that can push wine matches in any number of directions – are ultimately fatty (in a good way!), creamy or buttery proteins that have a high percentage chance of rounding out red wines with a good amount of tannin and texturing. Especially one with as much layering, intensity and acidity as Aglianico; and there are few varietals reds – Barbera for one, and perhaps Charbono – with any notable degree of acidity. With its sharply defined black cherry/black licorice fruit profile bolstered by moderately grippy tannin and oak embellishments, the Mettler Family Aglianico found an even keeled balance with the earthy, mildly acidic brie, while remaining intense enough in pure fruit qualities to mingle with the briny/sharp taste of the farmstead raised blue.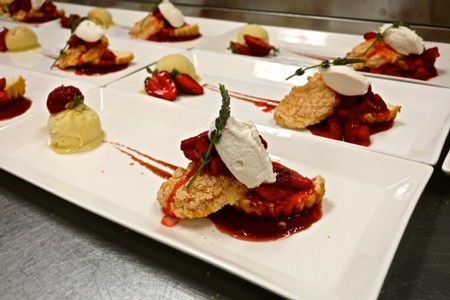 Toasted Angel Food Cake with Lodi Strawberries and Vanilla Bean Ice Cream
2016 Mettler Family Vineyards, Lodi Muscat Canelli
The flowery honeysuckle/orange blossom scent and faintly spicy, lush peach qualities of moderately sweet and light styles of Muscat Canelli (Mettler Family's estate grown rendering finished with 3% residual sugar and an airy-fresh 9.5% alcohol) always have a natural affinity with fresh strawberries – especially in the full glory of high season freshness (the proliferation of just-picked-strawberry stands in Lodi is always a joyful time of year); or when enhanced, by Chef Ogden's reckoning, by airy-light angel food cake, with the honeyed quality of homemade vanilla ice cream.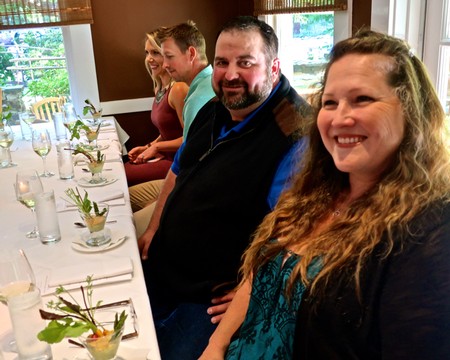 Comments