Letters from Lodi
An insightful and objective look at viticulture and winemaking from the Lodi
Appellation and the growers and vintners behind these crafts. Told from the
perspective of multi-award winning wine journalist, Randy Caparoso.

September 15, 2016 | Randy Caparoso
MK's Lodi Carignan is a phenomenal expression of this underappreciated varietal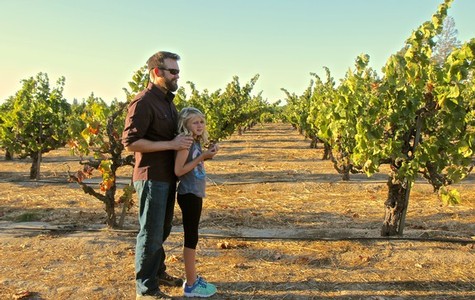 Carignan has always been prized as a black skinned blending grape in wine regions like Southern France, Spain and California. But in relatively rare instances, it makes a deep, sumptuous varietal red wine when bottled on its own; especially when vinified from old to ancient vines (50 to over 100 years old) in special regions such as Montpeyroux or Saint-Chinian in France's Languedoc-Roussillon, Montsant or Priorat in Spain, or Lodi or Contra Costa in California.
Lodi's latest entry? The 2015 MK (Michael Klouda) Lodi Carignane ($26): an inky dark red wine that positively gushes in aromatic black cherry/wild berry fruit; deep, broad, sturdy and velvety in the mouth; full bodied (14.15% alcohol) without being heavy and ponderous, and brightly fruited without being jammy or raisiny. In short, phenomenal as a pure, unfettered (i.e. not over-oaked or manipulated) rendering of the grape; and phenomenal as an expression of where it's grown; which happens to be a postage-stamp sized vineyard located just north of Acampo Rd. on the west side of Lodi's sandy-loamy Mokelumne River AVA.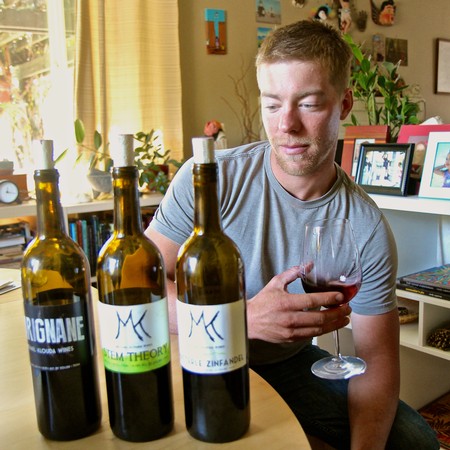 MK Wines owner Michael Klouda is one of Lodi's more hands-on (yet hands-off) artisanal winemakers. He crafts small batches of wine for the challenge and pleasure, while working full-time for Michael David Winery's Phillips Farms as a Viticulturist.
According to Mr. Klouda, "I only made 50 cases of this wine – splitting the entirety of a vineyard owned by Chris Storm with another winemaker, Rick Taylor at Riaza Wines. The vineyard is less than an acre is size. We might have gotten more out of it if not for the fact that the vineyard was dry farmed, and the clusters were radically smaller than what we usually see in Lodi Carignan, with berry sizes smaller than my thumb nail."
In a follow-up conversation in the vineyard with Chris Storm – who holds down a particularly huge day job as lead Viticulturist for Vino Farms, one of Lodi's largest growers – we learned that this block of head-trained Carignan came with a home that he and his wife Jana purchased four years ago. "My guess is that the vines were planted in the mid-'60s, which make them about 50 years old. As you can see, there really are no indications that they were grafted, and so we can surmise that the vines are own-rooted."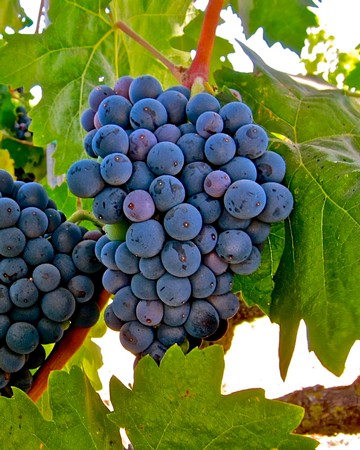 Added Storm, "Typical of a lot of old vine plantings of Carignan in Lodi, this vineyard used to be part of a 4-acre block. We couldn't afford to take the entire 4 acres, and so the other 3 acres were sold to another grower, who promptly pulled the vines and planted some trellised Petite Sirah in their place.
"In 2015 we couldn't get more than half-a-ton each to Michael and Rick, and the vineyard didn't produce much more than that this year. This explains the intensity of Michael's wine – the berries were more like little black BBs. The vines used to be furrow-irrigated. So when we first moved in the vines were over-cropped and the canopies so out of control that we couldn't get the fruit to sugar up – and so we ended up selling them to make juice on the bulk market."
One of the reasons why the 2015 Michael Klouda is destined to remain one of the most unusual expressions of California Carignan is because of the circumstances surrounding the Chris Storm Vineyard. "The past two years," Storm admits, "we probably overstressed the vines by dry farming them. But I just laid down some irrigation lines salvaged from one of our other vineyards. Next year the vines will get a little bit of a drink. Eventually we should be able to get the bunches back a little closer to normal size, but we'll continue to limit production by thinning the fruit."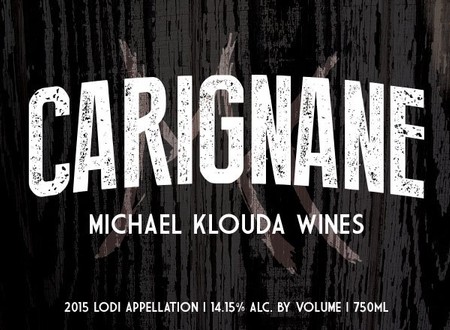 Carignan, in fact, is better known around the world as an exceptionally high yielding grape; which is why it once ruled the wine world.
In what way? For more than a couple decades up until the 1980s, it was the most widely planted grape of any color in California – a basic component of generic jug wines sold as "Burgundy." Once American consumer preferences transitioned to varietal wines, Carignan's goose was cooked; and grapes like Cabernet Sauvignon, Chardonnay, Merlot and Pinot Noir became the state's top varieties.
The story is similar in France, where it hit a high point in popularity in 1988, accounting for about 420,000 total acres (consider that in all of California today, total wine grape acreage is just over 600,000), mostly in the vast expanse of Southern France. Merlot, for the record, is the variety that now surpasses Carignan as the most widely planted grape in France.
In Spain, where the grape is also known as Cariñena or (in Rioja) Mazuelo, Carignan has also always been a major player. Spain currently has about 17,000 acres of Carignan planted (half of what it was just 20 years ago).
In California, plantings of Carignan now hover around 2,500 acres; a big drop from the 28,000 or so acres planted in the state during the 1970s.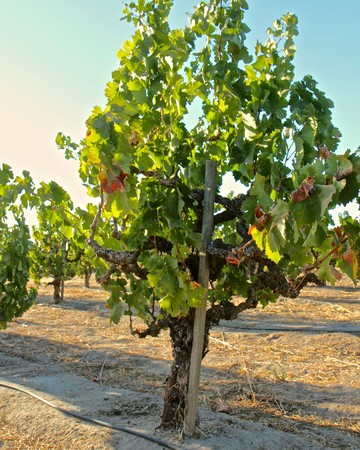 With such a history, it is natural to ask the question: why so much Carignan in the first place? Even in its heyday in California, it was extremely rare to see Carignan bottled as a varietal red. 40 or 50 years ago, there may have been fewer acres of Cabernet Sauvignon and Chardonnay in California vineyards, but there were far more varietal bottlings of Cabernet Sauvignon and Chardonnay than Carignan.
Yet although Carignan has never been considered an ultra-premium varietal, there are reasons why winegrowers have always liked it. For one, it is always a high yielding grape everywhere it is grown (the Chris Storm Vineyard, lately, being an extreme exception), and it is easily grown as a free-standing, head-trained, spur-pruned plant (doesn't require trellising).
But often overlooked, or underappreciated, is the sheer quality of wines produced from Carignan. No, it is not Cabernet Sauvignon, and a far cry from Pinot Noir. But winemakers have always known that good quality Carignan, particularly from ancient vine plantings, can retain exceptional natural acidity – the component that makes all wines taste fresh and lively – on top of consistently deep color, fairly sturdy (and only occasionally overbearing) tannin, and brightly focused aromas and flavors unique unto their own, particularly in the red fruit spectrum (cherry, cranberry, strawberry, etc.).
Finally, in scattered little pockets of France and California, bottlings of Carignan have been known to retain terroir related transparency; that is, unique sensations quietly echoing dried herby or earthy aromas and flavors associated with vineyard sources (re Lodi grown bottlings by McCay Cellars or Klinker Brick).
In other words, whether you find a varietal labeled Carignan from France or one of California's heritage vineyards, do not automatically dismiss or pass it up. Like the 2015 MK, Carignan can make some of the most interesting wines you will ever experience.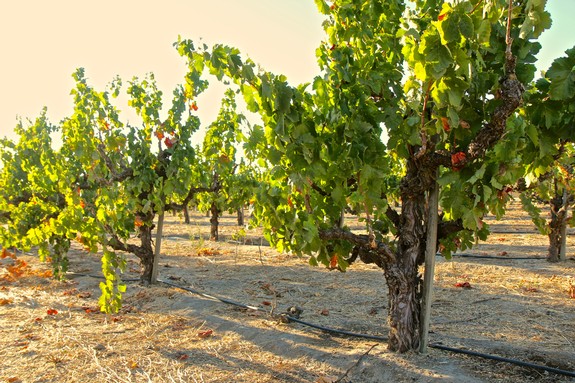 Comments