Letters from Lodi
An insightful and objective look at viticulture and winemaking from the Lodi
Appellation and the growers and vintners behind these crafts. Told from the
perspective of multi-award winning wine journalist, Randy Caparoso.

January 18, 2016 | Randy Caparoso
Lodi's 2016 Gold-or-higher winners at the San Francisco Chronicle Wine Competiton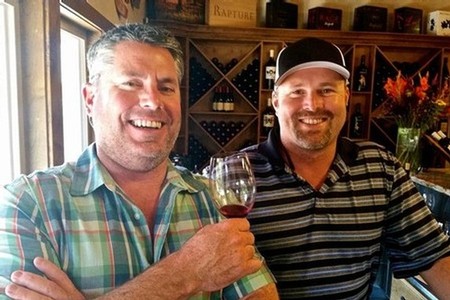 Continuing a recent trend at the San Francisco Chronicle Wine Competition – the largest judging of American wines in the world – the Lodi wine region held its own in several categories.
Of special note, no less than 5 wines with Lodi on the label garnered Best of Class honors - the highest rated wines in their respective varietal/blend/price categories. 8 Lodi grown wines also earned Double Golds, and 39 Lodi wines hauled in Golds.
Among the Best of Class winners, Lodi's Michael David Winery continues its "hot hand" with the 2013 Lodi Petite Petit ($18) – a blend of pungent, spicy Petite Sirah and zesty edged Petit Verdot, winning in the category for Petite Sirah retailing Up to $24.99. The winery's previous vintage of Petite Petit (2012) was named #2 in Wine Enthusiast's Magazine's Top 100 Wines of 2015 (that's in the world). Notably, Michael David Winery also took Double Golds for their rich, fleshy, classically "Lodi" (earth nuanced red berry perfumes) 2013 Lust Lodi Zinfandel ($48 & Over category) as well as for their beautifully focused, concentrated, elegantly composed 2013 Inkblot Lodi Cabernet Franc ($25 & Over). Impressive.
Interestingly, the silken fine, feminine and perfumed 2013 Estate Crush Bechthold Vineyard Lodi Cinsault was bestowed a Double Gold in the "All Other Red Varietals" category. The similarly styled 2014 Michael David Lodi Cinsault – sourced from the same ancient vines (Bechthold Vineyard, Lodi's oldest growth, planted in 1886) – took a Gold, but in the "Rhone Blends $20.00-$29.99" category.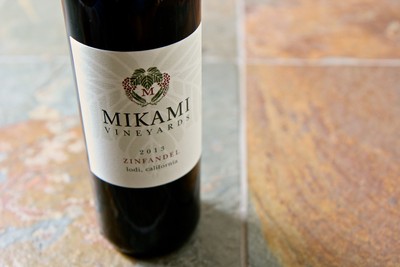 14 Lodi grown Zinfandels garnered Golds or higher, but special kudos go out to tiny Mikami Vineyards – a vineyard owned by Jason Mikami, whose father farmed on the west side of Lodi for over 50 years – which has taken San Francisco Chronicle Gold four times out of the past five years. This year, the 2013 Mikami Lodi Zinfandel was declared a Double Gold winner in the category of Zinfandels $36.00-$39.99. When you taste this Zinfandel, you understand why the discriminating San Francisco Chronicles judges have consistently loved this vineyard: it yields a voluminous red wine – bursting at the seams with classic Lodi style Zinfandel perfumes of strawberry, Bing cherry and black tea – yet remains even keeled and velvety in its medium-full bodied weight.
Another consistent performer in the San Francisco Chronicle Wine Competition over the past few years has been Bokisch Vineyards, Lodi's Iberian grape specialist. They deserve special mention for garnering a Double Gold for their zingy, mineral and tropical nuanced 2014 Bokisch Terra Alta Vineyard Clements Hills-Lodi Albariño (in the category for Muscat/Albariño/Chenin Blanc); and also a Gold Medal for their bright, pure, strawberry-fresh and peppery spiced 2013 Bokisch Terra Alta Vineyard Clements Hills-Lodi Garnacha ($20.00 & Over).
Markus and Liz Bokisch's Bokisch Ranches also manages Derek and Claudia Halecky's Hunter's Oak Vineyard, not far from the Bokischs' Terra Alta Vineyard in Lodi's Clements Hills. This bucolic 20-acre planting grabbed a Double Gold for the 2013 Hunter's Oak Clements Hills-Lodi Petit Verdot, as well as a Gold for the 2013 Hunter's Oak Clements Hills-Lodi Grenache ($20.00 & Over). In addition – although its provenance is not listed on the bottle – Bokisch Ranches also farms the fruit that went into the 2012 Fenestra Lodi Graciano, a deep and curvaceous Spanish inspired red which won Best of Class for "All Other Varietals." Outstanding viticulture!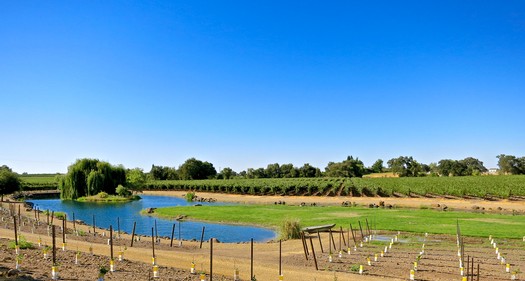 Lest anyone misjudges the degree of difficulty, it is not easy to win a top award in the San Francisco Chronicle Wine Competition, which takes place during the first week of each year – when professional wine judges are, presumably, barely recovered from their days of holiday revelry. This year's judges – 65 in all – were tasked with tasting 7,164 entries (in today's political parlance, this competition is huge), grown and produced in 28 states across the country. Since judges are divided into 4 or 5-person panels, that's over 400 wines for each judge to carefully examine, swirl, sniff, sip and spit (although each major competition has a judge or two known to sip more than spit), several times if necessary.
Not all at once, of course. Competition judges "blind taste" in manageable rounds of up to a dozen or so entries at a time, spread over a 3-day period. No one gets hurt, or zonks out. It's towards the end that things gets hairy, when all the judges are asked to select "Sweepstakes" winners from each category. There are over 80 categories, so you have to imagine a roomful of judges sitting around tables surrounded by over 5,200 glasses (the dish washing crews are always given huge rounds of applause at the end of each competition).
As always, in the 2016 San Francisco Chronicle Wine Competition, each team of judges are asked to reach an agreement on each wine; awarding them with
Best of Class (one wine in each category chosen out of all the Gold winners)

Double Gold (when all judges in a 5-person panel agree that a wine deserves a Gold – difficult to attain, since judges are rarely in 100% agreement)

Gold Medal

Silver Medal

Bronze Medal

Or no Medal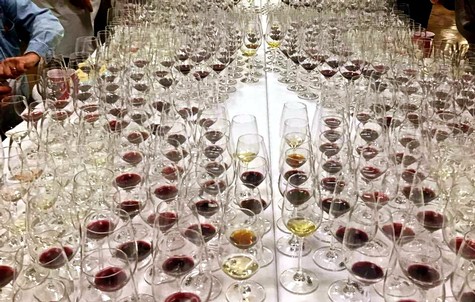 For a complete list of medal winners, please visit the San Francisco Chronicle Wine Competition 2016 Medal-Winning Wines page. The following is a summary of Gold-or-higher winners (notating respective categories) grown right here in Lodi. Our congratulations to all! Re:
BEST OF CLASS
2013 Ivory & Burt, Lodi Chardonnay - $14.00-$17.99)

2013 Lodi Petite Petit (by Michael David) - Petite Sirah Up to $24.99

2015 Lewis Grace, Alta Mesa-Lodi Torrontés - Other White Varietals

2013 Soquel, Silvaspoons Vineyard Lodi Grenache - $20.00 & Over

2012 Fenestra, Lodi Graciano – All Other Red Varietals
DOUBLE GOLD MEDALS
2014 Helwig, Sloughhouse-Lodi Viognier – Up to $24.99

2014 Bokisch, Terra Alta Vineyard Clements Hills –Lodi Albariño – Muscat/Albariño/Chenin Blanc

2013 Mikami, Lodi Zinfandel – $36.00-$39.99

2013 Lust, Lodi Zinfandel (by Michael David) – $48.00 & Over

2013 Estate Crush, Bechthold Vineyard Lodi Cinsault – All Other Red Varietals

2013 Inkblot, Lodi Cabernet Franc (by Michael David) – $25.00 & Over

2013 Hunter's Oak, Clements Hills-Lodi Petit Verdot

NV Oak Farm, Tievoli (Barbera/Petite Sirah) – All Other Red Blends $20.00-$24.99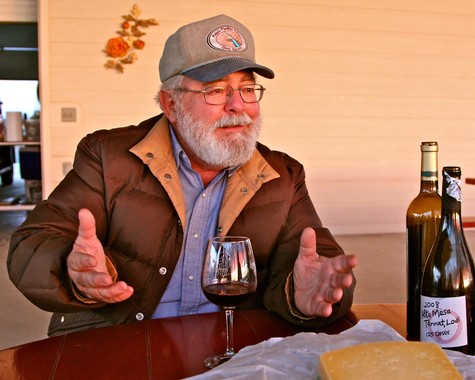 GOLD MEDALS
2014 Sand Point, Lodi Sauvignon Blanc – Up to $14.99

2014 LangeTwins Family, Lodi Sauvignon Blanc – $15.00-$18.99

2014 Sand Point, Lodi Chardonnay - $10.00-$13.99

2015 Wise Villa, Lodi Torrontés – Other White Varietals

2013 McCay, Lodi Vintner Blend (Viognier/Grenache Blanc/Vermentino) – White Blends $20.00 & Over

2014 McCay, Lodi Rosé - Dry Rosé, residual sugar <.2499

2015 pureCru, Lodi Rosato di Sangio – Dry Rosé, residual sugar <.2499

2014 LangeTwins Family, Lodi Sangiovese Rosé – Dry Rosé >.25

2014 Black Saint Peter, Lodi Zinfandel – Up to $14.99

2013 Gnarly Head, Lodi Zinfandel – Up to $14.99

2013 Whiplash, Lodi Zinfandel – Up to $14.99

2013 Maggio Family, Lodi Zinfandel (by Oak Ridge) – Up to $14.99

2013 Ironstone, Lodi Zinfandel – Up to $14.99

2014 McManis Family, Lodi Zinfandel – Up to $14.99

2013 LangeTwins Family, Lodi Zinfandel – $15.00-$19.99

2013 Rippey, Lodi Zinfandel – $15.00-$19.99

2013 Zinderella, Lodi Zinfandel – $20.00-$23.99

2013 Klinker Brick, Lodi Zinfandel – $28.00-$31.99

2014 Peltier, Schatz Farms Lodi Zinfandel – $28.00-$31.99

2013 Harney Lane, Lizzy James Vineyard Lodi Zinfandel - $36.00-$39.99

2014 St. Amant, Lodi Barbera – Up to $19.99

2013 d'Art, Lodi Barbera – $20.00 & Up

2013 6th Sense, Lodi Syrah (by Michael David) – Up to $24.99

2014 Maggio Family, Lodi Petite Sirah (by Oak Ridge) – Up to $24.99

2013 Harney Lane, Mokelumne River-Lodi Petite Sirah – $25.00-$28.99

2013 Bokisch, Terra Alta Vineyard Clements Hills-Lodi Grenache – $20.00 & Over

2013 Hunter's Oak, Clements Hills-Lodi Grenache – $20.00 & Over

2013 McCay, Abba Vineyard Lodi Grenache – $20.00 & Over

2014 Michael David, Lodi Cinsault – Rhone Blends $20,00-$20.99

2013 St. Jorge, Vierra Estate Lodi Alicante Bouschet – All Other Red Varietals

2012 Jessie's Grove, Spenker Ranch Lodi Merlot – $19.00-$22.99

2013 Goldstrike, Lodi Cabernet Sauvignon – $19.00-$22.99

2013 Mettler Family, Lodi Cabernet Sauvignon – $23.00-$26.99

2013 Prie, Prie Vineyards Lodi Cabernet Sauvignon – $31.00-$34.99

2013 Viaggio, Lodi Malbec - Up to $24.99

2014 Oak Farm, Silvaspoons Vineyard Alta Mesa-Lodi Malbec – $25.00 & Over

2013 Inkblot, Lodi Petit Verdot (by Michael David)

2012 Coup de Grâce (Zinfandel/Petite Sirah/Petit Verdot/Cabernet Franc) – All Red Blends $25.00-$29.99

NV Barsetti, Lodi Dolce Maria - Port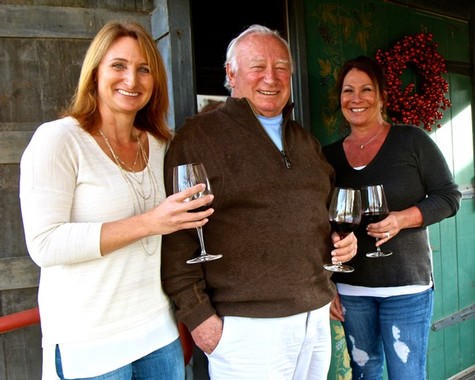 Comments