Letters from Lodi
An insightful and objective look at viticulture and winemaking from the Lodi
Appellation and the growers and vintners behind these crafts. Told from the
perspective of multi-award winning wine journalist, Randy Caparoso.

January 28, 2019 | Randy Caparoso
While seeking sense of place, Lodi grown Petite Sirahs still command respect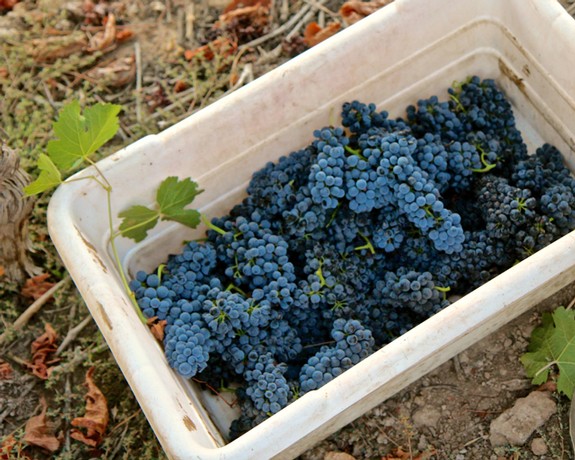 Recently, to update ourselves, we conducted a blind tasting of 14 of our Lodi grown reds fashioned from Petite Sirah (a.k.a. Durif). We found a uniformity of quality comparable to Petite Sirahs from other California wine regions (example of Lodi's competitiveness: at the recent 2019 San Francisco Chronicle Wine Competion, Lodi-based producers such as Karen Birmingham, St. Amant, Mettler Family, Peirano Estate and GoodMills Family all walked away with gold medals), as well as a little bit of movement towards styles reflecting the current evolution of California wines in general.
That is, a move towards a little more subtlety – particularly in terms of oak barrel aromas and flavors – and a little less of the wham-bam-thank-you-ma'am intensity of alcohol, tannin and ripe, sweet toned fruitiness (please see out notes on specific wines below) for which Petite Sirah has been known. Still, if anything, Petite Sirah has never been considered a "subtle" varietal, and undoubtedly never will, even in more restrained guises.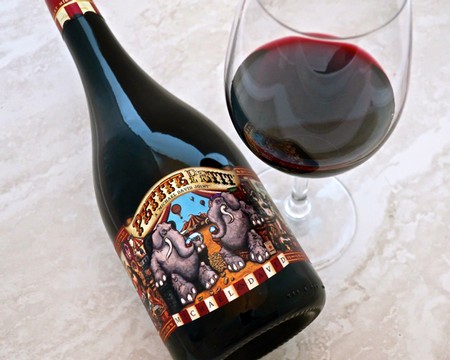 A Petite always gotta "Petite," which is to appeal exclusively to wine lovers with a yen for red wines spiked with outsized proportions, and marked by more teeth-staining, inky color than just about any other red wine in the world. Because of that, the varietal has never been counted among the world's "great" red wines, despite an evidently fanatical fan base driving steadily growing production (according to PS I Love You, a Petite Sirah Advocacy Organization, there are now over 1,000 brands of California Petite Sirah, which is well over 10 times more than just 15 years ago).
So why the Rodney Dangerfield-like disrespect? Besides being a love-it-or-leave-it sort of thing, Petite Sirah is a varietal more strongly associated with winery or brand styles than vineyards or appellations. The finest wines in the world, however, are more than just intense, iconic or enjoyable. They are also closely identified with the specific vineyards and regions where they are grown. An intellectual appeal, as much as a sensory one.
Put it another way: A region like Napa Valley, like Bordeaux in France, is closely associated with Cabernet Sauvignon, and vice-versa. When wine lovers talk about Pinot noir, they talk about favorite vineyards and sub-regions in places like Burgundy in France, Willamette Valley in Oregon, or Santa Barbara, Santa Lucia Highlands, Sonoma Coast, Russian River Valley and Anderson Valley in California. Even Zinfandel – which has Rodney Dangerfield-ish issues of its own – is at least identified with vineyards in regions like Amador County, Dry Creek Valley, Rockpile or Lodi.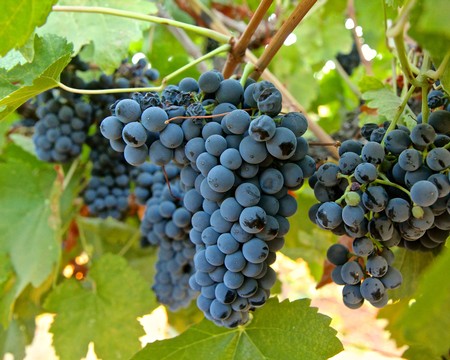 Specific regions celebrated specifically for Petite Sirah? If you're drawing a blank, join the crowd. Petite Sirah is grown up and down the California coast; and in fact, it is a grape that does well in numerous places, especially warm Mediterranean climate zones like Napa Valley and Lodi. But even after 135 years (at a Zinfandel Advocates & Producers conference earlier this month, Bedrock Wine Co.'s Morgan Twain-Peterson pointed out that Petite Sirah was first introduced in Sonoma Valley in 1884), Petite Sirah has remained a varietal considered more of a wine that is manufactured – even when meticulously crafted by talented winemakers – as opposed to grown, and not so much a wine that expresses a strong "sense of place" (or terroir) in the bottle.
Hence, the overriding objective of the majority of brands or winemakers, which is to stuff as much of Petite Sirah's "varietal character" as possible into a bottle. But oh, what a varietal it is: predictably humongous, densely textured flavors, topped by heady aromas of blueberry-ish fruit often laced with peppery spice, preferably with perceptible "smoke-of-oak" – the more oak the better, it seems, for most Petite Sirah lovers.
While Lodi grown Petite Sirahs still tow the party line, far from being clinics on vineyard (or terroir) related delineations, there is a movement – an almost unnoticeable one, but a movement nonetheless – towards a little more restraint in alcohol, oak, tannin and fruitiness, and that's a start. The next step would be a focus on vineyards from different parts of the appellation, which might start with wineries daring to bottle Petite Sirahs from individual AVAs (contrasting, say, fragrant styles from the sandy loam terroir of Mokelumne River with the meatier styles of Jahant's gravelly clays and the even denser, high color/phenolic styles grown in the rocky red clay hillsides of Clements Hills). While achievement of individual vineyard or appellation distinctions in Petite Sirah is more than possible, will has to come before way.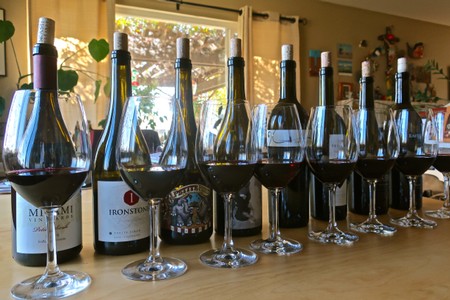 Meantime, will this mean Petite Sirahs that no longer taste like "Petite Sirah?" Hardly. As you might glean through our notes on the current batch of Lodi grown releases below, there is still plenty enough to please the most hardcore connoisseurs of the grape:
2015 Mettler Family Vineyards, Estate Brown Lodi Petite Sirah ($25) – Mettler Family's bottlings have been a crème de la crème among Lodi grown Petite Sirahs for the past ten or so years. The opaque, cloth-staining, black-purplish hue is totally in keeping with the varietal profile, as is its concentration of blueberryish fruit, only heightened by a discreet backdrop of smoky/vanillin oak. The feel is rounded (a sizeable yet completely proportionate 15% alcohol frame) and both fleshy and meaty, with the concentrated fruit loading up the palate in fluidly textured layers upon layers. This is California Petite Sirah at its best, but the question may arise: is this specifically "Lodi?" There is, in fact, a pliant quality in the texture and a feel tilted towards lush fruit that echoes the emerging styles of other Lodi grown varietals (particularly Zinfandel, Grenache and Carignan). All the same, a first class Petite.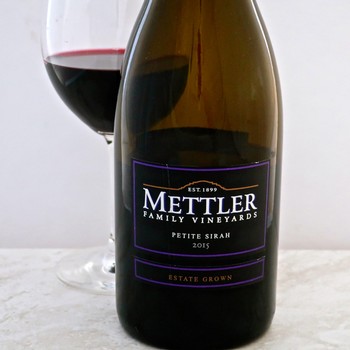 2016 Petite Petit (by Michael David Winery), Lodi Petite Sirah ($14) – This 85% Petite Sirah/15% Petit Verdot – the latter, a Bordeaux grape that almost equals Petite Sirah in blackness of color and skyscraping tannin, while typically zestier in acid, lighter on its feet and more floral (violet-like) in perfume – gives a good accounting for the runaway success of this proprietary blend (its colorful circus label certainly increases the appeal). The saturated black fruit qualities of Petite Sirah are only enhanced by the flowery, cedary, slightly herby (black olive and eucalyptus) notes of the Petit Verdot component. The feel is weighty with, at the same time, a sense of moderation in both the alcohol (14.5%) and firming tannin, coming across with a surprisingly zesty, textured feel. That is to say, just enough restraint and extra aromatic dimension to appeal even to red wine drinkers who are not necessarily diehard Petite Sirah fans.
2015 Peltier Winery & Vineyards, Black Diamond Lodi Petite Sirah ($20) – Properly varietal black-purplish color and sweet toned concentration of fruit – a lavish, plummy blueberry/blackberry aroma – tinged with smoky/coffee-like oak embellishments. The generous fruit is framed by a full yet svelte, well rounded body – the oak, tannin and fruit acidity working in synch to keep the "big" sensations (a moderate 14.5% alcohol) even keeled all the way through a sturdy, lip smacking finish.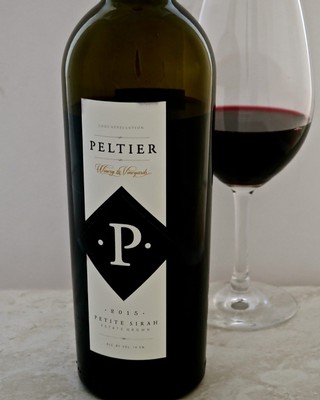 2016 Harney Lane Winery, Lodi Petite Sirah ($28) – While there are crafty cinnamon toast-like vanillin oak flourishes and a seamlessly textured feel distinguishing this Petite Sirah among others of its ilk, the Harney Lane's heady nose (teeming with concentrated berry liqueur-like fruit) and dense, gargantuan feel (the label reads 15% alcohol, but feels even bigger) slaps a "strictly-for-Petite-Sirah-lovers" (or, "no wimpy wines") sign on this bottling. Petite Sirah lovers will dive right in, but for others: you have been forewarned.
2016 Mikami Vineyards, Lodi Petite Sirah ($39) – Even with a not-so-subtle veil of pungent vanillin/toasted oak, this varietal rendering rings true and compelling with its slightly floral raspberry/blueberry liqueur-like fruit and sumptuous, velvet texturing, wrapping around the concentrated fruit sensations and firm yet crackling core of chunky tannin like a decadent chocolate truffle, the polished oak veneer only adding to an overall sense of balance and freshness notwithstanding the wine's typically varietal "bigliness."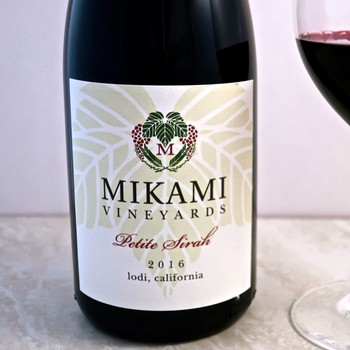 2017 Ironstone Vineyards, Lodi Petite Sirah ($14) – Three words: value (an amazingly good buy), moderation (13.5% alcohol, which is positively waif-like by Petite Sirah standards), and complexity (considerably more black pepper spice – always one of the grape's most intriguing elements – in this wine than in the average California Petite Sirah). The spice-inundated blueberry/blackberry qualities of Ironstone Petite Sirahs, incidentally, are no accidents, or products of sneaky winery manipulations; but rather, certainly reflections of the chunky river rock soils of the Kautz family's plantings, sitting on a Sloughhouse-Lodi AVA hilltop, and thus markers in every vintage. All the same, the wine's svelte, rounded feel is a predilection of the house – they simply believe in balanced, food-versatile styles of wine – which doesn't mean you can't get all the lavish qualities of the grape that a true-blue Petite Sirah lover would want in this ridiculously well priced wine.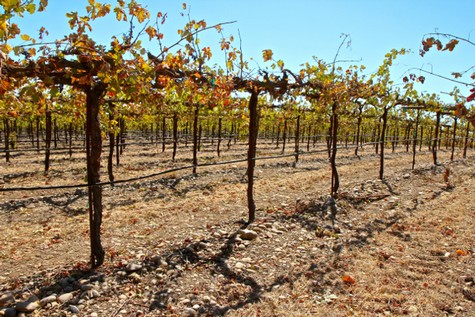 2016 Markus Wine Co., Lodi Sol ($39) – Owner/winemaker Markus Niggli continues to demonstrate his uncommon touch when it comes to blending: 70% Petite Sirah/10% Syrah from Borra Vineyards' Gill Creek Ranch in Clements Hills-Lodi, plus 10% Petit Verdot/10% Carignan from Mokelumne River-Lodi's Spenker Ranch. Consequently, you will find a lush blueberry varietal quality in this wine – only, wrapped up in a flowery, finely delineated nose of cassis/framboise, violet, drops of cinnamon and coconut, a squeeze of fresh cherry. On the palate, Niggli also successfully tames the rough, rambunctious personality of the grape (even if traditionalists may not think this has to be tamed), giving this 70% Petite Sirah more of silky, moderately weighted feel belying its 14.6% alcohol, punctuated by zippy natural acidity (Niggli favors native yeast fermentation and minimal winery "adjustments"). The question, of course, is this deftly fashioned wine a true "Petite Sirah?" Technically, and probably aesthetically, it isn't. It certainly isn't going to "blast" any pureblooded Petite Sirah off a table. But does it have to? If anything, it amply demonstrates another, gentler, yet equally interesting side of the grape.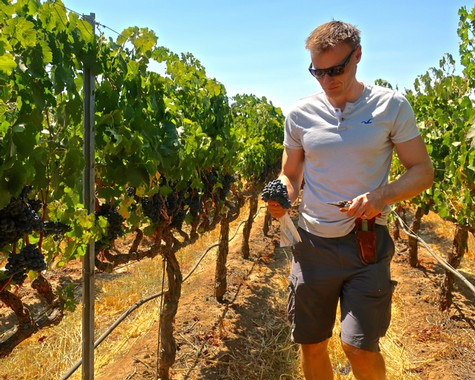 2015 Earthquake (by Michael David Winery), Lodi Petite Sirah ($26) – This brand will stick to its style – black color as dark as the proverbial moonless night, and massive fruit/tannin/alcohol (15.5%)/oak structuring – like guns-and-religion, and will rarely disappoint. There is varietal fruit aplenty – rendered in plummy/blueberry/fig sensations – immersed in smoky oak fumes suggesting roasting mocha/coffee. You can practically cut into this wine with a knife and fork. Which, come to think of it, is exactly what makes a mercilessly big Petite Sirah ideal with, say, a char-grilled steak, a leg of lamb, roasted wild boar, buckshot venison, or... you get the picture – when you go big with a wine, go big with the fatty, high-myoglobin meat.
2015 Van Ruiten Family Vineyards, Signature Reserve Lodi Petite Sirah ($35) – Indicative of this winery's steady move towards more elegant, culinary styles of wines, this Petite Sirah successfully captures a more restrained varietal profile: floral, perfumed nose of just slightly jammy berry/cherry fruit packaged in faintly caramelized, understated oak, following through in a zesty, moderately weighted medium-full body giving a firm yet polished sensation despite the suggestions of jammy fruit qualities.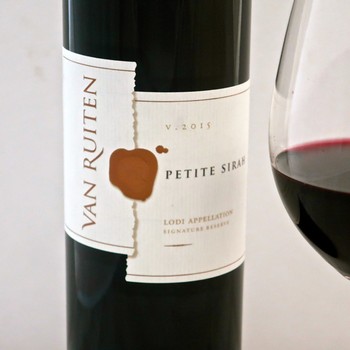 2014 McCay Cellars, Lodi Petite Sirah ($35) – This was the oldest vintage in our blind tasting; and subsequently, it came across as a more supple, medium-full, tactile wine with restrained yet focused varietal notes suggesting blueberry compote with a dash of cocoa powder, plus the lightest, tongue tingling drizzle of balsamic syrup. In the customary McCay house style, native yeast fermented towards a more "naked," balanced, somewhat organic sensations.
2017 Karen Birmingham, Lodi Reserve Petite Sirah ($19) – This well-priced bottling is crafted, packaged and sold by LangeTwins Family co-winemaker Karen Birmingham through NakedWines.com (members, or "angels," pay a lot less than $19), and grown in a new, high-efficiency trellised block off Lodi's Jahant Rd. It is, in fact, a lot of bang for the buck: opaque black/purple color and sweet toned plummy/black cherry fruit concentration, turning into even blacker berry qualities in a fairly big, broad, densely textured mouth-feel, punctuated by toasted oak.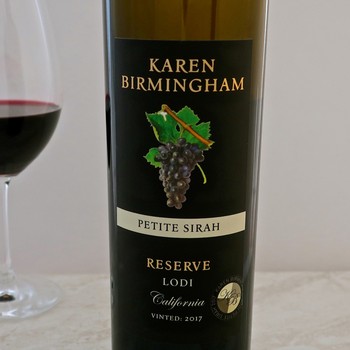 2016 Old Soul (by Oak Ridge Winery), Lodi Petite Sirah ($16) – While leaner and relatively moderate in weight (13.5% alcohol), a black-purplish color, sweet berry and cedary/toasty aromatic notes combine with fairly sturdy tannin on the palate to meet just enough of the varietal expectations to make this wine more than worthy of its modest pricing (going for less than its suggested retail price in numerous retail outlets).
2015 Twisted Roots, Lodi Petite Sirah ($30) – This is a dryer, slimmed down version of the varietal, which suits a Petite Sirah lover looking for the black color and blue fruit, but underlined by more of an edgy, angular tannin than the big, rounded, overtly fruit driven styles more typical of California iterations. Slightly caramelized, toasted vanillin oak helps drive the point home in this zesty, toothsome yet moderately sized (as Petite Sirahs go) wine.
2016 m2, Nancy's Vineyard Estate Lodi Petite Sirah ($20) – There are black and blue fruit qualities galore in this wine, made from more recently planted vines around this vaunted winery. The exuberance of these fledgling vines is also manifested in distinctly green herby/minty aromas (if you love herbaceousness in red wines, you'll love "Nancy's"), beefed up by sweet American oak qualities, mingling in a palate feel that is suitably big, bold and bouncy in its dense, round, teeth staining composure.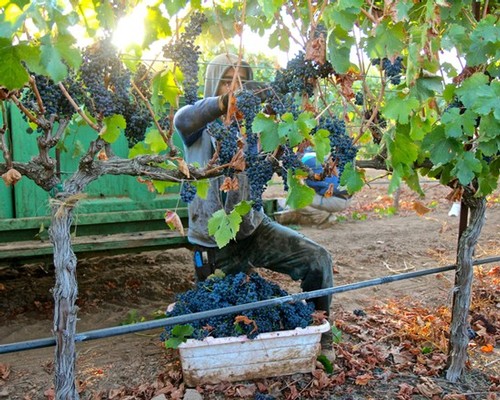 Comments