Letters from Lodi
An insightful and objective look at viticulture and winemaking from the Lodi
Appellation and the growers and vintners behind these crafts. Told from the
perspective of multi-award winning wine journalist, Randy Caparoso.

October 9, 2018 | Randy Caparoso
Leaf and Vine: Love of Lodi inspires another Napa based independent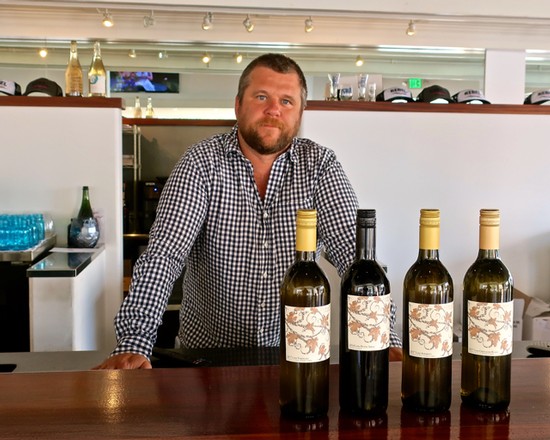 Leaf and Vine Winery – a small, father-and-son (Rick and Tim Keith) owned and operated company – is based in the City of Napa; and so naturally, they produce Napa Valley wines. But winemaker/partner Tim Keith is also crazy about Lodi grown grapes. Therefore he crafts six different vineyard-designate wines with Lodi stamped prominently on the labels.
Also typical of many of the boutique sized winemakers who have recently begun flocking to Lodi vineyards like moths to a flame, the younger Keith is an advocate of wines fermented with native, or indigenous, yeasts; strictly neutral oak aging (that is, older barrels that do not impart significant wood flavors); zero filtration or fining of finished wines; and generally, a minimalist, "hands off" approach when it comes to just about everything done in the winery.
This is no coincidence. Lodi is, admittedly, an "up and coming" winegrowing region (never mind that it is, by far, the largest in the U.S.) insofar as prestige and mainstream press coverage. You are far more likely to find Napa, Sonoma or Santa Barbara grown wines on the wine lists of hoity-toity restaurants across the country than you are Lodi wines. It follows that smaller scale, handcraft style winemakers who do embrace Lodi are those with contrarian streaks. Vintners who like to go against the grain, defying convention.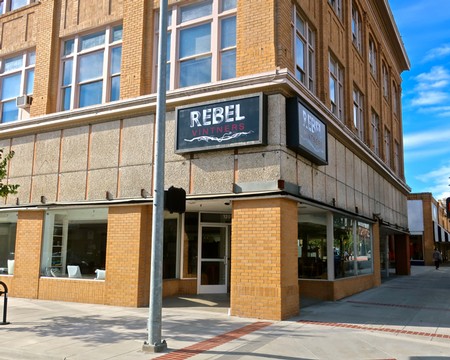 Tim Keith even operates a tasting room called Rebel Vintners – in partnership with two other winemakers of somewhat like mind (Holman Cellars' Jason Holman and Cadle Family Wines' Kevin Cadle) – located in the heart of downtown Napa on First and Coombs Streets.
So what's inside the mind of a "rebel" winemaker? In a conversation last week, we sat down with Tim Keith to get his story:
"I was born and raised in Salem, Oregon, but was first introduced to vineyards through my late grandfather, who began growing wine grapes in Chiles Valley in the 1950s. He planted Zinfandel, which is the flagship grape in that particular part of Napa Valley.
When I got out of high school and started college, around 2000, my original intent was to pursue a business degree. I began to lose interest, and so my grandfather invited me to come on down to Chiles Valley to help out on the ranch. That pushed me in another direction; so I transferred to U.C. Davis to study enology and viticulture.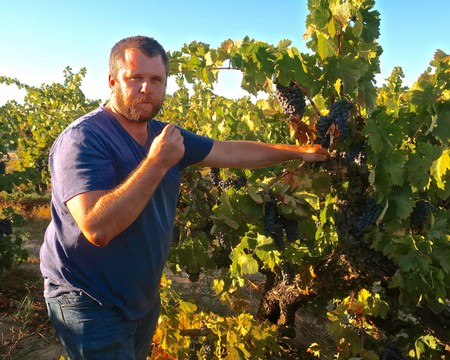 "After graduating from Davis in 2004 I worked in a number of wineries in Oregon, California and New Zealand; including a position as assistant winemaker at Green & Red Vineyard in Chiles Valley. It was working with estate grown Zinfandel and Petite Sirah at Green & Red that probably shaped the winemaking ethos I have today – that is, my focus on vineyard-specific fruit, although we buy from everywhere we can find great grapes.
"But I've always had an entrepreneurial spirit as well. I knew that, sooner than later, I would need to start working for myself. And so in 2010, my father and I founded Leaf and Vine as a father-and-son company. We do consulting and custom crush for other wineries, as well as focus our own brand. After working out of several places, in 2014 we were able to purchase warehouse space in Napa and build our own winery from scratch. While we've been doing 50 to 90 tons for other wineries each year, getting out into vineyards, picking out fruit and crafting wines for our own label is what gets me most excited.
"We've been working with Lodi grapes since 2010. I credit Tegan Passslacqua (winemaker for Turley Wine Cellars) for first putting me in touch with Markus Bokisch (owner/grower of Bokisch Vineyards), which led us to our Petite Sirah grown by Markus in his Vista Luna Vineyard, in Lodi's Borden Ranch AVA. I think Lodi Petite Sirah is one of Lodi's hidden gems. You get such depth of character there, without being overly astringent or tannic, unlike most of the Petite Sirah grown in California. It's the warm days and cool nights as well as rocky red cobble soil of Borden Ranch that make a more 'elegant' style of Petite Sirah possible.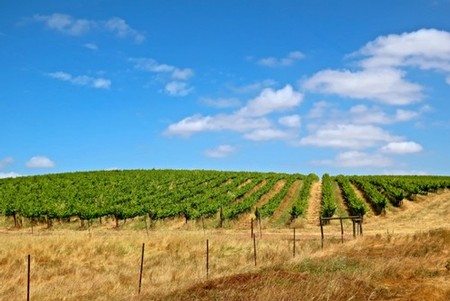 "In 2016 we started making Zinfandel from Vista Luna Vineyard; and in 2017, old vine Carignan from Mule Plane Vineyard (planted in 1927-1930) in the Mokelumne River AVA. Also in 2017, we began producing Albariño, Verdelho and Grenache blanc from Vista Luna. The thing that fascinates me about Lodi is how it is almost like a pupu platter of grape types and different sites. I love how the rocky hillside soils of Borden Ranch contrast with the dusty, sandy valley floor soil of Mokelumne River. Both are great, well drained sites, and both produce distinctive wines from a wide range of grapes – varieties that, for the most part, we just can't find here in Napa.
"We're well aware that Lodi has been producing wine grapes for a long time, but we're proud to be part of the new crop of specialty winemakers – much smaller guys than the big wineries that still dominate the region. But in our own ways, we're all trying to capture the world class quality that I see in these grapes.
"Insofar as my evolution as a winemaker: Admittedly, I started out as more of a typical winemaker coming out of Davis, doing most things 'by the book.' At Davis we learned that winemaking is both a science and an art; but you need the science first, to make good wine. But the more you do it, the more you realize that the best wines come from the 'art' side. That's what eventually led me towards the 'natural' winemaking movement. It's gotten to the point where things like native yeasts, neutral oak and things like unfiltered/unfined have become standard practice for us.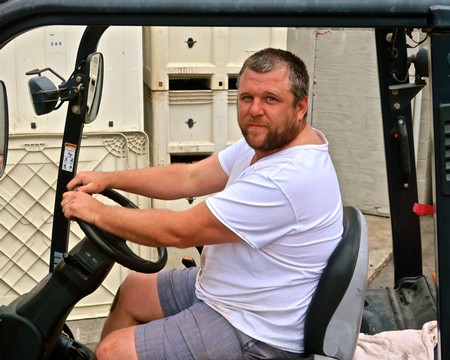 "I think one of the keys to really good winemaking is building a good microbiology in your winery. In our winery, we produce wines for ourselves plus five or six other clients at a time. Some of our clients specify inoculated fermentations with commercial yeasts, and a couple of our wineries prefer natural fermentations with native yeast.
"Either way, a fermentation may start with certain yeasts, but eventually all the yeasts that are present in the winery probably play a part in the fermentations. Our job, of course, is to make sure none of them go astray. But ultimately, I prefer a native yeast fermentation because, for me, it's all about complexity in a wine, which you are more likely to get from a native yeast fermentation employing all the different yeasts built up in your winery's microbiology."
A rundown of Leaf and Vine's Lodi grown wines, along with further insights from Mr. Keith: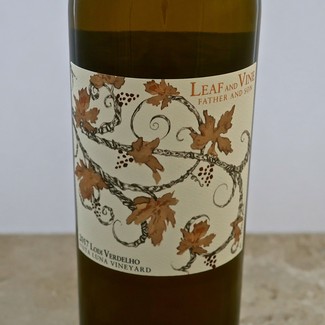 2017 Leaf and Vine, Vista Luna Vineyard Borden Ranch-Lodi Verdelho ($26)
Lemon lime notes with flowery sensibility, along with a faintly vanillin drop of cream. Tart-edgy on the palate; medium body with a slightly viscous, silky texture, juxtaposed by a lemony crisp middle and finish.
Comments Mr. Keith: "Verdelho is one of the three different white wines we source from Lodi. We encourage all three to go through malolactic fermentation (i.e. "ML," which is when the sharper tasting malic acid in a wine is converted to milder lactic acid), which I prefer for the stability it gives to a wine – especially since we don't filter any of our wines.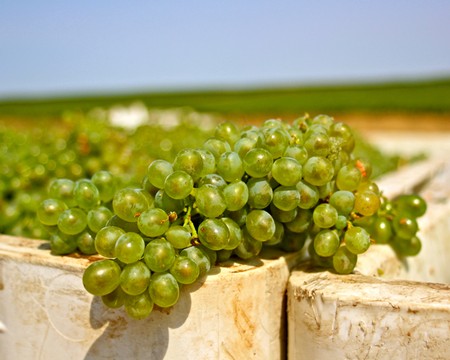 "In anticipation of ML, we pick our Verdelho early enough, when sugars are no higher than 21.5° Brix (i.e. grape sugar reading) and acidity is still high. ML adds textural quality to the wine; but our intention is to get that acidity to pop, because that's what brings out Verdelho's bright citrus, floral, lemon grass aromas and flavors – like a potpourri of perfumes. Otherwise, we ferment the wine at cold temperatures in a stainless steel tank, and it spends six months in neutral oak barrels on the lees (i.e. dead yeast cells), then held another three months in tanks before bottling."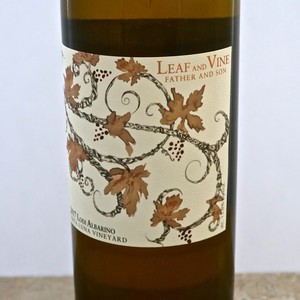 Leaf and Vine, Vista Luna Vineyard Borden Ranch-Lodi Albariño ($28)
Pale gold color and candied lemon/mandarin wedge nose, with an airy, floral quality. The medium weight body has a round, silky smooth quality punctuated by a bright, medium acidity; the citrus/floral qualities finishing crisp and fresh.
Says Keith: "To me, Albariño is a 'funny bird.' I didn't have much of a concept of it when I first started working with the grape in 2017; and so I fermented half of it in steel tanks and the other half in barrels. We age all of it nine months in neutral oak with occasional lees stirring. The result is a luscious style of the grape; very much a crowd pleaser. It has the round mouth feel, a little like a Chardonnay; but of course, it is very much an Albariño, with a fruit intensity that reminds me of sipping on a piña colada."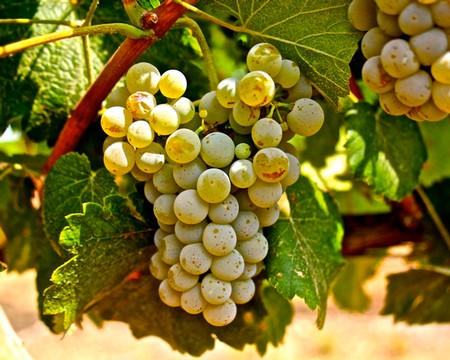 2017 Leaf and Vine, Vista Luna Vineyard Borden Ranch-Lodi Grenache Blanc ($32)
Handled as a more "serious" wine by Keith; complete with barrel fermentation (strictly neutral French oak) and a full nine months in the same barrels. Result is a wine espousing the fresh pear qualities of the grape with creamy underpinnings; the focus in the nose remaining squarely on the varietal fruit (with none of the strong vanillin/charred qualities you expect in a barrel fermented white). On the palate, the wine is rounded yet tart edged; full-ish, without being heavy; and viscous textured through a long middle and finish, bolstered by the zippy acidity and a smidgen of champagne-like yeastiness.
Adds Keith: We pick our Grenache blanc when the sugars and flavors are a little riper, around 23.5° Brix. By taking the wine through ML, we get both textural and vanilla qualities, but without the 'buttery' flavor of diacetyl often associated with, say, barrel fermented Chardonnay. Continuous stirring of the lees while in the barrel (a winemaking practice called bâttonage) contributes further to the overall complexity."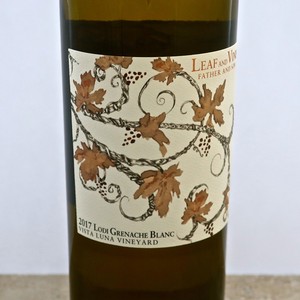 2016 Leaf and Vine, Vista Luna Vineyard Borden Ranch-Lodi Zinfandel ($28)
Zingy, nostril tingling red cherry/raspberry nose; pure and unfettered (that is, mercifully free of the sweet oakiness far more typical of California Zinfandels). The medium-full body (14.7% alcohol) has a good, buoyant feel; the fruit focused profile backed up by zesty natural acidity and fairly sturdy tannin.
Explains Keith: "Our Vista Luna Zinfandel does not get nearly as much barrel aging as our Petite Sirah because the aromatics are so floral and pretty – like fresh-cut flowers, lavender, fresh blue and red fruits, pushed out by lots of bright acid. It sees 18 months in neutral French oak – just enough to round out the flavors without taking away from those aromatics.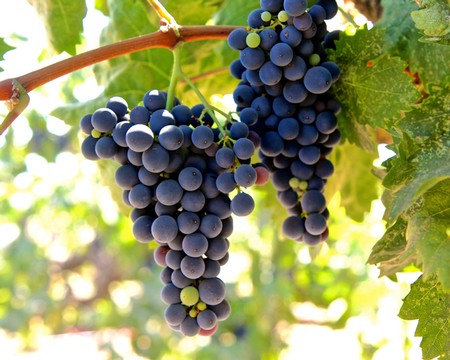 "We also tank ferment our Zinfandel in closed-tops; again, unlike Petite Sirah, where we prefer an open-top, which helps burn off a little alcohol during fermentation. We've found that closed-tops for Zinfandel contributes to the fresh aromatics; and if we pick early enough, at around 24.5° Brix, the alcohol still remains moderate, needing no water 'adjustment' at all. To round out tannins, we'll barrel down one or two barrels at 2° or 3° Brix (i.e. with still-fermenting sugars) and let them finish in wood. The rest we'll ferment to dryness in the tank; and, depending upon the year, hold the wine on skins for another five or so days to further polymerize tannins."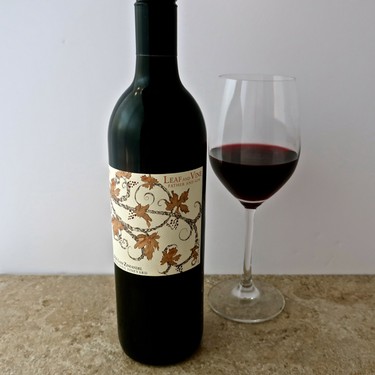 2015 Leaf and Vine, Vista Luna Vineyard Borden Ranch-Lodi Petite Sirah ($32)
Mr. Keith says he works hard to avoid a typically "monster" style of Petite Sirah; but let there be no mistake, this wine is very "PS": beginning with its inky, black-purplish color, and nose of super-concentrated, black/plummy fruit, yet multi-faceted with violet/lavender-ish perfumes, whiffs of red meat and hard spices like juniper and peppercorn. The only thing missing is smoky oak; but since the house style eschews the usual oaky California style – espousing strictly neutral French oak (30 months in barrel) – oak is not a sensory factor in either the nose or palate. Yet the feel is dense, muscular and full without being cumbersome (14.8% alcohol); the wine's thick cords of tannin cut by notably zippy acidity, tipping it towards meaty, spicy, concentrated fruit sensations.
Keith elaborates: "Our Petite Sirah is very much a product of its source, Vista Luna Vineyard, growing in the volcanic cobble of Borden Ranch – some of the oldest soils in California (around 500,000 years).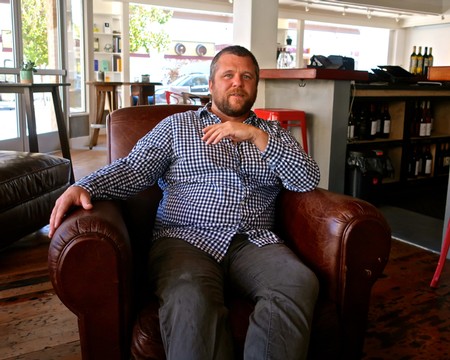 "This is by far our most labor-intensive wine. The grapes are 100% destemmed – Petite Sirah doesn't need the extra tannin from stems – and is fermented in open-top bins. We'll do six punch-downs a day to control the fermentation temperature, and we sparge with oxygen (a practice also called oxygenation, which helps increase polymerization of tannin molecules while preventing formation of off-flavors).
"While frequent, our punch-downs are gentle, since we also want to keep the whole berries intact to get a little bit of carbonic maceration (i.e. intracellular fermentation taking place within individual whole berries), which enhances fruit qualities. Then we age the Petite 30 months with the addition of lees from our Sauvignon blanc which, when stirred, add the nano-proteins that help bind the aggressive tannins typical of the varietal.
"Our goal is an approachable, more delineated style of Petite, rather than something big and simple. By picking early enough we can usually get alcohols below 14.5%. We won't cut the wine with water to reduce alcohol; but even in the bigger, riper years – which happen – we've found we can produce a balanced style of Petite Sirah, with more of a flow, or clearer path, on the palate, with an actual front, middle and finish."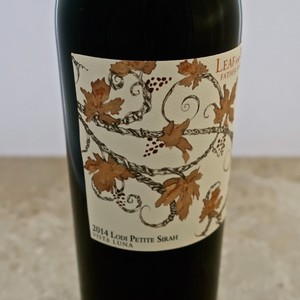 2016 Leaf and Vine, Mule Plain Vineyard Mokelumne River-Lodi Carignane ($42)
Carignan is considered one of Leaf and Vine's most serious reds; this particular wine's "sense of place" (qualities often called terroir) lending itself ideally to the winery's regime of indigenous yeast, focus on fruit and natural acidity, and neutral oak aging. The nose is pungent with black cherry; pure and perfumey, and tinged with leafy/herby and dusty notes. On the palate, the cherry sensations are notably zesty with acidity, medium-full, fresh and upbeat; firm tannins and balancing acidity lending a sturdy enough framework to manufacture long, meaty, savory sensations, and a promise of another 5 to 10 years of positive maturation in the bottle.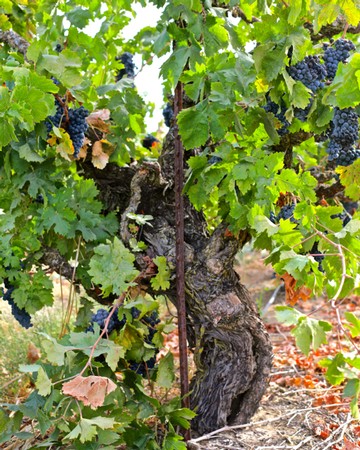 Says Keith: "We do a 50/50 whole cluster/destemmed fermentation – the destemmed fruit laid over whole clusters in open-top bins. We'll do just enough punch-downs to get the cap wet during the fermentation, so as not to bring the whole clusters to the top. The goal is to achieve partial carbonic maceration, which I think brings out the prettier fragrances of the varietal, while retaining some of the earthy aromatics indigenous to the vineyard.
"24 months in neutral oak is all this varietal needs to resolve its tannins without taking away from the concentration of varietal character. Unique to the vineyard, the nose of is very 'lifted' – mixing floral qualities with bright fruit, enhanced by the partial carbonic maceration."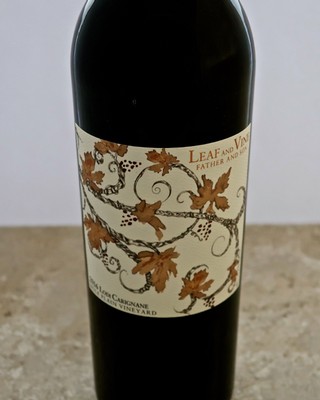 Comments