Letters from Lodi
An insightful and objective look at viticulture and winemaking from the Lodi
Appellation and the growers and vintners behind these crafts. Told from the
perspective of multi-award winning wine journalist, Randy Caparoso.

November 7, 2017 | Randy Caparoso
LVVR's Champagne style sparklers make ideal holiday libations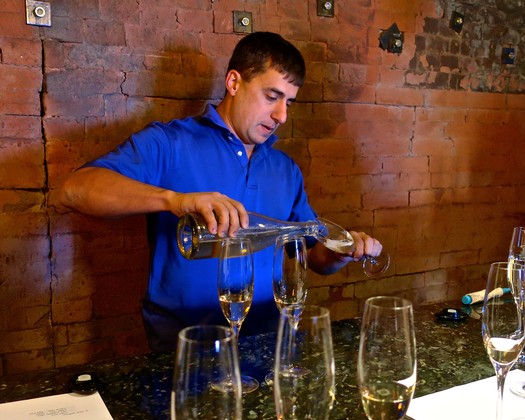 Up until recently, the Lodi wine region has never been associated with traditional Champagne style sparkling wines. That all changed when LVVR Sparkling Cellars opened its tasting room doors in July 2016 (see LVVR bring prestige sparkling wines to Lodi).
Of course, production of the finest sparkling wines – those produced in the style originating in the Champagne region in France (called méthode Champenoise) – is a laborious process, taking years to master. LVVR winemaker/owner Eric Donaldson started his project in 2012 – taking nearly 4 years until he was ready to release his first commercial sparkling wines.
Why the name, LVVR? Donaldson named his company after four close friends/sisters named Leticia, Vanessa, Virginia and Rose – all with a taste for bubbly, and who encouraged Donaldson to have a go at it.
As of this moment, Donaldson is offering four different sparkling wines, all made from a base white wine of Lodi grown Chardonnay, with a tiny percentage of Viognier. As we speak, he is finalizing a fifth label, which will be bottled as the 2016 LVVR Lodi Reserve Sparkling Wine. Donaldson's Reserve cuvée consists of a base wine blended from 60% Pinot Noir and 40% Chardonnay, all grown in Lodi.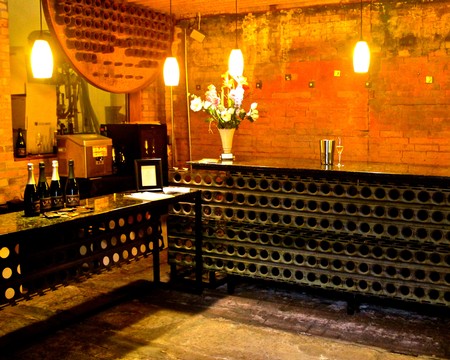 While giving us a sneak preview of his latest wine this past October, Donaldson told us: "My Reserve bottling will be released on December 2. The target market will be our wine club, who tend to prefer sparkling wines on the dry end of the scale. Therefore, the Reserve will probably be finished 100% dry. We will bottle it with absolutely no sugar in the dosage."
This will be a bold move on Donaldson's part because of the fact that bone-dry French Champagnes and American style sparkling wines are extremely rare. Almost all sparkling wines produced around the world (including Italian Prosecco and Spanish cava) are finished at least a tiny bit sweet, with a mix of wine and sugar (i.e. dosage) added just before the final re-corking.
In our own tasting of the LVVR Reserve, we found the wine to be clear as a bell, with ringing perfumes of citrus, toasted almonds, rising bread dough and smidgens of fire toasted wood (the wine was aged a short time in oak barrels before undergoing its second fermentation in bottles). It was also crisply balanced with palate freshening acidity, and as sleek as satin – in absolutely no need of additional sweetness for "balance."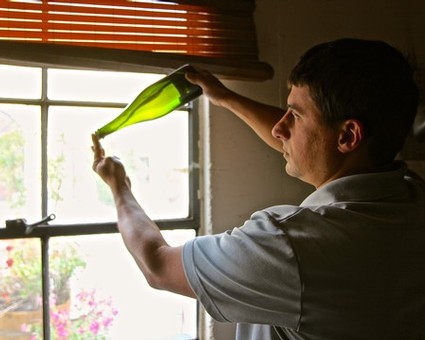 While production of LVVR wines is miniscule, Donaldson's business is booming because he has taken on no less than 20 other wineries for clients – all seeking his expertise in the production of Champagne style sparklers. "Most of my winery customers are located in Lodi," says Donaldson, "although I've picked up a couple wineries in Amador County."
Interested in tasting all the LVVR wines with Mr. Donaldson himself? Since he is pretty much a one-man-show, you'll find him in his tasting room in Lodi's Tuscan Winery Village – technically, located in the little CDP of Lockeford, just east of the City of Lodi.
Donaldson will also be featured as a guest winemaker in a holiday themed sparkling wine and cheese tasting taking place Friday, November 10, 2017 in Downtown Lodi's Cheese Central with owner/cheesemonger extraordinaire Cindy Della Monica. Please contact Cheese Central (phone 209-368-3033) for further details or to reserve a seat.
Our notes on Donaldson's current releases of LVVR sparkling wines:
LVVR Brut Lodi Sparkling Wine ($20) - An authentic, meticulously crafted Champagne style wine, beginning with its crystal clear, bright effervescence and floral, subtly tropical nose of Lodi grown Chardonnay (suggesting citrus, apple and white flowers) laced with toasted biscuit-like aromas. On the palate, bracingly crisp and mouth-wateringly dry, with a lemon/grapefruit-like tartness (reflecting a dosage of just .5% residual sugar), allowing silky mineral sensations to linger like a feather on a breeze.
LVVR, Rosé Lodi Sparkling Wine ($20) – Utilizing the same Chardonnay based wine as in the LVVR Brut, with a pale, rusty pink color attained by a tiny addition of red wine. Fragrant notes of white flowers entwined with notes of red berries (tart raspberry/cherry) and rising bread yeastiness; silky smooth yet crisply focused sensations with whispers of sweetness (1% residual sugar in the dosage), finishing dry with a firm, palpable stoniness.
LVVR, Blanc de Blancs Lodi Sparkling Wine ($20) – Here, the tropical/flowery Lodi grown Chardonnay character in this nonvintage blend is heightened by a tad more residual sugar (1.5%) in the dosage; yet the lively, high acidity of keeps this wine beautifully sleek, bright, and finely balanced, finishing with lip-smacking dryness and grapefruit freshness.
LVVR, Demi-Sec Lodi Sparkling Wine ($20) – While higher in residual sugar (3.2%), a high toned natural acidity gives this bottling an off-dry rather than overtly sweet taste; while also bringing out a white peppery spice in the floral tropical fruit qualities; lingering with a silkiness in the middle, and lemon drop flourish in the finish.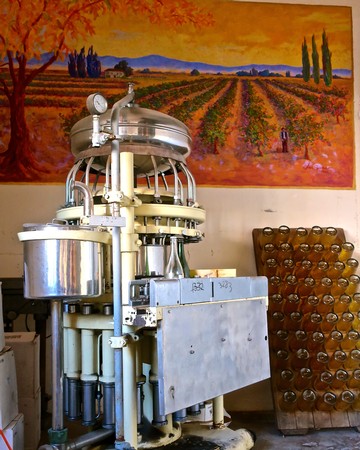 Sparkling Wine & Holiday Food Matching
There are reasons why tart, bone-dry sparkling wines are ideal for holiday parties. For one, who doesn't associate the sound of popping bottles with celebration? And two, light, lemony tart wines with the edginess of bubbly are perfect for so many of the canapés and dishes we love to serve during the holidays.
The most essential thing to remember about dry sparklers such as Lodi's LVVR's botlings is that they are basically like light, tart, steely dry white wines; only, with the addition of yeasty sensations (akin to the smell of rising bread) and palate-cleansing bubbles. Thus, the ideal dishes for such sparklers are those that are complimented by lemony tart, yeasty sensations; such as
• Raw oysters with vinegary mignonette
• Shrimp marinated in lemon or lime
• Shellfish ceviche (shrimp or scallops marinated in citrus juice)
• Crab cakes with lemon aioli
• White fowl (chicken, turkey, game hen, squab or pheasant); especially brined or citrusy
• Slightly tart, earthy goat milk cheeses (almost any Chèvre)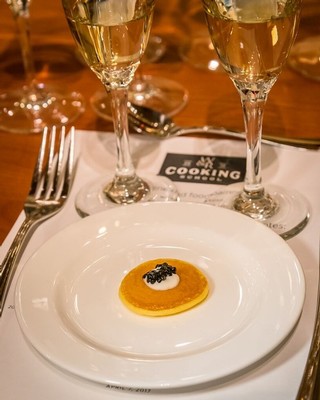 A favorite appetizer served by Lodi's Wine & Roses Hotel Executive Chef John Hitchcock is a Yukon Gold blini with caviar, crème fraiche and lemon zest. With dry sparkling wines, the briny taste of caviar takes on a brightly fruited taste, while the tart quality of sparklers help balance the taste of the crème fraiche and lemon.
Finally, here's an idea anyone can love: little holiday bowls of luxuriously creamy yet savory lobster mac 'n cheese. Lobster meat, after all, absolutely screams for citrusy tart white wine, and ultra-dry sparkling wines cut through the taste of cheeses like Gruyère and Cheddar like hot knives through butter.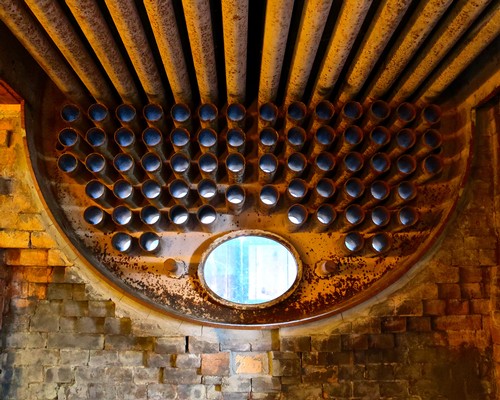 Comments