Letters from Lodi
An insightful and objective look at viticulture and winemaking from the Lodi
Appellation and the growers and vintners behind these crafts. Told from the
perspective of multi-award winning wine journalist, Randy Caparoso.

February 7, 2017 | Randy Caparoso
Is ancient vine Carignan ready for its star turn?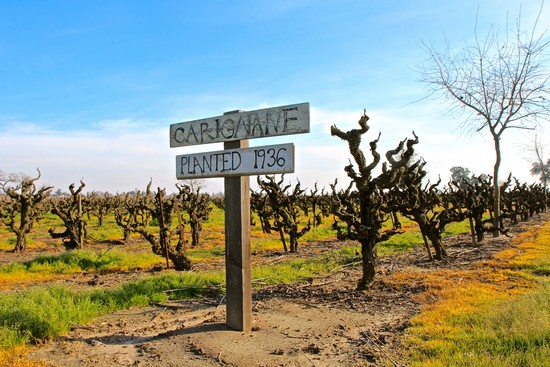 The black skinned Carignan grape makes a totally delicious red wine of vivid, deep color and effusive fruit expression; usually suggesting black cherry or related sensations, such as strawberry, cranberry, raspberry or rhubarb, and sometimes violet or rose petal-like fragrances.
Red wines made primarily from Carignan tend to be dependably well balanced with moderate tannin and better than average natural acidity; usually embedded in a full, richly textured body (typically in the vicinity of 13.5% to 15% alcohol – no higher or lower, mind you, than today's average sized Pinot Noir, Zinfandel, Merlot or Cabernet Sauvignon).
That's your typical Carignan; but when produced from vines over 50, 75, or even 100 years old, a Carignan can be much more. Phenoms in their own right.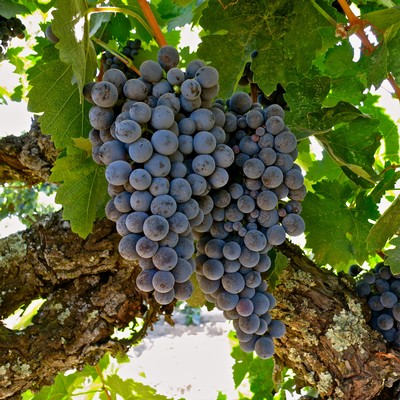 Still, why is Carignan never really considered among the "great" red wine grapes of the world? If Carignan were, say, a man, he might be described as a dependable, good-looking guy, usually a little buff, very popular in high school or college, with a genuine and kind personality. Only drawback, he only likes to talk about one thing; like sports, maybe games, or surfing. In other words, not particularly well rounded or deep; but still a great guy. Question is – does this make him a keeper; or someone bound to drive you nuts?
Wine consumers, being the way they are, have had a past history of drinking tons of Carignan – or at least, Carignan based red wine blends – but in recent years, many have moved on to other things.
And that's the story of Carignan. Between the 1960s and 1980s, Carignan was the most widely planted red wine grape in California; grown primarily to produce "jug" reds, blended with other grapes. During that same period of time in France, Carignan was hugely popular – reportedly, over 400,000 acres planted in vast swaths of vineyards along the Mediterranean, which would be about 45% of the total amount of wine grapes of any color planted in California today.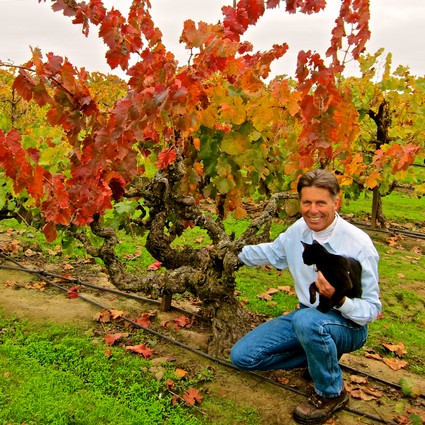 Here in 2017, however, plantings of Carignan in California have dropped precipitously; to the point where it is now well behind a dozen other red wine grapes in total acrage (Cabernet Sauvignon, Zinfandel, Pinot Noir, Merlot and Syrah being far more fashionable today). In France, Carignan plantings have also fallen significantly (at last count, in 2009) to about 131,000 acres; pulled out mostly in favor of grapes like Merlot, Grenache and Syrah (currently France's most widely planted grapes). Even in Spain – the likely birthplace of Carignan – there are barely 15,000 acres of the grape in the ground today.
In its traditional role as a supplier of red wine grapes to big wineries, Lodi has retained a larger percentage of the 2,600 or so acres of Carignan still cultivated in California. Carignan thrives in Lodi because of the appellation's moderate Mediterranean climate, not dissimilar to that of Mediterranean Basin wine regions (from Spain to Croatia, Southern France to North Africa) where the grape has been cultivated for as long as 700 years, minimum (in Wine Grapes, renowned wine author Jancis Robinson describes Carignan as "a very old variety that was dispersed a long time ago").
Apart from its dependable, nice-guy personality, the popularity of Carignan has always been tied to its productivity. Although it ripens later in the season (making it more prone to inclement weather), its big clusters can yield larger tonnage than grapes like Zinfandel, Mataro (a.k.a. Mourvèdre), Syrah or Petite Sirah. As in Europe, growers in Lodi came to favor the grape because of its vigorous yields as well as other positives; such as its upright growth (ideal for head trained, spur pruned vines) and wines retaining good, zesty acidity. These are precisely the reasons why Carignan was typically an integral part of Zinfandel-dominated "field" mixes planted throughout the North Coast in the late 1800s and first half of the last century.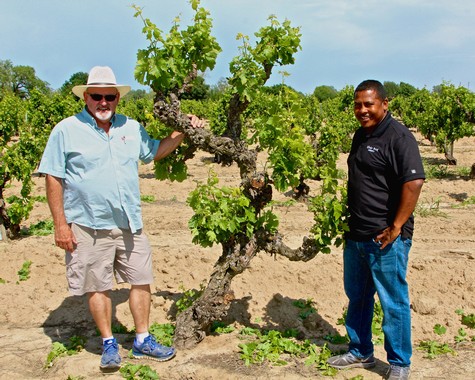 But something else has happened to the few remaining California blocks of pure, ancient vine Carignan: They have suddenly become more valued for their own varietal virtues, which seem to become accentuated with increased vine age.
Greg Burns, the owner/grower/winemaker at Lodi's Jessie's Grove Winery, first recognized the differences between his younger (50 to 75-year-old) and older (over 100 years) Carignan vines when he began started producing wines under his own family label nearly 18 years ago. Says Burns, "I believe Carignan vines really need to be at least 100 years to truly express the grape. Even so, not every year; which is why we don't produce an Ancient Vine Carignane in every vintage."
Burns is far from the only vintner noticing this. In a widely read blog posted back in 2004 – entitled Can Carignan ever be great? – Robinson made a sound argument for that premise by citing a number of remarkable bottlings now being produced from ancient vine plantings in Spain (particularly in Priorat and Montsant) as well as France's Languedoc-Roussillon (citing phenomenal vineyards and producers in Corbières, Minervois, Saint-Chinian, and other appellations).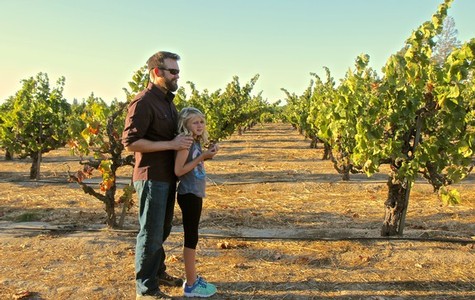 Closer to home, Neyers Vineyards' Bruce Neyers has recently acknowledge being inspired by French vignerons in their sourcing of 140-year-old Carignan vines from Evangelho Vineyard in nearby Oakley, Contra Costa County (where, as in Lodi, century-old head trained vines planted on their own rootstocks have thrived in sandy soil originating from the same decomposed granite washing down from the Sierras).
Carignan, in other words, is back to being cool again. Particularly ancient vine Carignan; which puts regions like Lodi, replete with heritage plantings, at a pole position in the charge to lead the grape back into consumers' hearts. Need evidence? Take the Lodi grown 2014 Jessie's Grove Ancient Vine Carignane, which garnered a Best of Class/Gold at last month's prestigious San Francisco Chronicle Wine Competition (meaning, "the best Carignan in the U.S.," at least according to these judges).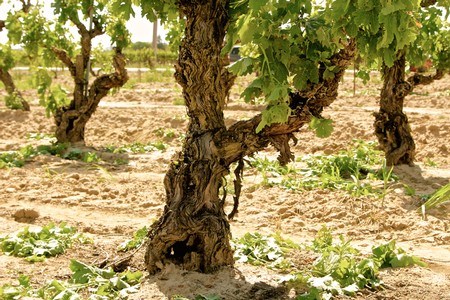 Needless to say, this development has perked our interest; and so last week four of us – including Greg Burns, MK Wines' Michael Klouda, and McCay Cellars' Mike McCay – sat down to a tasting of six Carignans; five of them from Lodi (including the decorated 2013 Jessie's Grove), and one of them from the 140-year-old vines in Contra Costa's Evangelho Vineyard.
We tasted all six Carignans "blind" – none of us knew which wines were what – to maintain some semblance of objectivity in our study of what makes a Lodi grown Carignan "Lodi" (our goal was to get a feel for a regional style, not to pick the "best" Carignans). All the wines, as it turned out, were outstanding: Across the board, teeming in the upbeat, luxuriously textured, cherry/berry generosity reflecting the most positive sides of the varietal personality; with, as you would expect, nuanced differences reflecting vintages and specific vineyard source as much as winemaking and viticultural peculiarities.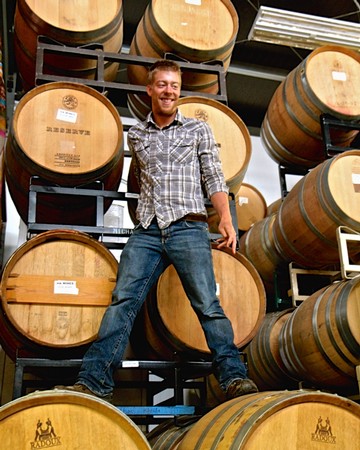 The wines, in order of group preference:
2014 Klinker Brick, Lodi Carignane ($25) – In 2013, when Klinker Brick owner/grower Steve Felten took over the farming of Jean Rauser's east-side Lodi Carignan block – which, according to her, was originally planted in 1906 – they picked about 60% of the fruit early, with lower sugars and elevated acidity, in order to enhance their growing dry rosé program. They picked the rest a little later, turning it into a classic varietal red; which turned out to be so successful that they now utilize the entire yearly crop from these phenomenal vines for red wine, and red wine only. When you taste the 2014, you can see why. Its dark red color is like a royal plumage, and the baking cherry pie-like varietal aroma is pure and lavish; unadulterated by overdone oak, while fleshy, round and seamless, coating the palate like thick velvet while finishing with a bright, bouncy, balanced feel. Mr. Burns (who should know) commented that this is "classic Lodi Carignan – beautifully rounded and deep."
2014 Neyers, Evangelho Vineyard Contra Costa Carignan ($35) – If anything, this is a "let Carignan be Carignan" style of wine, barely distinguishable from the five Lodi grown Carignans in this blind tasting except for a touch more reliance on a bare naked black cherry fruit expression, unimpeded by oak or excess alcohol (13.7%). There's a floral/rose petal note in the nose, and the feel is perfectly rounded, fleshy, velvety; supple tannin supporting wall-to-wall flavor. The approach, according to the proprietor, is "natural" – whole clusters of fruit (with stems) crushed by foot, open-top fermented with native yeast, and maceration on skins totaling 40 days before 10 months aging in strictly neutral French oak and bottling unfiltered, unfined, unnothinged. According to Mr. McCay, "I liked the almost cotton candy-like character of this wine – the nose is bright and the wine intense, while soft, elegant, airy."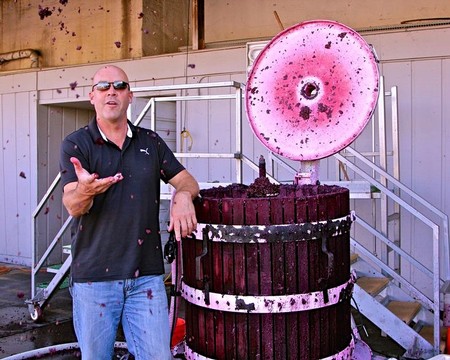 2015 MK (Michael Klouda), Lodi Carignane ($26) – Youth is served in this 2015 bottling (the youngest in this blind tasting); as our group rated this vivid, purplish-ruby red dead-even with the 2014 Neyers. The black cherry aroma is fresh, ripe and extravagant, without being jammy or overripe; the feel full, dense and broad (14.15% alcohol), without being heavy, drying or ponderous. The vineyard source – owned and farmed by Vino Farms Viticulturist Chris Storm – is a postage-sized block of tall, head trained vines; planted about 50 years ago, west of Lower Sacramento Rd., just north of Woodbridge (west side of Lodi's Mokelumne River AVA). Commenting on his own wine (without knowing what it was), Michael Klouda made note of a "touch too much French oak," although his praise of the wine's "darker berry fruit" indicates that he was clearly quibbling.
2014 Michael David, Lodi Carignane ($25) – A little bit of a stylistic outlier in this tasting, Michael David's first varietal bottling of Carignane since the 1990s came across as laudably compact in its medium to medium-full body (alcohol closer to 13.5%); its lush, ripe black cherry fruit couched in notably zesty acidity, moderate tannin, and slightly leafy-green, herby notes. Mr. Burns noted the wine's "cinnamony oak" and "bright acidity, giving a long, lasting finish." While there is no vineyard designation on the front label, the back of the bottle pays tribute to "long time grower Bob Bishofberger," owner of this 3-acre block of head trained vines, originally planted in 1936 along Turner Rd., on the west side of Lodi's Mokelumne River sub-appellation.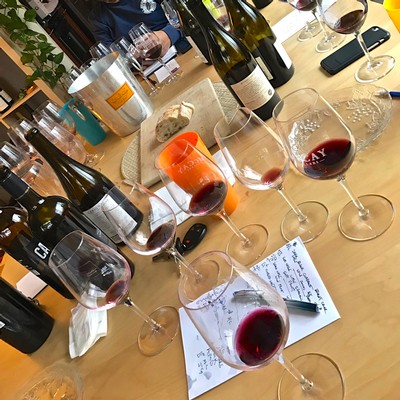 2012 McCay Cellars, Lodi Carignane ($35) – Although sourced from the exact same 110-year-old, own-rooted,, east side ancient vines (owned by Jean Rauser) as the 2014 Klinker Brick Carignane, three things make this bottling radically different: It is two years older, 100% native yeast fermented, and saw longer time in French oak (mostly neutral). The result, believe it or not, is sensory qualities more akin to South-West French style reds than Californians – sprightly red cherry fragrances encased in pungently earthy, thyme and wild sage-like notes (Mr. McCay describes this as "mushroomy forest floor"), with smidgens of brown spices and toasted oak. The body is full (14.2% alcohol) but not over-the-top; moderate yet firm tannin and crinkly acidity giving the wine a spare, zesty feel – leaner, lankier, and somewhat dustier than typical California Carignans.
2013 Jessie's Grove, Ancient Vine Lodi Carignane ($32) – Best of Class honors at a judging as large and competitive as the San Francisco Chronicle Wine Competition is never an accident. They like Lodi grown Carignan, they really do. While in our own tasting we may have been just as compelled by other bottlings, this wine trembles like a bowl full of jelly with luxurious, flowery, cherry/rhubarb pie-like aromas, tinged with an intriguing core of herby/leafy earthiness, more noticeable on the palate than in the nose. Its rounded, full body (14.6%) fills the mouth with generous varietal fruit, buoyed by moderate tannin and good acidity. Produced from a cherry picking of this estate's treasure trove of ancient vines (planted between 1889 and 1899); originally planted by Joseph Spenker, and owned and farmed by his descendants ever since.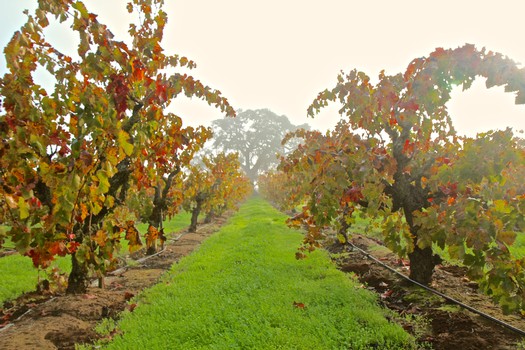 Comments