Letters from Lodi
An insightful and objective look at viticulture and winemaking from the Lodi
Appellation and the growers and vintners behind these crafts. Told from the
perspective of multi-award winning wine journalist, Randy Caparoso.

January 11, 2016 | Randy Caparoso
Interview - Michael David's David Phillips talks about what's been good for Lodi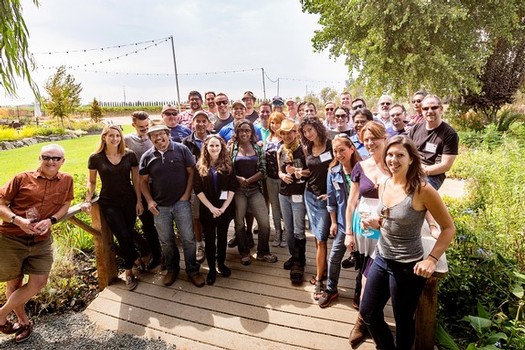 David Phillips – who co-owns Michael David Winery, as President, along with his older brother Michael (CEO) – is feeling good about the prospects of not only the family business, but also the Lodi winegrowing region and community in general.
The Phillips family traces their origin in Lodi back 152 years, when the brothers' great-great grandfather Andrew Harshner arrived from Ohio with his wife, the former Mary Garver. The Harshners established a 160-acre homestead just west of the town of Lodi (called Mokelumne, up until 1874), where they planted a wide range of vegetables and fruits, including some 15 varieties of grapes, while also diversifying into ranching and dairy farming.
The family's polycultural approach to agriculture has stuck ever since. Even today, the Phillips' Hwy. 12 tasting room is a combination of a fruit and vegetable stand, a breakfast/lunch stop, homemade pie bakery and pick-your-own flower shop. It's called constant flexibility – remaining capable of adjusting to market needs at any given time – or, simply, never putting your eggs in one basket. To a great extent, it also explains why, out of hundreds of other homegrown farming families in Lodi, the Phillips have been among the most successful in the winery business.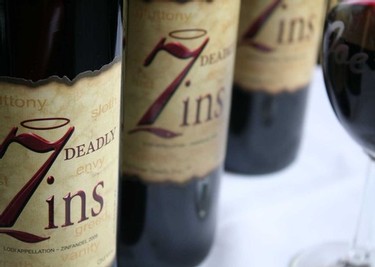 While driven by sales of their eponymous 7 Deadly Zins – a sleek, spicy scented, consistently smooth and well balanced Zinfandel retailing in the $16 to $22 range (depending upon the market) – the Phillips have also been riding on the success of a diverse selection of colorful, imaginatively packaged sub-labels; such as Earthquake (a trio of dense, riveting varietal reds), Inkblot (another threesome of even deeper colored varietal reds), Freakshow (an appealingly rich yet smooth Cabernet Sauvignon), Incognito (spicy "Rhône" style red), 6th Sense (a supple, spicy Syrah), Petite Petit (muscular Petite Sirah blended with sharply defined Petit Verdot), Rapture ($59+ Cabernet Sauvignon), Lust ($59+ Zinfandel), and even wines under the Michael David Winery label (refreshingly pure, peerless Chardonnay and Sauvignon Blanc, plus a rare, refined Cinsault, crafted from Lodi's oldest vines).
Like other Lodi farmers, Michael Phillips was motivated to establish a winery, originally called Phillips Vineyards (later changed to Michael David Winery because of trademark issues), in 1984 out of self-preservation: rather than remaining a supplier of fruit to wineries calling all the shots when it comes to grape prices and what varieties to grow, it made more sense to begin producing their own wines and being able to dictate terms to themselves.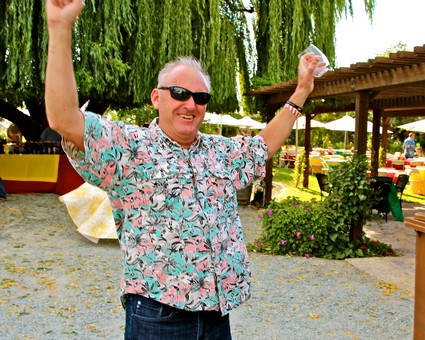 Up until the late 1990s growth was slow and not exactly steady – typical of thousands of other tiny regional wineries up and down the West Coast. But then the family hit upon the idea of a value-priced Zinfandel representing a blend of fruit from seven of Lodi's best growers (including their own). They called it 7 Deadly Zins, and the rest is history: driven by the explosive growth of 7 Deadly Zins across the country (and today, all over the world), the winery grew from less than 10,000 cases yearly production to closer to 700,000 cases today.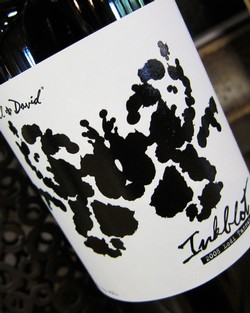 15 years ago the 750-acre Phillips Farms vineyards were primarily supplying other wineries. Today Michael David utilizes 100% of what they own and grow, and also buy from at least 60 other Lodi growers in order to keep up with their 20% to 30% yearly growth. Just three years ago Michael David was producing another 150,000 or so cases of wine sold to other wineries on the bulk market; and today, the winery is phasing out of the bulk wine business.
Over breakfast last week, we caught up with David Phillips, who was happy to share where the family is at, here at the start of 2016:
LoCA: What is it about 7 Deadly Zins that pulls sales of all your other wines?
DP: At one point, early on, sales of 7 Deadly Zins was 60% Costco. We're thankful for that, but we knew we had to get it into all the channels. Now it's in virtually all retail outlets, and recently has been increasing in restaurants, sold as a dependable house wine. This is what gives us the leverage with our distributors. Because of 7 Deadly, we can get them to explore our other varietals – alternative style wines like the Michael David Cinsault, the Inkblot Tannat or Petit Verdot, which used to be experimental stuff, sold only in the tasting room.
Plus, consumers themselves are pushing alternative varietals to the forefront. Not to mention sommeliers and more eclectic restaurant accounts, who are showing more and more interest. We'll never do 50,000 or 100,000 cases of Tannat or Petit Verdot, but we can sell 2,000. These wines are well liked by those willing to try them. They're also great door openers for restaurant accounts. It's important because they show all the things Lodi can do.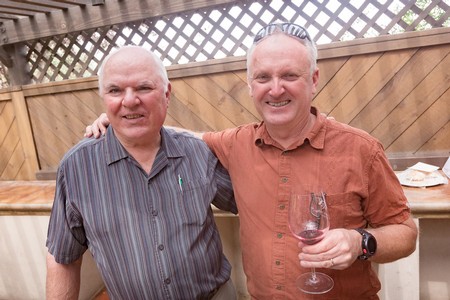 LoCa: In the last Nielsen Report red Zinfandel sales are reportedly down 2.1% from the year before (see our previous post, Predicting what we'll be predictably drinking in 2016). Has this effected 7 Deadly Zins?
DP: In the same report 7 Deadly Zins is reported as growing 14% over the past year. It is the #1 selling Zinfandel in the world; in terms of dollars, not volume. We're not interested in just volume. The category that is not doing so well is $8.99 Zinfandel – those sales are falling. At a higher quality level, however, priced in the upper-teens (i.e. $16+), 7 Deadly Zins is more than holding the line. Even our Earthquake Zinfandel, selling for $28 or more, is up more than 20%.
Across the board, Americans are 'stepping up' to higher quality wines, retailing in the upper-teens, 20s, 30s or higher. From the beginning, we never planned to compete with low-priced Zinfandel. That's not good for Lodi – our goal is getting average prices of Zinfandel grapes up to at least $1,000/ton. We need to promote higher price points because it's healthier for our growers, healthier for the region's economy, and ultimately, better for our kids, our schools, and everyone who lives here.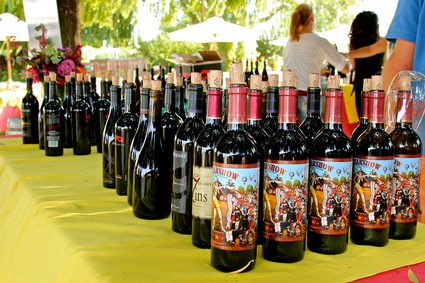 LoCA: What else is looking very good for Michael David and Lodi in general in 2016?
DP: The future is very bright for Lodi Cabernet Sauvignon, but it has to be done right – depending upon how it's grown, the right clones and trellising. Our Freakshow Cab is the fastest growing brand of Cabernet Sauvignon in the nation. Earthquake Cabernet Sauvignon has maintained consistent 20%-30% growth over the past few years. Even at $60, we can't make enough Rapture Cabernet. We can do alternative varietals in Lodi, but grapes like Cabernet Sauvignon, Zinfandel, Petite Sirah and Syrah will remain mainstays.
LoCA: You still count Syrah among the "mainstays" Aren't overall sales of California Syrah still dying?
DP: Oh, yes. Syrah as a category is down over 14% in recent years. Yet our 6th Sense Syrah has been steadily growing. I think the fact that many of our competitors have pulled out of the market has given us the advantage. Klinker Brick has been experiencing the same thing with their Lodi Syrah, which is doing well. If your brand is established, as a familiar label to people, they'll continue to trust in it. It's true that a lot of consumers have been turned off to Syrah because they don't know what to expect – is it going to be a big, tannic wine, a super-dry or raisiny wine, a light red or a heavy red? Consumers don't have that problem with 6th Sense.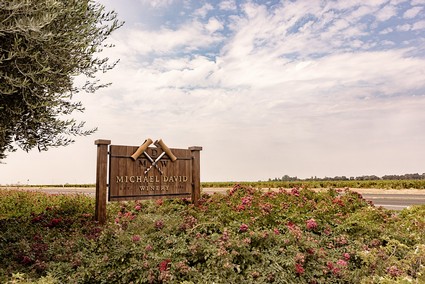 LoCA: Right now, what are your hottest selling wines, besides 7 Deadly Zins?
DP: Red blends are the hottest growing category right now, which is a great thing because blending has always been a good way to utilize excess grapes, like Syrah. Our Syrah blend, Incognito, has continued to grow. But the wine that has really taken off is our Petite Petit – it certainly helps to be named #2 in the Wine Enthusiast Top 100 in the December 2015 issue. It is already giving us even more clout with the distributors – it only helps increase interest in all our other wines, especially the alternative varietals.
LoCA: Hasn't the Inkblot Cabernet Franc always been your personal favorite?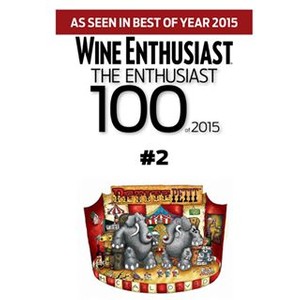 DP: Of the three different Inkblots, Cabernet Franc is still the darling, the most well received. It's a good one for the consumer because "Cabernet" sounds familiar enough. They can pronounce it, and it's a fabulous wine at $35 – a very good price for Lodi. Again, this will never be a 100,000-case wine for us, but we can easily sell 5,000 cases. Another big plus is that, unlike most of our wines, it's not just for retail – the Inkblot Cabernet Franc is very appealing to restaurant buyers.
LoCA: Speaking of which, do you see Lodi wines finally making some headway in finer restaurants?
DP: We're still mostly retail, although restaurant sales are growing; maybe 8%, 12% each year, whereas the winery's overall growth is 20%-30%. Selling to restaurants is a lot more work for fewer cases, but we know it's necessary because traditionally it always helps drive retail sales.
LoCA: Is the slow growth in restaurants indicative of Lodi's overall image, as being "not quite good enough?"
DP: That's part of it. It's changing – it will take more time to change people's minds. It's the big cities on the coasts – San Francisco, L.A., New York – that are the biggest challenge. Lodi wines do well there, but in retail or supermarkets. Still, you'd be surprised at how well Lodi wines are doing in restaurants in states like Arizona, New Mexico, Texas, Florida – really, all over the Midwest, and further up in New England. In those markets, restaurants are actually looking for Lodi wines – they're not stuck on, say, the Euro-centric view that you see in most restaurants in New York. The sommelier crowd is a tough one to crack – most of them still don't know where Lodi is.
The future is bright, though. Lodi's natural flavor profile works well for consumers; not only in the U.S., but all over the world. We'll just keep on pushing because, so far, there doesn't seem to be an end in sight!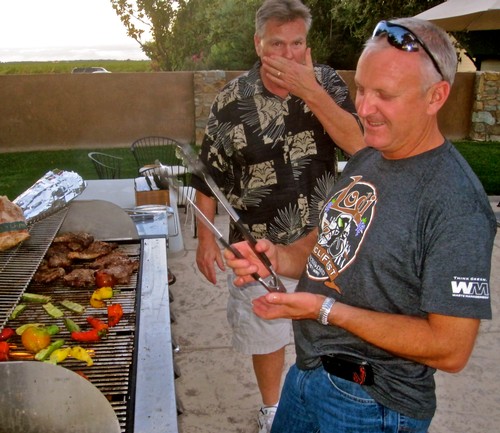 Comments