Letters from Lodi
An insightful and objective look at viticulture and winemaking from the Lodi
Appellation and the growers and vintners behind these crafts. Told from the
perspective of multi-award winning wine journalist, Randy Caparoso.

December 30, 2015 | Randy Caparoso
In 2016, time for new directions with Lodi's stunning range of unique varietals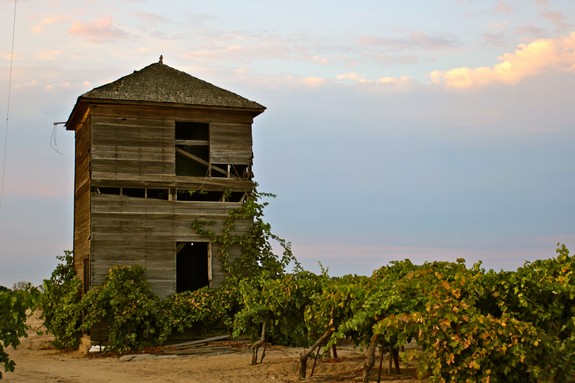 Ramshackle water tower rising up from Lodi's sandy river shores
Tired of the same ol' same ol'? Join the club!
The beautiful thing about Lodi is that this is one American Viticultural Area – with over 100,000 acres of fine wine grapes, the most widely planted in the U.S. – that doesn't limit itself to standard commercial varieties.
There are well over 50 classic wine grapes commercially grown here, and at least another 50 grapes cultivated on a limited or experimental basis. Lodi doesn't grow everything, but there sure is a heckuva lot: from Albariño, Aglianico and Alicante Bouschet to Zinfandel and Zweigelt, and a bewildering number in between (Charbono and Dornfelder, Cinsaut and Silvaner, Piquepoul and Pinotage, Petite Sirah and Petit Verdot, Mourvèdre and Moscatos, Torrontés and Teroldego, Viognier, Vermentino, Verdelho, Verdejo, and oh-so-much-more).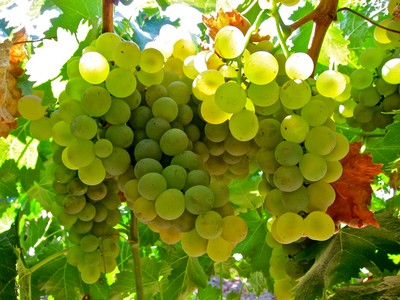 Lodi grown Vermentino
And so for the jaded wine lover, Lodi is the appellation to look for if you prefer to go, as local grower "Rip" Ripken puts it, "down the road less travelled."
Is 2016 the year for you to blaze some new vinous trails? If you are ready to saddle up, here is an even dozen edifying examples of some of Lodi's most adventurous and original wines; our favorite drinking, as it were, here at the dawning of this exciting New Year:
2014 Bokisch Vineyards, Clay Station Vineyards Lodi Verdejo ($18) – If you prefer a light and breezy, bone dry white wine that tastes tart without being sharp, and evinces fruit without a dint of the tutti-fruitiness typical of California wine, the Verdejo grape might be the one for you. Bokisch's Verdejo is scented with tangerine pulp, orange peel and discreet suggestions of guava; tasting sleek, fluid and refreshing on the palate.
2014 Borra Vineyards, Lodi Vermentino ($22) – Vermentino may be unusual in the U.S., but it is one of the workhorse white wine grapes of Southern France, Corsica and Sardinia. Shades of Provence – the creamy splashes of sun, the pungent scent of wild lavender, and golden olive oil that you drink like wine – Borra's Vermentino is like a mouthful of minerals tarted up by Meyer lemon and lime, light, smooth and viscous in the mouth.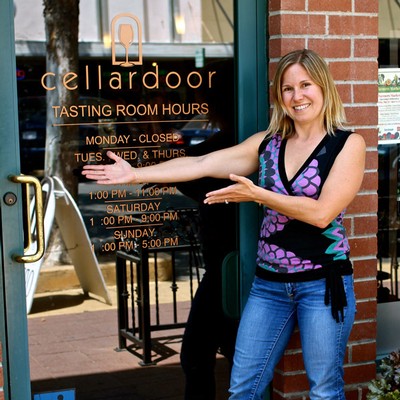 Onesta's Jillian Johnson
2014 Onesta, Clay Station Vineyard Lodi Grenache Blanc ($20) - The green-skinned variant of the Grenache grape has been on the cusp of "breaking out" over the past few years. It might not happen quite yet, but this neatly dry rendering gives a contemporary style wine lover all the reason to believe: mouth-wateringly nimble sensations with the airiness of lemon-meringue, bursting with white peach, orange blossom and nectarine perfumes.
2014 Onesta, Bechthold Vineyard Lodi Rosé of Cinsaut ($22) - Cool, refreshing, bone dry rosés are "hot," and this may be the hottest Lodi grown rosé of all. It certainly has the pedigree; coming from Becthold Vineyard, Lodi's oldest (planted in 1886) and single most revered vineyard. Winemaker/owner Jill Johnson's rendition is well equal to the task: lush, silky yet zesty; strawberryish, faintly earthy, and nuanced with blood orange and pomegranate sensations.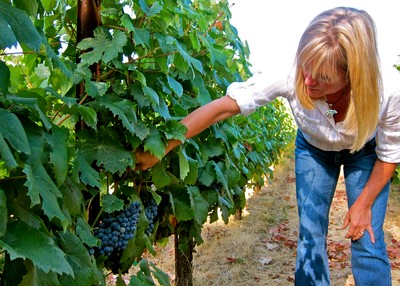 Bokisch Vineyards' Liz Bokisch with Graciano grapes
2014 Michael David, Bechthold Vineyard Lodi Cinsault ($25) - The historic Bechthold Vineyard - 25 acres of 129-year-old own-rooted Cinsaut, now organically, and lovingly, farmed by Phillips Farms (who own Michael David Winery) - is a national treasure. If all was right with the world, this wine would be $125 rather than $25. But for this amazing admission, you get a beautifully sculpted, delicate red wine with spiced strawberry-rhubarb perfumes, lingering long and gracefully on the palate.
2013 McCay Cellars, Lodi Grenache ($35) – Winemaker/owner Mike McCay calls Grenache "Lodi's Pinot Noir" because of the grape's flowery, fragrant, red fruit perfumes, as well as its penchant for expressing nostril-tingling spices and earth-related nuances (like wild sage or dried scrub) when grown in Lodi's porous sandy loams. You find strawberry/cherry perfumes galore in McCay's 2013 bottlings; tinged by cardamom, almost star anise-like spice and faint whiffs of loamy earth, coming across as zesty yet pillowy soft on the palate. Is it time to get your Grenache-geek on?
2013 Bokisch Vineyards, Lodi Graciano ($23) – Graciano is a black skinned variety that has traditionally played a minor role as a blending grape for Tempranillo based reds in Spain's Rioja region (very rarely bottled on its own as a varietal); but for going on 10 years, Markus and Liz Bokisch have been showing the world what a sexy, sultry, curvaceous red wine it really can be – tingling the nose with black fruit, clove-ish spice and sprigs of mint and black tea leaves.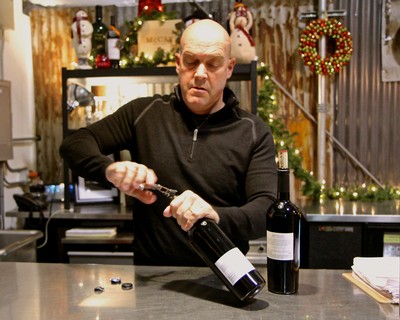 McCay Cellars' Mike McCay
2013 Klinker Brick, Lodi Dolcetto ($25) – The best Dolcettos of Italy's Piedmont region combine blazingly bright fruit with sharp acidity, fairly sturdy tannin and, sometimes, pungent slaps of leather. Klinker Brick's has everything but the leather (sorry); coming across as ultra-dry, sharp as a tack, dense in tannin, while enveloped in waves of blackberry-jam fruit, prickling the palate in a medium-weight body.
2012 McCay Cellars, Lodi Carignane ($32) – Once upon time (actually, just 35 years ago), Carignan was the most widely planted red wine grape in all of California; in recent years, waylaid by the understandable popularity of varietal reds made from the likes of Cabernet Sauvignon, Merlot, Pinot Noir, Zinfandel, etc. Yet there's a reason why this grape is still cultivated by the thousands of acres in places like France and Spain – it makes a vividly fruited red wine that is always bright in natural acidity, with just enough tannin and terroir related transparency to keep things interesting. McCay's 2012 native yeast fermented bottling is sourced from vines over 100 years old, located along the sandiest Mokelumne River-side banks of the appellation. These wise, wizened, mature vines yield a red wine of bouncy bucketfuls of red cherry, tinged by dusty, scrubby, earthy nuances. The body is soft, fleshy, yet bright with acidity and moderate tannins – like a "creamy red velvet cake," according to Mr. McCay himself.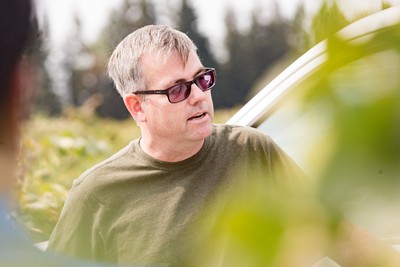 St. Amant's Stuart Spencer (photo courtesy of John Curley Photography)
2014 St Amant, Lodi Barbera ($18) – For over 10 years, the long-underrated Barbera grape has been one of the Spencer family's specialties. Fruit for their pure varietal bottling has always come from a vineyard originally planted by Ted Leventini in 1971 for usage in E. & J. Gallo's famous Hearty Burgundy. In jugs of olde, higher-acid Barbera was the "glue" that held red wines made from Zinfandel, Carignan and Petite Sirah together. As a stand-alone, Barberas like St. Amant's are magnificently medium-full (neither heavy nor light), zesty without being sharp, fleshy without being fat, and redolent with black and red fruit sensations. As such, quite possibly the food-friendliest style of red wine in existence (Pinot Noir and Zinfandel's fabled culinary versatility notwithstanding).
2012 Harmony Wynelands, Lodi Alicante Bouschet ($34) – There was another time, particularly during the '20s and '30s, when even regions like Napa Valley cultivated substantial amounts of Alicante Bouschet because of the grape's deep coloring, which made it more desirable than even Zinfandel to many home winemakers across the country. While this late 19th century French crossing (Petit Bouschet x Grenache) has grown out of favor in both France and the U.S., it is still cultivated by a number of Lodi growers for the same reason as before – the vivid, purplish coloring it adds to red wine blends. For a taste far off the beaten path, everyone should experience the explosive boysenberry/elderberry fruit profile of Harmony Wynelands' bottlings – full bodied, sturdily tannic and balanced with good acidity, and at the same time sensuously textured, like thickly cropped velvet.
2010 Peltier, Schatz Family Reserve Lodi Teroldego ($60) - If you're into big yet soulful reds, this estate bottling is a unique, exhilarating experience, fashioned from a Northern Italian grape that is rare enough: raspberry/cherry perfumes mingle with mocha espresso, raw beef and smoky spices, forging ahead in chocolaty thick, full bodied sensations, strapped with generous tannin. Lodi at its boldest!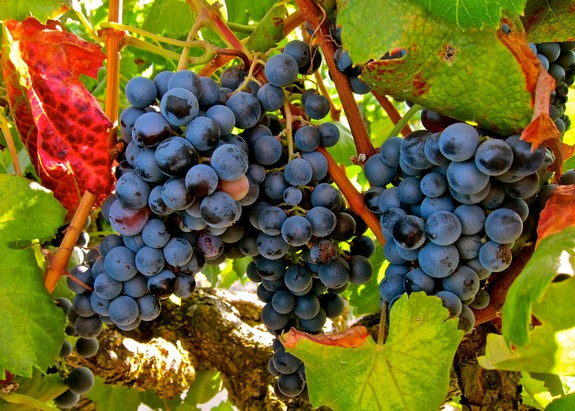 Lodi grown Alicante Bouschet
Comments