Letters from Lodi
An insightful and objective look at viticulture and winemaking from the Lodi
Appellation and the growers and vintners behind these crafts. Told from the
perspective of multi-award winning wine journalist, Randy Caparoso.

September 19, 2016 | Randy Caparoso
How Viñedos Aurora Petite Sirah defines the unique topography of Lodi's Clements Hills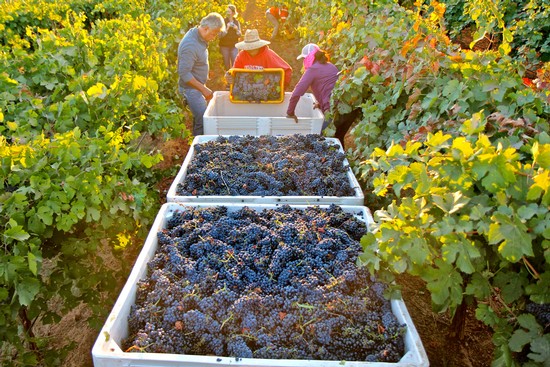 Since 2006 the Lodi Viticultural Area has been sub-divided by 7 more American Viticultural Areas, primarily on the basis of differentiated soils and topographies. You may ask, why is this so – is not the understanding of Lodi wines and vineyards complicated enough?
Apparently. Heck, there are major wine publications that still don't know Lodi exists. It's hard for narrow, stubbornly entrenched media pundits and wine world cognoscenti to wrap their heads around the idea that there are places on the West Coast other than, say, Napa Valley and Sonoma County that produce regionally defined wines of world class quality, unique unto their own. But that's another matter.
There are reasons why growers and winemakers look at Lodi as being a sum of different parts. Most of Lodi's growth as a wine region over the past 25 years has been outside the original area surrounding the City of Lodi, which is defined by an extremely deep sandy loam (i.e. Tokay Series) soil on a visibly flat, lower elevation (0 to 150-ft.) plain. This historic area – where the vast majority of Lodi's old ancient vine plantings (50 to over 100 years old) are located – is officially recognized as the Mokelumne River Viticultural Area.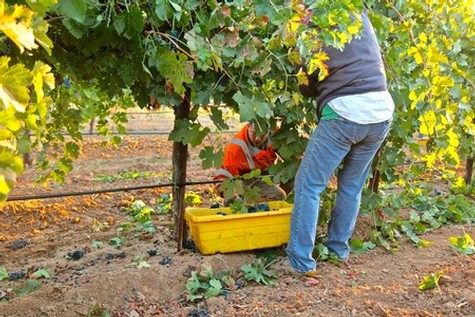 In significant contrast to Mokelumne River is Clements Hills, located just east of Lodi City and the tiny one-saloon town of Victor; when the topography suddenly transitions into rolling hills of 200 to 400-ft. elevation. Soils become a visibly red (or yellowish red) clay loam of volcanic origin, which are gravelly or cobbled, and less vigorous on the hilltops; notwithstanding tiny pockets of sandy-clay-loam closer to where the Mokelumne River winds through the hills (between the towns of Lockeford and Clements).
You need look no further than at the soils in the photographs taken during this past Saturday's (September 17, 2016) picking of the Anaya family's Viñedos Aurora Petite Sirah grapes – farmed by four second-generation Mexican-American brothers – in a vineyard that sits on middle-elevation Clements Hills slopes, where the soil is particularly reddish. Similar types of clay soils are found in much of the counties of Sonoma, Napa, Mendocino and Lake; and in fact, the soil series found on the Anayas' home vineyard is classified as Redding Clay, because it is most common in Tehama County, just south of Redding in Northern California.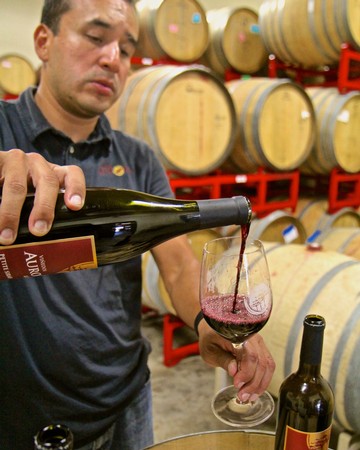 The difference between wines grown in Clements Hills and the more historic Mokelumne River Viticultural Areas can also be gleaned in a sniff and sip of the 2010 Viñedos Aurora Lodi Petite Sirah ($21), produced entirely from the Anaya brothers' Clements Hills planting. Even after 6 years in the bottle, the wine is a deep, opaque purplish red color. The nose is not nearly as overtly flowery or fruit driven as most Lodi Petite Sirahs grown in the Mokelumne River AVA; but rather, more of concentrated black fruits (plum, blackberry), with whiffs of compost-like loam. On the palate, the wine is dense and full with muscular tannin, with an edginess of natural acidity that pushes out the sweet-peppercorn spice qualities associated with the grape.
The Viñedos Aurora Petite Sirah, in fact, personifies why growers such as Bokisch Vineyards' Markus Bokisch, Keith Watts, John and Ralph Graffigna, Jonathan Wetmore (Round Valley Ranches), as well as Randall and Brad Lange (LangeTwins Family Winery & Vineyards) began planting in Clements Hills in the first place: for the deeper (in terms of both color and aromas and flavors), more densely phenolic (i.e. tannin and other sensations contributing to mouth-feel) styles of wine possible there – in contrast to the more gentle, flowery styles of wine that tend to be produced in Mokelumne River's sandy loams.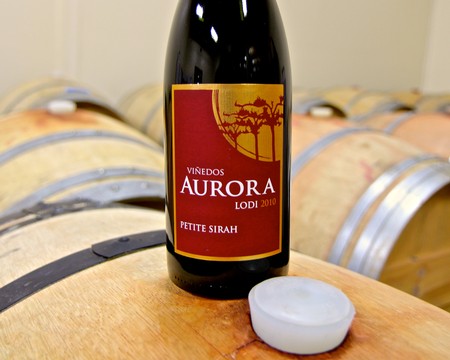 Clements Hills' lower-Sierra Nevada foothill-type soils contribute to these differences in wine profiles. In the past, in fact, Markus Bokisch has also cited slight differences in diurnal temperatures as another factor distinguishing Clements Hills from areas closer to the City of Lodi. In an Appellation America interview he is quoted: "... the warm days concentrate the flavors of the wines and serve to balance the tannin. Another characteristic that is often overlooked is that the Clements Hills enjoy some of the coolest nights of any Lodi AVA, which allows the grapes to retain their acidity and also provides further balance to the robust tannic and flavor profiles."
Without a doubt, Bokisch's observations are major reason why grapes from his Terra Alta Vineyard as well as from Vista Luna Vineyard in the Borden Ranch AVA (just north of Clements Hills, on clay slopes even more strongly dominated by cobble and boulders) have been in such demand among the industry. Some 50 wineries, large and small, buy fruit from Bokisch Ranches.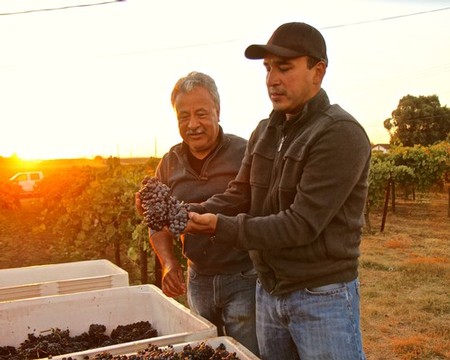 The Bokisch Vineyards brand itself, of course, is known for its Spanish and Portuguese varietals, which find their varietal characteristics heightened by these hillside terroirs. "At this point in time," Mr. Bokisch has commented, "we are focusing more on our farming techniques to exhibit varietal integrity than anything we do in the cellar... The public has come to appreciate Lodi's ability to create truly world-class wines in a plethora of varieties. It can only get better from here."
In respect to Viñedos Aurora: as grape suppliers themselves, the Anaya family has recently expanded their plantings to 90 total acres, adding varieties such as Albariño, Tempranillo, Malbec and Petit Verdot to their portfolio (their original planting consists of Cabernet Sauvignon and Petite Sirah). At this writing, Viñedos Aurora winemaker/partner Gerardo Espinosa is contemplating a bottling of the family's first Malbec/Petit Verdot blend, which is tasting hugely promising in the barrel – a black colored, ponderously deep red wine that is also billowing with exotic, hibiscus-like floral notes typical of Malbec, something rarely expressed as strongly in California vineyards (there is a reason why Malbec does phenomenally well in the mountain slopes of Argentina).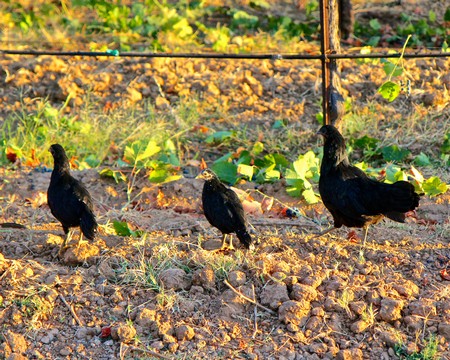 Mr. Espinosa also tells us that Viñedos Aurora as a business has been going through changes since the recent closing of their Downtown Lodi tasting room (Viñedos Aurora at Pamplona Tapas). "We are looking at several other possible Downtown locations for a tasting room, where we can continue to offer our wines tasted with tapas." Meanwhile, wines can be ordered online, and appointments to visit their winemaking facility and barrel room (in a Pine St. warehouse east of the Downtown Lodi railroad tracks) can be arranged by contacting Mr. Espinosa through the Viñedos Aurora Web site.
Espinosa has also taken on a new partner, and the two of them are seriously considering combining talents (by day, Espinosa is an architectural designer with a prestigious Stockton firm) to transform their warehouse space into a tasting room/kitchen showroom.
Things are looking good for Viñedos Aurora. But make no mistake: the reason is because this steadily evolving wine company is not just another made-up brand. It is vineyard-driven. When it comes to fine wine, quality always begins in the vineyard, and the Anaya family definitely has the goods.
Some more photos of the Viñedos Aurora 2016 Petite Sirah harvest: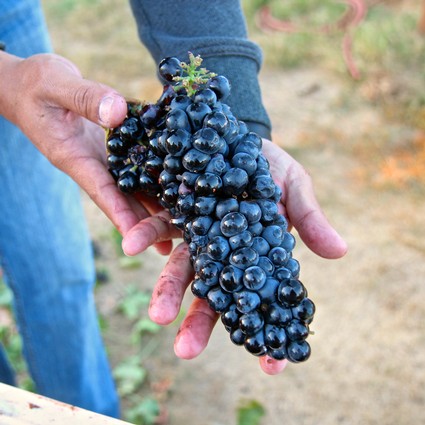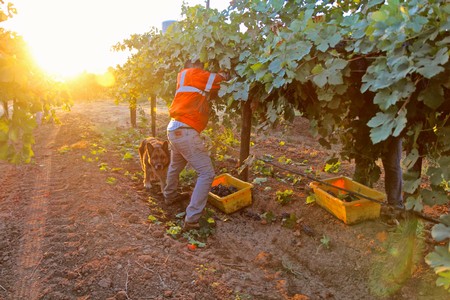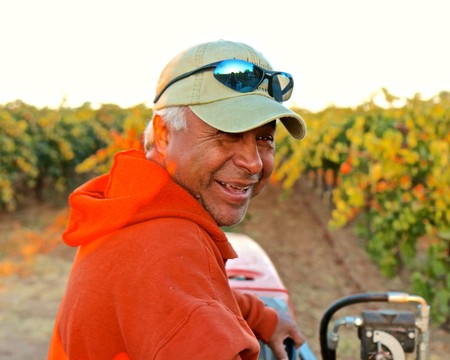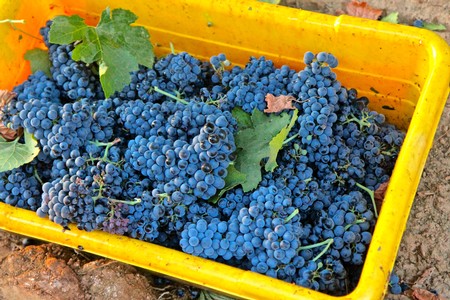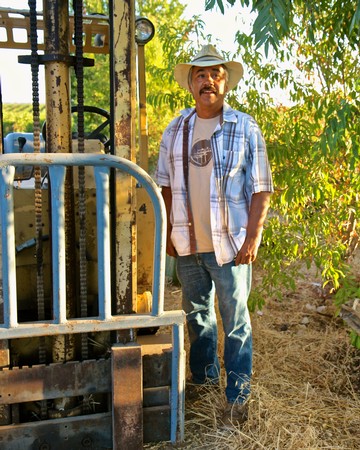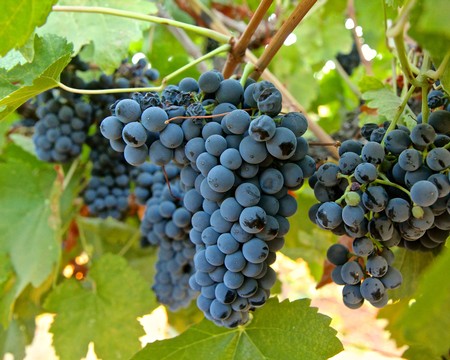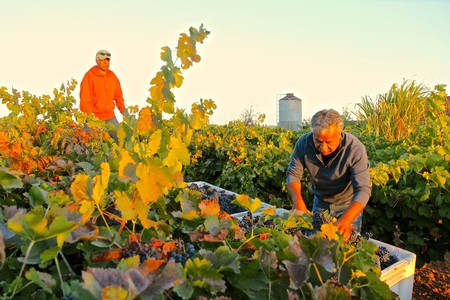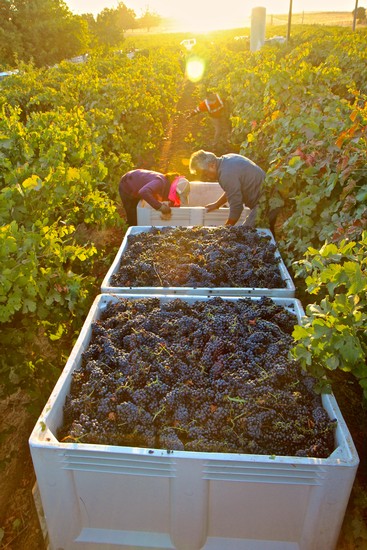 Comments