Letters from Lodi
An insightful and objective look at viticulture and winemaking from the Lodi
Appellation and the growers and vintners behind these crafts. Told from the
perspective of multi-award winning wine journalist, Randy Caparoso.

June 8, 2016 | Randy Caparoso
Holman's Uncharted Bacchus goes where few wines dare to go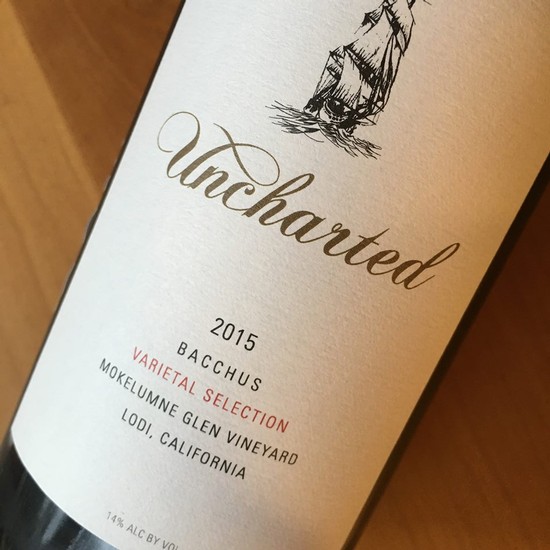 One of the brands used by Holman Cellars, a micro-winery based in Napa Valley, is called Uncharted – an apt description of the Lodi grown white wine presented by owner/winemaker Jason Holman at a winemakers' lunch and tasting in Mokelumne Glen Vineyards this past Saturday (June 4, 2016).
The wine in question: the 2015 Uncharted (by Holman Cellars) Mokelumne Glen Vineyard Lodi Bacchus ($25); a crisp, bone dry, buoyant and fluid medium bodied white wine with beautiful perfumes and sensuous, lingering flavors suggesting the pungent oils of sweet thyme and lavender rubbed between the fingers, the stringy flesh of apricot pulled off a pit, and ribbons of skin peeled from a baking apple.
Bacchus is the grape going into this 100% varietal white; and yes, Bacchus was also the "Roman God of Wine and Intoxication," as the winery put it in when announcing the release of the previous vintage (a 2014) of their wine, "equated to the Greek Dionysus... Bacchanalia, orgies in honor of Dionysus, were introduced in Rome around 200 BC."
With a refreshing sense of levity, the Holman folks – essentially a couple, Jason and Helen Holman, both recovering lawyers-turned-vintners/wine importers – invited friends to their first Bacchus launch party by saying, "We will be hosting one of these said bacchanalia (clothes required)... think of it as a wine orgy." An orgy in a bottle, we presume, not at the party.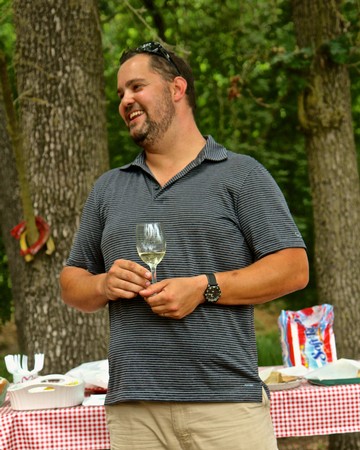 By all logic, or everything held sacred in the more conventional world of wines, Bacchus is not a grape that should be growing in Lodi. The Lodi Viticultural Area is known for its subtropical Mediterranean climate; whereas Bacchus is a white wine grape crossing – of (Silvaner x Riesling) x Müller-Thurgau (Riesling x Madeleine Royale) – originally developed by a viticulturist named Peter Morio in 1933 for vineyards in Germany, growing in largely continental climates.
Vineyards in Germany are planted in undoubtedly the coldest climate wine regions in the world; although there are large sections of Germany, such as the Pfalz and Rheinhessen, that have moderate degrees of warmth during summer months. Lodi seems like an unlikely place for German grapes because many people think of it as part of the "hot" Central Valley. In reality, Lodi's location at the upper end of the Valley, directly influenced by cool Bay Area air moving in through the Delta's Carquinez Strait, actually makes Lodi's climate pretty much on the par with coastal regions such as mid-Napa Valley, the upper-east sides of Sonoma County, and most of Paso Robles and Santa Ynez Valley.
It is precisely because of those moderating Delta breezes that two retired Lodi schoolteachers, Bob and Mary Lou Koth, originally planted Mokelumne Glen Vineyards on gentle slopes couched into a lush, tree shaded curve of the Mokelumne River in the late 1990s – not to classic Mediterranean grapes such as Syrah, Sangiovese. Tempranillo or Assyrtiko, but rather to grapes of German or Austrian origins. No less than 40 different cultivars right off the bat. Their "collection" has recently grown to 48 varieties!
This undertaking has been, and still is, very much a viticultural exploration of uncharted territory.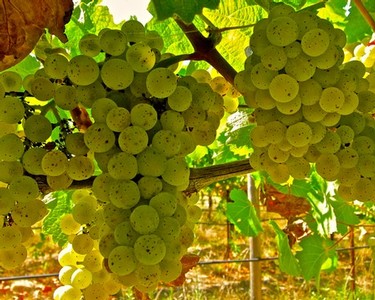 Last Saturday, when presenting his Uncharted Bacchus (which the Germans pronounce as BAH-kwoos), Mr. Holman said, "I first became curious about the grape during trips to Germany, where I tasted a number of wines made from Bacchus. Across the board, these whites seem to have high acid and attractive stone fruit qualities. In vineyards, I noticed that the grape has tiny black speckles, similar to what you find in Riesling grapes. When we found out there was Bacchus growing in Mokelumne Glen Vineyard in Lodi, of course we were interested."
The original reason why Bacchus was developed and planted in Germany was for commercial purposes: since the grape tends to have slightly lower acidity than Riesling, Germany's finest variety, it was found that it could grow optimally in places where Riesling had trouble ripening consistently. In Lodi, however, the Koths have found that Bacchus is one of their slower ripening white varieties; but this has never been a problem, since in Lodi Augusts and Septembers are still warmer than in most of Germany.
It is not surprising, in fact, that the Bacchus grape takes on nuanced Mediterranean qualities (the thyme and lavender subtleties) when grown in Lodi's Mokelumne River AVA. Don't believe some things you may hear: terroir (i.e. "sense of place") can strongly influence varietal character of varieties of Vitis vinifera. It's also no coincidence that the Holman approach to winemaking entails minimal intervention; including native yeast fermentation, and prioritizing a natural balance of acidity when making picking decisions.
Markus Niggli, who crafts wines from Mokelumne Glen grapes in similar naturalistic fashion for Borra Vineyards under his Markus Wine Co. label, has been utilizing Bacchus grapes for the past five vintages; but unlike Mr. Holman, Niggli prefers to blend his Bacchus in bottlings of what he calls Nativo (Kerner and Riesling with a smaller percentage of Bacchus) and Nimmo (blends of Kerner, Gewürztraminer, Riesling, and a tiny portion of Bacchus).
Which leaves Holman Cellars' pure, 100% Uncharted Bacchus as one of the most unique white wines in the U.S. Outside of Germany, England and Canada's British Columbia seem to be the only other regions in the world where the grape is taken with any degree of seriousness. After one sip of the Holmans' fine and intriguingly filagreed Bacchus, you have to wonder why. We do.
The only drawback? The Holmans produced a grand total of just 47 cases of their Uncharted Bacchus. Theirs is truly a unique, micro-sized, passionately motivated project, going where few others dare to go. Right up Lodi's alley!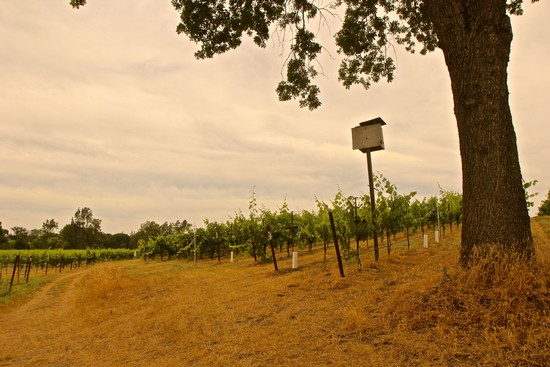 Comments