Letters from Lodi
An insightful and objective look at viticulture and winemaking from the Lodi
Appellation and the growers and vintners behind these crafts. Told from the
perspective of multi-award winning wine journalist, Randy Caparoso.

February 23, 2018 | Randy Caparoso
Historic Lodi buildings and images (Part 1 - Sacramento and Main Streets)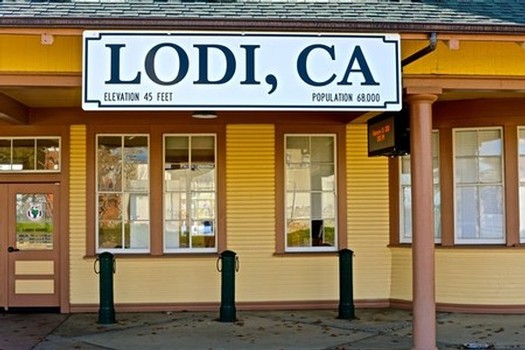 Lodi is not just America's most widely planted wine region. It is also inextricably anchored to the City of Lodi – first settled in 1846, and incorporated in 1906 – which has its own proud past, prosperous present, and even brighter future.
When the vast majority of people visit Lodi wine country today, they arrive by car. Which is a shame, since they are not stepping foot upon the platform of the beautifully restored Lodi Transit Station where they immediately learn that the City of Lodi sits at about a 45-ft. elevation, and is now home to about 68,000 residents – not exactly a tiny community, yet far from a big one. Lots of people would call that "just right."
The Amtrak San Joaquin rail line currently disembarks a modest average of 20 passengers a day at its Lodi stop. All the same, the Lodi Transit Station, which also functions as a Greyhound, San Joaquin Regional Transit District (RTD) and Lodi GrapeLine stop, lies at the very heart of Lodi, geographically and historically. Although the question of what came first, a train station or a city, is like asking about a chicken or an egg.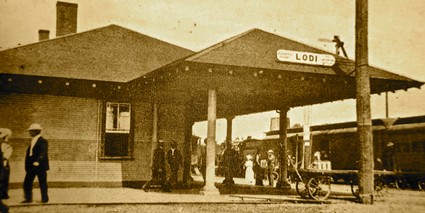 This we know: During the 1860s and 1870s San Joaquin Valley was producing the single largest wheat crop in the world (according to lodihistory.org); much of it grown in the region we now call Lodi. Watermelon was also a specialty crop – by the 1880s the region was called the "Watermelon Capital of the Country." In 1869, when four of the area's more prominent businessmen successfully petitioned the Central Pacific Railroad to establish a station at their settlement – at the time, called Mokelumne, after the river running through it (the town's name would not be changed to Lodi until 1874) – the region was already tasting prosperity. And this was even before grapes, which was to become another major crop during the 1880s and 1890s, came into the picture!
Hence, the town was officially "born" on August 25, 1869, when the Central Pacific Railroad tracks were laid down and a Mokelumne station between Sacramento and Stockton was established. That same month, I.N. Stretch built the settlement's first structure on the northwest corner of Pine and Sacramento streets, right next to the station, which became a "Dealer in General Merchandise," also called the "Ivory Store," operated by J. M. Burt and C.O. Ivory. The town's second building went up just across the street on the southwest corner of Pine and Sacamento, even closer to the train stop: the Lodi Hotel (also called the Spencer House and Sargent House, at various times under different ownerships).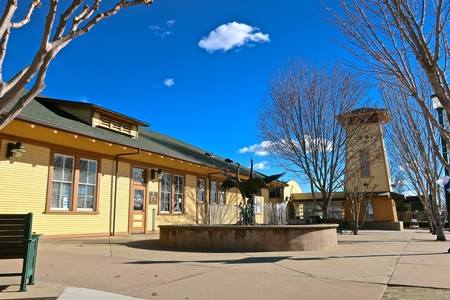 In 1907 Central Pacific was acquired by Southern Pacific Railroad, which constructed the depot (albeit a restored version) that we see today. Passenger service, however, eventually ceased, in 1971. It would not be until 2001, after the City of Lodi completed a $2.3 million process of restoring the depot and passenger service with Amtrak, that the station would once again open up for railroad transportation, after a nearly 31-year absence.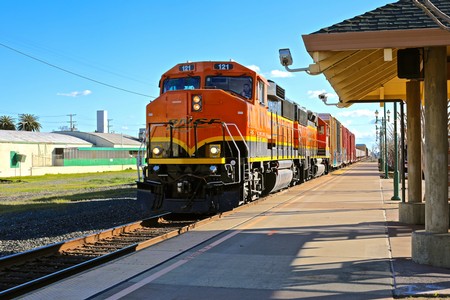 Lifetime residents, of course, well know the ringing of warning bells and ear piercing train whistles of freight engines passing through the City of Lodi. It is a permanent fixture in their brains, and an indelible part of the culture; like the smell of Wheaties or Cocoa Puffs emanating from the giant General Mills plant, which closed down only recently (in 2015) after 75 years of operations in the City of Lodi.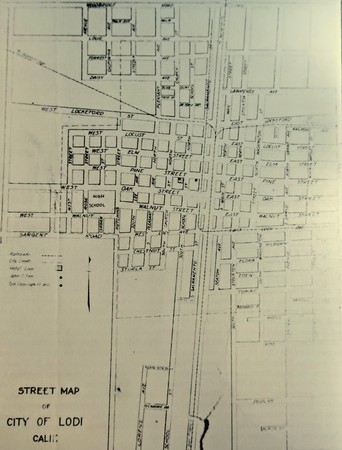 In the Lodi edition of the Images of America series (Arcadia Publishing, 2009), Lodi Historical Society author Ralph A. Clark calls Lodi a "livable, lovable city." We would add the words "edible" and "drinkable." In his book, Clark shares a late nineteenth century map of Downtown Lodi (see above) culled from the San Joaquin Historical Society Museum, where the original boundaries of the entire city – covering just half-a-square-mile – are clearly demarcated, and the names of the streets notated in a well planned grid. The railroad tracks, going north-south, bisect the city; its first thoroughfare (Sacramento St.) running parallel to the tracks on the west side, which intersects with the city's second roadway (Pine St.).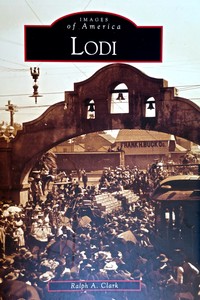 It is at the intersection of Pine and Sacramento streets where Lodi's best known symbol, the Lodi Arch, was first built in 1907; on the occasion of the 1907 Tokay Carnival, when the newly incorporated city organized a 3-day festival, attended by over 30,000 people coming from Stockton, Sacramento and from as far as San Francisco, to "advertise to the world the beauty and value of the Tokay grape." (Read much more about this in our 2015 post, In 1907 Lodi celebrated grapes like no city ever has).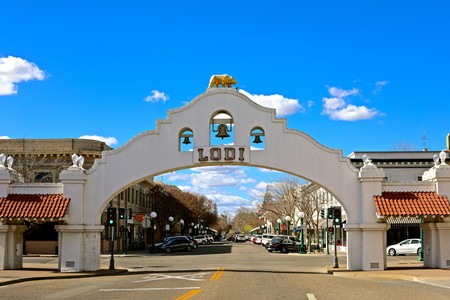 In this image reprinted in Clark's book, you see the start of the Tokay Carnival's reportedly mile-long procession of over 100 horse-drawn carts, all brimming with Flame Tokay grapes, marching under the Lodi Arch on Pine St.: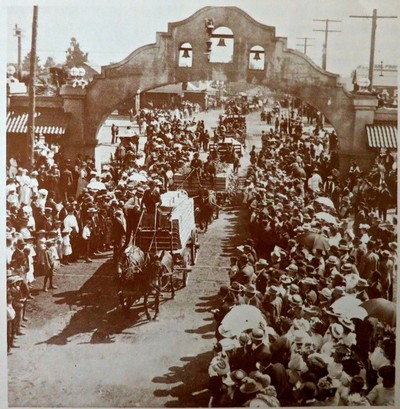 There was even a Tokay Carnival queen, crowned "Queen Zinfandel," with her requisite court of ladies in waiting, duly elected by the populace by penny ballots... the legendary local beauty, Bertha de Almado: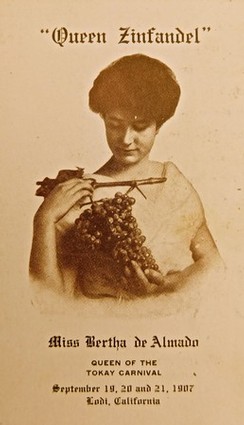 The one and only Queen Zinfandel (the Tokay Carnival was never to be repeated again) was later enshrined in one of 11 murals painted in 2006 by a group of Walldogs (mural artists gathered from all over the U.S. and Canada), on the occasion of City of Lodi's centennial celebration. You can find this visual tribute to Queen Zinfandel at the northeast corner of Downtown Lodi's S. School St. and Lodi Ave.: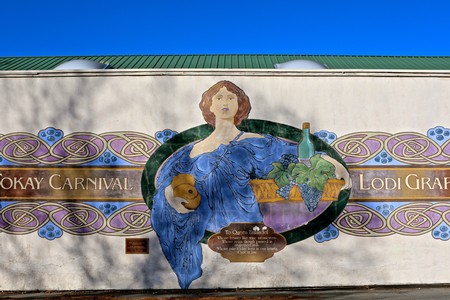 Originally there was no bear atop the Lodi Arch, which is one of only three Mission Revival style archs in existence in California, and is now #80000848 on the National Register of Historic Places as well as listed as a California Historical Landmark. The first bear, made of papier-mâché, was placed on the arch in 1908 as part of a fraternity prank. It stuck; but after one change (in 1934) and a number of superficial facelifts over nine decades, in spring of 2001 it was brought down and hoisted back up to its current glorious glimmer after a 23-karat gold layering and coating, done by Lodi artist Tony Segale, and commissioned by a Save the Arch committee: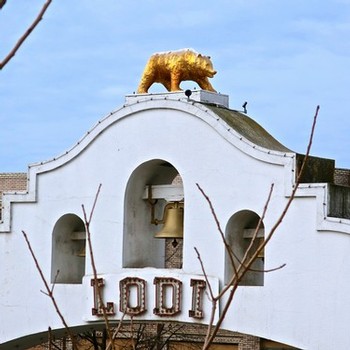 In the 1908 photo below, one year after Tokay Carnival, the bear as well as center bell is missing; according to Clark, probably because it is known that at that time the bell was being replaced by an actual working alarm bell (to warn of fires and other emergencies). You can also see that in those days the city streets were still unpaved, and the 2-story Lodi Hotel is sitting on the southwest corner of Pine and Sacramento streets: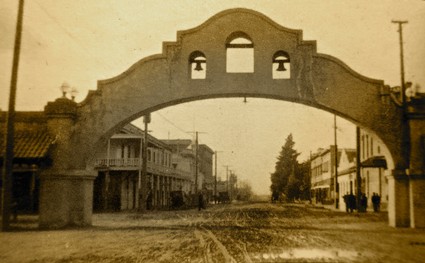 The Lodi Hotel would endure until 1912, when it was sold to the Bank of Lodi, which would raze it in order to build a sturdier, grander brick structure. An image of the hotel, at the heart of Lodi life, during its final days: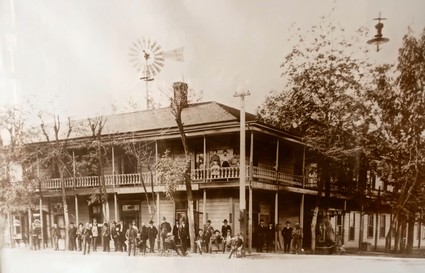 Supplanting the Lodi Hotel at the southwest corner of Pine and Sacramento, the Bank of Lodi (first founded by Senator "Honest Ben" Benjamin F. Langford in 1888) as it appeared around 1920: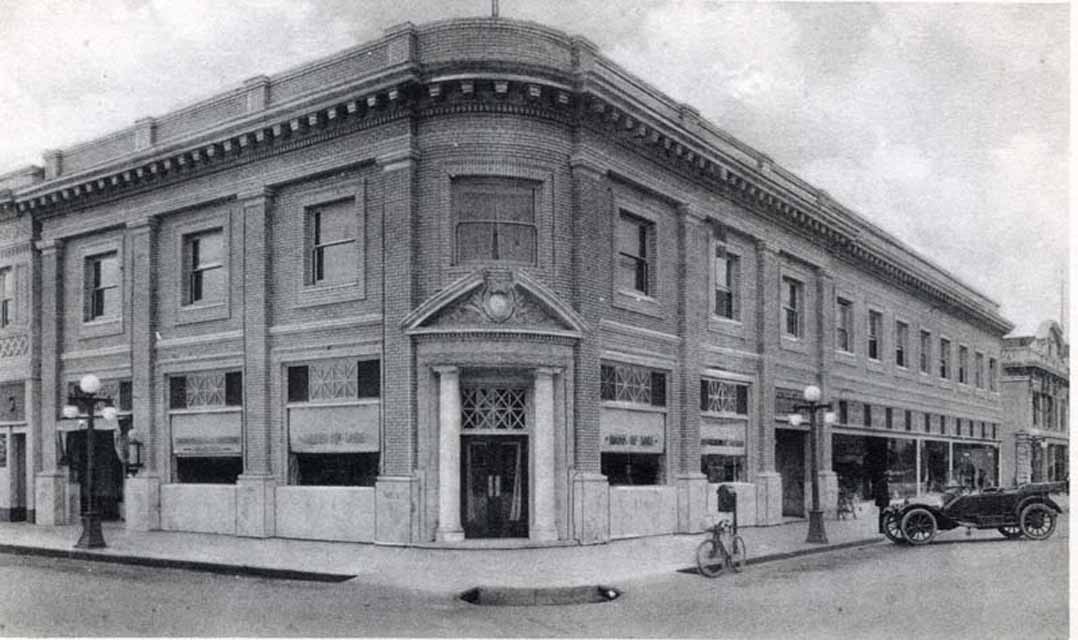 While the original Bank of Lodi has long been inactive, the building still stands tall. Today this N. Sacramento St. building is home to a number of small yet successful local businesses, such as Graffigna Fruit Co. (doorway below) and Jeremy Wine Co.: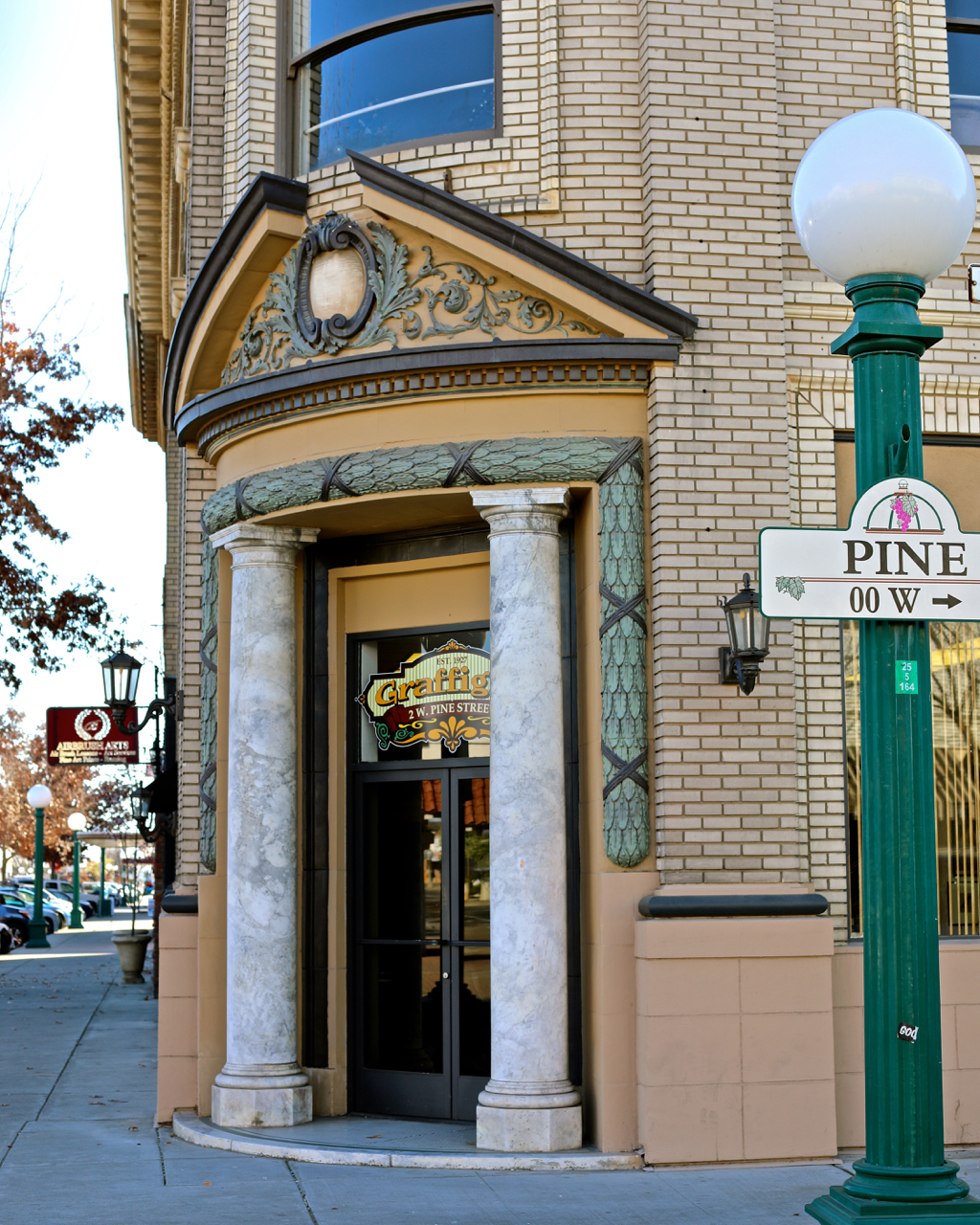 The ornate detailing of the original Bank of Lodi building can still be appreciated: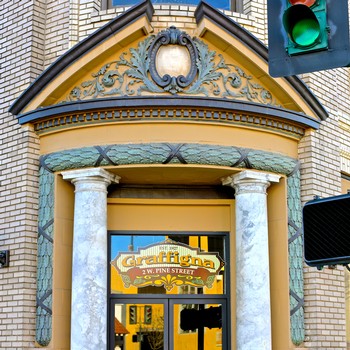 Downtown Lodi's first business, the Burt and Ivory store, were among the many that did not survive an 1887 fire, which consumed all but one of the buildings along N. Sacramento St., between W. Elm and W. Pine streets: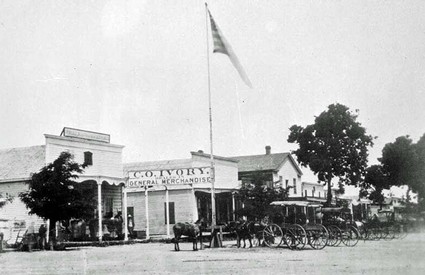 This 2006 Walldogs mural done by Tony Segale on Sacramento St., between Walnut St. and Lodi Ave., enshrines the city's first historic buildings; including a depiction of the old C.O. Ivory store at the center: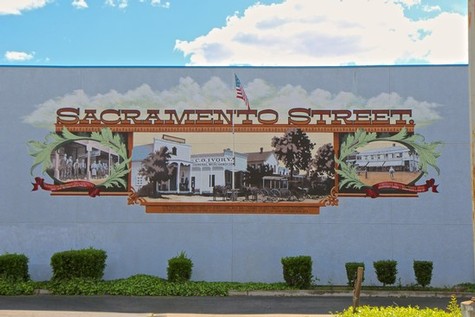 The following illustration, reprinted from Clark's Lodi book, is of the famously lavish home and gardens of Lodi merchants Charles and Rebecca Ivory, built soon after their marriage in 1871. The estate was located at the corner of N. School and W. Elm streets, where Lodi Stadium 12 Cinemas now stands...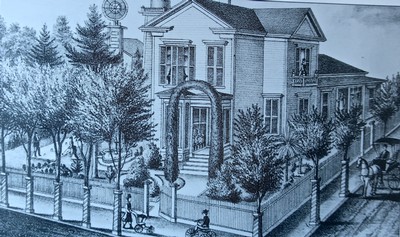 Around 1910, the buildings on the north side of Pine St., looking east towards the Lodi Arch, were constructed from sturdier material: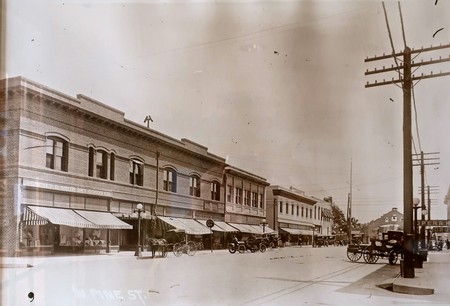 Today, the N. Sacramento St. buildings just north of W. Pine St. echo the architecture of the late 1890s: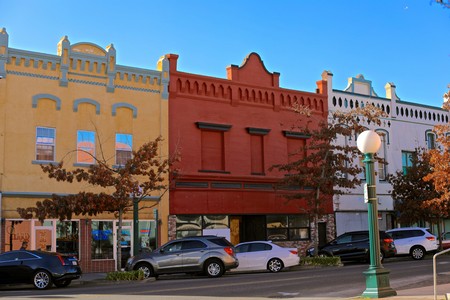 At 7 N. Sacramento St., Lodi's Hard Luck Tatoo plies a trade that has never been more popular: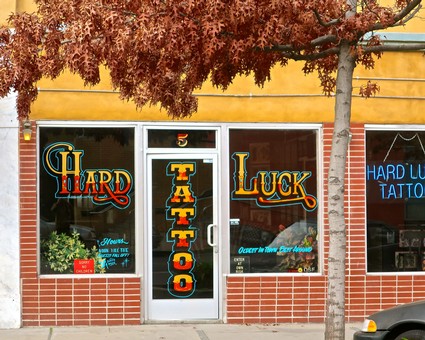 Across the street from Hard Luck Tatoo, sitting at the corner right next to the Lodi Arch, the Lodi Station Parking with its 1930s inspired, Art Deco mural paying tribute to the California Central Traction Company, which in the early 1900s ran an electric streetcar service that ran right down Sacramento St., connecting Lodi to Stockton as well as Sacramento (before falling victim to hard economic times in 1933):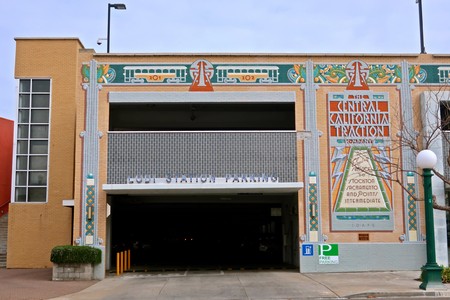 The "Brave New World' wording and imagery on the Lodi Station Parking wall, done by guest artist Mark Oatis of Henderson, Nevada: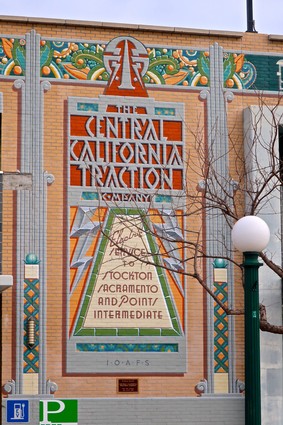 At the northeast corner of Pine and Sacramento, stairways to the second and third floors of the Lodi Station Parking structure: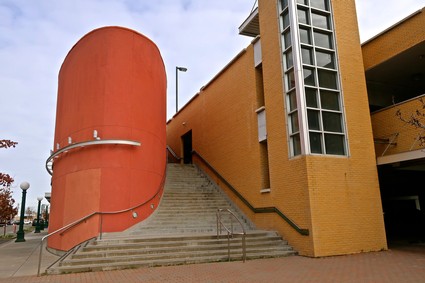 The following photo is more than just a street-view of the reddish-orange trimmed Joe Hassan Warehouse, located at the southwest corner of N. Sacramento and W. Elm streets. This is also the oldest commercial building in the entire City of Lodi, which survived the 1887 fire that consumed most of the buildings along Sacramento St. This 2-story structure, originally called Granger's Building, was built for the Lodi Hall Association in 1876, and once housed a general store on the ground floor and a meeting hall on the upper floor: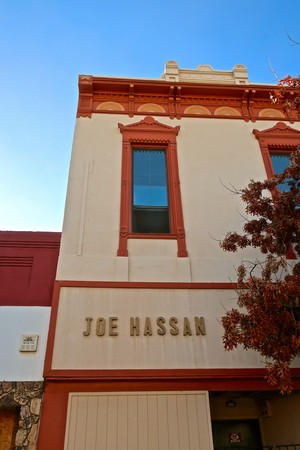 Much of Sacramento St. north of Pine, alas, has been characterized as the closest thing to a "skid row" (according to Clark) in Lodi over the past 60 years. These (currently) empty spaces have quartered numerous businesses that have come and gone (locals will recall Dean's Barber Shop, Rex Pool Hall, Fifteen Club Tavern, Club Coffee Shop, and many more):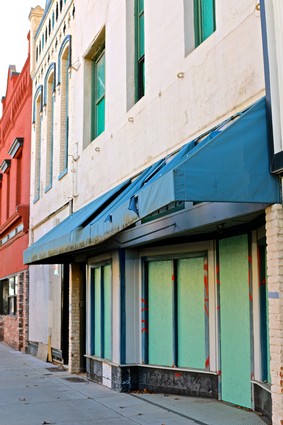 Boarded-up doorway to a N. Sacramento St. space: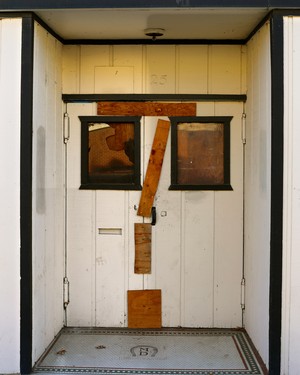 In the nameless back alley between N. Sacramento and N. School streets (connecting W. Elm and W. Pine), a little touch of oasis-like beauty, even in this fenced-off lot behind a vacated N. Sacramento St. building: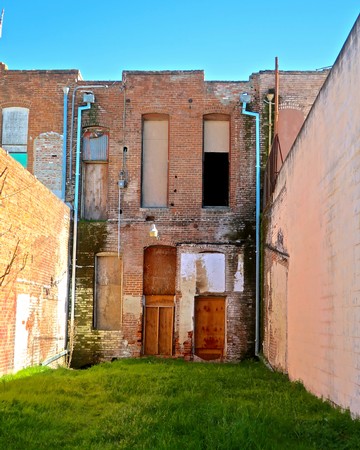 Bursts of color in the bricked-up doorway and windows at the back side/bay of Joe Hassan Warehouse, along W. Elm St.: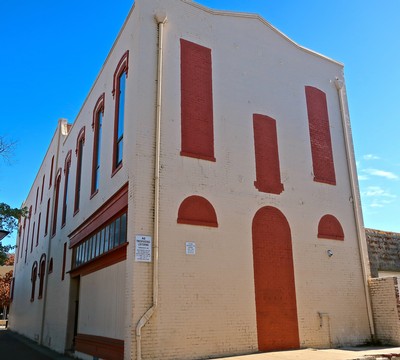 This self-referencing 2006 Walldogs mural, across the alley from Joe Hassan Warehouse along W. Elm St., also pays homage to two of Lodi's most enduring businesses - General Mills (which has sadly left the building) and Lodi News-Sentinel (still hanging on as a print daily, reporting the news since 1881):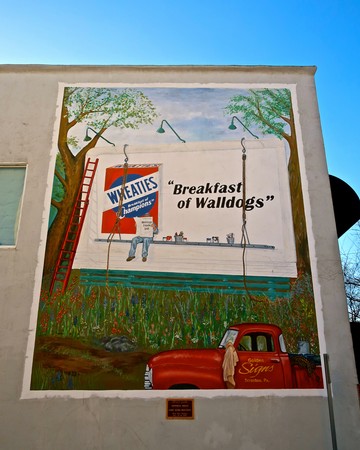 Right next to the Lodi Transit Station clock tower on S. Sacramento St., the recently opened McCay Cellars tasting room is part of the vanguard of wineries that have brought new life and charm to Downtown Lodi, only over the past 10 years: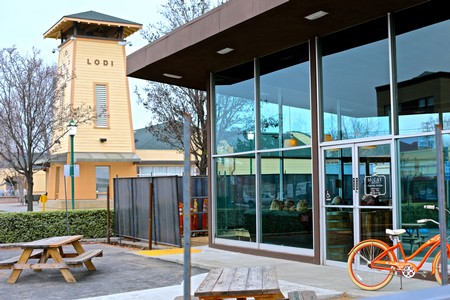 Across S. Sacramento St. from McCay Cellars, and fittingly facing Lodi Transit Station, Roger's Railroad Junction has been a haven for model train enthusiasts since 1995: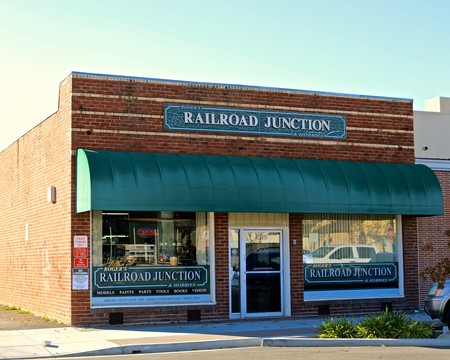 Subtle, it is not. Yet somehow the Imperial Hotel, at the corner of W. Oak and S. Sacramento, harkens back to prior era, when ladies wore gloves and pillbox hats, and men sported ties as thin as shoe laces and pants as wide as potato sacks: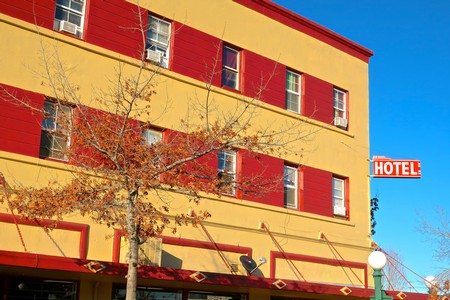 Grim S. Sacramento St. entry to Imperial Hotel: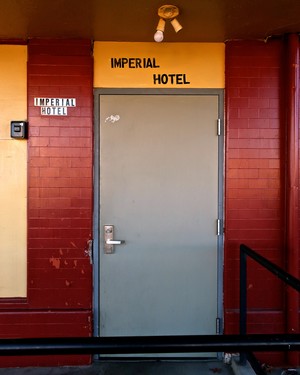 For over 80 years, the Blewett family's Ice Cream Fountain, first founded in 1926, tickled the fancies of Lodi bobby-sockers and generations of Lodi families with creations like Peek-A-Boo ice cream at their S. Sacramento St. creamery and counters, just north of Lodi Ave.: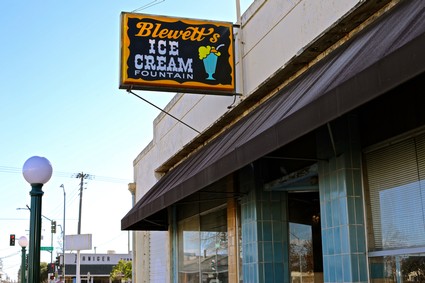 Blewett's Ice Cream Fountain, alas, is no more. A "fond memory" (Lodi Historical Society image clipped from Clark's Lodi) from 1958: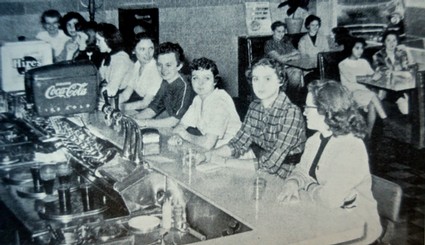 Across S. Sacramento St. from the old Blewett's creamery, the "hooray for Hollywood" facade of another bygone business (formerly Swerington-Jentoff Oldsmobile, as well as B&W Motor Sales and, most recently, O'Gren's Auction):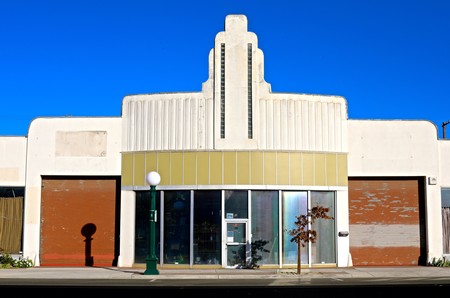 On the top floor of the Lodi Station Parking structure, two Lodi ladies enjoying the afternoon sun on their skins, and the Delta breeze whipping through their hair, while gazing at the east side of town over the railroad tracks: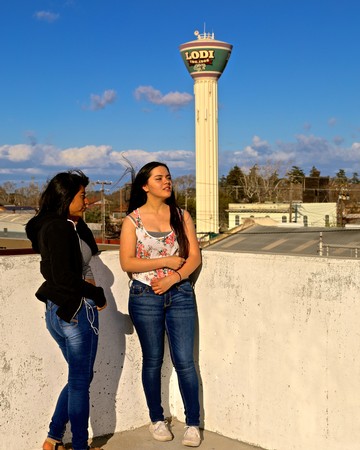 Ever since 1956, Joe Hassan's Clothing & Western Wear, on the northeast corner of N. Sacramento and W. Elm streets, has been the go-to spot for boots and sturdy, practical clothing: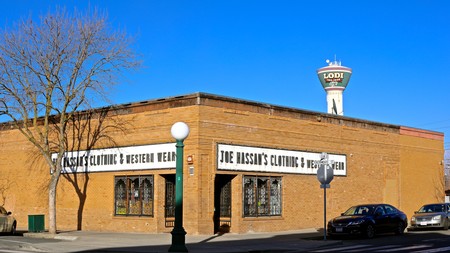 Near the Lodi water tower on Locust St., wine lovers of today can stroll through the historic Olde Ice House, which once provided ice of all shapes and sizes to both consumers and the fruit and vegetable industries of Lodi (particularly crucial during Prohibition, when almost all of Lodi's grape crop was sent across country to home winemakers in ice-chilled train cars). The building's cork-cored, 1-ft.-thick walls now contribute to the energy efficiency of present-day owners, Dancing Fox Winery, as well as houses a Downtown Lodi tasting room for Jessie's Grove Winery: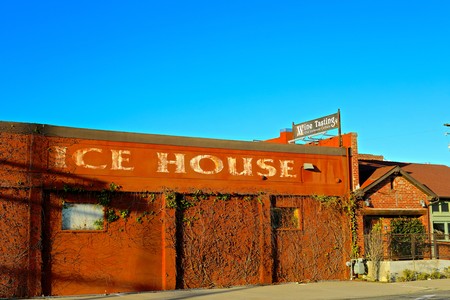 Nowadays Main St., running north-south parallel to Sacramento St. on the east side of the railroad tracks, is the road less traveled for visitors and locals alike. This part of Downtown Lodi has seen better days, but has its own fascinating history. The most visible landmark, at the corner of N. Main and E. Locust, is the 136-foot-high Lodi water tower ("affectionately called the Flashlight," according to Clark); which was built in 1988 but repainted in 2006 in homage to Lodi's first 100 years: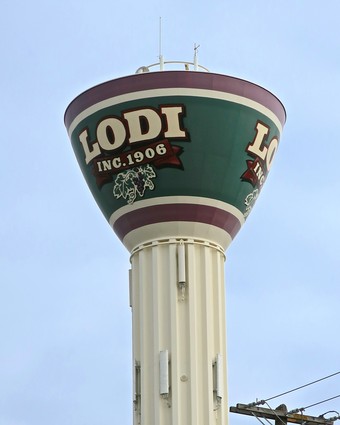 Standing all by its lonesome next to the Lodi water tower on N. Main St. at E. Locust is one of Lodi's most historic buildings, built in 1912. This empty, unassuming edifice once served as Lodi's second City Hall (until the current City Hall on W. Pine St. was built in 1928), as well as its Fire House, Jail, Water Tank, and the Carey Bros. Electric Co. (in the beginning, all at once!):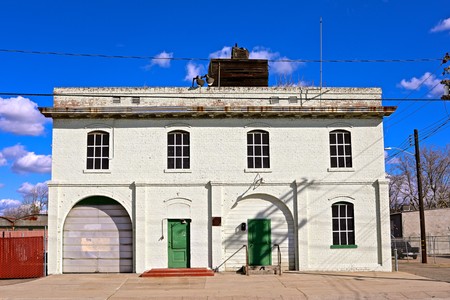 A vintage photo of City of Lodi's former combination City Hall, Fire House and Jail, shortly after 1912: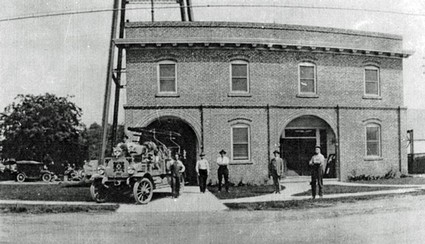 Also on the east side of the tracks along Main St., Lodi built up its own Japantown alongside the city's ice houses and packing sheds. The first to arrive from Japan was in 1885, and by 1940 – just before most of the population was forced to relocate in internment camps (many, never to return) – there were over 800 Lodi residents of Japanese descent (plus a emigrants from China), who enjoyed their own little world of stores, food markets, hotels, restaurants, as well as the Buddhist Church of Lodi (below) which remains a very active center of the Lodi community: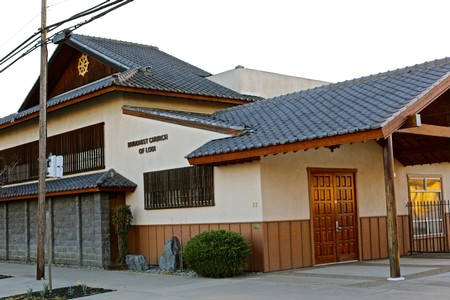 In another one of his artful Lodi murals, Tony Segale captured numerous "Japantown Memories" on the walls of the Buddhist Church annex on E. Elm St., between Stockton and Main streets: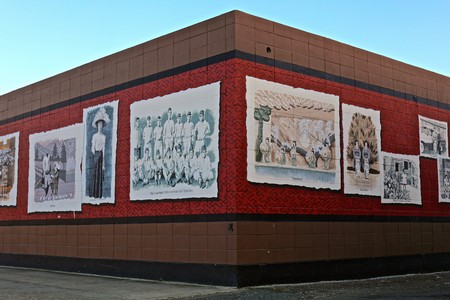 In this Japantown panel, Segale captures a 1953 moment in front of the N. Main St. building that used to be the Hiroshima Hotel, which also featured a card room as well as beer and wine bar: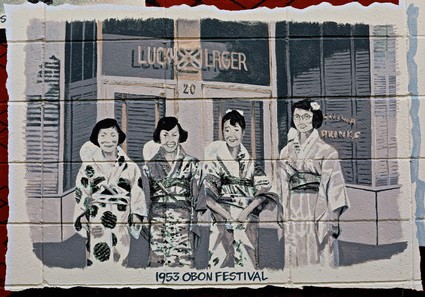 In this original photo reprinted in Clark's Lodi, the Obon Festival ladies are identified as (from left) Jeanette Shinsako, Kimi Hirokani, Arlene (Kosaka) Tamura, and Arlene Tanaka: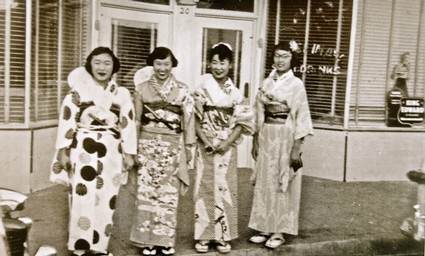 What remains today of what was once Japantown's Hiroshima Hotel, at 20 N. Main St.: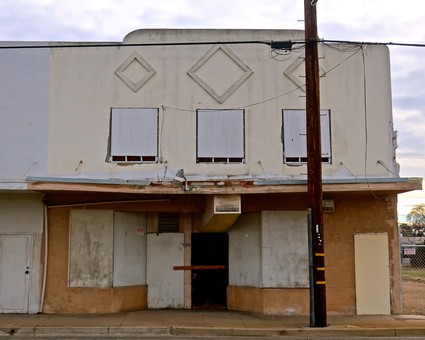 On a Lodi Historical Society plaque marking the building below, we learn that this was the site of the Hinode Store, first opened by Sejiro "Joe Hinode" Masui and Kenichi Tamura in 1890. This was not just a place to buy Japanese and local products, but it also functioned as a meeting place where Lodi farmers could contract Japanese laborers. In 1911 this building became the Miyajima General Merchandise Store as well as the Miyajima Hotel; in continuous operation all the way up to 1985 (with the exception of the years during WWII when residents were interned at Rowher, Arkansas):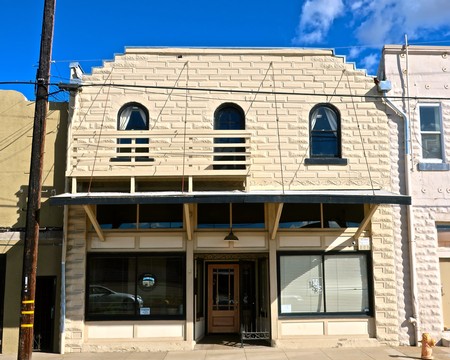 A little more worse for wear, this 30 N. Main St. address once housed Japantown's Mary's Barber Shop, as well as Mickey's Club Café and Takeuchi Barber: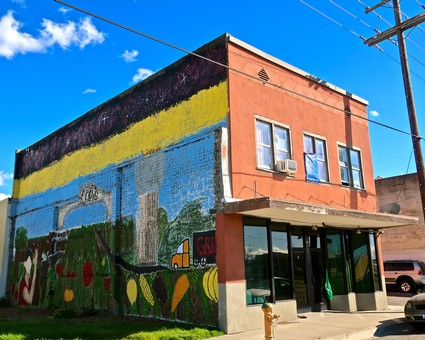 On S. Main St., just east of the Lodi Transit Station, the Main Hotel is one of many old Japantown sites that have seen better days: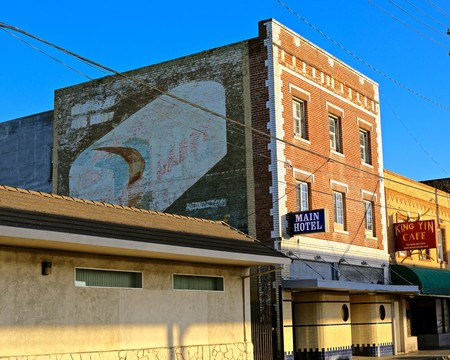 Butting up against the old packing sheds along S. Main St., just across the tracks from Lodi Transit Station, the handsomely klinker bricked Cherry Industry Offices accommodate the California Cherry Advisory Board, San Joaquin Valley Cherry Shippers, as well as the Lodi Export Group: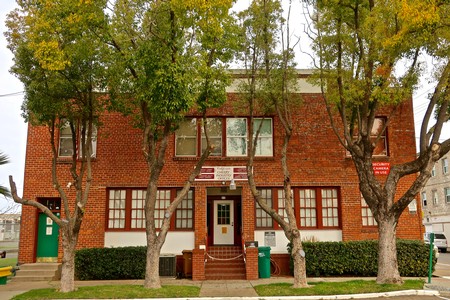 Seen from the platform of the Lodi Transit Station, the sign for the Star Hotel (which was seriously fire damaged just a few days ago, this past February 2018) peeks out from behind S. Main St. packing sheds: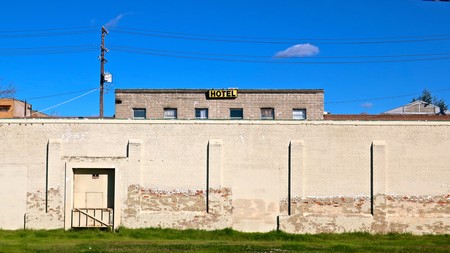 While the railroad was once the lifeblood of Lodi commerce and fortunes, the rusted iron rails will continue to play its own part in the culture and consciousness of this farming community: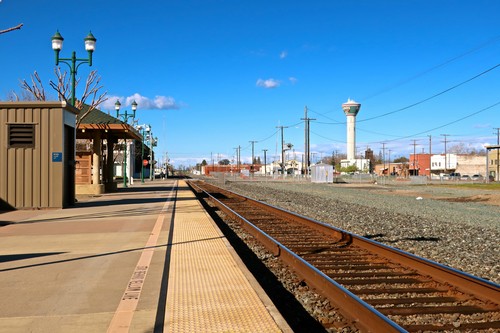 Continued in our next blog post: Part 2 - Past & present images of the City of Lodi's glory days
Comments
Commenting has been turned off.