Letters from Lodi
An insightful and objective look at viticulture and winemaking from the Lodi
Appellation and the growers and vintners behind these crafts. Told from the
perspective of multi-award winning wine journalist, Randy Caparoso.

March 1, 2018 | Randy Caparoso
Historic Lodi buildings (Part 2 - Past and present images of Lodi's glory days)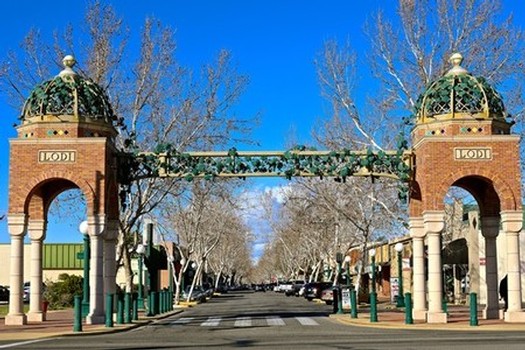 A continuation of Historic Lodi buildings and images (Part 1 - Sacramento and Main Streets)
The City of Lodi, like the Lodi Viticultural Area surrounding it for 134 square miles, is built on an abiding foundation; its winegrowing industry nourished by the generosity of Mother Nature (particularly the region's mild Mediterranean climate and deep, fertile soils), and the City itself shaped by the steady hands of enterprising farmers, founding fathers and businessmen, well organized women and social groups, and generations of fully invested families.
Hence, during the early 1990s when the City initiated its Central City Revitalization Plan for its original 55-acre "Old Town," visible aesthetics were prioritized as much as practical capital improvements. Construction of a Lodi Gateway (in the photo above) was completed in 1997, and it now sits astride School St. at the corner of Lodi Avenue, ushering car and pedestrian traffic down a handsomely brick paved road into the historical heart of the City.
The School St. Gateway now compliments the Mission Revival style Lodi Arch just a few blocks away. There is a reason for its architecturally chimeric look; as it incorporates an iron grapevine sculpturing reflecting one of the region's key agricultural industries, earthen red Italian Renaissance-style brick masonry recalling the Lodi City Hall (erected on W. Pine St. in 1928), and the majestic, classical columns of the former Lodi Union High School (now the site of Hutchins Street Square), beloved by generations of Lodi graduates.
While Lodi's City Hall at 221 W. Pine St. (also, up until 1967, the location of the Lodi Police Department) has undergone several million dollars of upkeep since 1928, its exterior has been unchanged over the past 90 years; its Italian inspired architecture holding up handsomely against the test of time: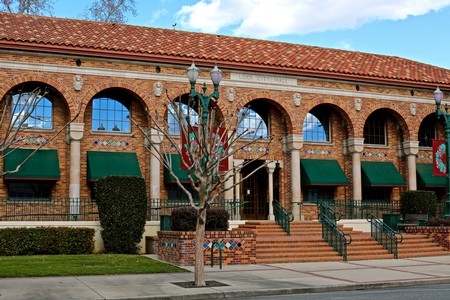 There was a time, between 1913 and 1972, when all of Lodi's teens attended Lodi Union High School (see the 1950s photo below), which was largely demolished by a 1974 fire (an arson perpetuated by students seeking to burn school records):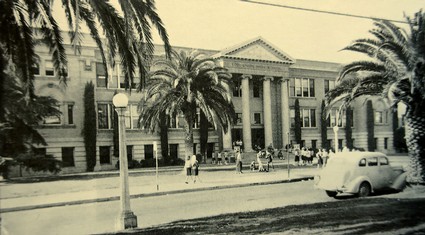 At the time of the fire, the old Lodi Union High School had become Tokay High School, and a "west" campus of Lodi High School had been established a few block west. Following the fire, a new Tokay High School campus was established on the southwest edge of the City. It would not be until 1990 that new buildings would be built around remaining structures on the 12-acre site of what was once Lodi Union High, becoming part of today's Hutchins Street Square: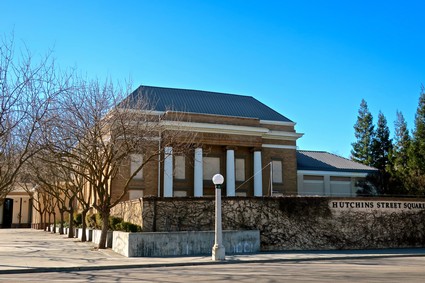 With a $10 million loan secured from the City of Lodi, the Old Lodi Union High Site Foundation was able to complete this vibrant community center's final phase, Hutchins Street Square's Performing Arts and Conference Center, in 1998: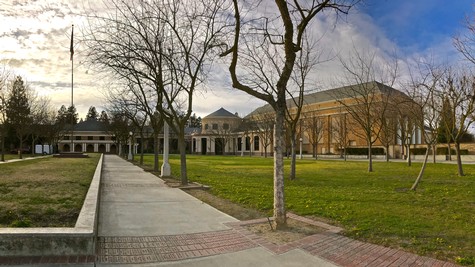 With its vintage style street lamps, informational kiosks at the corner of each block, brick paved street and inlaid gold sidewalks, Lodi's downtown refurbishment (below, at S. School and W. Oak streets) has helped revitalize the City: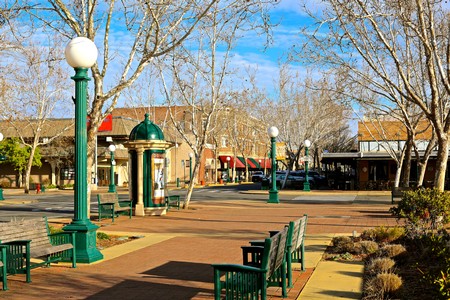 From the corner of Downtown Lodi's W. Pine and School, the historic Lodi Arch can be seen far down the street to the left; and buildings originally built as the Lodi Opera House (center) and Hotel Lodi (right), dating back respectively to 1905 and 1915: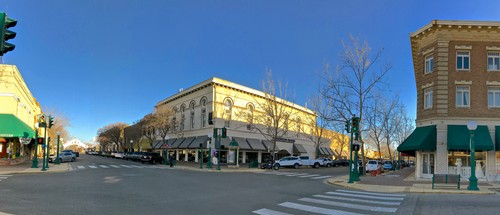 In this colorized postcard-photo taken from under the Lodi Arch around 1910, looking west down W. Pine St., the original Lodi Hotel can be seen on the left, facing the original Bank of Lodi Building to the right. The 2-story hotel would be demolished in 1912 and replaced by the Bank of Lodi building that is still standing today; and the building on the opposite (northeast) corner of Sacramento and Pine would later be replaced by the Friedberger-Blodgett Building, which also still stands today: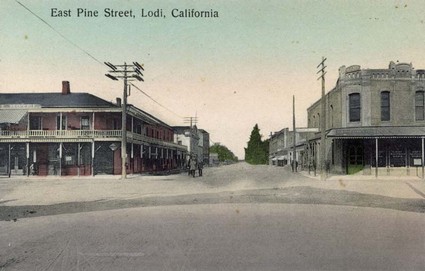 In this second colorized postcard-photo below, from around 1915, the Sacramento/Pine street corner of the original Bank of Lodi Building (before being demolished, after a new one was built across the street) is shown alongside an electric streetcar run by the Central California Traction Company, which ran down Lodi's Sacramento St., its rails connecting Lodi with Sacramento to the north and Stockton to the south: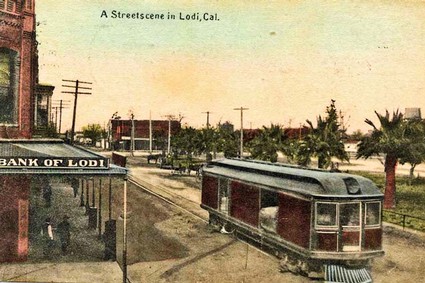 In the photograph below, from the 1920s, the Bank of Lodi Building is facing the Friedberger-Blodgett Building; both buildings, new at the time, and to this day still anchoring the intersection where the City of Lodi was first established: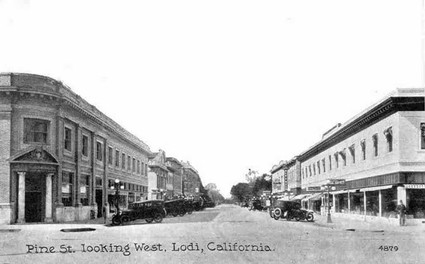 Lodi's Friedberger-Blodgett Building (as seen today, in the photo below) was co-owned and built by a dentist named John M. Blodgett. Blodgett was one of the original five trustees who led the City of Lodi when it was first incorporated in 1906. This was crucial to Lodi's foundation, as Blodgett played a key part in bringing water, electricity, a sewage system, fire and police departments, and financial stability to what used to be more of a typically unruly, dusty "Wild West" town (see our post, 1906, when Lodi became a city and quit its lowdown ways).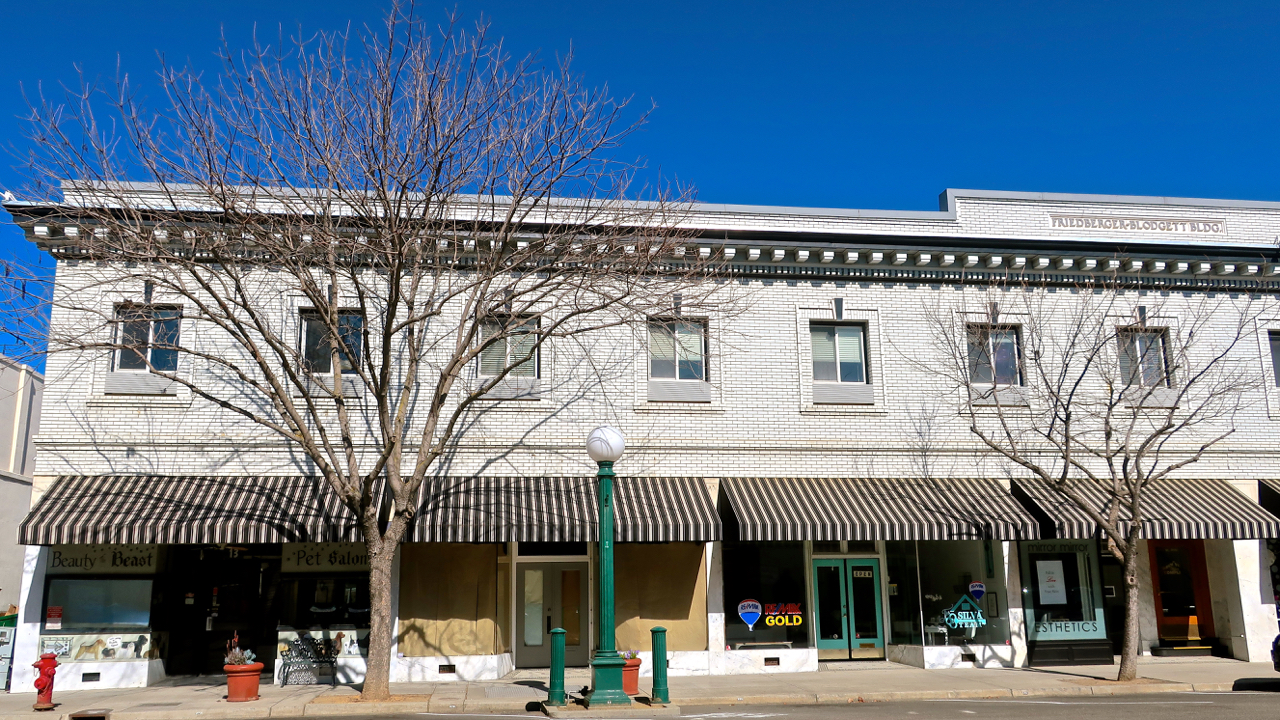 At one point, Blodgett (photo below) also served as a director of the Lodi National Bank, president of the People's Building Company, and was also very active in the Lodi chapter of the Masonic Lodge (No. 256, est. 1879), as well as the Elks Lodge, Lodi Rotary Club, Mokelumne Club of Lodi, and the Lodi Business Men's Association: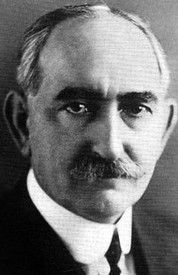 On the west end of the Friedberger-Blodgett Building, where you currently find the Beauty of the Beast Pet Salon, if you look hard enough you will see an inconspicuous bronze plaque embedded into the sidewalk, between the fire hydrant and succulent planter: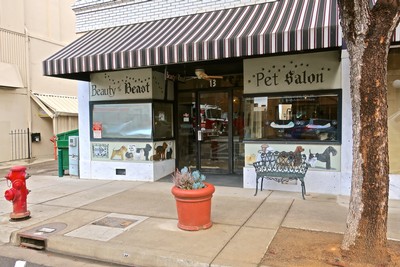 This sidewalk plaque, found at 13 W. Pine St., marks...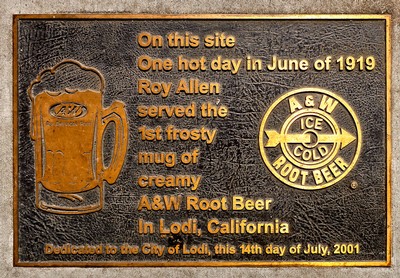 At the age of 37 in 1919, Roy Allen was a traveling salesman who "discovered," and purchased, a recipe for a deliciously foamy, creamy beverage from a pharmacist in Arizona. He mixed up a batch of the secret formula from roots, spices, berries, and juices, and passed out free samples during a June 4 celebration honoring returning World War I veterans. The samples were such a hit, Allen rented out drugstore space in the Friedberger-Blodgett Building to sell 10-oz. mugs of his root beer for a nickel apiece. A photo of Allen's root beer stand hanging in the Lodi location of A&W today: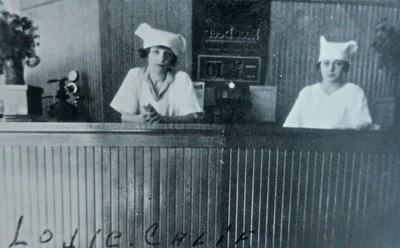 Within two years, Allen hooked up with Frank Wright in a short-lived partnership to open up the first "A&W" stands in Sacramento. This led to franchised operations – the first ever business plan of this sort tried in the American restaurant industry – in Stockton and other cities, which would grow to 260 stores from coast to coast by 1941, and remain the largest franchise food and beverage operation in the country up until late 1960s. Photos of Allen, carhops and cars at early locations displayed on the walls of the Lodi A&W at 2016 E. Lodi Ave. today: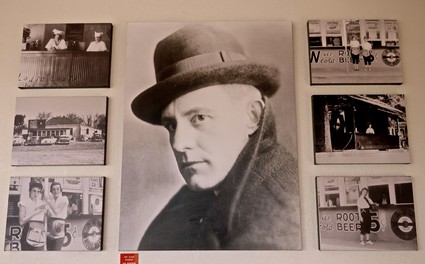 In 1923 carhops were added, serving both food and icy A&W root beer. John and Ruth Habeck opened their E. Lodi Ave. franchise – naturally, a huge hit among the proud locals – in 1954. The current Lodi franchise owners, Peter and Annette Knight, have operated the same location since 1995; their store still retaining the covered carpark where teams of young lady carhops once extended their convenient services: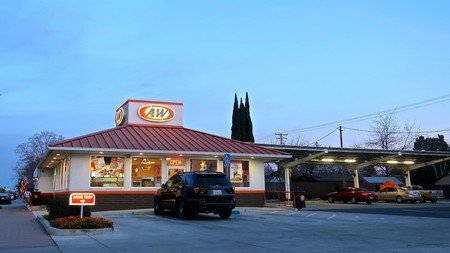 A photo of the happening scene at Lodi's A&W during the 1950s: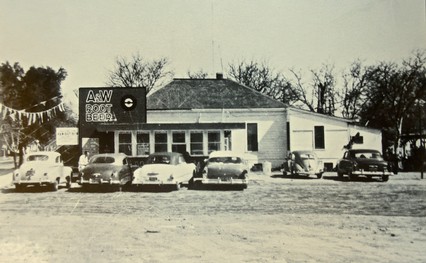 It is also worth mentioning that the Lodi A&W is one of many in the country where the root beer is still whipped up fresh, in-house, every single day, in a paddle-stirred brewing kettle, and served up in (of course!) a super-frosty mug. For an ultra-nirvana experience, try this (still) secret brew as an A&W root beer float (more than worth two miles on a treadmill); and be sure to time a summer visit during one of the location's "Cruise Night" classic car shows, going on every Thursday (5-8 PM) between May and October: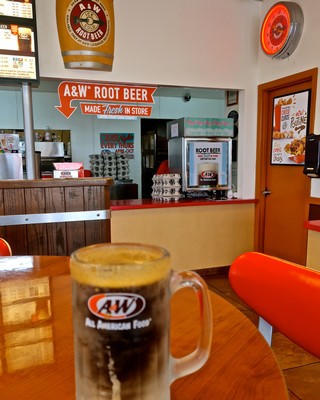 In late January 1905, all of Lodi society (reportedly, over 650 citizens) attended the grand opening of the Lodi Opera House at the corner of School and Pine streets, and enjoyed a comic opera performed by San Francisco's renowned Tivoli Opera Company. This stately, gray stoned building was the brainchild of Lodi businessman Charles Lever Van Buskirk, who dreamed of bringing civilizing, alcohol-free entertainment to Lodi's growing populace as an alternative to the plethora (at that time) of race tracks, saloons, gambling halls and other houses of ill repute. The Lodi Opera House's performance hall (also often used for business and community meetings) was actually located upstairs, while businesses occupied the ground floor: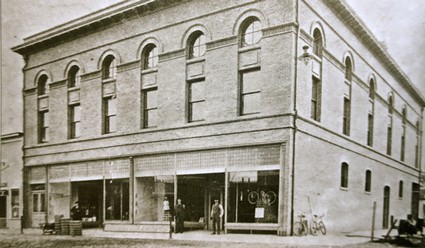 Van Buskirk was also an early real estate tycoon; investing the profits from his lumber business into more than 40 properties within the city limits (virtually all the free lots west of Sacramento St. and the adjoining railroad tracks). The old Lodi Opera House still survives as the Thornton House Furniture building, as seen today from its School St. side: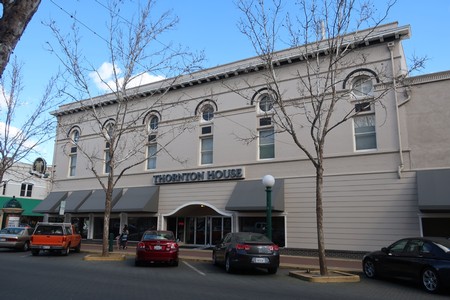 Sandwiched between the showier Bank of Lodi building and former Lodi Opera House on the south side of W. Pine St., the Hale Building still stands as one of Downtown Lodi's most aesthetically pleasing buildings. Frank Hale – an undertaker who sold Van Buskirk the property on the southeast corner of Pine and School streets that enabled him to build his Opera House – also served as Lodi's second mayor (from the beginning, Lodi's mayors have been selected by either the City's trustees or Council, rather than elected by voters). The Hale Building this past February 2018: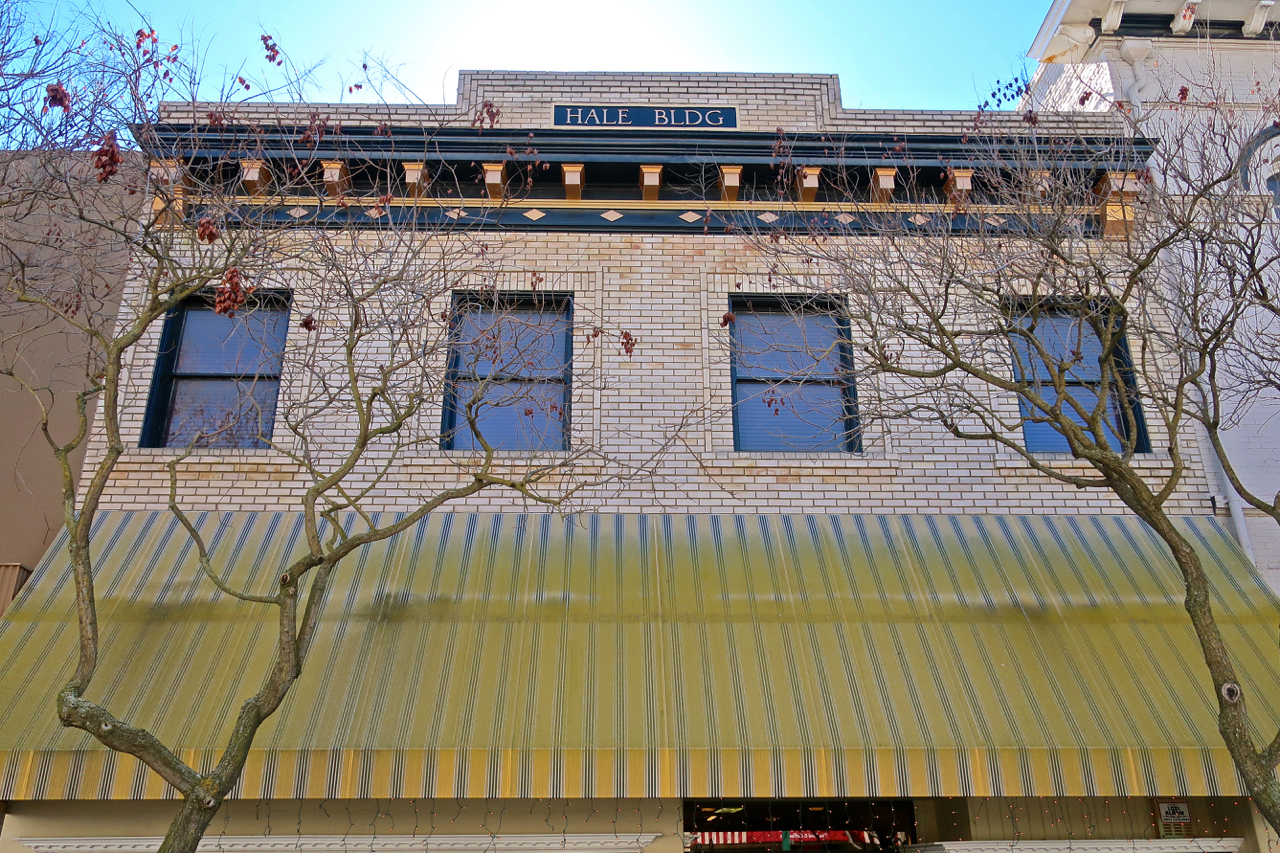 Frank Hale's name is also enshrined on a plaque at Hale Park - Lodi's first city park, established in 1876, and located at E. Elm and N. Stockton streets, kitty-corner from the Buddhist Church of Lodi. The park was once the site of municipal baths fed from a hot artesian well, a monolithic chunk of petrified wood dug up near Valley Springs in Calaveras County in 1920, and a bandstand where Lodi families enjoyed weekly concerts performed by the Tokay Band. All but the petrified wood (bottom-left) remains today, as you see in this recent photo of the park, with this beautifully mistletoed valley oak: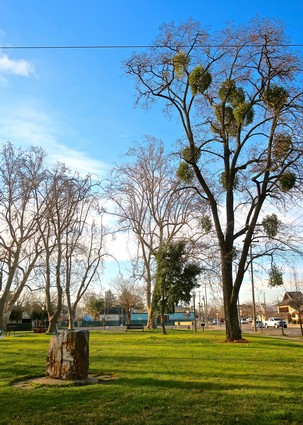 The Hotel Lodi (not to be confused with the Lodi Hotel, torn down at the corner of Sacramento and Pine in 1912) was built in 1915 at the corner of S. School and W. Pine, across the street from the Lodi Opera House, on one of the many lots owned by Van Burkirk (who, in fact, once held the deeds of all four corners at School and Pine). Designed to rival San Francisco's St. Francis Hotel, according to Ralph A. Clark (Lodi – Images of America), "when finally completed it was considered one of the finest hotels in the country... (featuring) every modern convenience... including private bathrooms, shower baths, and a telephone in every room":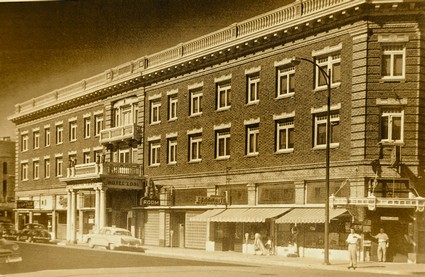 By the 1940s the Hotel Lodi building was in serious decline; its usage relegated to commercial businesses on the bottom floor. While added to the National Register of Historic Places in 1995, by that time most of the building's upper rooms had been given up for the ghost (some say literally), which lasted some 30 years. The happy ending is that in 1998 affordable housing specialist CFY Development Inc. converted 74 rooms into 1-room and studio apartments, and reopened the historic building as Lodi Hotel Senior Apartments, as a Low Income Housing project. The School St. entrance to today's Lodi Hotel: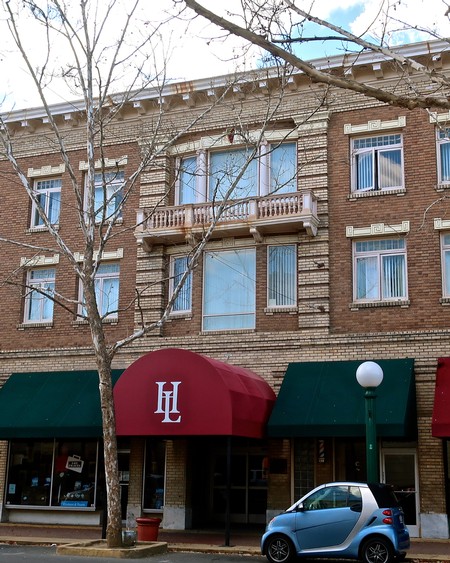 Today, the exterior of the former Hotel Lodi still shows off its original intricate detailing; the architectural touches worthy of a high drama movie setting: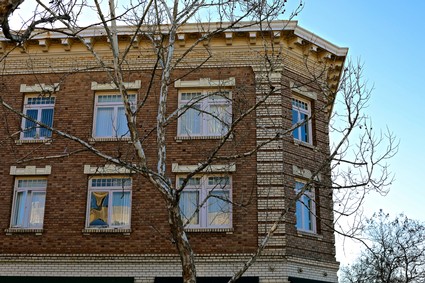 In the high ceilinged lobby of Lodi Hotel's senior living quarters today, a winding staircase, ornate balcony, vintage furniture and golden skylighting gives a glimpse of some of the old hotel's turn-of-the-century glory: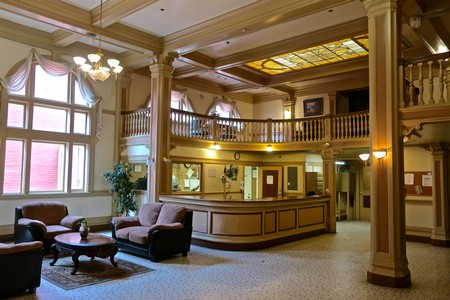 One of Hotel Lodi's street level businesses that has endured since 1924 has been the Lodi Barber Shop; considered a Lodi institution (if walls could talk!), occupying the same space next to the entrance of the building's School St. lobby for going on 95 years: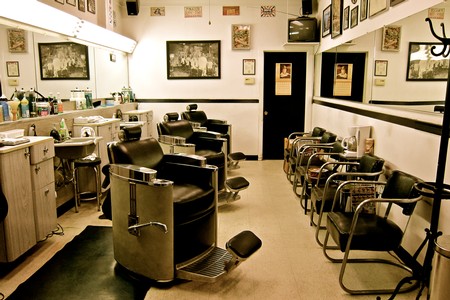 A photograph of the Hotel Lodi barbers in 1953 (identified by Clark as, from left, William Docktor, Wilmer Kaeler and Elmer Kirst):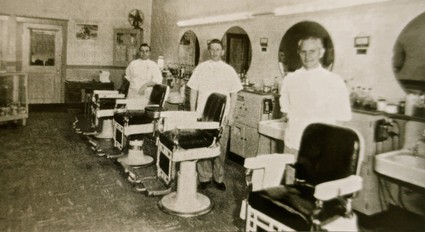 One block south of the Lodi Hotel Senior Apartments, Downtown Lodi's U.S. Post Office - built in 1936 as part of President Franklin D. Roosevelt's WPA (The Living New Deal) - shows off its own intriguing touches, such as the Harry Potter-ish, two-legged wrought iron lamps flanking its S. School St. entrance: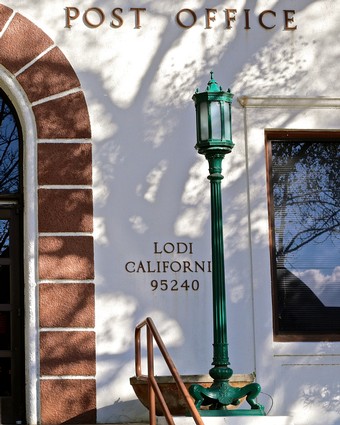 Right across S. School St. from the U.S. Post Office (now the location of Downtown Lodi's Woolworth Place, housing businesses like Mud Mill and Knowlton Gallery), there once stood the 1901 home of George Washington and Mary Lewis Hill – a Queen Anne-style Victorian now called, simply, the Hill House. Mr. Hill was one of Lodi's founding fathers, who opened up a successful jewelry store in 1870. Mrs. Hill's sister, Daisy Pleas (who lived with the family), was a watchmaker – believed to be the first woman watchmaker in the state. A postcard-photo of the Hill House carrying a 1909 date: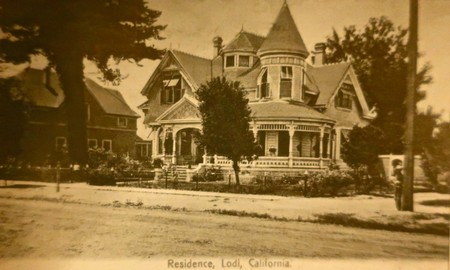 The Hill House was a center of Lodi social life - the entire family was well known for their musical, artistic, photography and poetic talents - as well as meetings held by members of Lodi's First United Methodist Church. By 1948, however, the growing hustle-bustle of Downtown Lodi's School St. became an impracticality for home life; and so that year the house was cut in half and laboriously moved to its present location, at 826 S. Church St., more than half-a-mile away: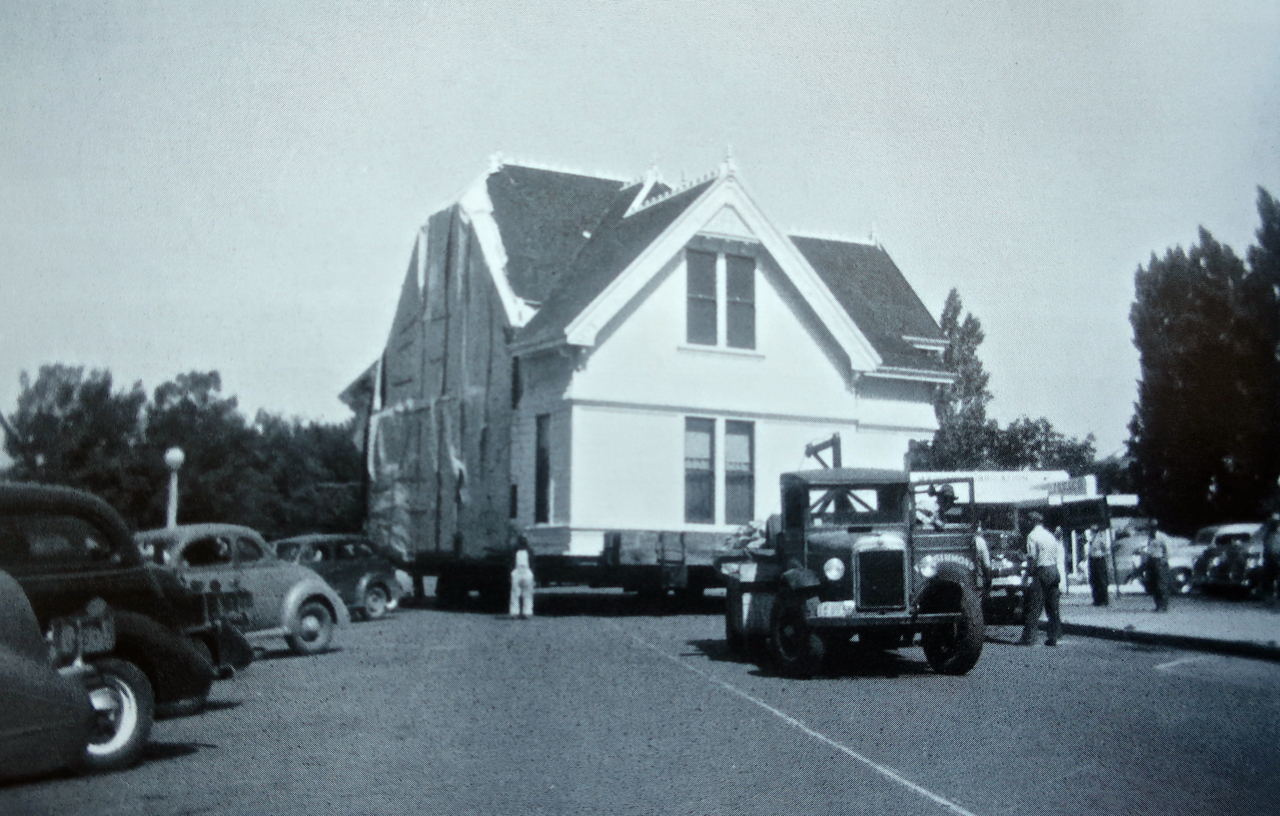 Maurice Hill – George and Mary's son, and a lifetime bachelor who left no heirs – passed away in March 1984, leaving the house in the hands of trustees with the stipulation that it be made available to the public as a museum. Today the Hill House retains its original stunning beauty at its Church St. location; and its doors are open to visitors on most Sundays of the year: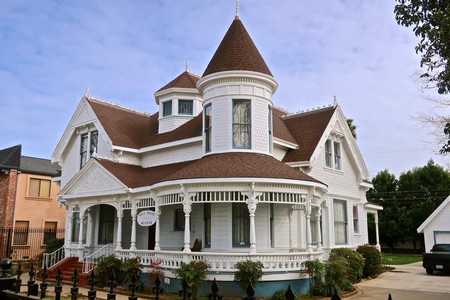 Another favorite stop for Lodi history buffs is the Theodore Beckman home, built in 1887 and located at 1150 W. Kettleman Lane (next to an IHOP) - an area that, 100 years ago, was considered "country," far beyond city limits. This was essentially an estately farm home; even during the late '70s, when it was sold to a developer, still surrounded by vineyards. Although at one point this grandly turreted Victorian home was slated for demolition, to be replaced by a brand new building for a Stockton Savings & Loan, it was given a reprieve (you can't rebuild history!). Today, this faithfully restored house lives on as a BBVA Compass Bank; with the original knobs of its front doorway barely 2-ft. off the ground (the Beckman ladies, evidently, were on the short side), and loan officers now seen at desks near ornamented bay windows and in the old family sitting rooms: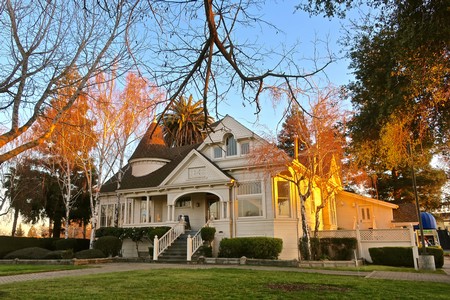 The Beckman home as it appeared towards the end of its incarnation as a private home; when it was set off a little further from W. Kettleman Ln./Hwy. 12, which has since been considerably widened.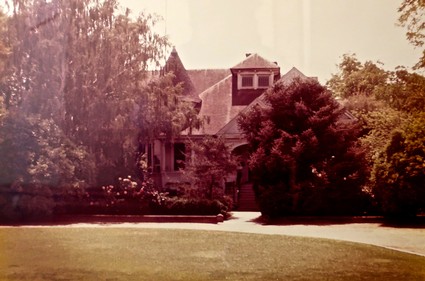 At the rear of the Beckman home, a classic (and highly convenient) farmhouse water tower attached to the house: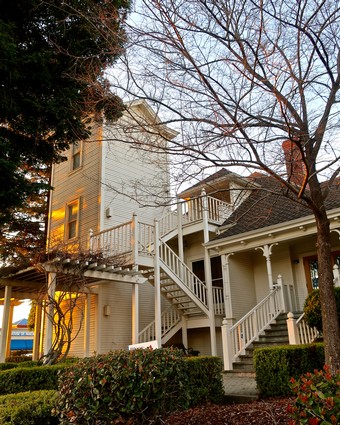 Returning back to the northwest corner of S. School at W. Oak streets in Downtown Lodi, you find a muscular, 1930s-inspired bronze sculpture called "Celebrate the Harvest." While it looks like something that has been there forever, it was dedicated in October 2009. The artist - the late Rowland Cheney (who tragically died in a plane crash in Alaska in 2015) - included these touching words to describe his inspiration, engraved at the base of the sculpture:
Celebrate the Harvest is a love story.... an image generated from the relationship that exists between Earth and Vine from the beginning of time... that of a young, turn of century couple who symbolize that relationship... (she) the epitome of the gentle, nurturing elements of life... (he) the tiller of the soil.... imbued with the will to provide and the strength to prepare he represents the soul and vision of industry.... celebrating the fruits of their labors...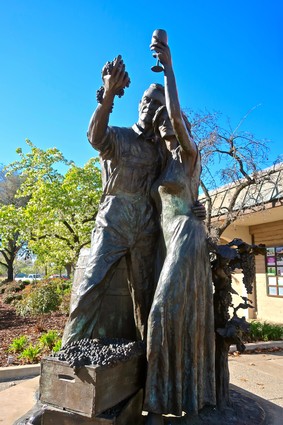 At the northwest corner of S. School and W. Walnut streets you find one of the Walldogs murals, commissioned by the City in May 2006 to commemorate the first 100 years of Lodi history. The mural below is called "The Packing Shed," although locals often refer to it as the "No Talking Allowed" picture, in reference to a sign prominently displayed over the women, attired in turn-of-the-century Victorian dresses, doing the strenuous work of packing fresh grapes headed for markets moved in railway cars going coast to coast. The question, of course, is how a "no talking" rule was ever enforced in a packing shed full of women. Doubtful. One segment of the mural: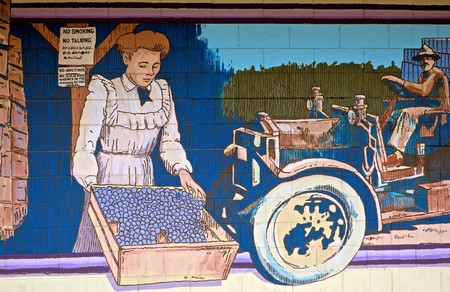 Below is the original photograph - which Clark says was taken by well known Stockton photographer J. Pitcher Spooner - that inspired Walldogs muralist Dan Sawatsky, visiting Lodi from British Columbia. According to Clark, "Spooner recorded several scenes of the E.G. Williams and Sons packing shed," and this "photographic series was displayed at the 1907 Tokay Carnival":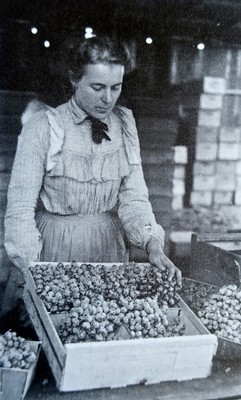 To help mark Lodi's centennial in 2006, Walldogs artist Nancy Bennett (of Centerville, Iowa) did a light hearted rendering in memory of Lodi's short lived Cucumis Club, on a wall located along Downtown Lodi's Church St. (in the parking lot just south of W. Oak St.). This social club was dedicated to the appreciation of the watermelon (cucumis being Latin for watermelon), which in the 1880s and 1890s was one of Lodi's major crops (in fact, the Lodi region was once called "The Watermelon Capitol of the World"). Alas, by the 1890s many of Lodi's farmers were turning from watermelon to grapes; which was why this n'er-to-be-forgotten club lasted only from 1896 to 1898: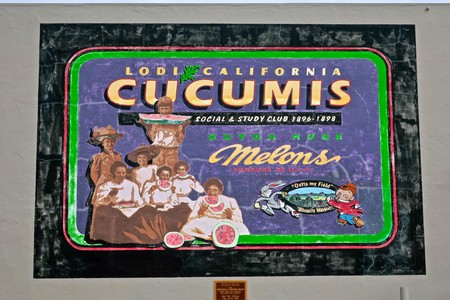 In this photo memorializing Lodi's Cucumis Club, Clark identifies these members as belonging to Lodi's Thompson and Shipman families, who met for the enjoyment of literature and entertainment as much as for the love of cucumis: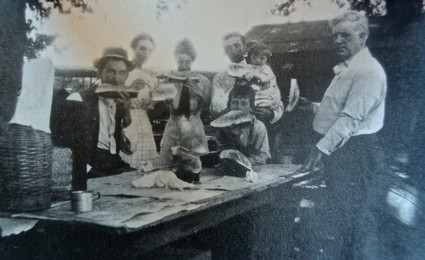 Across Church St. from the Cucumis Club mural is the First United Methodist Church; a congregation that traces its presence in the region as far back as the region's earliest settlers, during the 1850s. The first services held at this site at S. School and W. Oak streets were in 1871; and the building of this current structure began in 1919: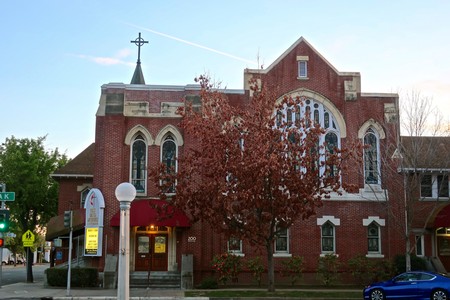 From Clark's Lodi book, a postcard-photo of the original First United Methodist Church, which met the needs of the congregation between the 1870s up through the turn of the century, before a larger house of worship was built: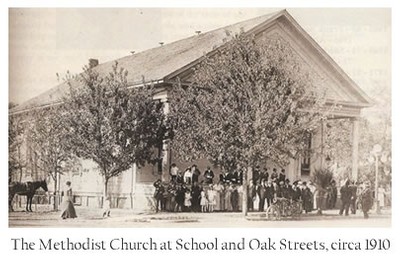 On a site one block south of the First United Methodist Church, at Church and W. Walnut streets, St. Anne's Catholic Church was first established in 1904. Below is the parish's second church (supplanting a much tinier frame church, not much bigger than a classroom), built in 1913: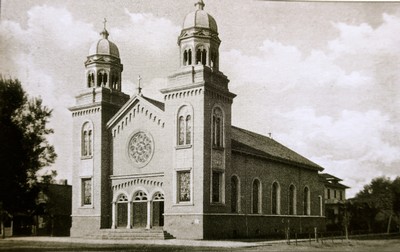 With the inevitable need for more space to accommodate Lodi's growing Catholic population, a new church was dedicated by Bishop Hugh Donohoe in 1963. While the design is more contemporary, it does feature a dramatic, 80-ft. belltower, with lavish touches like imported Italian marble in the communion rail, pulpit and sanctuary: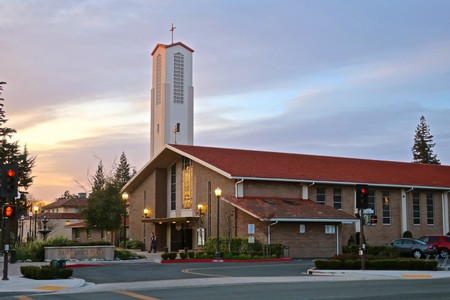 In another 2006 Walldogs mural, facing Church St. near W. Oak St., guest artist David Butler (visiting from Syracuse, Indiana) pays homage to the near-forgotten Chautauqua event held in Lodi in March 1913. Its name derived from the Seneca language, meaning "two moccasins tied together with the string," Chautauqua was a cultural movement also fostering adult education, with large assemblies held in rural communities across the country during the late 1800s. Lodi was chosen as the site of the first Chautauqua assembly held on the West Coast, and was generously supported by funding from a group of 40 Lodi businessmen.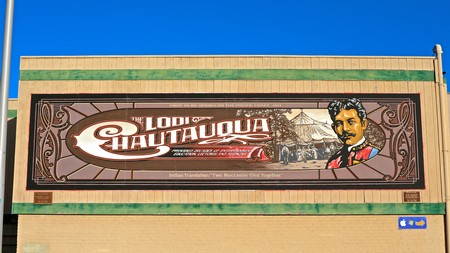 On the west side of Church St. facing the Lodi Chautauqua mural is another local landmark of sorts: Guild Cleaners. Not to sound like a break for commercial message, but there was a time when smartly pressed shirts and blouses, and intricately pleated skirts and suits were a rule rather than exception; and therefore your trusty launderer was as much a part of your life as your church, favorite service station, beauty parlor or local movie theater. Guild Cleaners' brand of service has been strong and innovative enough to be held in good stead in the Lodi community for well over 65 years: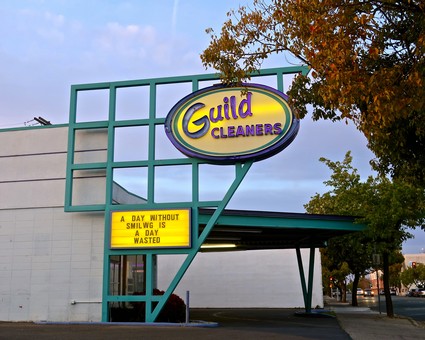 This 1959 photo (courtesy of Jack Alquist, and printed in Clark's Lodi) shows Guild Cleaners at its original locaton at 112 W. Pine St.: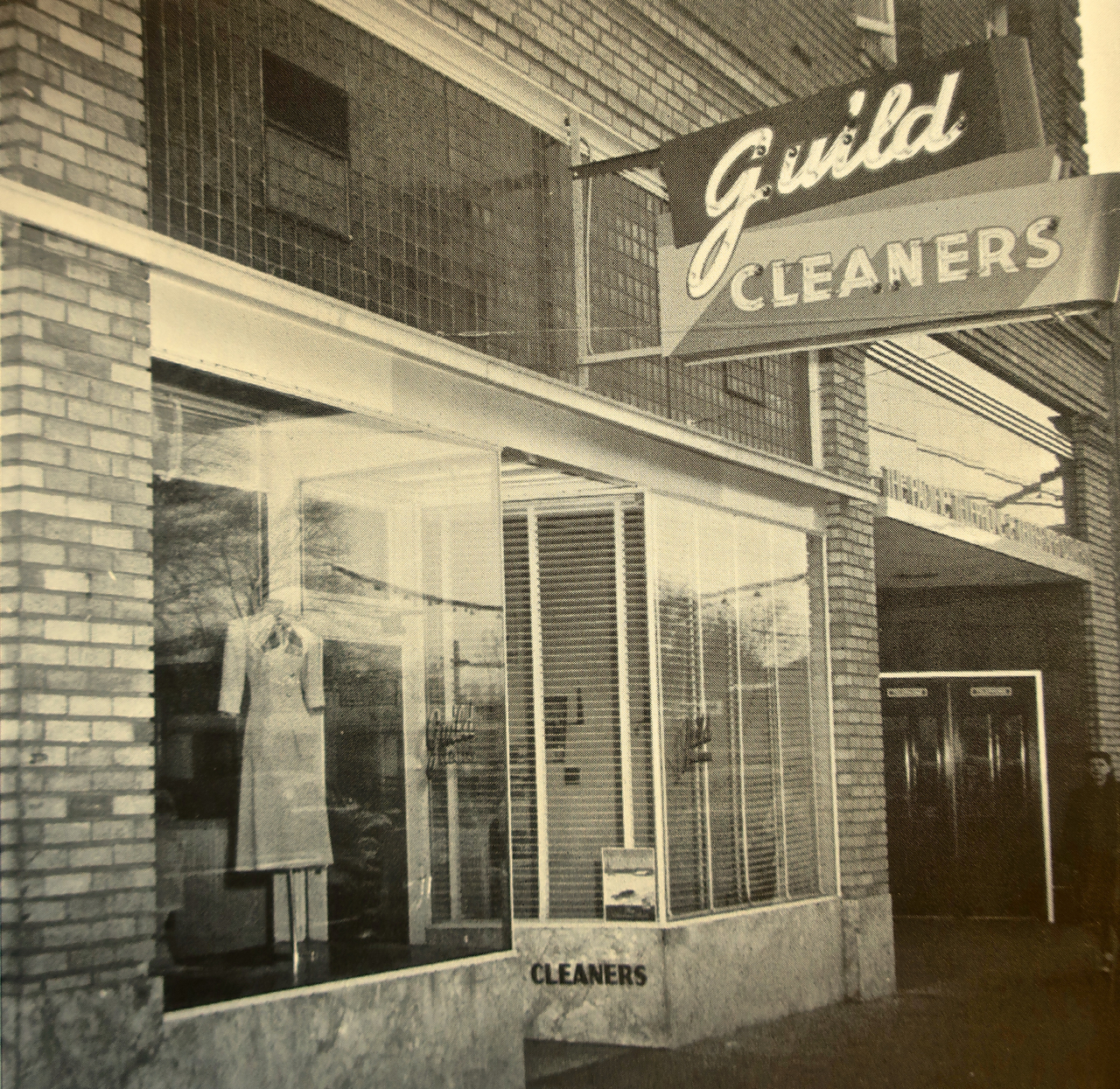 In a fashion that would never have been seen during the '50s and '60s, but certainly a heart warming sight today, the window at Tillie's Fine Food & Coffee Company at 21 W. Pine St., just steps away from the Lodi Arch: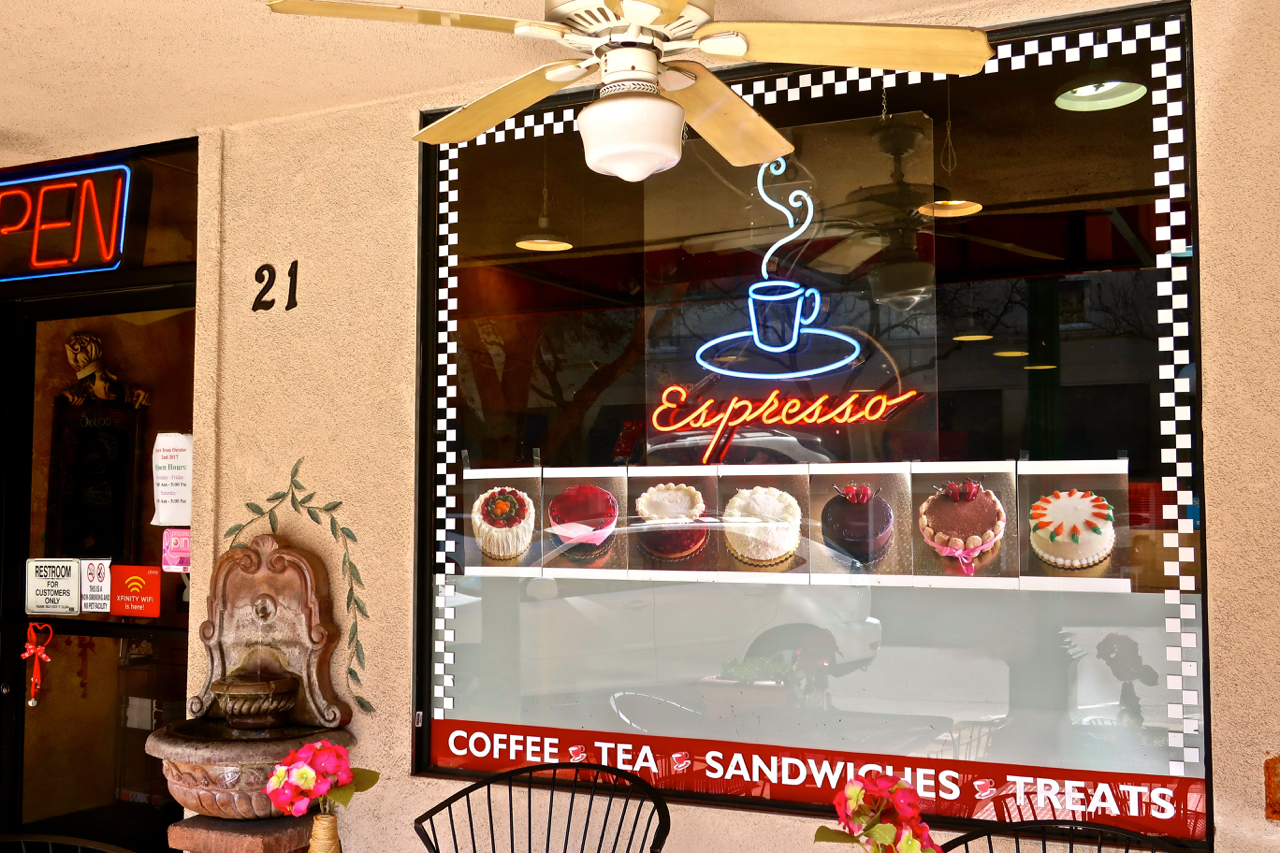 On W. Pine St., west of Church St. and alongside Lodi City Hall, the building known as Carnegie Forum was originally dedicated in February 1910 as the first Lodi Public Library. The initial $10,000 funding going into its lavish Classic Revival design was donated by the famous steel magnate/philanthropst Andrew Carnegie, who underwrote libraries in numerous small communities across the country. According to a Lodi News-Sentinel article, "The first librarian was Joalison Swallow, who was paid $50 a month and also expected to do janitorial work." Although the building was no longer used as a library after 1989, it still serves the important role in the community as a chamber for Lodi City Council meetings: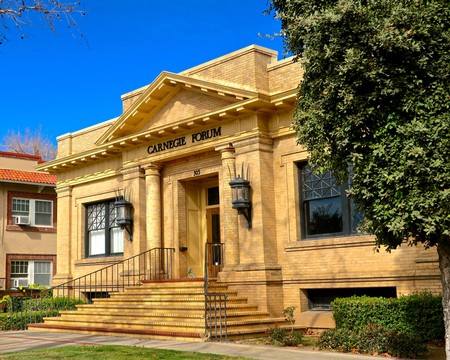 An early rendering of the original Lodi Public Library as it appeared shortly after it was built in 1910, and long before it was re-dedicated in 1989 as Carnegie Forum: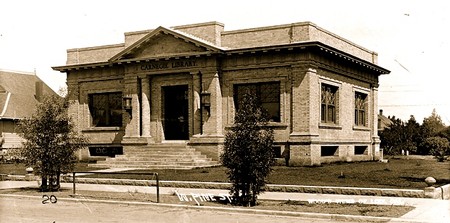 In 1979 the Lodi Public Library moved into its current Downtown Lodi location; a much larger facility - occupying nearly 30,000 square feet - at 201 W. Locust St., just west of Church St. Between 2005 and 2018, the Lodi Board of Trustees, Lodi Public Library Foundation and Friends of Library have expended several more million dollars to renovate and upgrade this expansive library's services, most recently a new teen center:

Along the same block as Lodi City Hall and Carnegie Forum, the Woman's Club of Lodi is considered another historic Lodi landmark; constructed in 1923 in a stirring Neoclassical style, becoming a permanent venue for the community's female leaders - an extremely pro-active, civic-minded group, mobilized at the time of the City's founding in 1906 as an outgrowth of Lodi's Ladies' Improvement Club - to host their meetings and social functions. During the 1920s, for instance, the Club's auditorium was the City's largest, and critical works like library funding, and improved sidewalks, street paving, fire protection and waste disposal are said to have resulted from quorums held in this building. Accordingly, in 1988, this building was added to the National Register of Historic Places: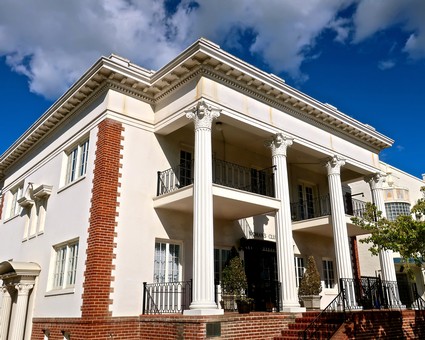 Between the Lodi City Hall and Carnegie Forum on W. Pine St., the All-Veterans Plaza Memorial (dedicated in May 2002) pays tribute to the nation's veterans with a steel obelisk, written stones, an eternal flame and perpetual waterfall representing courage, sacrifice and grace under fire: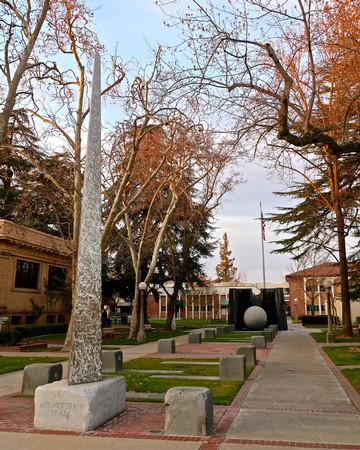 Between the Woman's Club of Lodi and Carnegie Forum buildings, the meeting hall of Lodi's Masonic Lodge No. 256 is located along W. Pine St. Historically, the organization of Free and Accepted Masons has played a critical role in the growth of the City of Lodi since before its founding in 1906. The region's first Freemason Lodge was actually started in nearby Woodbridge during the 1850s. But it was through Lodi, several miles east of Woodbridge, that the Central Pacific Railroad laid down its tracks in 1869; and therefore Woodbridge has always remained a much smaller community (today, population 3,984, compared to Lodi's 68,000). Permission to start a separate Lodi Lodge was granted by the more senior Woodbridge Masonic Lodge in 1879; and in 1938, 59 years after the Lodi Freemasons' first meeting, their own building was finally completed: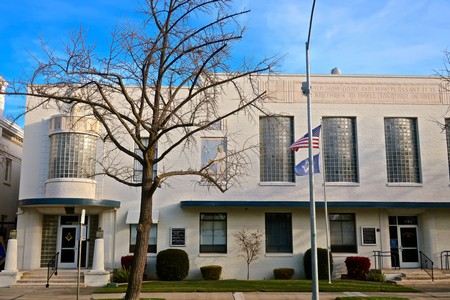 While always an agricultural community, the boundaries of the City of Lodi has expanded far west enough to practically swallow Woodbridge, which nonetheless remains a separate census-designated community. The Woodbridge Lodge No. 131 of Free and Accepted Masons has also remained independent; holding its regular meetings in this strikingly geometric building since 1883, on the other side of E. Augusta St. from the Woodbridge U.S. Post Office:.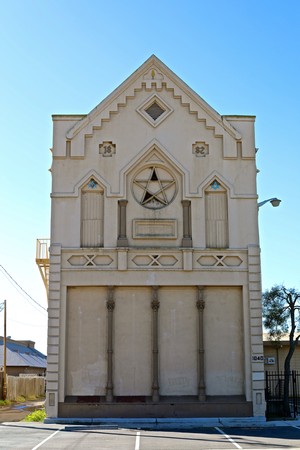 Right across W. Pine St. from Lodi City Hall, Carnegie Forum and Lodi's Masonic Lodge, you will find the meeting hall of Lodi's Independent Order of Odd Fellows (a.k.a. 100F), another community-driven society (its first order founded in England during the 1700s) holding on to its "Three Link Emblem," which stands for Friendship, Love and Truth: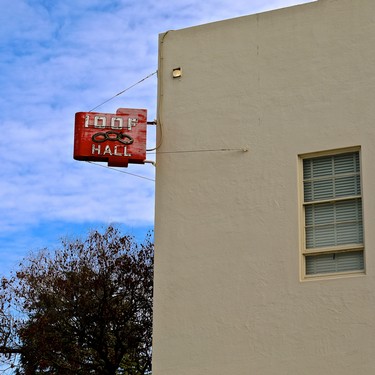 Like the Masonic building across the street - which lodges offices for doctors, an attorney, a law firm, therapist and photography studio on its bottom floor - the Lodi 100F building leases retail space on its street level for a number of colorful businesses; including Stogie's Cigar, Craft Beer & Wine Lounge (advertising itself as "One of the Last Bastions of American Freedom"):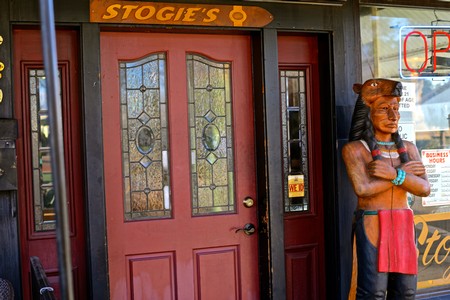 Also in the 100F building, you will find one of Lodi's most delicious, and aesthetically pleasing, destinations: Segale's Double Dip Gallery, where you can enjoy scoops of the classically Californian Gunther's Ice Cream along with a gallery displaying the original artwork of owner Tony Segale, as well as handcrafted jewelry: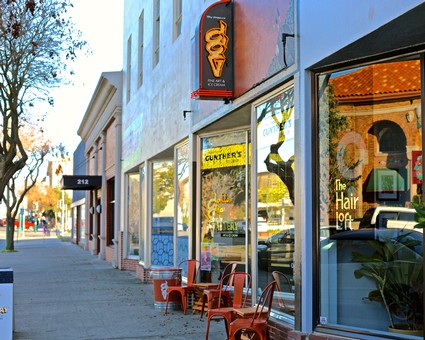 Take a few steps west of the Woman's Club of Lodi building on W. Pine St., and you find yourself among some of the City of Lodi's more historic homes; including, at the center below, the original home of the Mondavi family, where Robert and Peter Mondavi grew up, as the sons of Cesare and Rosa Mondavi. The Mondavis made their fortune as Lodi grape packers during the 1920s; enabling their children (including two daughters) to attend Stanford University after graduating from Lodi Union High School. The sons, of course, went on to become Napa Valley icons; while their parents remained in their W. Pine St., Lodi address until their passing, in 1959 and 1976: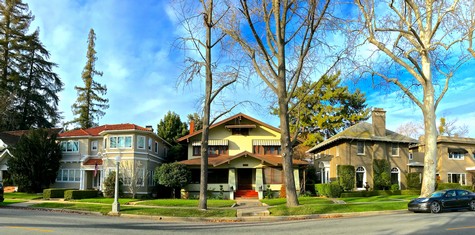 Cesare Mondavi and his two sons, Robert and Peter, in front of their Lodi home during the early 1920s: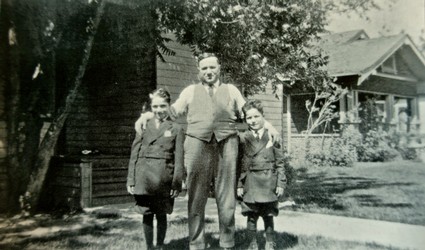 Circling back to Downtown Lodi's N. School St., the cellardoor is of more recent significance to the community: Started up by owners Michael David Winery in 2006, this wine bar was just the second of what now adds up to more than a dozen Downtown tasting rooms recently opened by Lodi based wineries. The original deal was for Michael David, along with the Van Ruiten Family and Jessie's Grove wineries, to establish a tasting bar in exchange for access to the City of Lodi's White Slough Wastewater Treatment Plant. At one point, cellardoor was also the only place where the public could go to taste the acclaimed, handcrafted wines of Bokisch Vineyards and Onesta Wines; and Jessie's Grove has since moved to another Downtown Lodi location: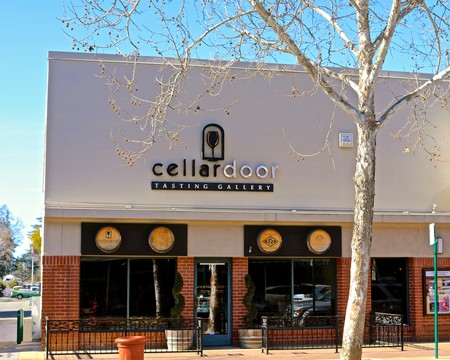 On the north facing wall of the cellardoor building (also occupied by the Visit Lodi! Conference & Visitors Bureau), near the corner of N. School and W. Elm streets, you can see the 2006 Walldogs mural by Jay Allen of Machesney Park, Illinois; paying homage to Farmers & Merchants (or F&M) Bank, which has been providing valuable financial services to the community since being founded in Lodi in 1916. While extremely successful - blooming into a $2.6 billion company, employing some 450 employees (including about 250 Lodi residents) in 25 California locations - Farmers & Mechants Bank remains a quintessentially "Lodi" grown business. As the mural suggests, their success has been based on the idea of "taking stock in Lodi" - particularly the region's agricultural heritage: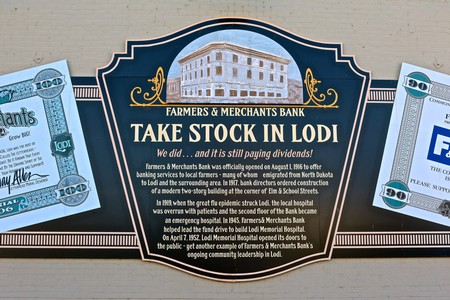 You may recognize the building where the original Farmers & Merchants Bank - built in 1922 on the northeast corner of N. School and W. Elm streets (the bank's first location was in a space leased in the Lodi Opera House down the street) - was located as being where the now-shuttered Take 27 restaurant used to be, across the street from Lodi Stadium 12 Cinemas. In recent years, this space has not been the luckiest for local restaurateurs: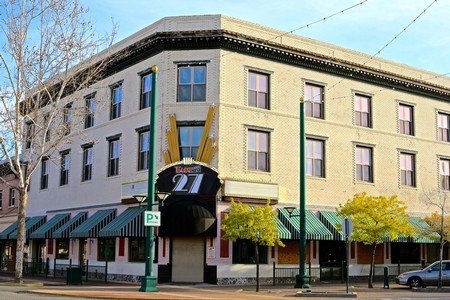 Nonetheless, if you look past the incongruous corner facade, the original F&M Bank building remains one of Lodi's most attractive edifices, as you might glean in this photograph from the 1950s: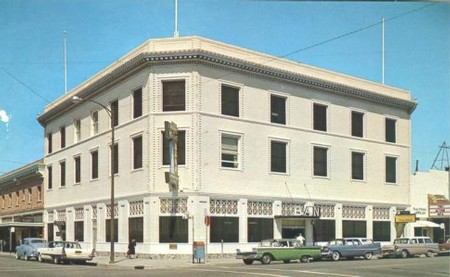 A far more successful location has been the Dancing Fox Winery, Brewery, Bakery & Restaurant on S. School St. near E. Walnut; where owner Gregg Lewis pours wines grown in his own vineyard in Lodi's Clements Hills AVA, and his wife Colleen Lewis puts out the most amazing artisanal style, wild yeast fermented, wood oven baked breads: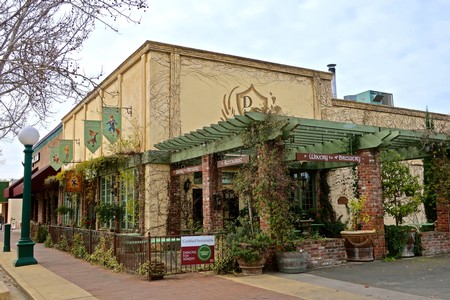 Yes, there is a McDonald's in Downtown Lodi; but in keeping with the City's history-minded identity, this store at the southwest corner of Lodi Ave. and Church St. takes on more of a retro-classic "Golden Arches" look; reminiscent of McDonald's restaurants of the 1950s, complete with a one-of-a-kind comeback of "Speedee," the original McDonald's mascot (between 1948 and the late '50s), predating even Ronald McDonald: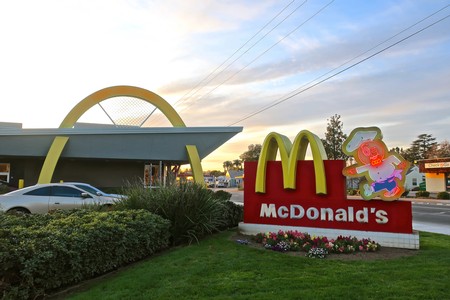 Lodi old-timers can also recall the "good ol' days" when the town was home to Richmaid Ice Cream Co., a "hot spot for teens" (as the the Richmaid site puts it) between 1938, when the creamery was founded, and the sassy '60s; as seen in this circa-1950s photograph of its 100 S. Cherokee Lane location, which doubled up as a fountain, a full-service restaurant as well as a carhop service: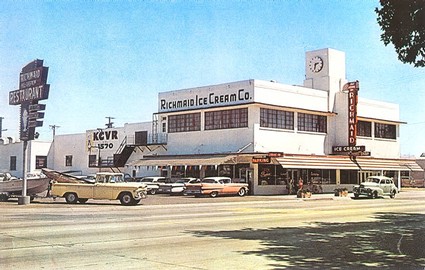 The creamery and carhops are long gone, but Richmaid lives on at the same 100 S. Cherokee Ln. location as one of Lodi's most reliable coffeeshop/restaurants, open 6 days a week from 6 AM to 8 PM; and where the waitresses still call you "sweetheart" or "dear," and keep your cuppa filled to the brim: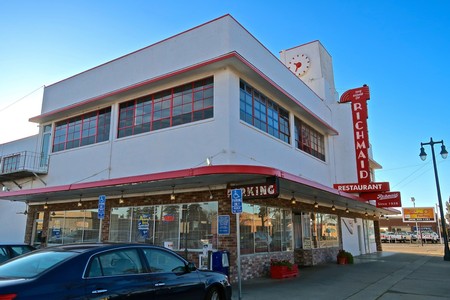 Just a few blocks away on S. Cherokee Ln., an entrepreneur named Ed Wiebe (standing in the center of the photo below, taken in the late 1950s) took over a 24-hour coffeeshop/restaurant in 1944. As the story goes, he didn't bother to name it, since locals and passing car and truck drivers alike (Cherokee Ln. runs parallel to California Hwy. 99, which up until the late '60s was the only way to go north-south through California's Central Valley) were stopping at this nameless establishment anyway for their necessary java and sustenance: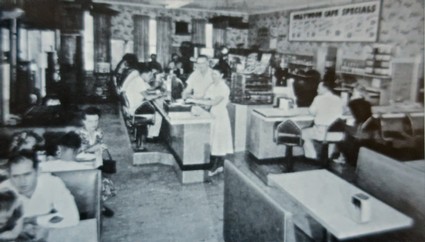 Then somewhere along the line the old-time cowboy movie star Slim Pickens passed through with an entourage. He loved it so much, he told Ed that it reminded him of the better cafés in Hollywood. Eureka, the Hollywood Café was born!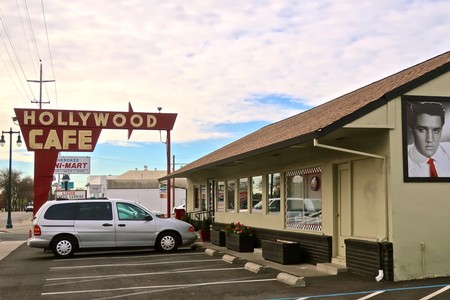 And if you stop by Hollywood Café at 315 S. Cherokee Ln. today, to sit on its vinyl booths and rub your elbows on the metal-banded tables, you can still enjoy old favorites like Chicken Waffles, John Wayne's Ribeye Steak & Eggs, Elvis' Double Bacon Cheeseburger, Marilyn Monroe's Overstuffed Veggie Sandwich, or a more typical Lodi delicacy, linguica & eggs: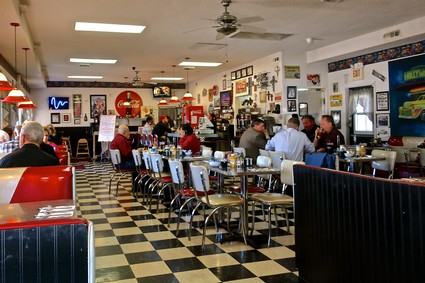 Also on S. Cherokee Ln., a car enthusiast named Otto Steele opened up a Studebaker showroom in this elegantly brick layered building back in 1946: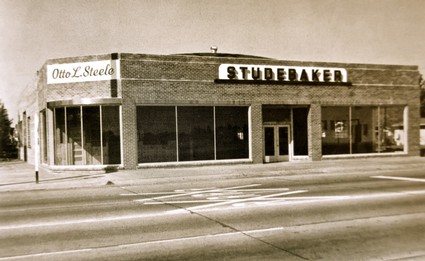 Today, in living color, the original Studebaker (a classic car company that ceased production in 1966) building still looks mighty fine; living on as the Vintage Reserve Garage (in à la wine country parlance) owned by Mark Lange; who takes as much pride in his retro Studebaker and Packard signs hanging on the outside as the outstanding collection of gleaming vintage cars displayed inside: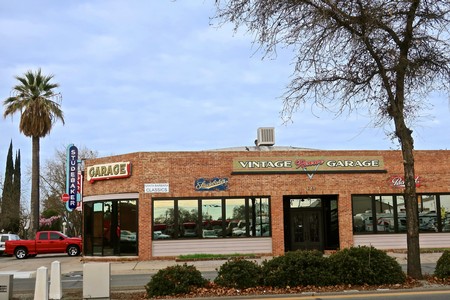 The east side of Lodi along Cherokee Ln. could not help but be shaped more by Hwy. 99 and the classic American car culture over most of the past century. Passing cars mean motels, like the Rancho Grande depicted in this early '80s postcard: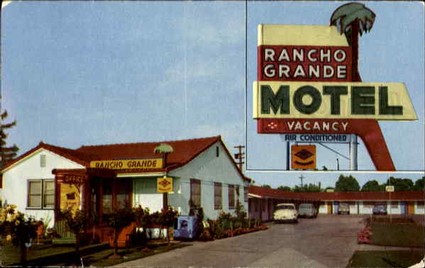 And the Rancho Grande Motel today, looking even more colorful: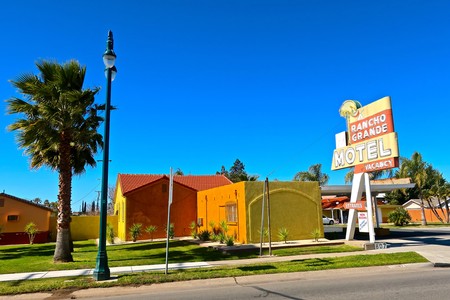 The transition from horse-and-buggy farming days to the 20th century automobile culture wasn't always a smooth one; as evidenced by this late 1950s photo of the Turner Rd. underpass (dipping under the Southern Pacific Railroad track) - a time when this busy thoroughfare could barely fit two cars, let alone a couple of horse drawn wagons: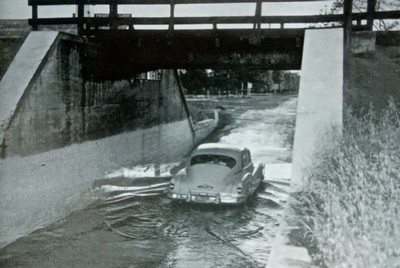 Thank goodness, Turner Rd. was considerably widened by 1962, and up-the-creek paddles became less necessary: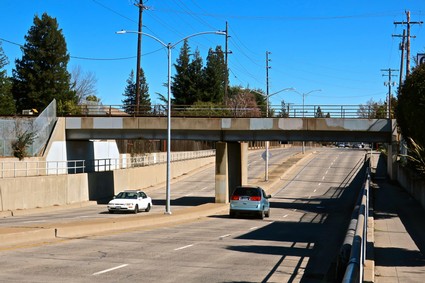 When many Californians think of Lodi, they now think "road trip!" But when you think about it, even in heaviest traffic Lodi wine country is less than 2 hours away from the Bay Area, and less than 30 minutes from anywhere in or near Sacramento. This is an easily accessible wine region undergoing another kind of transition: towards a reputation as a worthy premium wine region, unique unto its own, or so says a buddy: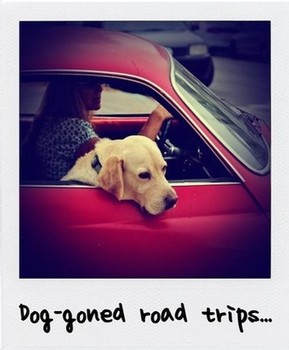 In this 2006 Walldogs mural by Noel Weber of Boise, Idaho (found on Elm St. between N. School and N. Sacramento streets), Lodi's tremendous progress over its first 100 years as a City is memorialized with neo-classical flair: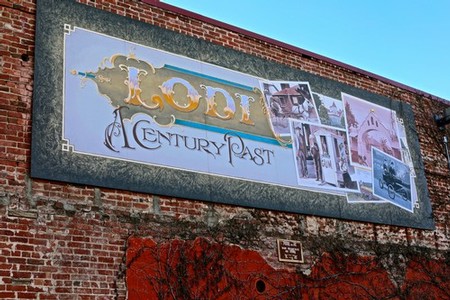 And as also personified in the beautifully restored clock tower at the Lodi Transit Station (below), Lodi's present fortunes are indelibly entwined with its fruitful past; adding up to a very bright, well grounded future, indeed: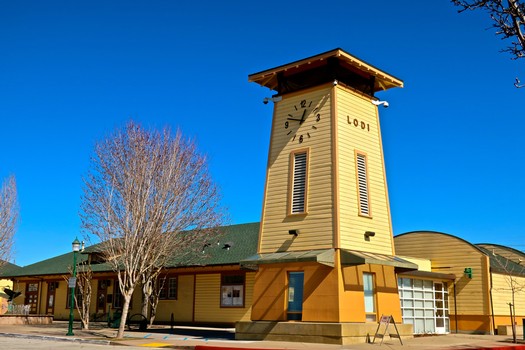 Comments