Letters from Lodi
An insightful and objective look at viticulture and winemaking from the Lodi
Appellation and the growers and vintners behind these crafts. Told from the
perspective of multi-award winning wine journalist, Randy Caparoso.

March 26, 2018 | Randy Caparoso
Heritage Oak's blends are crafted for sophisticated red wine lovers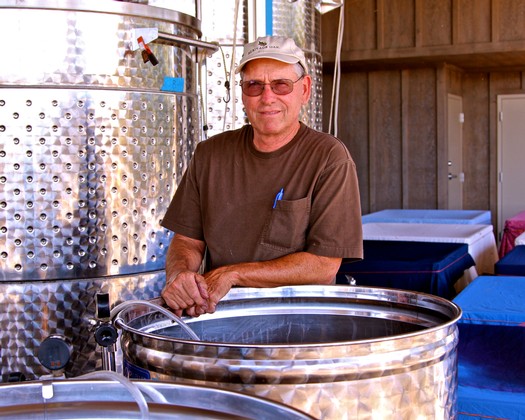 After a visit to Tom Hoffman's Heritage Oak Winery earlier this year, James Beard and Emmy award winning wine journalist Mary Orlin described Mr. Hoffman as the "Blend Master."

That is to say: Like all the top wine winery estates, Hoffman grows and produces varietal wines – wines labeled by the grape from which they are made (Chardonnay, Cabernet Sauvignon, Zinfandel, etc.). But more and more during recent years, Hoffman has been dabbling in wines that are blends of multiple grapes; such as his "Spanish Suite" (made from Tempranillo, Grenache and Syrah), a "Portuguese Suite" (Tinto Cão, Souzão, Touriga Nacional and Tinta Roriz), a "French Blend" (Cabernet Sauvignon, Syrah, Petit Verdot, and Petite Sirah), and few more.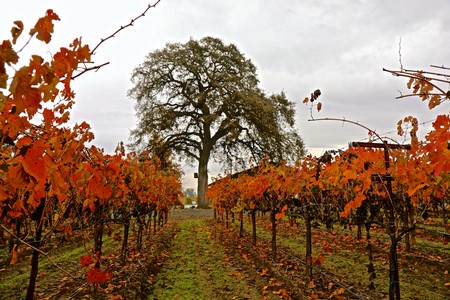 All of the Heritage Oak blends are fantastic (please see our detailed notes below); highly recommended to anyone who loves well proportioned, rich yet refined, thoughtfully composed – and most importantly, delicious! – red wines. They are also somewhat unique to what Lodi can do; since Hoffman has access to many grapes that simply can't be found in other regions in the U.S. (there is very little commercial incentive, for instance, to grow Tempranillo or Grenache in Napa Valley, or Souzão in Paso Robles or Santa Barbara).
Explains Hoffman: "Many of our visitors are very excited to see these blends... I think people like blends, in contrast to single-varietal wines, because they lose any preconceived notions about what they are going to get from the wine's flavor profile... They can let their palates tell them what they are tasting, rather than past experiences."
Needless to say, Hoffman is hardly alone in discovering the newfound, seemingly boundless enthusiasm for blends – particularly red wine blends, which have been taking the entire American wine market by storm over the past four, five years. Hoffman believes that this is because consumers are more adventurous than ever. Other industry pundits seem to think this trend is indicative of the fact that many Americans don't like to "think" too much about wine. That they may be getting dumber, not smarter.
So which is it – are we getting dumber or smarter?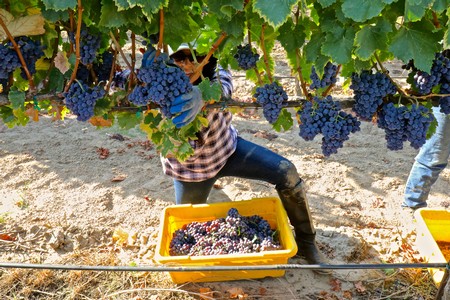 Consider the fact that many of the world's greatest wines – such as the red wines of France's Bordeaux and Rhône Valley regions, Chianti Classico in Italy, Rioja in Spain, or the sweet as well as dry red wines of Portugual's Douro Valley – have traditionally been blends of up to five or even more grape varieties. Europeans are not dumb – they stopped thinking that wines made from just one grape are "better" several centuries ago. Maybe American wine producers, and consumers, are finally catching up.
Yet if you look up some of assessments of the trend towards red wine blends popping up on industry Web sites such as SevenFifty Daily, which posted these comments made by a few industry spokespersons, you read that: "'This is a Coca-Cola culture'... red blends tend to have a softer tannin profile than other popular red varietal categories, such as Cabernet Sauvignon... Some qualitative research has shown that while many consumers gravitate to red wines, they prefer a softer mouth-feel and rounder palate experience than is often associated with traditional reds... Red blends fill this gap in wine style, combining richness with a more mellow, approachable style.'"
In the same article, millennials are singled out as some of the bigger red wine blend enthusiasts because they "are not as hung up on wine traditions, or even on knowing how to pronounce certain grape varieties..." Younger wine drinkers are into red blends because they bear "easy-to-pronounce, familiar-sounding names," which "remove that intimidation factor." As one industry expert puts it: "'Learning the names of a whole bunch of grapes, or learning the towns and counties and wine regions that make the best Pinot noir versus the best Cabernet – that's a lot of work for people who are just casual wine drinkers.'"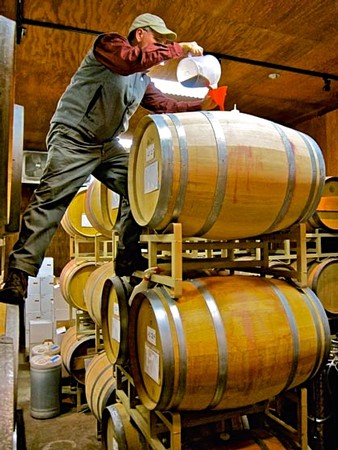 In other words, more and more wine consumers are into red wine blends simply because they are too lazy to "learn" about the more complicated wines, like Pinot noir and Cabernet Sauvignon. They want "easy," and so labels with fanciful names and pretty pictures fill that need.
Whatever the case may be – smarter consumers, or dumber consumers – California's giant sized, multi-brand producers (E. & J. Gallo, Constellation Brands, Trinchero Family Estates, et al.) are woke to this trend; and naturally they have been working like crazy to take this to the bank. As Beverage Media Group puts it: "If considered a varietal wine, Red Blends would be the third largest entry in terms of revenue tracked by Nielsen (the world's most authoritative data analytics company); and blends are dominating the introduction of new products – one out of every four in one study – bringing a fresh mini-flood to the proverbial wine lake."
The big producers have always made their grape buying decisions based upon ongoing trends. This inevitably has a huge impact on the Lodi wine grape industry – by far the largest in the U.S. Thirty-five years ago it was all about growing more Chardonnay and less Chenin blanc or Colombard. Twenty-five years ago, it was Carignan (a grape used to produce generic "Burgundy") that had to go, and Merlot that needed more planting, and pronto.
Just this past fall (2017), an estimated "thousands" of acres (exact figures still to be determined) of Zinfandel have recently been torn out of the ground in the Lodi wine region. Maybe the old vine plantings are not so venerated after all. But why? Because sales of White Zinfandel as well as value priced red Zinfandel ($12 and under) have recently taken a dive. The big producers are demanding more Cabernet Sauvignon, as well as more black skinned grapes such as Petite Sirah to use in, of course, more red wine blends.
These same marketing realities, needless to say, trickle down to Lodi's smaller, artisanal producers. For instance, while known for single-vineyard Zinfandels, McCay Cellars has been producing a red wine blend called "Paisley" over the past five years. "Paisley has its fans," says owner/winemaker Mike McCay, "and so we have to keep making it." Oak Farm Vineyards has been tinkering with a "Corset" blend for going on three vintages. Teeny-tiny Markus Wine Co. – the current favorite among geekier Lodi wine lovers – is virtually all about blends as opposed to varietal bottlings.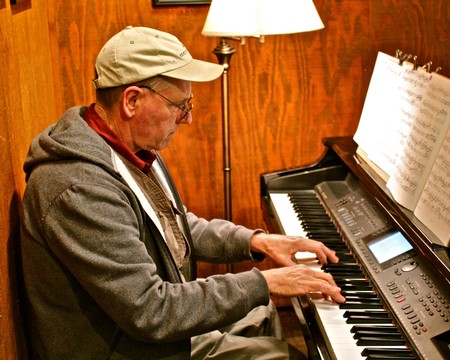 Even the larger Michael David Winery – while nearing 1 million-case production, still small-fry compared to behemoths like E. & J. Gallo – has added on extremely successful red wine blends to their ubiquitous "7 Deadly" and "Freakshow" labels, complimenting their original Zinfandel and Cabernet Sauvignon varietal bottlings under the same monikers.

The last thing anyone would ever say about Heritage Oak owner/grower/winemaker Tom Hoffman is that he makes wines for the simple-minded. If anything, Hoffman's wines are the opposite: They are for wine lovers who fancy subtlety, balance, a touch of elegance along with some Lodi earthiness. But if you prefer the "obvious," or more one-dimensional tutti-fruitiness, Heritage Oak wines may not be for you.
The thing about blends, says Hoffman is that "blending brings out different flavors, often something you wouldn't find if you were sampling the wines components separately. If one wine gives you Flavor A and another wine gives you Flavor B, logically you'd expect to get Flavor A+B, but what I see after the wines are blended is something else, Flavor C."
And that, of course, is the artistic side of the craft of winemaking; no different than, say, Louis Armstrong talking about jazz, or Jackson Pollock talking about painting.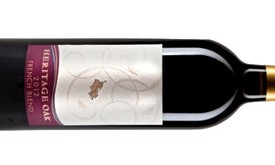 Notes on three of Hoffman's sophisticated blends:
2012 Heritage Oak, Lodi French Blend ($28) – 65% Cabernet Sauvignon with a balance of Syrah, Petit Verdot and Petite Sirah, all grown on the Heritage Oak estate. Focused, herby blackcurrant aroma with toasted oak subtleties. Medium bodied rather than "big" or "hefty" – a fine, fluid, supple balance of the herby fruit sensations bolstered by moderate, rounded tannin. Hoffman remarks, "This wine has my two favorite grapes to blend with, Cabernet Sauvignon and Syrah – two varieties that fit just about anywhere you put them. Combined with the tannic structure and color of Petit Verdot and the mid-palate breadth of Cabernet Franc, and you pretty much have a slam-dunk."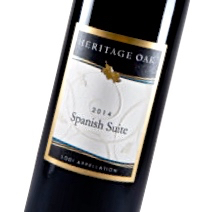 2014 Heritage Oak, Lodi Spanish Suite ($28) – Predominantly Tempranillo from Shinn Family Vineyards and Grenache from Silvaspoons Vineyards; with Syrah (Starr Vineyards) and Petite Sirah (Cranston Vineyards). Rich, harmonious array of plummy/black cherry fruit with kitchen herby nuances; medium in weight, yet lively, bright, buoyant, meaty sensations, with a touch of smoky tobacco in a long, lip smacking finish. Syrah and Petite Sirah, of course, are not traditional Spanish grapes. No matter, says Hoffman, "There may be some logic to blending grapes that come mostly from one place where they were originally grown... My wines, grown in Lodi, are not going to approximate anything but Lodi wine, but it is still fun."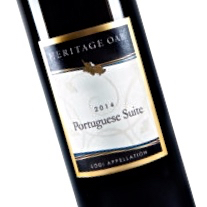 2014 Heritage Oak, Portuguese Suite ($28) - Tinto Cão, Souzão, Touriga Nacional and Tinta Roriz; all grown by Bill and Teena Mettler in Lodi's Borden Ranch AVA, just outside of Galt. Bold, sweetly ripened red and black toned fruit in the aroma; tightly woven, dense feel in its medium-full body; yet zippy, upbeat, exuberantly flavorful on the palate. Hoffman tells us that use of names like "Spanish Blend" and "Portuguese Blend" were starting to be rejected by the TTB, the federal bureau that approves the wording on all wine labels. "I dropped the world 'Blend' and started using 'Suite' in my blends in an attempt to relate the reference to a series of instrumental dance pieces to a series of lively 'dancing' flavors on your palate." He adds, "The inland wine growing regions of Portugal are hot and dry in the summer just like it is here in Lodi, and so the four traditional wine grapes used in our Portuguese Suite thrive here, producing an intense yet balanced wine." And definitely one that "dances!"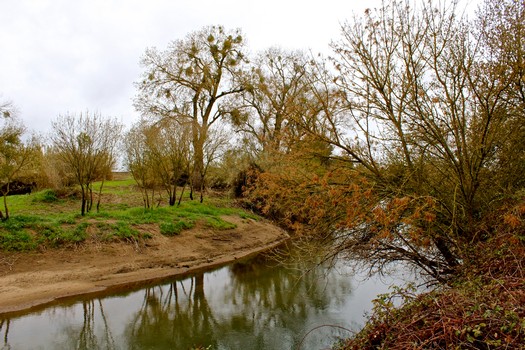 Comments