Letters from Lodi
An insightful and objective look at viticulture and winemaking from the Lodi
Appellation and the growers and vintners behind these crafts. Told from the
perspective of multi-award winning wine journalist, Randy Caparoso.
July 17, 2018 |
Harry Hakala's Mobile Wine Line has been a Lodi institution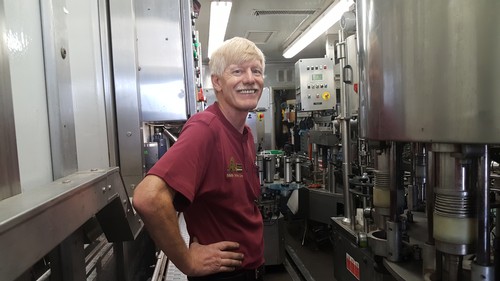 A stroke of genius led to a thriving business.
Harry Hakala has operated a mobile wine bottling company since 1978 after his mother, Eva Drummond, came up with the idea.
"She said in Germany, they actually bring the wine to the different places that own bottling equipment," Hakala said. "She said, 'Wouldn't it be easier to bring the bottling equipment to the wine?'"
Thus, Mobile Wine Line in Lodi was born.
Last Thursday, Hakala brought his mobile bottling unit to Peltier Winery in Acampo to help two clients. He bottled 80 cases each of GoodMills Family Winery's estate-grown Petite Sirah, Graciano and Tempranillo and about 100 cases of Draconis by Matt Powell French Style Zinfandel.
Brad Mills and his wife, Lauri Goodman, are the owners and Brad is the winemaker for GoodMills Family Winery, a boutique winery on the east side of the Lodi appellation. Mills has worked with Hakala and other mobile bottling services over the winery's four-year existence.
"Most of the custom bottlers here in Lodi do a really good job," Mills said. "It's cost-effective. I don't have to bring a labor force over here. If it was at my place, I'd have to man it. Harry is working and doing his thing, so it's convenient for me and makes it easy."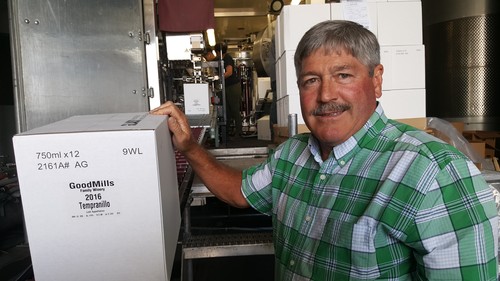 Hakala's service is important for wineries that don't have their own bottling line. A new bottling line can cost hundreds of thousands of dollars, whereas mobile services generally charge 25 cents per bottle. And if Hakala bottles on the winery's premises, the wine can be labeled "Estate Bottled," which some consumers like to see.
Hakala transforms fermented grape juice resting in totes or tanks into tangible, marketable bottles of wine from inside a 65-foot long, 102-inch wide fully automated and self-contained trailer.
"All you need is water and wine and we're good to go," Hakala said.
It's fascinating to watch all the moving parts work in unison. The process starts when boxes of empty bottles enter the back of the rig and are placed into a carousel. The bottles are inverted onto a conveyer belt and travel through a nitrogen generator that displaces the oxygen inside them. Then, the bottles go into a 16-head filler and are filled with wine pumped from totes or tanks. The filled bottles go through a corking or screw-cap machine, depending on the chosen closure, before they reach the capsule machine.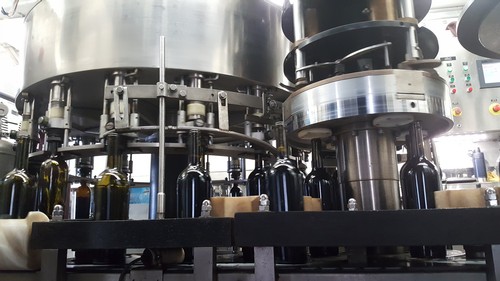 The capsules are tapped into position and continue down the line and around a corner where they pass through a machine that spins to tighten the capsules. From there, the bottles are labeled -- a process that demands precise timing and coordination – before they are boxed and loaded onto pallets.
If anything goes wrong along the way, Hakala is there to fix the problem.
"You have to be a full-time mechanic," Mills said. "The value of that truck is incredible. So many moving parts. It's inevitable something's going to break down. You have to be Johnny-on-the-spot and Harry usually is."
Hakala said his was the first company to offer mobile wine bottling services, so there wasn't a template for him to follow. Through the initial stages, the trial and error, equipment adjustments and modifications, Mobile Wine Line has been in business for 40 years, and Hakala has been the operator for every job. Today, his company works with some 80 wineries and he's bottling about 300 days per year.
"He found a niche and capitalized on it," said Rodney Schatz, winegrower and owner of Peltier Winery. "I think he's done a great job and that's why he's still here."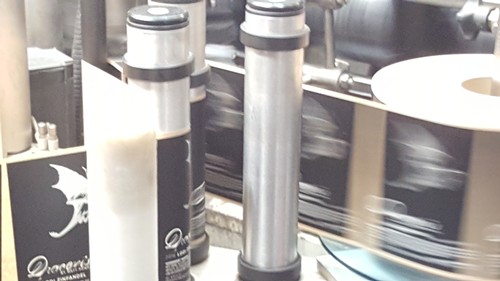 There is a good amount of competition in mobile wine bottling. Some companies have multiple trucks. But Hakala always has preferred the hands-on approach. And because he can't be in two places at the same time, he has one truck.
"It's not easy to keep wine sterile and really do a good job making sure all the labels are straight," Hakala said. "So, I'm on every job."
And he's busy.
"It's excellent to work with him," said Susana Rodriguez Vasquez, winemaker at Peltier Winery. "We already have him booked in 2019."
Vasquez is detail-oriented in her work, so she appreciates Hakala's attention to detail.
"He won't start until everything is completely in line, and we have to send him the information before, so he can be ready," she said. "He's very detail-oriented and that's very important to us in the wine industry."
Said Schatz, "He's been wonderful. He'll come out on weekends sometimes if we can't make it work any other way. He's a very customer service oriented guy. Since we've been bottling wine in 2005, he's been the go-to guy."
Comments