Letters from Lodi
An insightful and objective look at viticulture and winemaking from the Lodi
Appellation and the growers and vintners behind these crafts. Told from the
perspective of multi-award winning wine journalist, Randy Caparoso.

May 16, 2018 | Randy Caparoso
Geeking out on three varietals personifying Lodi's ZinFest diversity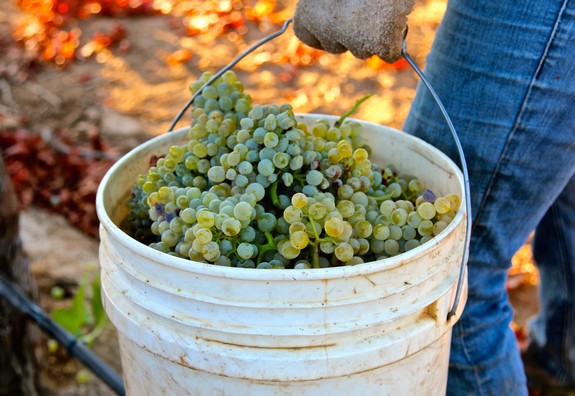 As one of our "pre-ZinFest" events this Friday (May 18), we are holding our second 16-wine "Lodi vs. the world" blind tasting – and event, alas, that has been sold out.
In preparing for remarks to share on the four Lodi grown grape varieties that will be featured in this tasting, we found ourselves geeking out on the fascinating history, going back hundreds of years, of each varietal category. If you're a wine fanatic, this turns you on.
As it turns out, the exercise also makes a great preview of the dozens of different wine types that wine lovers will be able to experience at this Saturday's (May 19) 2018 ZinFest Wine Festival – and for that, you can still purchase tickets at pre-event rates (please visit zinfest.com for online sales).
You don't want to miss it! Meanwhile... the facts, ma'am, just the facts, on three of the four varietal categories we will be studying in earnest at this Friday's blind tasting: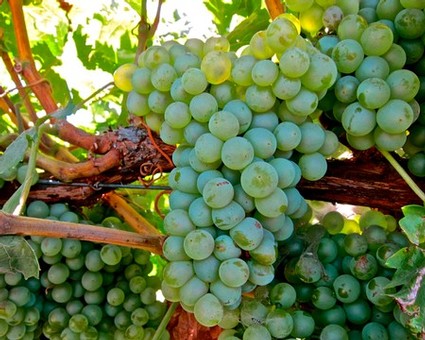 Grenache blanc (a.k.a. Garnacha blanca)
• Grenache blanc is a white wine mutation of the black skinned Grenache noir grape; planted all over North-East Spain – the variety's point of origin – and Southern France. These are regions falling in the warm to hot Mediterranean Climate zone (it will not ripen outside these regions, in colder climates).
• There is also a grayish red variant called Grenache gris, rarely seen in the U.S., but still cultivated in France and Spain. The earliest printed references (in agricultural treatises) to Grenache noir date back to 1513. It is thought that the green skinned mutation has been cultivated at least as far back as the 16th century, if not sooner. In Spain, Garnacha blanca is mostly concentrated in Navarra and Catalonia's Terra Alta regions, where winegrowing dates back to the 2nd century BC.
• Although it is called a "Rhône" grape, Grenache blanc is more correctly identified as a grape of all of Southern France; especially since more than half of the plantings of Grenache blanc are found in the vast Languedoc-Roussillon region closer to Spain along the Mediterranean coast, and it is also planted throughout Provence. It is, however, best known to us as one of the 6 white wine varieties allowed among the 13 grapes planted in Southern Rhône Valley's Châteauneuf-du-Pape region; most often blended with Roussanne, Piquepoul, Bourboulenc and Clairette blanche to produce Châteauneuf-du-Pape Blanc.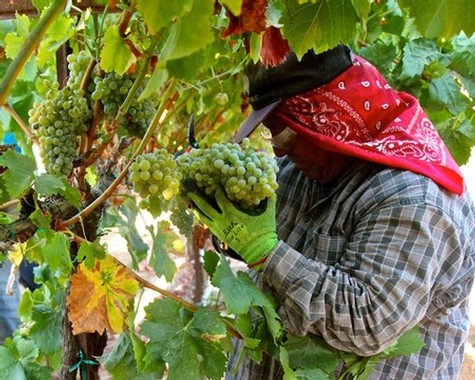 • Interest in the grape in California was perked up during the earliest days of the "Rhône Rangers" movement, starting in the mid-1980s, when California's Mediterranean Climate zones were recognized as natural environments for the grape. Significant plantings, however, have taken place only within the past 15 or so years. In Lodi, the turning point was probably the establishment of Bokisch Ranches in 1996; but you can now find smatterings of Grenache blanc on the West Coast everywhere from Washington, the Columbia Gorge, Mendocino, all the way down to Paso Robles and Santa Barbara, and up in the Sierra Foothills.
• Although reference books refer to Grenache blanc as a producer of "fat" white wines normally low in acidity, by picking early enough California producers have found that they can craft perfectly crisp, zesty white wines of refreshing clarity and natural acidity, even without blending with higher acid grapes like Piquepoul.
• Top Lodi grown Grenache blanc producers include: Acquiesce Winery (spare yet airy fresh pear/green apple crispness), Bokisch Vineyards (pert, perennially fresh, floral, crackling-crisp), Fields Family Wines (lemony dry yet pungent, flowery), Klinker Brick Winery (bright, mouth-watering lemon/lime freshness), and Onesta Wines (mineral and citrus complexity).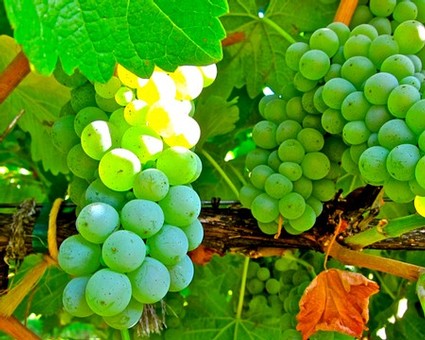 Sauvignon blanc (a.k.a. Sauvignon; Fumé blanc)
• At the 2018 Sauvignon Blanc International Symposium that took place in Kelseyville, Lake County just two weeks ago, we learned from the famous French ampelographer Jean-Michel Boursiquot that in France Sauvignon blanc is called, simply, "Sauvignon." Evidently the French feel that no one has to be reminded that Sauvignon is a "blanc."
• Monsieur Boursiquot also explained that the name is derived from the French word sauvage; in reference to the grape's tendency to grow wild or "untamed," putting out a prolific amount of canes, leaves and fruit. Perhaps more than any other major wine grape, Sauvignon demands artful trellising and canopy management to produce wines of excellence.
• While the grape is often referred to as indigenous to either Bordeaux or the South-West of France, there is evidence that it may have actually originated in France's Loire River Valley; as Boursiquot has found the earliest written references to the grape in Loire, dating back to 1534.
• Despite its worldwide popularity, the original Sauvignons of the world are grown in France. These are still the measuring sticks. In the Graves and Sauternes regions of Bordeaux, it is traditionally blended with Sémillon or Muscadelle; producing dry whites in Graves, and medium to luxuriously sweet whites in Sauternes. The grape stands alone in the wine regions of the Loire; the most famous being the bone-dry, minerally and tart-edged white wines of Sancerre and Pouilly-Fumé, although Sauvignon-based whites from the Quincy, Cheverny and Menetou-Salon appellations are also imported into the U.S.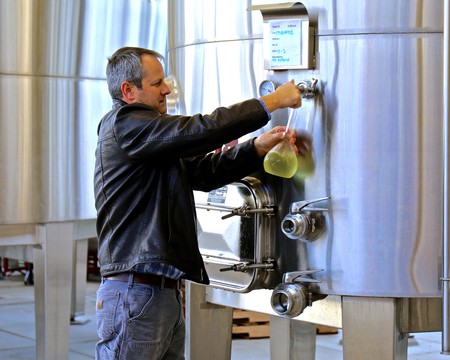 • In the U.S., Sauvignon has its own storied history. Charles Wetmore, who founded Cresta Blanca Winery in Livermore Valley in 1882, was one of the state's earliest promoters of California grown wine. That same year, Wetmore was given a letter of introduction by Marie Mel, wife of Livermore Valley farmer Louis Mel. Mrs. Mel was a friend of Marquis de Lur Saluces, the owner of Château d'Yquem – even then, known as the source of the finest sweet wines in the world, made primarily from Sauvignon. Wetmore traveled to France and returned home with cuttings of the grape from d'Yquem, which were planted at Cresta Blanca. Louis Mel also used these cuttings to plant El Mocho Vineyard in Livermore Valley (a property that was purchased by the Wente family in 1925, and since renamed Louis Mel Vineyard). The thinking was that the gravelly, silty loam soils of Livermore Valley could duplicate the white wines of Bordeaux. In 1889, a Sauvignon based white wine from Cresta Blanca (an 1884 vintage) won the Grand Prize at the prestigious Paris Exposition. But the ultimate significance of the Livermore Valley plantings is that this selection, originating from d'Yquem, eventually became the U.C. Davis FPS (i.e. Foundation Plant Services) clone 01 – taken by Dr. Harold Olmo in 1958 from the Wentes' Louis Mel property – that is now the predominant selection planted not only in California and Washington, but also in New Zealand (where it is called UCD 1).
• The popularity of Sauvignon blanc within more modern California wine history, of course, is closely associated with Robert Mondavi, who split off from his brother Peter Mondavi at Charles Krug Winery to found his eponymous winery in 1966. The Mondavis were always intrigued by the potential of Sauvignon blanc in California; having planted the grape in the "I Block" of To Kalon Vineyard, in Napa Valley's Oakville region, as far back as 1943 (old vines still in production today), two years after the brothers (both Lodi Union High School graduates) took over the old Charles Krug estate. In 1966 Robert planted more Sauvignon blanc in To Kalon's I Block; but more significantly, in 1968, he came out with the first vintage of Robert Mondavi Fumé Blanc, which immediately became a huge commercial success.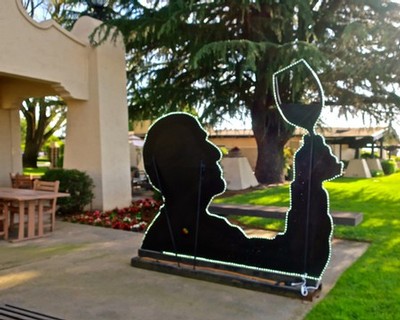 • Although Mondavi's "Fumé Blanc," which he got approved as a legal synonym for Sauvignon blanc, was imaginatively named for the Pouilly-Fumés of France, the style of Mondavi's wine was rather un-Pouilly-Fumé-like in that it saw barrel aging (modern day Pouilly-Fumés are traditionally bottled straight out of stainless steel tanks). Mondavi also experimented with barrel fermentation, aggressive lees stirring (to attain a creamy texture) and, in the tradition of Bordeaux, blending with Sémillon – producing a more flowery, melony, and far less herbaceous, less minerally or citrusy style of wine than that of Pouilly-Fumé or Sancerre.
• Because of the Mondavi influence, the soft, often tropical fruit-driven style of "Fumé" would remain the predominant approach (at least the most widely lauded) to the varietal in Napa Valley, Sonoma County, and most of the rest of California; at least, up until the explosion of the markedly greener, sharper New Zealand styles of Sauvignon blanc into the U.S. market, starting in the late 1980s and early 1990s. Today, California styles of Sauvignon blanc are likely to balance herby green sensations with green melon, tropical fruit, floral as well as earthy/mineral qualities in deference to growing "international" tastes among consumers and critics; while aggressively oak influenced (i.e. "Graves" inspired) styles appear to be on the wane, except for a handful of ultra-premium priced Napa and Sonoma bottlings.
• While Sonoma/Marin Counties (California Crush District 3) and Lake County (District 2) are two of California's major Sauvignon blanc regions – crushing 15% and 13% of the state's 2017 total (just over 106,000 tons), respectively – a little known fact is that Lodi (District 11) crushes 18% (19,350 tons in 2017), making it the largest region for Sauvignon blanc growing in the state.
• Top Lodi grown Sauvignon blanc brands include those of Peltier Winery (light, zesty mix of herbs, citrus, melon), Oak Farm Vineyards (fragrant, silky style), LangeTwins Family (exotic flowery notes), Michael David Winery (tropical, creamy smooth qualities), McCay Cellars (restrained, steely dryness), and Hybrid by Peltier (light, airy, lemony snap).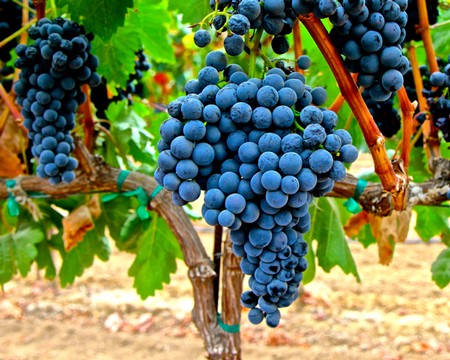 Tempranillo
• Tempranillo is known by over a dozen synonyms in its native country of Spain. In Portugal's Douro region, where it is used for Port, it is called Tinta Roriz. The name of the grape comes from the Spanish word temprano, for "early," in reference to the fact that Tempranillo ripens earlier than other red wine grapes in Spain.
• While there is no specific mention of Tempranillo in records over 2,000 years old, we know that grape growing and winemaking in Spain dates back to the time of the Phoenicians, prior to 300 BC. There is also a 2,000-year old Roman mosaic depicting winemaking recently unearthed in Ribera del Duero, one of Spain's major Tempranillo regions (and home to the legendary Bodegas Vega Sicilia as well as Bodega Alejandro Fernández's Tinto Pesquera).
• Tempranillo is closely associated with Spain's Rioja region, where the grape is often blended with Garnacha, Carignan (called Mazuelo in Rioja) as well as Graciano. Besides Rioja and Ribera del Duero, Tempranillo is a major red wine grape in Spain's Toro, Penedès, Navarra, Valdepeñas and La Mancha regions. Tempranillo is now the third most widely planted grape in the world (after Cabernet Sauvignon and Merlot) – 88% of it grown in Spain.
• By the 1880s Tempranillo was introduced to California, where it was originally known as Tinta Valdepeñas. It was listed as such among the varieties cultivated at the U.C. Davis Foothill Experiment Station in Jackson, Amador County, which was where U.C. Davis' Dr. Goheen "rediscovered" selections in 1963 (when the station was long abandoned). For most of the 20th century, California grape crush reports listed the grape as Valdepeñas, and it was considered a minor variety; primarily because most of it was planted in warmer regions of the Central Valley, where it produced nondescript wines, going into "jug" and fortified bottlings.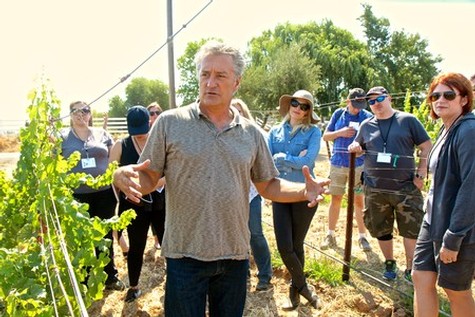 • Modern day interest in Tempranillo in the U.S. began with plantings in Yakima Valley, Washington's Red Willow Vineyard in 1993. In 1994, Earl Jones founded Umpqua Valley, Southern Oregon's Abacela estate for the specific reason of specializing in Tempranillo. Jones planted selections of the grape sourced from both the U.S. as well as Rioja in a region he observed to be in closer latitudinal alignment to the North of Spain, as well as having the warm summers and cool autumns approximating regions like Rioja and Ribera del Duero. Abacela's impact is such that there are now over 40 other producers of Tempranillo in Oregon alone. The winery's continuing work with the grape has also clearly demonstrated the grape's propensity towards longevity and complexity when accentuated by extended oak aging – something Spanish vintners discovered centuries ago.
• In 1996, Markus Bokisch established Bokisch Ranches in Lodi. He felt that his first planting – Terra Alta Vineyard in Clements Hills, with its rocky, red clay based Redding soil, rolling hills and and Mediterranean Climate – was an ideal site for plant material that he sourced directly from Spain. Up until recently, Bokisch Tempranillos have been produced in a supple, moderately weighted style inviting immediate consumption; although they are currently experimenting with cuvées aged longer in wood, in keeping with classic styles of Spain, which seem to gain breadth and structure from oak tannin and oxidation. Today, Bokisch's FPS Clones 12 and 12.1 – referred to as Tinto Fino selections from Ribera del Duero – are also among the dozen or so selections of Tempranillo made available to other growers and vintners in the industry.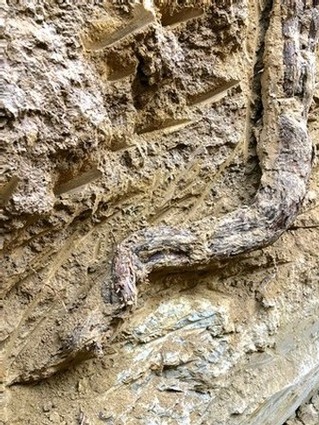 • Also in Lodi during the late 1990s, the late Alan Kirschenmann planted a small block of Tempranillo for Mitch Cosentino in one of the sandiest pockets of the Mokelumne River AVA, east of the City of Lodi. Just a quarter mile away, the Bokischs planted Tempranillo in their Las Cerezas ("Cherry Road") Vineyard. Both plantings have since matured (the Kirschenmann block now owned and farmed by McCay Cellars), and have proven that Tempranillo can produce perfectly "varietal" (i.e. meaty and dense, like new leather) qualities in sandy loam soils, as opposed to the rocky clay hillsides traditionally associated with the grape.
• Capping off the varietal's slow yet steady rise to a rightful spot among the "top" grapes within the California wine industry, Lodi's St. Amant Winery garnered a Best of Show Red (in other words, voted "best red wine in all of California") for its 2014 The Road Less Traveled Tempranillo (originally planted by the late Tim Spencer in hillsides of Amador County) at the 2016 California State Fair Commercial Wine Competition.
• Tempranillo has also seen its fortunes recently rise in South Australia, South Africa, Chile, and Mexico; plus, besides California and Oregon, in Washington as well as Texas (in the latter, it is now considered the state's "signature" red wine varietal).
• Top brands specializing in Lodi grown Tempranillo include: Bokisch Vineyards (sleek, focused), Harney Lane Winery (meaty, layered), McCay Cellars (wild, suave), Fields Family Wines (deep, sumptuous), m2 Wines (floral, svelte), Peirano Estate (earthy, medium bodied), Riaza Wines (lean, lanky, spicy), d'Art Wines (cigarbox fullness), Heritage Oak Winery (polished, almost Rioja-ish), and St. Jorge Winery (plummy, extracted, richly oaked).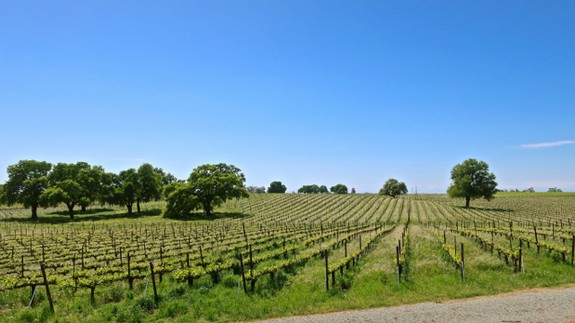 Comments