Letters from Lodi
An insightful and objective look at viticulture and winemaking from the Lodi
Appellation and the growers and vintners behind these crafts. Told from the
perspective of multi-award winning wine journalist, Randy Caparoso.

January 8, 2019 | Randy Caparoso
Four 2018 wine grape lessons (part 2)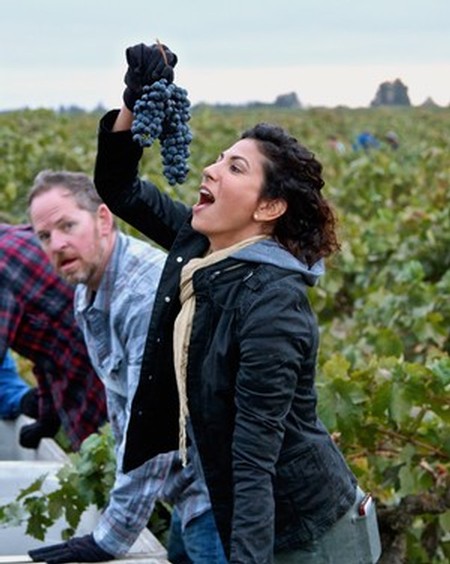 In Part 1 of our Four 2018 wine grape lessons, we discussed how, like all the fine wines of the world, the increasingly impressive wines of Lodi are defined primarily by the grapes that go into them.
Since grape morphology – that is, the size and weight of clusters and berries, color and phenols in skins, proportions of acidity, and all the factors that determine structure, aromas and flavors, and ultimately, the quality and style of wines – is directly impacted by vineyard locations and the decisions of growers and winemakers, it is never surprising to find that terroir (i.e. "sense of place") often trumps varietal expectations in resulting wines.
Therefore, to use Zinfandel as an example, you cannot expect a Zinfandel grown in Lodi to taste like a Zinfandel grown in Sonoma County or Napa Valley. Nor should you want it to. What's the sense of buying a Zinfandel from Lodi, Sonoma or Napa Valley if they all tasted the same? If you love the softer, typically red fruit scented, often earthy styles of Zinfandel grown in Lodi, we can recommend a bunch of them (see our 2018 posts on West side Lodi Zinfandel vineyards and East side Lodi Zinfandel vineyards). If you love lavishly aromatic, often jammy and invariably bigger, chunky styles of Zinfandel, there are dozens of Sonoma grown bottlings to choose from. If you prefer your Zinfandels denser, meatier and blacker in fruit, Napa Valley is the way to go.
Just within the Lodi AVA (i.e. American Viticultural Area), you cannot expect a Zinfandel grown on the west side of the City of Lodi to taste like a Zinfandel grown on the east side. In many cases, rather than miles it comes down to a few feet in distances between vineyards. Veteran Lodi winemakers, for instance, have long known that the Zinfandel grown in Mohr-Fry Ranches' Marian's Vineyard is distinctively different from Zinfandels grown in Mohr-Fry Ranches' 7 other blocks of Zinfandel, all planted within the same square mile south of the City.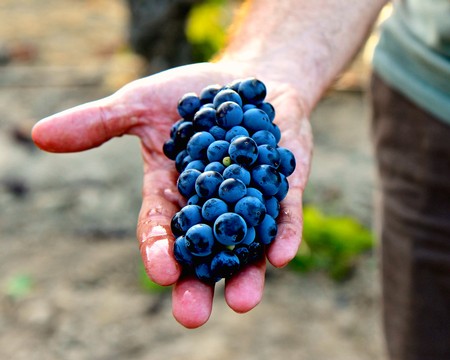 There are not only slight differences in the soils of Mohr-Fry's individual blocks, but also, evidently, differences in the original selections of plant material. It doesn't matter if it's all Zinfandel, all head trained (i.e. with stakes rather than trellises) and own-rooted (not grafted on rootstock selections), all planted at various times over 70 years ago, experiencing the same weather year-in and year-out, and all cultivated by the same families (originally by a branch of the Mettlers, and today by the Frys). The individual vines in each block grow differently, causing variations of cluster weight and berry size, as well as acid and phenolic content. Therefore, the wines are not exactly the same – variations of fruit or earth tones in the aromas and flavors along with varying sensations of body, texture, zestiness, etc. – no matter what a winemaker may want to do with them.
This, of course, is what makes artisanal style, premium quality wine so fascinating. It's all in the subtleties and delineations. If you can't be bothered, and would much prefer consistency or uniformity, our retail shelves across the country are jam-packed with more predictable, good quality commercial wines that taste pretty much the same from brand to brand, varietal to varietal, bottle to bottle.
But for our purposes: Four more of our 2018 posts utilizing photos and winegrower comments to demonstrate why appreciating the differences between varieties and vineyards really matters...
How soil and grape selection impact Lodi Zinfandel clusters and wines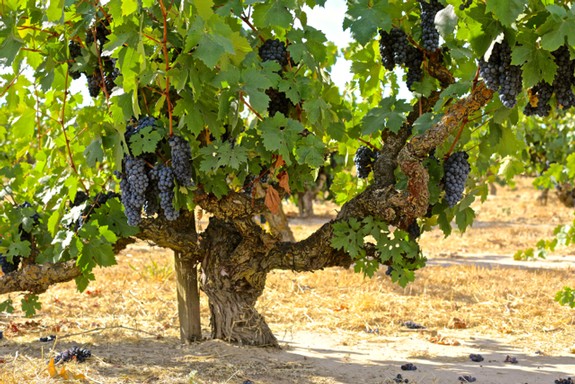 From our September 21, 2018 blog post on The physical impact of soil and selection on Lodi Zinfandels:
Over 99% of Lodi's Zinfandel plantings are concentrated in the sub-appellation of Mokelumne River, centered around the City of Lodi. There are also a few older, old vine plantings in Lodi's Clements Hills AVA; all located alongside the winding Mokelumne River near the little hamlets of Lockeford, Clements and Dogtown, east of the City. The common terroir-related factors of all these vineyards:
♦ Sandy loam soils, primarily in the Tokay Series
♦ A steady, warm Mediterranean climate consistent throughout the AVA; from the flat, 10 to 50-ft. elevation areas on the far west side to the low lying slopes (150 to 400-ft. at the highest) on the far east side.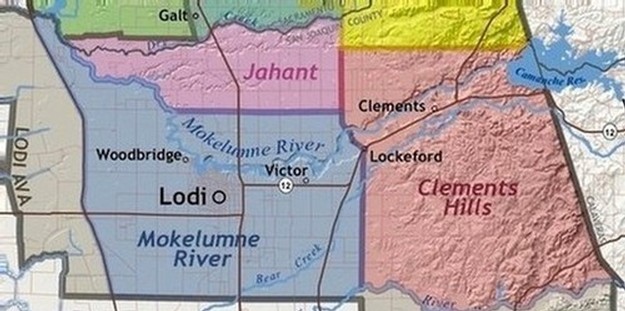 The differences that you find in both the physical manifestations of vines, clusters and berries as well as the sensory qualities of resulting wines result mostly from the slight variations in vineyard topographies. In some sites – particularly in the east side of Lodi (roughly, the areas falling east of California Hwy. 99) – the soil is sandier and deeper. For instance, there one particularly large swath of ground centered around the tiny CDP of Victor (on Victor Rd./Hwy. 29 East between Lodi and Lockeford), that is more of a loamy sand than sandy loam; an observation confirmed as far back as the 1937 USDA Soil Survey of The Lodi Area, California (Cosby & Carpenter).
Most of vineyards west of Hwy. 99 consist of the classic Tokay Series soil – also deep (30 to 50 feet of consistent sandy loam, devoid of rocks, gravel or hard pans), porous, but quite rich in organic material of alluvial origin (basically, finely crushed granite washed down from the Sierra Nevada over the past 100,000 years).
So how big of an impact are the "east vs. west" side factors on Zinfandel plantings? Take a look at a comparison of average size clusters from four vineyards that have been bottled as Lodi Native Zinfandels over the past four years: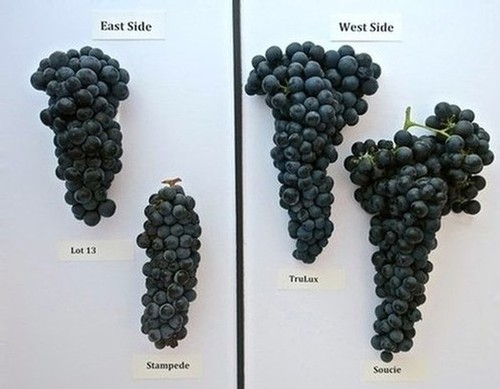 While berry sizes in all but the Stampede Vineyard sample are proportionate, the biggest difference is in the size and weights of clusters as a whole: the west side vineyards producing Zinfandel bunches as much as double the size as east side vineyards. Berry size is smallest in the Stampede Vineyard because it is located in a more stressful riverside site in the Clements Hills, where the soils are more depleted and even more of an ultra-fine, powdery sandy loam. The result of slightly elevated skin-to-juice ratios in Stampede are Zinfandels with consistently firmer acid/tannin structure than average Lodi Zinfandels (which, as a whole, tend to be on the softer side).
All the vineyards depicted in this comparison are own-rooted (i.e. ungrafted). While vine age is always one more differentiating factor when it comes to Zinfandel viticulture and wine quality, the vineyards used in this comparison are of a comparably advanced age:
• Lot 13 Vineyard – over 90% of block surviving from original planting in 1915
• Stampede Vineyard – field mix planted between the 1920s and 1940s
• TruLux Vineyard– field mix with oldest vines planted in the mid-1940s
• Soucie Vineyard – oldest block planted in 1916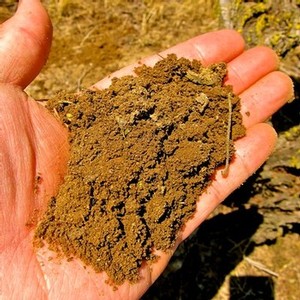 McCay Cellars owner/grower/winemaker Michael McCay farms and produces Zinfandel from Lot 13 Vineyard, and has been producing Zinfandel from TruLux (farmed by Keith Watts) for over 15 years. According to Mr. McCay: "The Zinfandel clusters in TruLux are always larger, more elongated, with small berries – almost Cabernet-ish, whereas Lot 13's are a smaller, tighter clusters, with few if any wings. Interestingly, you can take clusters from both TruLux and Lot 13 that are similar in size, but the west side cluster from TruLux will always be heavier in weight.
"A big reason is the soil. The sandy loam is heavier and a little loamier on the west side, with a little more water holding capacity. East side vineyards in general are sandier; but especially in Lot 13, with its immediate proximity to the Mokelumne River, and hundreds of thousands of years that this site had to build up its layers of silty, sandy soil. The sandy loam in TruLux is a much further distance from the river.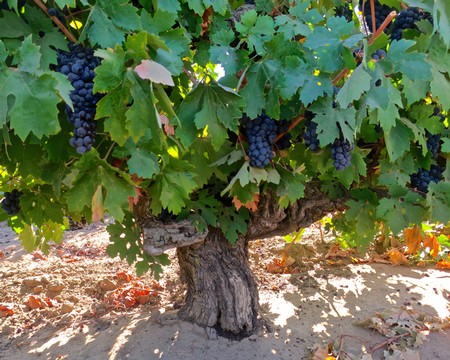 "More important is the difference in style of wine that you get. Between TruLux and Lot 13, it couldn't get any more different. Lot 13 is typical of the east side, where you get a more aromatic style – a more intensely perfumed, bright red berry fruit, with zestier qualities in the mouth. TruLux Zinfandels grown on the west side are a bigger, richer style, with a fuller feel in the mouth, and pungently earthy flavors that you never find in Lot 13. These are direct byproducts of the differences in soil, which you can see in the vines and clusters."
Like all the major varieties of Vitis vinifera – be it Cabernet Sauvignon, Chardonnay, Pinot noir, Sauvignon blanc, Tempranillo, Riesling, or Sangiovese, et al. – Zinfandel is known to have variants, or clonal mutations, which have evolved over the years; and in an especially large region like Lodi (by far the most widely planted in the U.S., especially when it comes to Zinfandel), growers have always been aware of those existing variants, even if the process of selecting material for planting has been less than scientific. How could it be, when all of Lodi's "old vine" plantings took place between the late 1880s and early 1960s, long before institutions like U.C. Davis began to conduct formal studies of Zinfandel selections (such as the Zinfandel Advocates & Producers funded Zinfandel Heritage Project, which began in 1995)?
Instead, when planting new blocks or inter-planting old blocks with new material, Lodi growers historically sought out wood taken from either their own vineyards or from neighboring vineyards that were known to produce a consistent, dependable fruit product; especially prior to the 1940s, when much of Lodi's Zinfandel was packed into small crates and shipped towards the East Coast for home winemakers.
A perfect example of this is Mohr-Fry Ranches – located south of the City of Lodi on the west side of Hwy. 99 – where there are no less than 8 different blocks of Zinfandel, all own-rooted; the oldest being the venerated, and most widely acclaimed, Marian's Vineyard (planted in 1901), and the rest, identified simply by block numbers, planted during the early 1940s.
Here is a visual demonstrating an average Zinfandel cluster from Marian's Vineyard compared to one from Mohr-Fry Ranches Block 416, planted in 1944: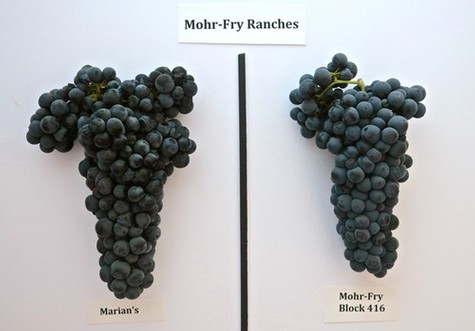 Since, typical of all the Mohr-Fry Zinfandel blocks, these clusters come from plantings just a few feet away from each other – and therefore planted on pretty much a consistent soil type – much of the differences in cluster morphology is attributed to wood selection. Explains Mohr-Fry vineyard manager Bruce Fry: "Because the youngest Zinfandel blocks were planted 20 years before we took over the ranch (in 1965) from the Mettlers, we have no idea of where the plant material came from – that's a mystery. What we know is that Marian's produces a longer, larger cluster, and always with bigger berries. Block 416 produces consistently smaller, shorter clusters, with smaller berries, yet Marian's is the wine most people talk about. So it's not just about vine age. But is it the selection? The site? That's the mystique of it all, I guess!"
Lodi's plethora of red "Rhône" grapes (Grenache, Syrah, Mourvèdre and Cinsaut)
From our September 16, 2018 post entitled A close look at the fruits of Grenache, Syrah, Mourvèdre and Cinsaut in Lodi's vineyards:
During the first week of September, Mettler Family Vineyards allowed us to collect cluster samples of Grenache and Mourvèdre from their estate plantings surrounding their tasting room on E. Harney Lane; as well as Syrah from their vineyard on Brandt Rd, planted along Bear Creek. This made for an interesting comparison next to a Cinsaut cluster clipped from Lodi's award winning, ancient vine (planted in 1886) Bechthold Vineyard: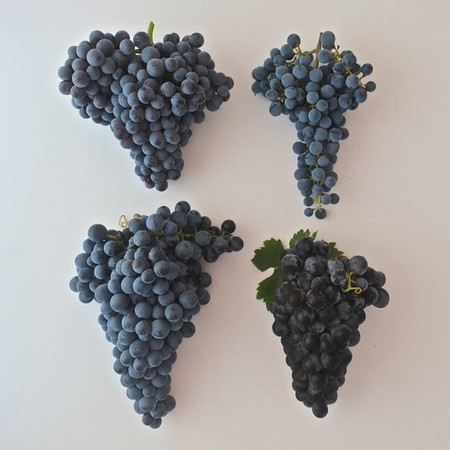 Our remarks on each of these grapes, including some interesting tidbits of information:
Grenache noir (a.k.a. Garnacha) - Everywhere it is grown – in its point of origin in Northern Spain, throughout Southern France as well as in the Southern Rhône Valley (where it dominates red blends in Châteauneuf-du-Pape, Gigondas and Côtes du Rhône AOC wines), Australia as well as the West Coast of the U.S. – Grenache is a generously weighted, wing-shouldered, more or less rectangular cluster with fairly large berries of moderately thick skin.
Yet this grape produces softer tannin red wines; even at its firmest, giving a rounded, plump, fruit-forward feel. It is highly favored in Grenache/Syrah/Mourvèdre (a.k.a. "GSM") blends precisely because it lends a supple quality to go with a plethora of red fruit qualities. The oldest existing plantings in Lodi date back to the 1940s; but most of the Grenache/Garnacha in Lodi vineyards today were planted in the late 1990s or after, in slightly slower response to California's 1980s "Rhône Rangers" movement... All the same, as a stand-alone varietal Grenache can make a beautifully perfumed red; particularly in Lodi, where for some reason the grape produces emphatically spicy wines, redolent with black pepper, and sometimes clove or mace (especially those by McCay Cellars and Bokisch Vineyards).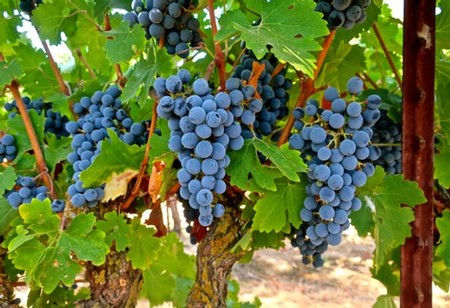 Syrah (a.k.a. Shiraz) - While hanging on a looser, longer stemmed, lower weight cluster, the slightly oval shaped berries of Syrah have a higher skin/seed-to-juice ratio, resulting in red wines that are significantly firmer in tannin than Grenache; which contributes to a bigger, more voluminous feel, especially when grape ripeness tops 15% alcohol ranges...
Like Grenache and Petite Sirah/Durif (the latter, a 19th century cross of Syrah and Peloursin), Syrah is a "spice" variety – exhibiting varying degrees of peppercorn nuances – although its aroma tends to be more floral, often violet-like, on top of a varying range of fruit qualities (cherry, plum, blackberry, blueberry). When combined with toasted notes of French oak (as it often is), the aromas can begin to take on wild game, meaty, feral, often bacon-like qualities; and spice notes can veer towards anise, occasionally fennel sausage or even incense or sandalwood.
Mourvèdre (a.k.a. Mataró; Monastrell) - Our Mettler Family grown cluster sample of Mourvèdre sample is more generously sized than what is usually found in classic European regions; such as Northern Spain (where the grape, often grown on tiny vines in extreme conditions, is thought to have been cultivated for over 2,000 years), Southern France (particularly Provence's legendary Bandol AOC, where it is the major grape), and Southern Rhône Valley's Châteauneuf-du-Pape (where it blended with other grapes in small proportions). Still, typical of the grape, it is a fairly weighty, conical, winged cluster of compact, deep colored, thick skinned grapes; conducive to red wines with sturdy tannin and good acid structuring, with dark-toned fruit qualities enhanced by the generous phenolic content.
When combined with Syrah and Grenache in a blend, Mourvèdre contributes tannin substance and dense texturing. When bottled as a varietal or dominant grape (as in Bandol, where red wines are 50% to 90% Mourvèdre), the subtle complexities of the grape are allowed to shine: Amalgamations of concentrated berry or brambly blackberry/blackcurrant/mulberry, with scrubby nuances (like resiny herbs or anise), red meat and sometimes raw tobacco sensations, backed up by the variety's typical tannin texturing.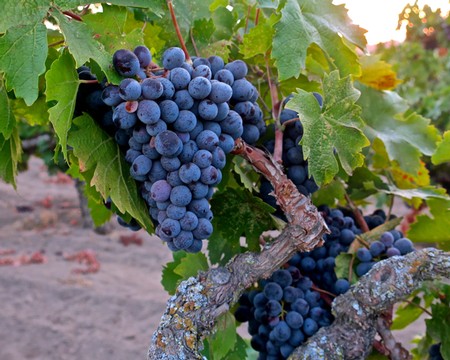 Cinsaut (a.k.a. Cinsault; Black Malvoisie) - As you might glean through Cinsaut's medium-sized, rounded cluster morphology and somewhat large, balloon-ish berries, there is almost something of a table grape quality to this variety. In fact, for much of the past 100 years the 25 acres in Lodi's ancient vine Bechthold Vineyard was packed for the table grape or home winemaking marketa under a synonym, Black Malvoisie. Since being "rediscovered" by artisanal vintners in 2004, however, the Bechthold Vineyard has been in huge demand as a source of grapes for pure, 100% varietal reds or rosés... The Cinsaut grape's deep colored, purplish-black skin is low in tannin, but still produces very flavorful, soft, pliant wines with pronounced fragrances suggesting strawberry, cherry or rhubarb, often with subtle baking pie spice notes.
Cinsaut's traditional role in France has been primarily as a blending component. In Châteauneuf-du-Pape, for instance, it is one of 18 grapes allowed in blends. While its role is minor – typically in 4%, 5% proportions – it is nonetheless valued for what it brings to the table. The qualities that make it a soft, fragrant, charming red wine, as it were, are also ideal for dry rosés; even if, in classic Southern French rosès, Cinsaut is typically blended with Grenache, Mourvèdre, and/or occasionally Carignan... Up until the mid-1960s, Cinsaut was the most important grape in South Africa, often used in varietal red wines; and even today, it remains one of the most widely planted grapes in Morocco, as well as Tunisia, Algeria and Lebanon. In short, Cinsaut loves the warm climate wine regions like that of the Mediterranean Basin. It only stands to reason why it has done phenomenally well in Lodi's Mediterranean climate.
Portugal's Port grapes find a natural second home in Lodi
From our September 27, 2018 post entitled Snapshot of the black skinned Portuguese grapes of Lodi's Silvaspoons Vineyards: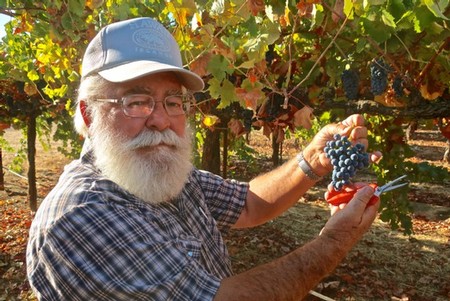 Like thousands of other Americans of Portuguese descent, Ron Silva – owner/grower of Lodi's Silvaspoons Vineyards, east of Hwy. 99 located between Elk Grove and Galt – is a cattleman (Portuguese-Americans own about 46% of the dairies in California, which produce more than half of the state's milk).
Mr. Silva is also the largest grower of Portuguese grapes – particularly the varieties that go into the production of the famous sweet, fortified reds known as Port, grown in Portugal's Douro Valley – in the U.S.
Standing among his rows of vines, Mr. Silva explained: "When you look all around you can clearly see why so many Portuguese came directly to California... The California coast looks just like the coast of Portugal. And when you go a little further inland... It's a warm, dry Port climate, perfect for Portuguese grapes."
There is, for the record, a total of 64 different grapes actually permitted in Portugal's Douro Valley to produce Port (re this List of Port Grapes); but the six most commonly used grapes are Touriga Nacional, Touriga Franca, Tinta Roriz, Tinta Barroca, Tinta Cão and Tinta Amarela.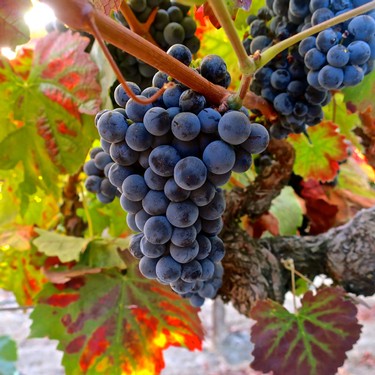 Says Mr. Silva: "I got my first 'recipe' for Port blending from Tim Spencer (the late, great founder of Lodi's St. Amant Winery). The land was cleared and leveled in 1998, and in 2000 32 acres of these grapes were planted, in rows of 192 plants:
• Touriga Nacional (22 rows)
• Tinta Roriz (17 rows)
• Touriga Franca (8 rows)
• Tinta Cão (8 rows)
• Alvarelhão (8 rows)
• Souzão (4 rows)
"Then a little later, on our home ranch on Arno Rd. (a little less than a mile away from the original planting on Mingo Rd.), I added 5 rows of Trincadeira Preta (a.k.a. Tinta Amarela) – another important grape in Port production – with material I got from an E. & J. Gallo block."
The black skinned Portuguese grapes clipped from Silvaspoons Vineyards earlier this week: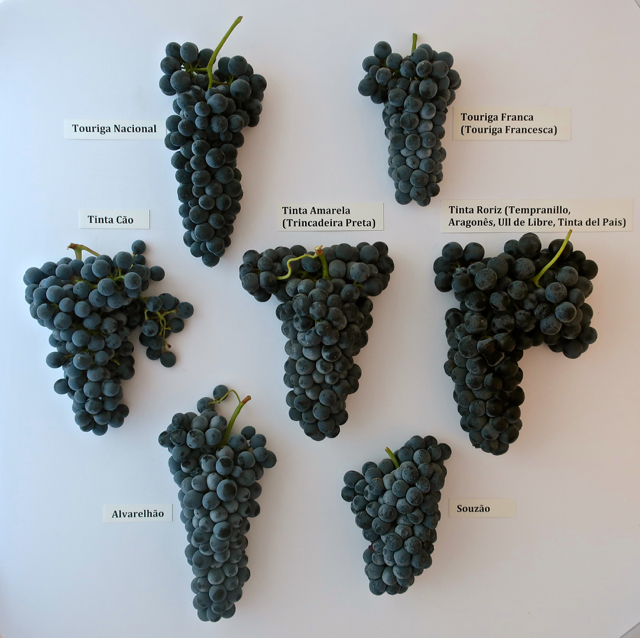 Adds Silva: "My original dream was to see California wineries taking percentages of all seven grapes to produce authentic Port style wine. It's been done on occasion, but as it turned out, most of the grapes have been going to various wineries to produce varietal table reds, rather than Port. Jeff Runquist in Amador County, for instance, has made numerous award-winning wines from Alvarelhão, Souzão, and Touriga Nacional. Ficklin Vineyards and Quady Winery down south (in Madera) use some of the grapes for their Port style wines."
Our remarks on the black skinned Port grapes planted in Silvaspoons Vineyards:
Touriga Nacional - The most important Port grape of all in terms of sheer quality. While the Touriga Nacional grape grows a vigorous canopy, it is a relatively low yielding vine; producing elongated, medium weight clusters of small-ish, dark bluish-black colored berries, high in tannin/phenolic content and very good acidity. The intense, fairly floral fruit qualities of the wine can have raspberry/cassis or blackcurrant fruit qualities, with suggestions of licorice and, often, bergamot orange or Earl Grey tea-like scents; but the overriding characteristic that the grape contributes to both Ports and blended table reds in both Portugal and the U.S. is a sinewy, rippling tannin muscle, meatiness and texturing.
Touriga Franca (a.k.a. Touriga Francesa) - "Francesa" is the most widely planted black skinned grape in the Douro Valley; thriving in the hot, dry climate of this river valley region. Yields are vigorous and dependable, but cluster sizes are always small and compact; yielding less concentrated fruit and phenolic qualities than its counterpart, Touriga Nacional. Yet red wines from Francesca can still be robust and richly colored, with floral, often violet-like notes on top of black fruit qualities. Blended with Touriga Nacional, it lends finesse, even a degree of delicacy, in terms of structure and feel. In California, Silvaspoons grown Francesca is blended with Touriga Nacional by wineries like Jeff Runquest and Fenestra to produce table reds called, simply, "Touriga."
Tinta Cão - A rounded, winged, pyramid shaped, small-to-medium weight grape said to have been cultivated in the Douro Valley since the 1500s, but in very small quantities due to its low yielding and late ripening habits. The thick-skinned clusters, however, are valued for its resistance to disease pressure and sunburn, and it can contribute aggressive, often astringent, tannin structure to both Port and table red blends, as well (according to Silva) as a tart cherry character all its own when allowed to be expressed as a stand-along varietal.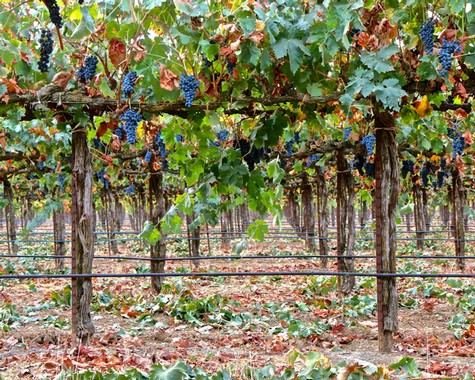 Tinta Amarela (a.k.a. Trincadeira Preta) - Unlike Tinta Cão, Tinta Amarela is susceptible to bunch rot, but valued for the zesty acidity along with slightly floral raspberry fruit and mildly herby/peppery spice qualities it can contribute to Port and red wine blends, even at moderate sugar/alcohol levels.
Tinta Roriz (a.k.a. Tempranillo; Aragonês; Ull de Libre; Tinta del Pais) – This black skinned grape is also known as Aragonês in Portugal, and another dozen synonyms in Spain although primarily as Tempranillo, derived from the Spanish word temprano, for "early." In fact, the grape's early ripening trait is one of the reasons it is highly favored in the Iberian Peninsula – some 88% of the world's Tempranillo is grown in Spain, and another 8% in Portugal. The cultivar thrives in Lodi's Alta Mesa AVA for the same reasons it thrives in Portugal and Spain: it loves a hot, dry climate.
It is also a favorite because cluster weights are fairly generous; producing large, round, fairly thick skinned berries of moderate color yet savory flavors expressing a range of fruit (plum, cherry/strawberry, sometimes blackberry), a red meat (sometimes "animal") quality, and suggestions of masculine notes like leather and tobacco, more often than not couched in firm yet rounded tannin/phenolic structuring. Hence, its popular use as a blending component in both the Port and table red wines of Portugal.
Alvarelhão - While not considered a primary grape in the Douro Valley, Alvarelhão has thrived in Lodi's Alta Mesa AVA; its cylindrical, medium sized clusters and berries producing varietal reds of moderate tannin, a full body, and generous aromas and flavors suggesting Bing cherry and often boysenberry or strawberry jam, plus a slightly pepperminty/leafy
Souzão - Silva described red wines fashioned from Souzão's round, compact, small-ish clusters as a "secret weapon" when used as a blending grape because of its vibrant, higher acid, deep color, fairly sturdy tannin and often raisiny-rich fruit (akin to strawberry glazed with caramelized brown sugar, which you find in varietal bottlings by producers like Jeff Runquist). According to Silva, Souzão-based wines can be "rustic" or "coarse," but "very useful because it boosts color and bumps up the flavor of other varietals."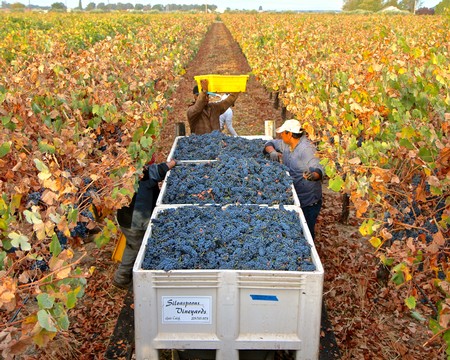 The red Bordeaux grapes of Lodi
From our September 25, 2018 blog post on The red Bordeaux grapes of Lodi:
Cabernet Sauvignon has been the most popular varietal red wine in the American wine industry for longer than anyone can remember. Most certainly, it has been #1 ever since the days when sales of varietal wines began to overtake generic wines (such as "Burgundy" and "Chablis") some time during the late 1980s.
Cabernet Sauvignon, as virtually any connoisseur of red wine would tell you, is one of five black skinned grapes usually associated with the famous chateaux bottled reds of Bordeaux, France as well as all around the world. Including Lodi, as you see in this photo consisting of Lodi grown Bordeaux grape clusters: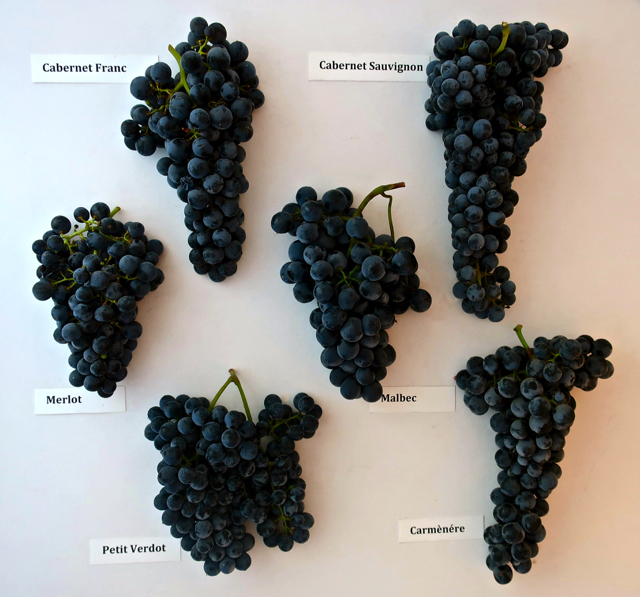 The skinny on each of the grapes (and the vineyard source of each cluster sample) depicted above:
Cabernet Franc (Keith Watts Vineayrd, Mokelumne River-Lodi) - Cabernet Franc is typically a cylindrical, cone-shaped, medium-weight cluster of round, medium sized berries with an intense blueish-black color. Also the oldest known grape of the Bordeaux region (cultivated there since the early 1600s) and recognized a one of the parent grapes of Cabernet Sauvignon (which DNA research has shown to be a natural, or wild, crossing of Cabernet Franc x Sauvignon blanc).
As a wine, Cabernet Franc is known for more moderate tannin structuring than Cabernet Sauvignon (the reason it is also an ideal blending grape), with aromas and flavors that can be prettily raspberry/red fruit-ish along with varying degrees of the herbaceousness (the grassy/minty/bellpepper-like qualities derived from methoxypyrazine, or pyrazines) for which Cabernet Sauvignon is also known. Also planted in France's Loire River Valley region, where as a stand-alone grape it produces the red wines of the Chinon, Bourgueil and Saumur-Champigny appellations.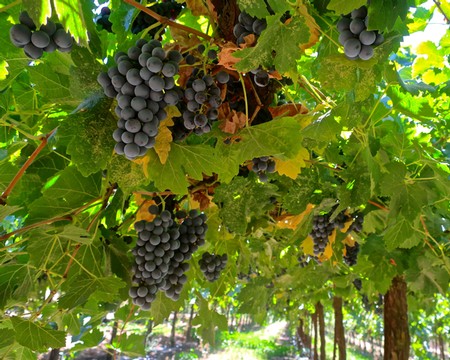 Merlot (Maley Bros., Mokelumne River-Lodi) - Merlot is typically a rounded, medium sized cluster with one or two wings, and sparse/loosely stemmed spherical berries of medium size and blue tinted black color. It is the second most widely planted red wine grape in the world (after Cabernet Sauvignon); highly favored because it is the earliest of the black skinned Bordeaux grapes to ripen, and is well known for the softer tannin and lush black cherry fruit which traditionally makes it an ideal blending grape.
Hence, Merlot is a particularly good blending match with the more sturdily tannic, concentrated blackcurrant qualities of Cabernet Sauvignon; although it obviously produces a delicious red as a predominant or stand-alone grape in Bordeaux and elsewhere around the world. Merlot is known to have been cultivated in Bordeaux since the early 1700s; recent DNA studies showing that it originated as a natural crossing of Cabernet Franc and a now-obscure grape called Magdelaine Noire des Charentes.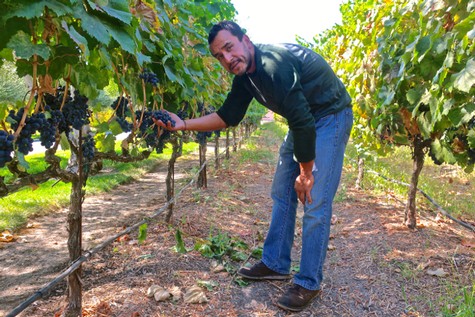 Malbec (Nureddine's Villa Vineyard, Mokelumne River-Lodi) - Malbec typically exhibits a wide, conical, loose but compact looking cluster morphology, consisting of round, medium-sized, purplish-black colored berries. While one of the major grapes of Bordeaux, it not appear to have any genetic relationship with Cabernet Franc and Cabernet Sauvignon. It is thought to have originated in France's nearby Cahors region (where it is the dominant grape, also known there as Côt as well as Auxerrois) before being transplanted to Bordeaux during the 1700s. Argentina, as it were, now grows and produces about 75% of the world's Malbec (more than 50,000 acres); and it is in these high elevation regions where the grape undoubtedly expresses its floral/black fruit/full tannin/mildly weedy character – qualities the grape also brings to the classic blends of Bordeaux – at its most intense.
Petit Verdot (Nureddine's Villa Vineyard, Mokelumne River-Lodi) - Petit Verdot is a fairly small, winged cluster of rounded shape; carrying spherical, fairly thick skinned, dark reddish-black berries. Little is known of the origins of Petit Verdot. It does not appear to be genetically related to any of the other Bordeaux grapes, but is thought to have been cultivated in the region by the mid-1600s (therefore pre-dating Cabernet Sauvignon).
Along with Cabernet Sauvignon, Petit Verdot is usually the last of the red Bordeaux grapes to ripen, and is known for wines of dark color and relatively high tannin/acid structure – although its floral notes (violet-like, as opposed to the hibiscus-like scent of Malbec) and dark fruit qualities tend to be narrower than the blackcurrant/cassis concentration typically attained by Cabernet Sauvignon – hence the reason Petit Verdot is usually no more than 2% or 3% of classic Bordeaux blends, and used just as sparingly elsewhere around the world; although Lodi's Michael David Winery has enjoyed enormous success blending larger percentages of the grape (at least 15%) with Petite Sirah in its top selling Petite Petit red.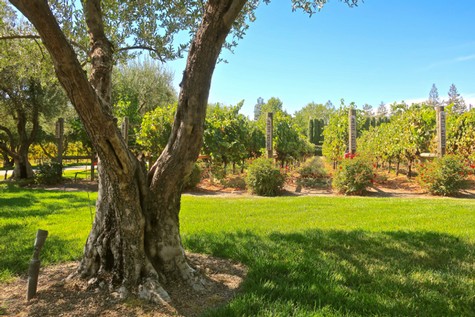 Carmémère (Michael David Winery's Phillips Farms) - Carménère was, historically, one of the six original red wine grapes cultivated in Bordeaux (where it was known as Carmenet), although it is now rarely seen in the region. Evidently – because of its susceptibility to coulure (also called shatter, when grapes fail to pollinate during cool, wet springs) and oidium (powdery mildew) – the Bordelais opted to forgo the grape during the late 1860s and 1870s, a time when all of Europe was forced to replace vineyards dying of the root louse called phylloxera with vines grafted onto phylloxera-resistant rootstocks.
Yet for well over 100 years, Carménère continued to be cultivated in Northern Italy's Veneto and Friuli-Venezia Giulia regions (where up until 1990 it was mistakenly identified as Cabernet Franc), and in even greater quantities in Chile (where it was grown and mistakenly bottled as Merlot, probably from the mid-1800s all the way up until 1994 when it was finally correctly identified as Carménère). Chile, in fact, continues to grow massive quantities of the grape: nearly 22,000 acres (in comparison, there are only 68 acres of Carmènére in California). And while known as the Bordeaux grape with the strongest green/bellpeppery/herbaceous (often Tabasco chile-like) qualities, Carmèmére-based reds certainly have their charms; particularly a round, lush, Merlot-like fruit quality, to go with a balanced, fluid, finesseful feel recalling Cabernet Francs.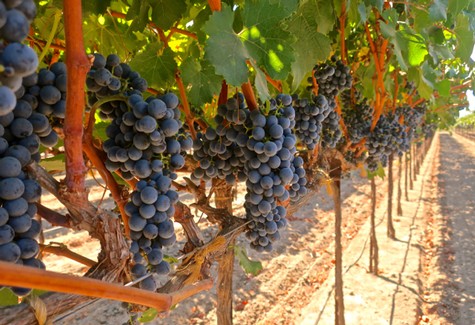 Cabernet Sauvignon (Michael David Winery's Phillips Farms) - One look at a Cabernet Sauvignon bunch, and you can probably see why it is the "king" of the Bordeaux blacks. Growers love its productivity – generous sized, long, pyramid-shaped clusters of small-to-medium, thick skinned, spherical berries of blue-black color – and wine lovers, well, love the deep, rich, full bodied taste of Cabernet Sauvignon, despite (or even because of) its propensity towards slightly weedy/green/minty qualities due to high percentages of methoxpyrazine, which the grape inherited from both sides of its parentage (Cabernet Franc and Sauvignon blanc).
While grown almost anywhere around the world where a grape can be grown (with the exception of the coldest climates, where the grape fails to ripen past its vegetal stage and achieve blackcurrant/black fruit qualities), it definitely responds to variables related to climate, soil, topography and terroir in general. You can even find variables in the consistently warm, climatically Mediterranean sub-regions of Lodi.
For example, a comparison of typical Cabernet Sauvignon clusters grown in Lodi's Clements Hills and Mokelumne River appellations, along with samples of soils typical of these sub-regions: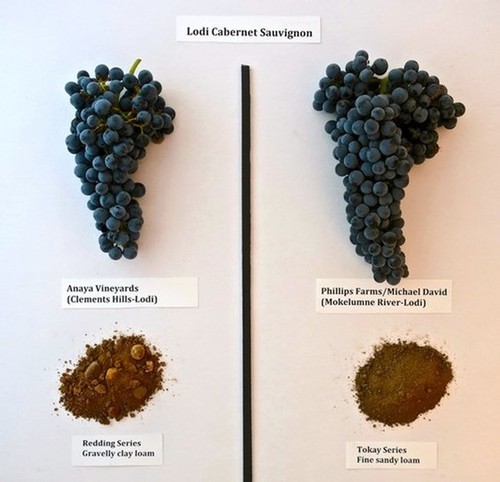 Cabernet Sauvignon grown in the reddish, gravelly clay slopes of Lodi's Clements Hills AVA tend to be smaller in weight, looser and slightly smaller berried. In the fine sandy loams of the Mokelumne River AVA (well drained soil completely devoid of gravel or rocks), Cabernet Sauvignon clusters are typically more generous in cluster and berry size. The difference in vine growth is as dramatic as the topographies: the Clements Hills composed of far older volcanic soils from the Sierra Nevada eroded over the past 500,000 years; whereas the finely crushed granite composing the silty loams of Mokelumne River have accumulated in the area surrounding the City of Lodi only over the past 25,000 years.
Is one area "better" than the other in terms of wine quality? It depends on perspective. In Clements Hills, Cabernet Sauvignons certainly have more potential to be stronger in tannin/acid structure, as well as richer in color and fruit concentration than Mokelumne River grown Cabernet Sauvignons. Yet in terms of pure aroma, the blackcurrant varietal fruit qualities tend to be more lavish in Cabernet Sauvignons grown in Mokelumne River. Cabernet Sauvignons lovers may prefer the deeper, darker styles of the varietal; but the fact remains, there are more award winning Cabernet Sauvignons (epitomized by Mettler Family Vineyards and Michael David's Rapture) coming out of Mokelumne River than in Clements Hills or the Borden Ranch AVA (having similar rocky-clay hillside soils) just to the north.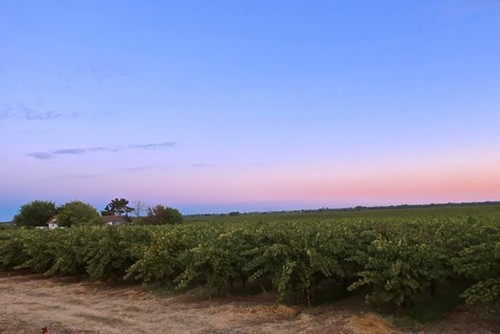 Comments